For Halloween, Mek and I watched John Carpenter's classic The Thing and the slightly less classic Sorority Row. Both were pretty fun.
Let's start with . . .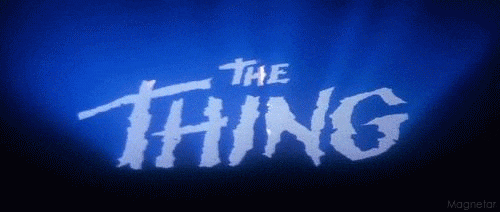 1.) According to the beginning credits, the only person in this movie is Kurt Russell. So, screw you, Keith David, Wilford "Di-uh-bet-is" Brimley, and all the other guys trying not to get eaten by an alien in Antarctica. You don't count.
2.) Of course, Kurt Russell is awesome. He looks so young here with his gigantic beard, his sunglasses, and his super stylish hat. Now that Halloween's over, I need to start thinking about what I'll dress up as for next year. I could always be MacReady. Bonus points for a frost beard and the ability to shake like mad.
3.) As usual, most of the nonsense in this story could have been avoided if people would stop acting like assholes. If you're in a group of, say, ten or so guys, and one person could possibly be infected (i.e, a shape-changing alien) the best probable course of action is to gather everyone together in the same room and have the doctors work on figuring out a blood test there. No one goes off on their own. No one goes off at all. Need to pee? Suck it up; you're men. Pee in front of each other as men, and keep everyone together until you can find out who is human and who is real ugly.
4.)  On a similar note, if you're going to work with grenades, you should know how to use them. I don't care how cold you are or how hard it is to feel through your gloves. If you can't properly throw a grenade without dropping it behind you, then you have no business picking one up at all.
Thanks, Butterfingers. You've killed us. You've killed us all.
5.) Of course, this is yet another reason on why you shouldn't work in Antarctica. Nothing good happens there, people. Stop isolating yourselves. Isolation leads to being eaten!
6.) At one point, there is an argument on who should be in charge. Childs (a young and really quite handsome Keith David) volunteers, but MacReady thinks that the leader should be someone of a more even temperament, namely him. Yes, MacReady. The guy who threw his whiskey into the hard drive of the computer after it beat him at chess is definitely the even-tempered guy who should be in charge.
7.) Although, I did laugh pretty hard at the scene. I hate playing chess on the computer, too.
8.) Yet another rule of survival: if you find a hideous, gooey thing that looks like a compilation of two bodies, and you're not exactly sure what it is, don't bring it home with you. I mean, does that really need to be said? Apparently, it does. Assholes.
9.) The Thing's a lot of fun, but I'm a little torn on exactly how much I like it. I enjoy that a lot of the tension comes from not seeing everything that happens. The audience is in the dark as much as the characters, and people go from not being infected to being infected with really no explanation on when that happened or who exactly infected them. I do like some of that; it's a clever way of telling the story, but I think a lot of it could have been done a little better. There's a way of cutting away at certain moments, being careful with your transitions . . . I think I wanted just a touch more order to the chaos. Just a little.
10.) This is an all-male cast. I think I said something similar in my review of First Blood, but I'm glad for it. All male plus one or two females can work in a story (The Abyss is a pretty good example) but a lot of times, it doesn't work at all, and the woman ends up becoming a useless love interest with no personality and a heart of shining, do-gooder gold. And, thanks but no thanks. I'll manage with just the men.
11.) This movie has gore. There is definite gore. I highly approve of the gore.
12.) Best line of the film: "I know you gentlemen have been through a lot, but when you find the time, I'd rather not spend the rest of this winter TIED TO THIS FUCKING COUCH!"
Hee.
13.) Finally, I can't say much about the ending without giving away spoilers, but I will say that's it open-ended and that I liked it. A lot. They're going to be doing one of those remakes of The Thing which is less like a remake than a very late sequel, and it's rumored that they might resolve what happened at the end of this movie in that one. I hope they don't. I'm not always satisfied with ambiguous ends, but I'm usually kind of bummed when the sequel nullifies the entire resolution (or lack of resolution, as the case may be) that the first film purposefully ended on. The story ends here. It's meant to end here. I don't want to see any more.
All in all, tentative grade? Probably a B+.
Sorority Row review will hopefully be up in a few days.