Well. I finally did it. I watched 2001: A Space Odyssey.
. . . I think I want two and half hours of my life back.
SUMMARY:
Some people discover a strange black monolith buried on the moon, and an expedition is sent to Jupiter to learn more. The main players of said expedition: Dave, Frank, and HAL-9000, otherwise known as Hal, their handy super computer.
Also: a bunch of other really weird shit happens, including ape-people and a shitload of colorful lights.
NOTES:
1. This doesn't strike me as the kind of movie you can have a middle ground on. I mean, I guess it's possible, but I don't see how. And personally, I hated this film. Okay, maybe not hated. Hate is a strong word, and all that. But I really, really, really did not like it. I will attempt to do justice to the parts of the film that I could see were well done, but . . . no. No, I simply cannot imagine ever liking this movie, no matter how many second chances (or third or fifth or twentieth chances) I gave it.
2. Why? Well, generally, I like my movies to make sense. That sounds snotty, but it really does seem to come down to a fundamental viewpoint on filmmaking. People who tend to like avant-garde work, I think, are generally more interested in the visuals than in the message. (Note: you may or may not consider 2001: A Space Odyssey to be truly avant-garde, but I don't think anyone can deny there's at least an avant-garde influence.) The story is not nearly as important as the medium you're using to tell it.
I, on the other hand, do not tend to like avant-garde films. As a writer, my focus is heavily on story, plot, character, and dialogue. Visuals can be compelling, and I can be moved by or otherwise enjoy them, but I primarily look at film as a medium to tell stories. In 2001: A Space Odyssey, the story seems almost incidental to the craft of filmmaking, like the actual plot—such as it is—is used as an excuse to string together a lot of random, often beautiful images and pretend you're watching a narrative instead of a two and a half hour music video.
I don't expect movies to be boring. I don't need every story told in a linear fashion, and I don't always mind an ambiguous ending. But I do expect a sense of coherency or at the very least some measure of enjoyment from the finished product, and I found both of these things severely lacking here.
3. I'm trying to be careful about spoilers, but I feel the need to warn anybody who hasn't seen this film yet: the storyline you're expecting to see, you know, with Hal and Dave and whatnot? That whole plot doesn't even begin until about 55 minutes into the movie. And then it ends with about half an hour of the movie still to go.
4. In fact, the first 25 minutes or so of the film and the last 25 minutes or so of the film have no dialogue at all. Which makes the original First Blood seem positively fucking chatty in comparison.
5. The movie also begins with a black screen that's probably supposed to signify, like, nothingness or something. It goes on for about . . . what? Five minutes? Nothing but darkness and classical music for about five minutes, enough time to make you wonder if your TV is working properly.
And since I fully expect to get at least one angry commenter who has a thesis prepared on the brilliance of 2001: A Space Odyssey, I have to ask, sincerely . . . do you ever fast-forward this part? Do you talk through it? Contemplate? Use it for last minute snack time preparations? Also: do you use the Intermission as an actual, you know, bathroom break intermission? Or is this more contemplation time? I'm honestly curious.
6. One of the positive things I can say about 2001: A Space Odyssey is the attention to detail, particularly in zero-gravity scenes. I like how slowly the space stewardesses move, the bathroom instructions, the grip shoes, the shots of everybody walking up the walls. Sometimes, it makes me really sad to realize that I will never actually walk up a wall or have a tea party on the ceiling. Childhood dreams never fully realized . . .
Anyway, I don't think anyone's questioning Kubrick's ability to set up a shot. The guy's a visual master. I'm pretty sure we can all agree there. The problem is when you put all those shots together. That's where you lose me. That's where I'm like . . . what?
7. For example: I do not need 12,000 establishing shots. You show me a peek of stars, a shuttle, maybe a planet or a dude in an orange jumpsuit, and I got it: we're in space. I don't want or need to watch ten minutes of various satellites and spaceships floating around as classical music blasts from . . . well, wherever space music blasts from, I suppose. (God's iPod? Hmmm. I'd love to know what's on that. NIN?)
At one point during the film, Mek went to the bathroom, opting not to use the pause button considering the very real likelihood that the thing spinning on screen would still be spinning on screen when she came back out. And it wasn't, actually . . . but man, it was damn close.
8. And while I'm on the subject of unnecessary repetition: there's a lot of lovely music throughout this film . . . music that becomes boring and rather powerless, as Kubrick uses it to death. Music that builds and builds into a stirring crescendo is a wonderful tool in a movie, but you can't use it seven times within the same film and not have people roll their eyes. The significance is lost.
Honestly, the music here reminds me a little of Zack Snyder's irritating dependency on the soundtrack in his film, Sucker Punch. Music is supposed to help bring your movie together, not do all your fucking emoting for you. Unless the movie in question's a musical, the soundtrack shouldn't be shoved down your throat for two hours straight. And even musicals need to be careful with that kind of thing. If all the audience wanted to see was song after song after song, they could just go to a fucking concert.
(And yes. Yes, I did just compare Stanley Kubrick to Zack Snyder. Ha!)
9. Surprisingly, I didn't have an issue with any unlikable or irredeemable characters. (I often seem to, with Kubrick's work.) There were a couple of instances where I was like, Dave, dude, have a fucking expression or something, but otherwise, I wasn't seriously irritated with any of the characters or praying for anyone's bloody demise. And as far as acting goes, it seems . . . okay? Honestly, it's not the sort of movie that really showcases acting. The actors themselves don't seem that much more relevant than talking prop pieces. I was amused to discover that Dave (Keir Dullea) was in the original Black Christmas, though.
10. Finally, this movie picked up for me about half an hour in. I started to feel better about it, like maybe it was really going somewhere after all, like those first thirty minutes that seemed to drag on for years might actually make some sense to me by the very end. I figured I could get through the ridiculous amount of time spent on one piece of space junk spinning in the atmosphere. I could get past the classical music being shoved down my throat. I could overcome these challenging quirks because the film was really going to do something amazing at the end that would make all these crazy aspects align.
That . . . fucking . . . ending . . .
That may have been the most disappointing, batshit crazy ending I have ever seen. In fact, I don't think I've ever seen anything quite like it before in my whole life. I have disliked many an ending in my time, but possibly never one that pissed me off as much as the one in 2001: A Space Odyssey. The only adequate comparison I can think of is the total letdown that was the series finale of Battlestar Galactica, and at this point, I'm hard-pressed to say which one was worse. (Eventually, I'll probably say BSG. I had years invested in that show, after all. But 2001: A Space Odyssey still has my blood up, so I'm not sure.) And please don't comment to tell me that if a film made me angry, then it did its job. I'm still angry with Catwoman, too, and I've yet to find a single person in the whole universe who liked that movie. Maybe if they muted it and kept one hand down their pants the whole time.
Now. If you are not quite frothing at the mouth yet, the blasphemy will continue onward, this time with spoilers.
SPOILERS
SPOILERS
SPOILERS
SPOILERS
SPOILERS
Okay. Back to the beginning, dear friends, and boy, do I mean the beginning. The first part of this movie (after the five minute overture, that is) is titled "The Dawn of Man" and it's about monkeys.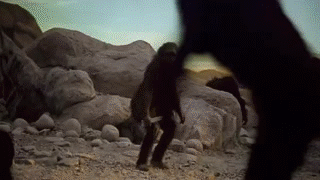 Okay, they aren't monkeys. I think they're supposed to be the missing link between apes and people, but they mostly just look like a bunch of dudes dressed up in monkey suits. One of the guys that's hopping around looks like he's six feet tall, which I thought was hilarious. I wish we had watched this film in my physical anthropology class. That would have been hysterical.
So, ape-people. We get to see a lot of these ape-people leaping around for fifteen minutes, doing whatever it is that ape-people like to do. (Sue me, I'm not a Discovery Channel kind of person. Cash Cab and Mythbusters are really the only exceptions. I don't even fucking like Shark Week.) And whenever we aren't watching the ape-people, we're looking at another fucking vista or sunrise or something. I mean, it's pretty. I just kept looking at the clock, going, Shit! It's only been seven minutes! SEVEN MINUTES!
But then something mysterious (finally) happens: a strange black monolith appears, freaking the fuck out of the ape-people.
Soon after, the ape-people learn how to use tools, and by tools, I mean they learn how to murder the shit out of other apes with nearby bones. They seem to be pretty gleeful about the whole thing. 'Overkill' does not appear to be a concept that exists to them yet, not in this stage of the game, anyway.
The murderous ape-man throws his bone up in the air, which Kubrick then match-cuts to a satellite or a spaceship or something up in the stars. I was surprised by the transition—I assumed that our passage of time would be shown by someone else—perhaps a Neanderthal—catching the bone, thus continuing our slow-as-molasses progression through evolution and driving me to drink. (I did have alcohol planned with the evening, actually, but the caramel apple drink didn't really go with my pizza, so I decided to overload on soda instead. It wasn't enough.) I found the transition a little jarring, but I was so excited to be away from the ape-men to space, the final frontier, that I totally didn't care.
After watching orbits and satellites and whatnot for ten minutes, we start following around Dr. Heywood Floyd (who will henceforth be referred to as Dr. Schmuck for the remainder of this review). Dr. Schmuck's in charge of this government cover up, pretending that some horrible outbreak has happened on some colony instead of what's really going on: the first evidence of extraterrestrial life! Seems that another mysterious monolith has been discovered, this one buried on the moon. And, you know, I was never quite sure if Gyorgy Ligetti's, "Requiem," is supposed to be literally emanating from the monolith, or if it's just sort of our monolith theme music. Either way, it doesn't really matter.
Anyway, the monolith does suddenly let out a very piercing, very annoying sound that maybe kills the astronauts nearby? Or just hurts them? I'm not actually sure. At the very least, the guys writhe around quite a bit and appear to pass out. Before we can figure out what's going on, though, we jump to the third act in the movie: Jupiter Mission.
Finally, 55 minutes into the film, we get to this guy: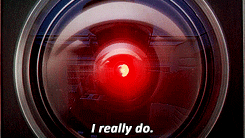 This is Hal (technically the HAL 9000), and if you know anything about this movie at all, you know that Hal's going to go fucking homicidal. I mean, that was like the only thing I knew going in: there's a dude named Dave, and Hal tries to kill him. Exactly why Hal goes nuts seems a little fuzzy to me . . . but we'll get to that.
So, it's eighteen months after the whole moon thing. Astronauts Dave and Frank are heading off to Jupiter. A few other people are on board, but they're in cryogenic hibernation, supposedly to cut down on life support problems. Hal, meanwhile, pretty much runs the ship, which no one's worried about because he's a HAL 9000, and nothing ever goes wrong with those. And I know this is set in the future and all, and even our culture today relies quite heavily on computers, but I also know that computers freeze and get viruses and seem to stop working for no fucking reason, and since I can't imagine a world where computers won't, on a nearly daily basis, drive you mad . . . I can't find it in my heart to sympathize with these stupid people who let their computer take over all the engineering, navigating, and doctoring tasks. (This isn't a real complaint about 2001: A Space Odyssey, though. It's more a general observation about how people in the future always seem so dumb.)
Okay, so Hal says that a communications satellite or something is going to fail in a couple of days. Dave and Frank go to check it out but can't find anything wrong. Hal suggests that the astronauts let the satellite fail and then replace it afterwards. Dave and Frank agree to this plan, albeit a touch reluctantly, but before they do, they alert Earth of the situation. The dudes on Earth are like, "Huh. Our HAL 9000 says that your HAL 9000 is wrong. Well, that's damnably curious. Sure it's nothing, though. Carry on, carry on."
Dave and Frank are, understandably, much more concerned. They go sit in a pod where Hal can't hear them and talk about the ramifications of this. If Hal made a mistake, then they're going to have shut him down and fly to Jupiter thing themselves. They aren't quite sure how Hal will feel about that. They also don't realize that Hal can read lips. Cause they're morons. Okay, they aren't morons, but this pod thing they're sitting in, it rotates. They rotate away from Hal and then rotate back so that they're facing him while they talk. For for the love of God, why?
Well, what's done is done. Frank takes a suit and goes outside to the not-really-failing satellite. Hal, the little bastard, severs his oxygen hose, I think, and sets him adrift. I'll admit, I wasn't exactly sure what had happened at first, but he goes pretty quickly from frantically spinning around in space, trying to reconnect something to his suit, to floating aimlessly through space. So I'm assuming Frank's dead within minutes. And I said I'd take note of the things I did enjoy when they happened, so: the scene where Frank is killed off, especially the close up on Hal and the sudden silence? That was a very cool scene. Muy creepy. I approve immensely.
Dave doesn't immediately realize that Hal murdered Frank, unfortunately, only that Frank is suddenly spinning through the great black abyss. So Dave hops on a transport pod and goes to recover the body. When he comes back, Hal won't let him back on the ship. Also, Hal's murdered the hibernating crew. He had to, see, cause Frank and Dave were going to shut him off, and the mission is too important to let mere humans handle it. Apparently, the fact that he made a mistake with the communications satellite doesn't worry Hal. Or he made the mistake as part of a cunning plot to get rid of the humans—but that seems a little far-fetched. I'm sure he could have gotten rid of them in an easier fashion, if that was the case.
Dave has to use the emergency hatch to get back on the ship. To do so, he needs to open the emergency hatch door with the claws on his pod. And to do that, he needs the claws free, and currently they're occupied by holding Frank's dead body. So Dave—who has a brief hesitation but is otherwise completely expressionless—lets go of Frank's dead body (back to spinning complacently in the darkness for you, buddy)—and opens the door. Then Dave jumps through the hatch—with no helmet. He manages to not die, and good for him. That couldn't have been very fun.
Dave goes to shut down Hal. Hal tries to plead reasonably with Dave, saying that he acted hastily and that he's all better now, but Dave isn't having any of it. As the Dread Pirate Roberts once said, trying to murder someone does put a damper on the relationship. (Obviously paraphrased.) As Dave starts shutting Hal down, Hal begins to get more childlike. He expresses fear and even sings a little song. ("Daisy Bell," in case you're curious. I had to look it up because it sounded just like this song Crichton sings in Farscape, and guess what? It IS the same one! I had no idea it was actually, like, a real song.)
When Hal is finally dead, a video starts playing. It's Dr. Schmuck! He appears to still be among the living, but I can't remember if he was actually standing next to the monolith when it started making that screeching sound earlier in the film, or watching it from afar. People seem to have conflicting opinions on whether the monolith killed the astronauts on the moon or not. I just can't make myself care very much right now either way.
Dr. Schmuck reveals that the mysterious monolith on the moon hasn't really done much of anything except send this one huge transmission to Jupiter, hence the whole mission. So Dave continues onward alone and arrives at Jupiter. And then . . .
*Sighs*
. . . and then, while in a pod orbiting Jupiter, Dave discovers another monolith just sort of floating around. But before he can do much about it, his pod gets sucked into a big tunnel of really bright colors. Dave travels through the LSD Tunnel at warp speeds, finally bothering to have an expression or two, although probably not the one I would be having at this point:
But that's okay. Dave continues going through the LSD Tunnel, for . . . what? Ten minutes? (Music blasting all the way, obviously.) I'm not sure if it's really ten minutes or not, but it certainly seems like a long fucking time. Finally, Dave's pod randomly pops up in this room in some palace somewhere, like . . . okay? The whole place has got kind of a Versailles thing going for it, although with a touch less gold than Louis XVI would have asked for, I think.
Dave kind of twitches out in his pod for awhile, which yeah, that's totally understandable. Eventually, he sees a dude in a red astronaut's gear across the room. Only then the astronaut turns around, and it's . . . Dave!
Er . . . .
Dave's a little older now, maybe in his fifties? The pod with Younger Dave has completely vanished. Middle-Aged Dave walks around the palace for awhile and eventually sees another old guy sitting down, eating dinner. Of course, the old guy is actually Old Dave, and we promptly switch focus to him. At this point, if I were Dave, I might close my eyes and start feeling around the room, but Old Dave does not do this, naturally.
Instead, Old Dave glances around and sees Practically Dead Dave, lying in bed. Practically Dead Dave starts to sit up very slowly in bed, and we see the black monolith has appeared in the center of the room. It does not go with the decor, frankly.
A strange, fetus shaped bubble has replaced Dave on the bed. We then see the fetus up close. It is the creepiest looking baby-thing I have ever seen in my life.
We then zoom into the black monolith. On the other side of it, presumably, is the moon. And then there's Earth. And then there's a bubble beside Earth. And inside the bubble is Fetus Dave, watching over the Earth. And then the movie ends.
Um.
Well.
Um.
. . . my brain hurts. Possibly my soul, too.
CONCLUSIONS:
I think there's a matter of personal taste that cannot be overcome when you watch a film like 2001: A Space Odyssey. Those who love it will defend it to the death, and those who hate it, I suspect, will never be swayed. I like to think myself as a relatively open-minded person (well, don't we all), but I cannot imagine ever liking or even truly appreciating this movie. I can look at certain scenes objectively enough, but as a whole . . . this film frustrates me so much that I really can't stand it.
MVP:
HAL 9000 (voiced by Douglas Rain). He was pretty creepy. I really did like the scene where Frank bit the big one.
TENTATIVE GRADE:
D+/C-
MORAL:
Gosh, there are several, aren't there? Don't trust computers. Birthdays herald death. Evolution is best assisted by Ligetti-spouting black monoliths from beyond.
Take your pick, buddy.