Taking a brief break from superhero movies—I realize the last six films I've reviewed have been The Incredible Hulk, The Avengers, and Batman through Batman & Robin—I thought I might try something a little bit different.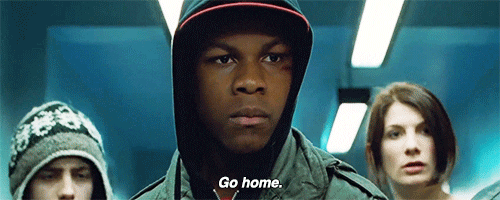 I don't know if it's my favorite alien invasion movie of all time, but it's really good.
SUMMARY:
A teenage gang in South London defends their apartment building (or block) from an alien attack.
NOTES:
1. I really liked this movie but, annoyingly, I'm not sure that I have so much to say about it on a first viewing. (Which I suppose will make it a normal sized movie review by anyone else's standards.) One of the things I liked best was that the social commentary—of which there was a bit—never interfered with the alien invasion part of the story. You know, the aliens didn't twiddle their thumbs for twenty minutes so that a character could pontificate to the audience about the difference in social classes. I like interesting discussions or even hard questions, but I hate to feel like I'm being preached to. Attack the Block is very successful at balancing stuff like "they arrest us for nothing anyway" and setting aliens on fire with Super Soakers!
There should always, always be people setting aliens on fire with Super Soakers.
2. One of the fun things about Attack the Block is that we're not dealing with all the usual suspects here. We don't have Straight-Laced Action Hero (or even Roguishly Charming Antihero) and Helpless Bimbo and Sweet, Innocent Child. Instead, we have drug dealers, stoners, teenage gangbangers, and a pissed off woman who's been mugged. There are little kids, true, but sweet and innocent might not be the best adjectives for Mayhem and Probs.
Other than Pest (one of the gang who snags some of the best lines in the film), these two kids are my favorite characters in the whole movie.
3. Attack the Block DOES have a nurse, however. There always has to be someone with medical knowledge. (I have plans to someday write a zombies-attack-the-hospital movie with a group of survivors who aren't trained to heal shit. I only have about 876 other projects I want to get to first. *Sighs*. Damn commitment issues.)
The nurse in this film is Sam, and she also happens to be the woman who gets mugged. I really like the relationship that develops between her and Moses, the leader of the gang that robs her.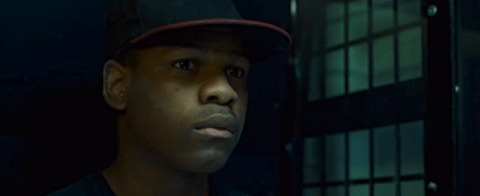 We are not exactly introduced to our heroes in a sympathetic light, and it's interesting to watch the dynamic between the perpetrators and the victim. Sam is pretty bitchy at times, but you know, kind of not without cause. As the movie continues and we get to know Moses a little better, Sam (and the audience) have more sympathy for him—but no one says anything ridiculous, like, "It's okay that you mugged me! I understand now that you had a reason!" Because that's bullshit. No one would ever, ever say that.
One of the most interesting exchanges in the whole movie is when Moses apologizes to Sam for what happened, not because what they did was so wrong, necessarily, but because they didn't know Sam lived in the block. If they had, he says, they never would have attacked her. And in a way, you can kind of get that—protect your own resonates with pretty much everyone, I think, and this movie isn't about saving the world or the galaxy or anything; it's all about keeping you and yours safe. It's not exactly hard to see how Signs was an inspiration for this film.
That all being said, Sam's pretty obviously in the right when she sarcastically asks if it's okay to mug people who don't live in the block. Moses and Sam, these two come together because they have a common enemy—the best reason for heroes to come together, in my opinion—but they don't exactly see eye to eye on most stuff, and I like that. Makes everything seem a bit more realistic.
4. In fact, my only real complaint about this movie is that I have kind of a pet peeve about nature documentaries being used to either explain the behavior of whatever alien/creature thing is attacking people or as some kind of sad metaphor about what's going on in a character's life. Watching the Discovery Channel or Animal Planet is like the new Helpful News Broadcast, I swear.
5. The aliens are interesting looking. On one hand, I have trouble being creeped out by any kind of weird ape thing. Consider it a holdover from years of laughing at the werewolves in BTVS. On the other hand, while glowing eyes have been done to death and will continue to be done to death for the next 600 years, glowing teeth are actually kind of cool.
Monsters should always have ominous teeth. Teeth are creepy.
6. When I actually understood the dialogue—accents are always a challenge, and slang is just no help at all—I laughed a lot. Some favorite lines:
Sam: "What's Ron's Weed Room?"
Brewis: "It's a big room. Full of weed. And it's Ron's."
Probs: "No one is going to call you Mayhem if you keep acting like such a pussy."
Dennis: "She's a nurse, innit?"
Pest: "Help me, then! I need this leg! I need it to be able to run away from them things!"
Jerome: "This is too much madness to explain in one text."
Sam: "We should call the police."
Pest: "You'd be better off calling the ghostbusters, love."
Pest: "Dogs? What kind of dogs those? Dogs with no eyes? Dogs the size of gorillas? You think them things are dogs? Go out there and try feeding them some Pedigree Chum! They're aliens, love."
7. Finally, before my incredibly brief Spoiler Section, one of life's most important lessons is learning to have priorities. Say you're a dangerous man, and some kids have ruined your car. Maybe you want to teach them a lesson. Okay, fine. Not exactly compassionate, but fine. Once the aliens start attacking, though—and you have very, very bloody proof that the aliens are, in fact, attacking—maybe you should stop going after the kids and worry solely about the aliens that are trying to eat you.
Sam and Moses come to understand that whole enemy of my enemy thing, but clearly, not everyone got the memo, Hi-Hatz. (I mean, he's kind of a badass here. Still a moron, though.)
SPOILERS
SPOILERS
SPOILERS
SPOILERS
SPOILERS
Well, some of the characters make it and some don't (Jerome and Dennis are the real notable deaths), but I really only created this Spoiler Section to praise Biggz, who survives because he hides in a dumpster for more than half the movie.
God, I love that. I love that so, so much. Characters are always finding good places to hide and then abandoning them to try and escape, which leads to them promptly getting eaten. Biggz tries that once, gets maybe half an inch out of the dumpster, nearly gets killed, and holes up inside the dumpster for pretty much the rest of the movie. Hiding saves your life! That's awesome!
CONCLUSIONS:
Funny, original, gory, and non-mindless. Quite the combination.
MVP:
John Boyega, probably
TENTATIVE GRADE:
A- (But it could potentially go up to a solid A with repeat viewings.)
MORAL:
Oh, it's probably supposed to be something like stand up, do what's right, protect your own, that kind of thing, but really? Hiding will save your life.