Well, we've officially hit October and Halloween season, i.e., the best season of the year. I'm woefully behind on my horror movie watching, and while I'd love to write my typical three-to-seven thousand word essays on every film I see, I just don't have the time to dedicate to it. I do hope to have quite the epic-sized essay here next week (assuming I can finish it up before going on vacation), but for today, I'm just grouping a few mini-reviews together in one post. Like, this is even shorter than the handful of Baby Reviews I've written in the past; we're talking 1-2 paragraphs tops. They're practically goddamn embryonic. Hopefully, though, this will allow me to (briefly) discuss several scary movies over the course of this most joyous month.
Therefore, without further ado . . .
House on Haunted Hill (1959)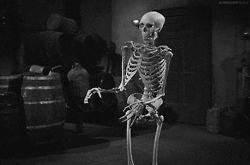 First Watch or Re-Watch: First Watch
Amazon, Netflix, Hulu, or Other: Amazon, the B&W version (I have feelings about colorized versions of old movies)
Spoilers: Only mild ones
I enjoyed checking this out, although I feel like aspects of the twist ending are a bit of a letdown. Not so much the twist itself, actually; that's set up pretty well, for the most part. Still, it leaves certain things unexplained, things that–to me–feel like untapped potential or annoying loose ends rather than interesting ambiguities. Certain characters are dropped for half the movie; other characters I'd happily see dropped out of a window. (Particularly the heroine. Sadly, it doesn't happen.)
OTOH, I adore both Vincent Price and Carol Ohmart, who have a relationship best described as "Nick and Nora, if they wanted to murder one another." They kind of make the whole movie for me. And the setup is a lot of fun: the first five minutes or so are pretty hysterical, and I genuinely enjoy how the movie introduces each guest one-by-one. I am, and forever will be, a sucker for any dinner party which comes with a side of MURDER. (Also, I'm simply incapable of watching Vincent Price in anything and not thinking of him as Sinister Disney. And yes, that is my latest band name, thank you for asking.)
Halloween (1978)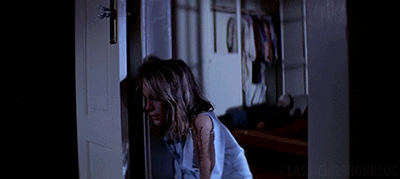 First Watch or Re-Watch: Re-Watch
Amazon, Netflix, Hulu, or Other: Amazon
Spoilers: Nah
I mean, the movie's cinematic influence clearly cannot be denied, and I really do love aspects of this film. Still, Halloween's probably never going to be one of my personal favorites. I like Jamie Lee Curtis well enough. The whole last act is pretty great, up to and including the last two lines. Seriously, that ending? Pretty masterful. And, of course, I love the score; hell, I own two different versions of the damn theme song . . . although I've gotta admit, on the re-watch, I actually felt like John Carpenter used the music too much too early. For me, it made those scenes feel repetitive, rather than tense.
Sadly, I have never in my life been able to take Dr. Loomis seriously. Donald Pleasance keeps going on about "the EVIL," and even full-well knowing he's right, I can't help but watch this movie and think, "Shit, man, maybe you just suck at your job." I hesitate to say I want more backstory–because Good Christ, did I not enjoy Rob Zombie's attempt at that in 2007–but there's a part of me that wishes we saw a glimpse of why Loomis is so certain his patient is darkness personified. Also: the pacing is a bit on the slow side, and I kind of wish Laurie's friends weren't awful. Like, even in slashers, I'm apparently all about girls having positive friendships with other girls. Mind you, none of those are fatal flaws; this isn't an argument that Halloween is a bad movie and everyone who likes it has been brainwashed by the system. It just doesn't do much for me on a personal level.
House on Haunted Hill (1999)
First Watch or Re-Watch: Re-Watch
Amazon, Netflix, Hulu, or Other: Amazon
Spoilers: Yes, if you watch the video.
Well, after watching the original film, Mekaela and I obviously decided to nostalgia-watch the awful 90's remake, too. I hadn't seen it since I was, oh, 13 or 14, and it's about as bad as I remember. The movie has several problems (thin characters, an annoying female lead, ridiculous special effects, a convoluted plot, not knowing when to stick to or deviate from the source material, etc.), but the sole thing that disappoints me the most is how Stephen and Evelyn's relationship is handled. Gone is the almost charming banter between our homicidal Nick and Nora; now they're just two awful people who are terrible to everyone 140% of the time. They feel like caricatures. Their barbs have no wit, and between the script, the performances, and some of the "intense" angles, the whole thing just feels like it's trying way too hard. It's too bad, too, because my God, Geoffrey Rush is just spot-on casting for Vincent Price.
On the plus side, Chris Kattan is a lot of fun as Pritchett; he's actually a big improvement to his counterpart in the original film. The movie maintains a breezy pace and stars a ridiculous amount of people: besides the aforementioned Rush and Kattan, there's also Famke Janssen, Taye Diggs, Ali Larter, Peter Gallagher, and Bridgette Wilson-Sampras– not to mention, BTVS fans can enjoy cameos by James Marsters and Max Perlich, while mid-90's pop rock fans can enjoy a cameo by Lisa Loeb. (I'd say horror fans can enjoy a cameo by Jeffrey Combs, but his screen time is so limited it's hard to appreciate it; you simply don't cast Jeffrey Combs as a psychopathic doctor ghost and then do this little with him.) And if you, like me, were the right age to enjoy 90's schlocky gore fests, House on Haunted Hill could be the bad horror movie you need right now, particularly to get your troubled mind off all the actual horror in the current world.