I'll admit this: not everything I've been watching and reading this month has been properly Halloween-y. (TOS, for instance.) However, I have made time for at least a few spooky things.
The Body (Into the Dark)
First Watch or Re-Watch: First Watch
Amazon, Netflix, Hulu, or Other: Hulu
Spoilers: Sorry, YES
Entertaining enough, but I ended up being disappointed by the end, mostly because I really enjoyed Dorothy (Aurora Perrineau), who–much to my surprise–was set up to be a really interesting final girl (instead of, say, the black friend who dies halfway through), only for her to die a sudden, ludicrous death via ricocheting bullet. Like, if you're gonna kill her, kill her, but come on, she deserved better than that. I found her way more than interesting than Maggie (Rebecca Rittenhouse), who–to be fair–totally surprised me once I realized she wasn't the typical innocent FG but instead a little budding serial killer in the making. I mean, that was fun, and I had a good time watching her and our hitman, Wilkes (Tom Bateman), exchanging nihilistic philosophies, tracking down our heroes, and maybe-falling-in-psychopathic-love. Nevertheless, I found the last-minute twist that Maggie was still alive boring, and while I love that Wilkes ended up becoming "the body," I still wish Dorothy had been the one dragging it around the city.
Doubt I'd rewatch this particular installment, but I am interested in seeing the next movie in this holiday-horror anthology. Hm, Thanksgiving-related horror. That probably means grisly revenge on white people, or someone's getting stuffed like a turkey. Possibly both.
Jason Goes to Hell: The Final Friday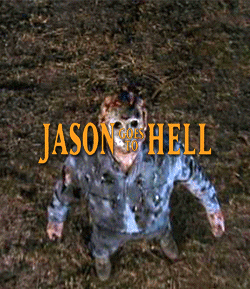 First Watch or Re-Watch: First Watch, mostly (I'd previously watched a few scenes)
Amazon, Netflix, Hulu, or Other: Amazon
Spoilers: Hell yes. I mean, shit, the title is technically a spoiler.
This is actually better than I expected. Which isn't to say it's good; sweet Christ, no. This movie might be better titled Jason Jumps the Shark, assuming you didn't think he'd already jumped the shark when he battled a telekinetic teenager, got resurrected by lightning, or just appeared as a fully grown adult man despite dying as a child. (Actually, the movie's original title was apparently The Dark Heart of Jason Vorhees, which, honestly, is a much more apt name.) Still, it's relatively fast-paced and entertaining enough, which makes it better than other films in the franchise: Friday the 13th Part III, for instance. In fact, the first ten minutes are pretty amazing, like, I am HERE for the FBI sting operation against Jason Vorhees. That's some amazingly hilarious shit. You have no idea how badly I want to take that opener and remake it into a whole movie.
However, that's not this film. This film is about Jason's spirit (which is also apparently a demonic parasitic creature) temporarily possessing various people in an effort to be reborn in a new body. It's the sequel that boldly includes Jason's sister and niece, despite the minor fact that they've never been mentioned in any of the eight movies previous. It also introduces a never-before-heard prophecy (as delivered by a cowboy bounty hunter who knows it because Reasons) AND ends with Freddy Krueger's gloved hand bursting out from the ground and pulling Jason's mask back beneath the dirt. Obviously, I wouldn't change any of that. (Especially because Krueger clearly signifies that this film is an Elseworlds tale, which means that I can completely ignore it in my ongoing argument that Jason is secretly a Warrior of God.)
What I would deeply like to change, though: a) cut the scene where Jason-Parasite infiltrates his dead sister's body through her lady parts because GAH, NOT NECESSARY, b) let Jason possess at least one non-Vorhees female character so we'd get to see Lady Jason cause goddamn, that would've been cool, c) cut Steven's whole character because he's wildly unnecessary to the plot and could easily have been replaced with Creighton Duke (the cowboy bounty hunter, notably played by Steven Williams), not to mention has the absolute dumbest fight scene with Jason, where he's repeatedly allowed to live despite putting up basically no defense of any kind, not to mention takes away a lot of time from Final Girl Jessica, who alone will stand against the vampires, the demons, and the forces of darkness Jason Vorhees, and finally d) make waitress Vicki (Allison Smith, or Mallory from The West Wing) the Final Girl instead–or at least let her live–because she's unexpectedly a total badass and deserves so much better than she gets in this movie.
13 Ghosts (1960)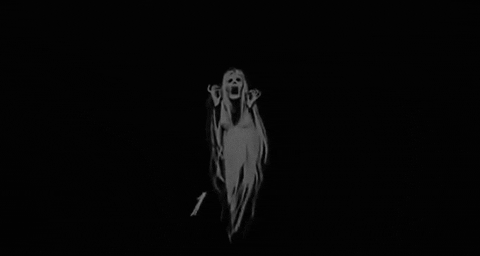 First Watch or Re-Watch: First Watch
Amazon, Netflix, Hulu, or Other: Amazon
Spoilers: Some, yes
This was fun. The tone bounces back-and-forth a bit too much for me: it'll be suspenseful and foreboding one minute, and then all cheer and hijinks and irrepressible, unsupervised children running around the house that everyone already knows is haunted the next. Still, I had a good time. For one thing, I'm apparently a sucker for these super silly, super campy, William Castle-style introductions. (Shocking, I'm sure. Also, in case you're familiar with the movie's original gimmick–no, I didn't have any ghost viewer glasses. More's the pity.) I genuinely enjoyed a lot of the humor. The special effects are obviously, you know, from 1960, but I liked many of the ideas: the seance was neat, for instance, with the dead uncle's ghost coming out of the portrait and briefly possessing Cyrus. Shit, they even had a lion ghost! (As well as the headless ghost of the lion tamer.) Also, I was delighted to see Margaret Hamilton playing the housekeeper/medium. That little fourth wall break she does at the end of the movie? Superb. I laughed so hard.
I'd love to see a proper remake of this–not the 90's shlock fest with Monk, Stu, and Miss Honey that you know I'm gonna be rewatching at some point, but something much creepier, more atmospheric, maybe a TV show that could take its time and really introduce each of the ghosts. Maybe Hulu could pick it up to compete with Netflix's The Haunting of Hill House. (Don't spoil me, people! I've only seen the first episode so far.)
The Curious Creations of Christine McConnell
First Watch or Re-Watch: First Watch
Amazon, Netflix, Hulu, or Other: Netflix
Spoilers: No
I hadn't planned to include any TV shows in these tiny little reviews, but Mek and I just finished watching The Curious Creations of Christine McConnell, and it's a lot of silly fun, as if The Addams Family met, I don't know, Ace of Cakes (dated reference FTW), with some undead puppets thrown in for good measure. It is occasionally a bit on the corny side, but I enjoyed it; it makes for a good comfort watch, something you can throw on in the background and say, "Ooh, look at all the cute, creepy pretties." Admittedly, I'll never be able to make any of the cute, creepy pretties–seriously, they are elaborate AF–but all the same, it's a good show for anybody who likes a little sweetness with their spooky or a little spookiness with their sweets.