Well, Halloween's behind us, so this is the last of these little horror reviews for a while . . . but possibly not the last of these "Watch A Handful of Things And Write About Them In One Go" posts. Obviously, I can't do this for every movie; some films absolutely require 8,000 words dedicated solely to why they could've been so much better. But I must admit, I do like how the brevity of these Baby Reviews allows me to discuss more than 1-2 movies per month. Although, it should also be said that it took me approximately five seconds to break my own 1-2 paragraph rule for said Baby Reviews, so. We'll see.
The Thing (1982)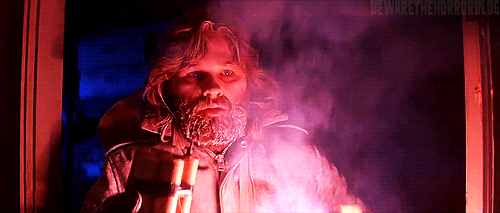 First Watch or Rewatch: Rewatch
Amazon, Netflix, Hulu, or Other: Hulu (with a free trial month at Starz)
Spoilers: Nope
One of the difficult things I've discovered about reviewing movies is that time often changes your perception of a film. I first watched and reviewed The Thing back in 2010, and I liked it, but there were definitely aspects I thought could be improved: specifically, I thought we needed to see a few more hints about how and when certain characters were assimilated. Over time, though, the parts of this film that stood out in my memory were all the things I liked, and as such, my perception of the movie as a whole grew fonder, even without rewatching it. (Sometimes, the opposite happens, too. Case in point: Birdman.)
Rewatching The Thing this week has only reminded how much I really enjoy this film. I had many of the same reactions I did when I first watched it (gleefully grinning at all the gore, considering Frozen MacReady a viable future Halloween costume, loudly snorting when MacReady insists he has a calmer temperament than Childs, wishing these assholes would stop spending time alone, especially with their backs to their goddamn doors, etc), but the ambiguities about who got infected when bother me considerably less this go around. I had a pretty great time watching this. It is easily my favorite John Carpenter film to date.
Also, the best line of the film remains thus: "I know you gentlemen have been through a lot, but when you find the time, I'd rather not spend the rest of this winter TIED TO THIS FUCKING COUCH!"
The Haunting
First Watch or Rewatch: Rewatch
Amazon, Netflix, Hulu, or Other: Amazon
Spoilers: Yeah
This is actually even worse than I remember. But it doesn't start out so bad. I was particularly surprised to find that Eleanor (Lili Taylor) didn't annoy me quite as much this time around; perhaps I was thinking more of her character in Six Feet Under, or perhaps no one can be as annoying as Eleanor from the original film. Owen Wilson's character, on the other hand? Yeah, I was actively rooting for him to get decapitated in that fireplace. I'm also frankly a little disappointed that Liam Neeson's character survived because, boy, didn't he become an asshole in this version of the story. I completely forgot how he lied to everyone about the true nature of the experiment, and I'm not sure I ever really bought his change-of-heart near the end.
Still, this movie's biggest problem is that it's just not scary. They reproduce some of the novel's classic spooky moments. A fountain spits out blood because sure. They fill the place up with every creepy cherub statue they can find, but none of that's the same as giving the movie atmosphere. For a horror movie, it's surprisingly well-lit (possibly too well-lit) and definitely too full of silly CGI gags that are particularly laughable in 2018. (Not that the practical effects are much better, since I actually saw the string in one scene, and I almost never catch shit like that.) There is no subtlety to this movie, none. And some of the adaptation changes, like, what? Why is Eleanor suddenly the great, great granddaughter of the second murdered wife, or whoever? Did we really need to create a generic "I must save THE CHILDREN" narrative? Whose bright idea was it for the ghosts to invite Eleanor via telephone; didn't we learn our lesson from House on Haunted Hill? And who the fuck let this line get through: "Well, I'm family, Grandpa, and I've come home!"
The Haunting isn't scary because it's shot like a shitty action film that just happens to come with CGI ghosts and a wee bit more violence. Ultimately, that's not terribly surprising because it's directed by Jan de Bont, who's better known for movies like Speed, Twister, and Lara Croft Tomb Raider: The Cradle of Life. (In fairness, I actually really enjoy two of those movies.) The only positive things I can really about The Haunting are these: one, I like Mrs. Dudley, as I usually do, and I just wanna start ominously muttering "in the night" and "in the dark" to random people, and two, I still really like Theo. She's the first openly bisexual character I remember seeing in a movie, and while she doesn't get nearly as much to do once Eleanor really starts investigating the house's muddled, boring backstory, she's still the most likable character of the bunch. Also, she lives, which is obviously impressive.
The Haunting of Hill House (2018)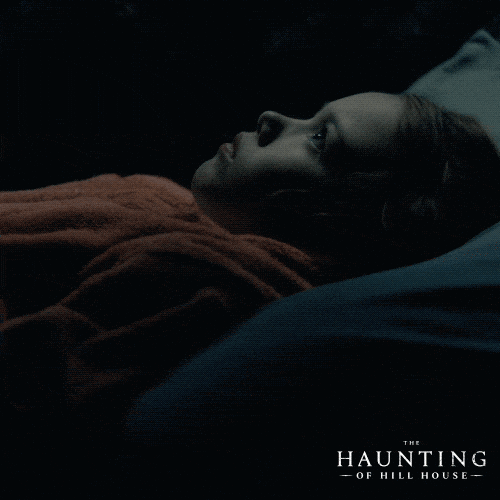 First Watch or Rewatch: First Watch
Amazon, Netflix, Hulu, or Other: Netflix
Spoilers: Sorry, but YES
I really enjoyed watching this, but I was also wildly underwhelmed by the ending. So, it'll be interesting to see how my perception of this show changes over time.
The first episode didn't grab me right away, probably because I mostly find Adult Steve to be a bit insufferable, but after that I quickly got sucked into the story. The show is atmospheric, creepy, sometimes horribly sad. I was invested in most of the characters and certainly the group of siblings as a whole. (Theo and Luke were my favorites.) I loved how each of the kids were psychically sensitive in some way, although I wish we could've seen more of that at times. (Shirley's dreams, for instance. I am a 1,000 times more interested in Shirley's dreams than in her one time fling with some dude at a funeral home convention, especially since that whole subplot feels like filler for a thematic ending I didn't really buy anyway.) I also thought the twist that Abigail was real was fantastic, although I don't quite like how the reveal itself is handled, which we'll discuss in a bit.
What's amusing about the show's extremely polarizing finale is that, going into it, I worried I'd find the episode too ambiguous and/or bleak for my tastes. Instead, it went the exact opposite direction, with a big tonal shift that I couldn't quite buy and a moral that landed like an anvil. What's especially frustrating is that, honestly, a lot of the episode does work for me. For instance, I like that Ghost Nell saves all of her siblings, but I don't like that between her and Hugh's sacrifice, the remaining Crain children do absolutely nothing to save themselves. I like the idea of Ghost Nell's speech about time and love and confetti, but good God, it goes on too long, as does basically every other speech in this episode. I have never seen a show that loves its monologues like The Haunting of Hill House, and while they mostly work for me (despite how much attention they call to themselves), the ones in the finale seem considerably less successful, like, at a certain point, you just want the ghosts to all walk around with signs that say "Moral Here."
And while I've been actively fascinated by the idea of optimistic or uplifting horror for years, I just don't buy nine episodes of dread and one episode of triumph; the balance isn't there. Bittersweet, I would've gone for. I can't tell you how much I love the line "this house, it's full of precious, precious things, and they don't all belong to you." At the same time, the show is so busy telling us ALL YOU NEED IS LOVE that I feel like it loses itself in the end. Admittedly, that's never been one of my favorite morales, but I especially don't buy it in an episode where Steve goes back to his wife (like his dad once did, oh, the subtle parallels) and gives a non-apology about how ghosts are wishes and marriages can be haunted instead of just saying "Here is why I'm so fucked up, and I'm so sorry I lied to you and hurt you for years instead of dealing with my own shit." You know how in Daredevil, Season 2, when Karen is supposedly writing the news but she's actually writing some poorly worded thematic bullshit about how everyone's a hero? This whole ending feels like that scene to me. I understand it, but that doesn't mean I buy it.
Finally, a handful of random thoughts:
A) Theo's not-quite-GF showing up at Nell's funeral like that's a totally normal thing to do feels totally invasive, completed weirded me out, and prevented me from shipping those two at all.
B) Theo learning to let her guard down and Theo throwing away the gloves that keep her from psychically intuiting everything she touches are so not the same thing. (Seriously. SO MUCH thematic bullshit.)
C) I get that all the kids are damaged in some way, but I never fully buy the transition from Young Helpful Steve to Adult Asshole Steve, though I do find AAS at his most compelling when you realize why he and his wife split. Like, what he's done is awful, but also, I totally get his whole "we're sick in the head and sick in the blood" damage.
D) Mek and I were pretty sure Nell was the Bent Neck Lady well before they revealed it, but her death scene was still remarkably haunting and tragic.
E) Mek and I realized who Abigail was once she died in Episode 9, but while a Big Reveal moment in Episode 10 is fine, it feels misplaced (and oddly rushed) near the end of Episode 10, awkwardly shoved between Adult Asshole Steve having seen Something and Hugh's Big Reveal that he's already dead.
F) Every ghost story should include Mr. Homn. That is all. (ETA: Well, every ghost story should include Mr. Homn but apparently doesn't. Research mix-up, alas.)