Welcome to My Geek Blasphemy's first Triple Scoop Review–a concept I may or may not stick with, depending on how well it goes and also how hungry I am. (Let us be under no illusions here: the criminal lack of ice cream in my freezer probably has much to do with this whole "triple scoop" idea in the first place.) Triple Scoop Reviews will function much the same as Lil Spooky Reviews, only they won't be limited to horror movies, and I will assign each film thematically flavorful ratings. A Chocolate rating will be awarded to my favorite of the bunch, while my least favorite will clearly be inferior Strawberry and the middling film will be assigned an equal middling Vanilla.
Like I said, we'll see how long this lasts; if I start getting frustrated that I can't rate everything Chocolate, for instance, I may have to tweak the formula. In the meantime, however, let's get started.
Hotel Artemis
First Watch or Rewatch: First Watch
Amazon, Netflix, Hulu, or Other: Netflix (DVD)
Spoilers: Only super mild ones
Grade: Vanilla
I enjoyed this, though by the end, I couldn't shake the feeling it was missing something. I like all of the actors: Jodie Foster, Sterling K. Brown, and Dave Bautista are particularly great, and I'd happily watch more of their characters any day of the week. It's a fun concept, too (high-tech hospital/hotel for criminals), and I like how the film sets up a lot of moving parts in the beginning with various little mysteries and parallel storylines. (Who is the woman outside, what is the significance of the pen, who does Nice want to kill, etc.)
Unfortunately, I don't know that the payoff to these mysteries works as well: multiple side characters feel underused or extraneous, the few Big Reveals are unsurprising, and at some point the plot complications just sort of whimper out. I can't help but wish the futuristic backdrop had played more into the story, too. It kinda feels like the whole idea of this plot structure is to light six matches near a powder keg and wait to see which one goes off, which is a neat idea in theory, but how it plays out in actuality . . . you know, I don't quite know how to describe it. Everything just runs in a horizontal line, one event after the next in a chopped, hurried fashion, all racing to wrap up as quickly as possible. Like they're on a deadline. Like the chaos is suddenly, noticeably scripted.
Hotel Artemis is totally enjoyable (it even clocks under 2 hours) and I'd watch a sequel in a heartbeat, but that third act is just missing something, making it a B movie when it could easily have been an A-.
Ocean's Eight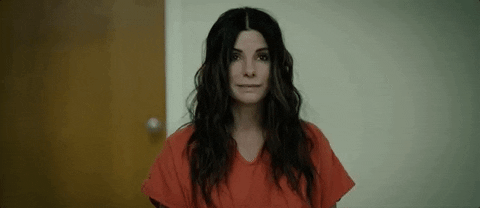 First Watch or Rewatch: First Watch
Amazon, Netflix, Hulu, or Other: Netflix (DVD)
Spoilers: YES
Grade: Strawberry
Man, I wanted to like this one so much. Ocean's Eleven might have been the first movie I remember thinking, "God, how cool would this be with all women?" And parts of it are genuinely great. The idea of a heist at the Met Gala is just fun. The cast is amazing. I enjoy some of the callbacks to the 2001 film, and I really love a lot of the smaller moments, like Nine-Ball's little sister, Debbie and Lou blowing bubbles, or pretty much every line out of Mindy Kaling's mouth. Also, holy shit, I should probably go over to Archive of Our Own and find all the Debbie/Lou fanfic because sweet Jesus, there must be a ton of it.
Unfortunately, this plot's got some serious weak sauce writing, particularly in the second half. I could forgive the scene between Debbie and Lou that feels like an inferior version of this scene. I could forgive how Anne Hathaway's involvement is pretty obvious to anyone who can do basic math. I could maybe even forgive how every Reveal in the last third of the movie (including Hathaway) feels clumsy and rushed, but I cannot forgive the abysmal lack of plot complications and stakes in this movie. Pretty sure the last thing to actually go wrong for our crew is the busboys stopping to chat. It takes Sarah Paulson less than a minute to solve that problem, and then there's still, what, twenty minutes left in the movie? Maybe thirty? The magnet problem prior is also just as quickly solved, and while I actually like the idea that there's another act after the Big Heist, Insurance Investigator James Corden comes out of absolutely nowhere and isn't even remotely a hindrance to our crew: shit, he helps them. Admittedly, I kind of enjoy that scene with him and Debbie at the diner, but again, it takes all of twelve seconds to turn him from potential antagonist into eager collaborator. A heist story where everything goes smoothly isn't much of a story. Even comedies need basic tension, and this film has almost none.
Mek and I wracked our brains, trying to figure out how to fix this. Like, I know I said I could forgive them, but some of those last-minute twists (Hathaway's involvement, the theft of multiple necklaces, etc.) are really a problem for me because they depend upon needless secrets being kept from the team and thus come across as lazy writing. Unless Debbie, who's been burned before, secretly brings in Anne Hathaway because she doesn't trust anybody on her team, maybe not even Lou. Now, that could create some genuine plot complications: perhaps Debbie has good reason to doubt her team because, say, Helena Bonham Carter betrays them, or better yet, maybe Debbie's mistrust almost gets them all caught at some point, causing a rift/chaos/whatever, until they all work past it and pull the whole thing off like the badass ladies they are. That just leaves Scummy Ex-Boyfriend, who I'm mostly inclined to drop anyway, because his presence at the Met Gala feels like another failed setup, a potential complication that proves no trouble whatsoever. It's really hard to have payoff if the characters face no actual challenges along the way.
Much like Hotel Artemis, I'd honest-to-God watch a sequel to this movie, but I'd definitely want different writers on board. Because the problem here isn't the ladies. The problem is the script.
The Last of Sheila
First Watch or Rewatch: First Watch
Amazon, Netflix, Hulu, or Other: Amazon
Spoilers: My God, YES.
Grade: Chocolate
It is a well-documented fact that Mekaela and I are mystery junkies. Unfortunately, it's hard to find a good classic mystery these days: dinner parties with a side of murder just aren't the rage anymore, much to our infinite sorrow. So we ventured into the way-back machine and found The Last of Sheila, a 1973 film where a young James Coburn invites six guests to his yacht a year after his wife, Sheila, was killed in a hit-and-run. Entertainment is provided in the way of a mystery scavenger hunt, where each guest is assigned a pretend-secret and has to discover everyone else's . . . only the secrets are all-too real. Naturally, people start dying.
The Last of Sheila is actually one of the more clever and engaging mysteries I've seen in quite a while, not to mention boasts quite the cast and crew: the film stars a young Ian McShane, Raquel Welch, and Dyan Cannon, and was written by–wait for it–Anthony Perkins and Stephen Sondheim. What? There are lots of small clues and red herrings to sort through, enough that just remembering them all provides a bit of a fun challenge. Mek and I immediately figured that Lee had killed Sheila; also, that Clinton was already dead when Lee supposedly murdered him and that Tom was either the outright killer or, at the very least, involved. That last bit seemed clear because we never forgot the A is for Alcoholic card–though I initially seized on it for the wrong reason, considering I thought Tom was the alcoholic. At any rate, we had a lot of fun watching this. I like the idea that two group detectives, so to speak, were actually the guiltiest people in the bunch. I really enjoyed Tom and Phillip's extended standoff (including the WTF puppets). And I like that the mystery is also a bit of a Hollywood satire, especially considering Tom's "rewrites are a fate worse than prison or death" ending. There's really a fair amount to recommend here.
But. But. But.
The biggest twist in this movie is that Clinton's party game is just that: a party game. He didn't write the Hit and Run Killer card and he certainly isn't trying to find out who murdered Sheila. Actually, the secrets he chose were relatively small: shoplifting, for instance, or being an ex-convict. But you know what else Clinton considered a small secret, an embarrassing bit of gossip, a Not Big Deal? Being a child molester. YEAH. Phillip–probably the most likable character of the bunch and lead protagonist after the last lead turned out to be a double-murderer–has apparently molested kids, which not only puts the audience in the deeply uncomfortable position of rooting for a pedophile, nobody else in the movie gives a shit about it. Seriously, Mek and I just kept sitting there, dumbfounded, waiting for one of the other characters to justifiably freak out or denounce the guy or discover the accusation isn't true . . . but it is true, and everyone in the story is just like, well, directors, you know. For Christ's sake, Phillip gets a happy ending!
And seriously, what the fuck? What the holy fuck? What the fucking holy fuck?