The holidays are basically over, thank God. (I kid. Sort of.) Now that we just have New Years and the inevitable what have I been doing with my life anxiety that comes with it, let's get back to reviewing a random assortment of movies, shall we?
Just a reminder for all of you strawberry ice cream loving weirdos out there, the rating system goes like so: chocolate equals favorite, vanilla equals second favorite, and strawberry equals least favorite. Though, admittedly, that doesn't always mean much when I like all three films, especially if they're wildly different films as they are today. (Gotta be honest: I pretty much just did a coin toss when it came to choosing who got chocolate and who got vanilla this time.) It's a messy ratings system borne out of silliness, rather than practicality.
With that in mind . . .
Ant-Man and the Wasp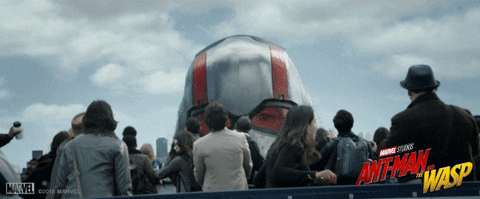 First Watch or Rewatch: First Watch
Amazon, Netflix, Hulu, or Other: Netflix (DVD)
Spoilers: Very few
Grade: Chocolate
I never got around to seeing Ant-Man and the Wasp in theaters. Maybe it was Marvel fatigue. Maybe I was just lazy. Maybe it was leftover annoyance with the first Ant-Man. (I laughed pretty hard at some of the jokes, but I was so frustrated for Hope Van Dyne by the end of the movie that I basically just wanted to murder people.) Still, after the trailer for Avengers: Endgame came out, Mek and I were like, "Yeah, we should probably go ahead and watch this."
Fortunately, I enjoyed Ant-Man and the Wasp so much more than its predecessor. In fact, I don't know that I have any complaints about it: I'm so much happier with how Hope's treated in this movie, and I love that she and Scott both get the chance to save one another. Michael Peña is hilarious, particularly in the truth serum scene. (Oh my God, the truth serum scene.) Scott's daughter is still cute. Randall Park might be even cuter. I either didn't know or totally forgot that Walton Goggins was in this, Laurence Fishburne, too, and I'm always excited for any chance to see Michelle Pfeiffer. I also really appreciate the movie's relatively small stakes: no one's trying to save the world or conquer another universe. This is just a hero who wants freedom from house arrest, another hero who wants to save her mom, and a sympathetic villain who doesn't want to die and/or be in constant pain anymore. Ant-Man and the Wasp is a joyful, funny, feel-good story, which is the kind of thing I've been into lately. Also, not shockingly, the size gags are the best.
I should go see if there's any good Janet Van Dyne fanfic out there (specific to this particular iteration, that is). I understand why the film didn't have time for it, but holy shit, is there some serious fanfic potential in her arc. Good lord.
The Dark Crystal
First Watch or Rewatch: First Watch
Amazon, Netflix, Hulu, or Other: Amazon
Spoilers: Definitely
Grade: Strawberry
After Netflix announced the cast of the upcoming Dark Crystal TV series–which, if you didn't hear, was EVERYONE–I decided it was maybe time I finally got around to watching the actual movie. No, I never saw it as a kid. I'm not sure why, exactly; I loved The Labyrinth well enough. Unfortunately, I suspect The Dark Crystal works best when you're young–assuming it doesn't scar you for life, that is, which it totally could've. Shit gets dark in that movie.)
Some stuff, I really do enjoy. I like that the Skeksis and the Mystics are two halves of the same beings. I really enjoy the memory swapping scene, random as it is. (Dreamfasting sounds like Slim Fast for dreams, which is a story I need to write immediately.) Kira herself doesn't have much in the way of personality, but she's still pretty cool: she speaks multiple languages, can call animals, manages to resist brainwashing, and, oh yeah,  HAS WINGS. And, of course, Fizzgig is the absolute best; I desperately want one immediately. Y'all don't even wanna know how much ranting you would've endured if Fizzgig had actually died.
Still, for a fairly short film, The Dark Crystal has a pretty slow, plodding pace. Lengthy exposition and narration don't help much, and the Skeksis, in particular, are kind of excruciating to watch. (Though watching Mek's mounting homicidal rage as the Chamberlain repeatedly made this noise was kind of worth it. Also, I feel it's important to note that the design of the Skeksis was killing me because I knew I'd seen these assholes before; it wasn't until Mekaela suggested Farscape that I realized they were totally the Halosians.) The worst, though, is definitely Jen, who is a deeply worthless hero: whiny, useless, and boring, like all the farm boy protagonists he's drawn from. Visually, the Gelflings themselves are enjoyably creepy in that whole uncanny valley sort of way; vocally, though, Jen mostly reminds me of a young Matthew Broderick doing a young Luke Skywalker on Tatooine impression, and it is insufferable.
But maybe the biggest bummer about watching this movie is that I'm actually less interested in checking out the TV series, now that I know it's a prequel about three Gelflings who work to start a rebellion against the Skekis. Prequels are so rarely ever my jam anyway, but especially when there's such an obvious foregone conclusion, like, the rebellion's gonna fail, folks, and the Gelflings are all gonna DIE. Yes, yes, except Jen and Kira; I'm saying, we're still looking ahead to mass puppet genocide. I don't mind dark children's stories, but even for me, that's a bit much.
Rehearsal for Murder
First Watch or Rewatch: First Watch
Amazon, Netflix, Hulu, or Other: Amazon
Spoilers: YES
Grade: Vanilla
Last month, Claire suggested in the comments that if I enjoyed murder mysteries, I might want to check out this TV movie, Rehearsal for Murder. Since it was free on Amazon, we did just that, and let me tell you, people: Claire was right.
Rehearsal for Murder is a pretty clever story. I'm a sucker for the whole setup: an actress dies, supposedly having killed herself after a poor opening night, and a year later her playwright fiancee gathers a group of people from that show (a few other actors, the director, a producer, etc.) to test read his new play . . . only the play is clearly a front for catching the real killer. I wish I could say I figured everything out, but that wouldn't be true, although I did get pieces. I noticed the cab, but forgot about it later. I knew the lighter was important, but thought it was a clue indicating someone else. I was immediately sure that there was an affair/blackmail situation going on, and I figured the actor-cop was involved somehow, maybe as an accomplice or a hitman. It definitely never occurred to me, though, that everyone was in on the set-up, like a reverse Murder on the Orient Express. The twist was set-up extremely well, and I was very satisfied by the story and its structure. TBH, I'm a little surprised this movie wasn't based on a play.
As this is a TV movie from 1982, the film quality is . . . not the best. I wouldn't mind seeing it redone with decent cameras for the big screen. But if you're looking for a clever mystery that's also a Boy Meets World reunion, this is it: both Mr. Matthews and Mr. Feeny play significant roles here. (Hence the GIF above. Also, God bless William Daniels; I just love that man's voice.) Also of note: Robert Preston, who has a lot of presence as our playwright detective hero, and Jeff Goldblum, who is his usual delightful self.