Lately, I've been ignoring pretty much every movie in my queue (not to mention my TOS recaps) in favor of binge watching non-Star Trek-related TV. That's not particularly unusual for me, but it has meant I've been thinking all these random, pop culture thoughts without anywhere to express them in my characteristically lengthy and over-analytical fashion.
So, I figured I'd take some time to discuss the handful of TV shows I've been (sometimes obsessively) watching over the past few months. I did consider stacking them against one another, even adding a couple of flavors to my Triple Scoop Rating System–Mint Chocolate Chip would be the lowest of the low–but then it just seemed like work, so. Meh.
The Umbrella Academy
Amazon, Netflix, Hulu, or Other: Netflix
Seasons: 1
Adapted Material: Yes, a comic book series
Have I Read It: Nope. Always meant too, but nope
Spoilers: YES
Man, this show is all over the place. Some of it I really like. The basic premise (Potential murder mysteries! Child superheroes becoming bitter adults! Stopping the apocalypse together like a family!) really works for me. Also, I am–and forever will be–obsessed with mediums and their dead partners-in-crime, so I pretty much had to like Klaus despite myself. (But seriously, more Ben, please!) I was honestly surprised by how much I cared about Diego's relationship with Robot Mom, and some of the shows's overall weirdness worked well. Cha-Cha and Hazel in their masks, for example. Or the dance scene to Tiffany's "I Think We're Alone Now," which I've rewatched, like, four times at least.
Still, I definitely struggled with The Umbrella Academy. Vanya was the source of much of my frustration, despite the fact that I like Ellen Page just fine in the role. It just takes so long for her storyline to progress in any interesting way, and even when it does, like, it's still pretty obvious how it's going to go. Of course she's going to develop powers, and of course those powers are going to cause the apocalypse. Her annoying love interest/bad guy only makes things worse for me. He isn't charming or likable enough to buy into Vanya's insta love for him; I do not care that he's supposedly the only person who's ever paid her attention. (Maybe because I just don't quite buy that, either? That bit irks me for reasons I'm having trouble articulating.) I was so grateful when she finally killed him, but still, that took how many episodes? Meanwhile, Vanya's snap to the dark side somehow manages to feel rushed, like Luther locking her up was obviously a bad call, but she had just slit her sister's throat, so, it didn't seem entirely unreasonable? More importantly, it felt like she was imprisoned for all of twenty minutes before she suddenly went all Possess-Y Blue Eyes, and I just never bought that transition. It's not the only storyline where the pacing bothers me (even Cha-Cha and Hazel, who I generally enjoy, seem to fizzle in the back half of the season), but it's easily the one that bores me the most.
Also, I can't get past the feeling that The Umbrella Academy is just trying WAY too hard to be, like, So Different, So Weird, So Buzzworthy. Which, it really doesn't need to do. When your story includes a talking chimpanzee butler, you don't have to try that hard. And yet so many of the music choices and fight scenes just feel like they're screaming for attention. Some of them I genuinely enjoyed, but others kept throwing me out of the story.
I don't regret watching the show at all, but I'm also pretty relieved to have a break from it, too. I'll probably check out the second season–assuming it gets renewed–but I suspect I won't be counting the seconds till its return, either.
Russian Doll
Amazon, Netflix, Hulu, or Other: Netflix
Seasons: 1
Adapted Material: Nope
Spoilers: Some. Nothing the trailer doesn't tell you, but I'd still recommend skipping the first paragraph if you haven't seen the show yet.
I'm a huge sucker for a time loop–particularly in television–so obviously, I had to watch this show where Nadia (Natasha Lyonne) keeps dying over and over on her 36th birthday. For the most part, I really enjoyed Russian Doll. The first couple of episodes didn't fully grab me, but I quickly got on board once Alan came into the picture. The dynamic between him and Nadia really interested me, and of course, adding a second person to a time loop is just goddamn cool.
The further you get into Russian Doll, the more it starts punching you in the face with emotions, rather than just a string of wacky death sequences. To be clear, I absolutely do not object to wacky death sequences at all. Still, I feel like the show doesn't fully come together until you really get the Feels in the second half. It wasn't a big problem for me, though: each episode is about half an hour, I think, and there are, what, eight episodes total? So, not a big time commitment. That's a glorious goddamn feeling.
Both Natasha Lyonne and Charlie Barnett are fantastic in this, and the ending of the show is perfectly, beautifully bittersweet. I know there's already been talk about making more seasons (as an anthology show, maybe) but personally, I kind of hope they just keep this as a one-and-done. Even without answering everything, it already feels very complete.
Shadowhunters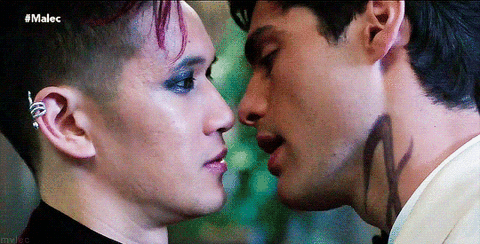 Amazon, Netflix, Hulu, or Other: Hulu (by way of Freeform)
Seasons: 3. Well, 2 and 1/2. 3B airs in just a few days.
Adapted Material: Yes, Christ, yes. There are so many books and companion books it's hard to keep track. Also, a 2013 film I never saw.
Have I Read It: Nope. Some interest in The Magnus Bane Chronicles, though.
Spoilers: Some, yes. Nothing that should ruin the show for you.
My latest obsession and guilty pleasure, even though I'm not wild about that term. Still, I can't help but feel it applies here because there is SO MUCH I want to fix. I can easily forgive the shitty special effects because, hey, there's a charm to low budget SFX (though, admittedly, the first season is particularly charming in that regard, even for Freeform), but Clary, the primary lead, mostly annoys me, and the initial love triangle between her, Simon, and Jace is so awful, oh my God. I would like this show 170% better if I hadn't had to deal with two seasons of that crap.
That all being said, if you like urban fantasy, positive queer representation, and/or attractive people, there's a fair bit to like here. I enjoy the general concept of the world: the angelic rune magic is pretty cool, if not terribly consistent (often a problem with TV, especially SF/F), I really enjoy the warlock marks (Madzie's gills are the BEST), and I'm a sucker for a psychic soul bond (though I'd kill to see some lady parabatais on this show). Some good side characters, too: Maia (Alisha Wainwright), a werewolf bartender studying marine biology, is such a badass, and Luke (Isaiah Mustafa) is a hot, werewolf, ex-Shadowhunter, father-figure type and homicide detective, so, yeah, I'm okay with that.
And, of course, Magnus and Alec own my fucking soul. #Malec4Life
Like, I'm not gonna lie, kids: there's some serious aesthetic appeal going on here. Matthew Daddario has pretty eyes, a great smile, and is stupidly tall, while you don't get much more my type than Harry Shum Jr. in dark eye makeup and fabulous jackets. But I genuinely love these characters, too, and the chemistry between them: Magnus is a sassy, dangerous warlock with a heart of gold, so, OBVIOUSLY, I love him, and in my own way, I actually relate pretty hard to wary, repressed Alec, especially in the first season as he struggles to accept himself and understand who he is and what he actually wants. And like I said, the queer rep is pretty decent: for main players, Alec is gay, Magnus is bi, and Raphael is asexual (canonically and briefly discussed in scene, though unfortunately, no one uses the actual word). Meanwhile, there are multiple minor LGBTQ+ characters, too, namely, Ollie, Aline, and Underhill.
I know this show isn't for everyone, but damn, I'm enjoying it right now. Which is why I'm extremely bummed that I only discovered it right before its final season.
Killing Eve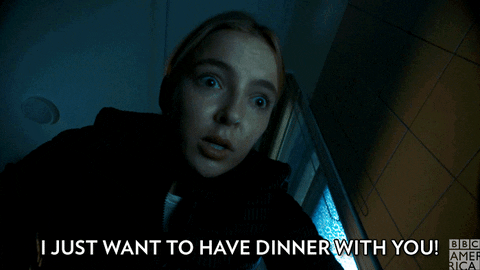 Amazon, Netflix, Hulu, or Other: Hulu (by way of BBC America)
Seasons: 1
Adapted Material: Yes, a series of novels
Have I Read It: Nope. I'm really starting to feel like I'm letting my fellow readers down
Spoilers: Surprisingly, no
Here's something kind of funny: the first thing I saw Sandra Oh in wasn't a movie or a TV show but a play. I had the extremely unlikely opportunity to see The House of Bernada Alba in LA when I was a teenager, and Oh played Adela, the youngest daughter. (And holy shit, I had NO IDEA that Tsai Chin was in it until just now. Chita Rivera, I knew, but Tsai Chin? Damn it, why didn't I REALIZE?) If I'm being honest, I don't remember much about the play itself, other than the fact that I liked it, but Sandra Oh herself left a big impression on me, so much so that I remembered her name years later when I saw promos for Grey's Anatomy and thought, Wait, is that . .  holy shit, it IS. Sandra Oh is the primary reason I decided to check out Grey's Anatomy in the first place, and she's definitely the main reason I decided to finally check out Killing Eve.
People who have not yet watched this show: start watching this show. It's macabrely funny and touching and violent and weird, all in a way that a TV show starring two female leads rarely gets the opportunity to be. Honestly, cat and mouse has never actually been one of my favorite dynamics (maybe because it often feels so tired?), but to watch Sandra Oh and Jodie Comer in that particular dynamic is just sort of breathtaking. It all just feels so new.
Clearly, I don't need to sing the praises of Oh, between that opening paragraph and her winning every award under the sun, but Jodie Comer is equally magnetic as Villanelle, and I'd really like to see her garner some nominations next year, too. And the whole supporting cast is also great: Kirby Howell-Baptiste, who I fell in love with on The Good Place, is fantastic here and hopefully gets more to do in second season. Fiona Shaw is wonderfully, gloriously strange, and I really enjoy Sean Delaney as Kenny, too. Really, if we could just kill off Eve's husband sooner rather than later, I'd pretty much be all set.
One Day at a Time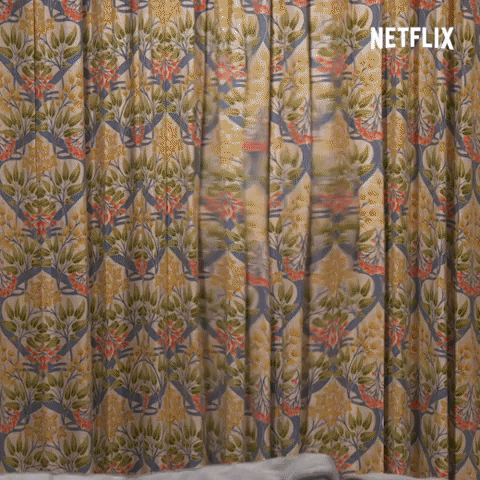 Amazon, Netflix, Hulu, or Other: Netflix
Seasons: 3
Adapted Material: No, but it's a remake
Have I Seen the Original: No. It aired a full decade before I was born.
Spoilers: Some, yes, but only in the fourth paragraph
No one who knows me, I think, would be hugely shocked to discover that I like shows about dysfunctional families and time travel and apocalypses, or obsessed lady serial killers and MI-6 agents. Time loops and angelic magic probably wouldn't surprise them, either. But One Day at a Time is definitely unusual for me: for one, it's a sitcom with a live audience, for another, it absolutely delights in making you cry. Neither of these things are my personal TV sweet spot.
However, after several glowing recommendations online, I decided to check out the show last year, and I'm so glad I did because I fucking love One Day at a Time. I won't lie: it did take me a bit to get used to the laughter (it's not canned, anyway?), and the first few minutes, I don't know. The jokes felt forced. But that got better pretty quickly, and by the end of the first season, ODAAT had completely won me over. The show pulls off the rare trick of being genuinely funny while also being topical and heartfelt. Real life issues are regularly brought up without coming across as simplistic or preachy. And seriously, the show consistently kicks your heart in the ass without being manipulative. It's all pretty impressive.
Everyone in the cast is spectacular, but Justina Machado and Rita Moreno are particularly fantastic. People. They are SO GOOD. I cannot tell you how angry I am that neither have gotten an Emmy nod for this show yet. (And probably won't, unfortunately. I had a bad feeling about this show's chances of renewal even before Wednesday's hashtag. Though, obviously, I would be delighted to be proven wrong.)
ODAAT's third season aired a few weeks ago, and it's just as good as the previous two, with some amazing guest stars (Gloria Estefan, Stephanie Beatriz, Melissa Fumero, Alan Ruck, etc.) and some outstanding storylines. Schneider falling off the wagon wasn't hard to see coming, but I was impressed with how well that whole arc was handled; not to mention, it was really interesting to see Todd Grinnell in a more dramatic role. I desperately love, too, how Elena continues to have issues with her father after his total dick move at her quinceañera, that moving forward isn't just a snap of the fingers. In particular, I really like the show's acknowledgment that she shouldn't have to do all the work in repairing their relationship. That's big for me. And, of course, I'm happy about the positive queer rep here, too. (Though this isn't specific to third season.) Elena is a lesbian and Syd (her SO, or Syd-nificant Other) is NB.
Like I said, I wouldn't be terribly surprised if ODAAT gets cancelled. And, I suppose, the third season at least ends on a solid, positive note–but still, there's a lot more story to tell here, more laughter and more tears and more dramatic entrances from Lydia. If you haven't watched this show yet, I'm pretty much begging you to check it out. #SaveODAAT #AllMyLovesGetAxed