Hm. It seems we've officially hit the point in this Mega Rewatch where I review movies I've actually already reviewed, albeit seven years ago. I first saw Mission: Impossible – Ghost Protocol in theater, mostly on a whim; it also happens to be the movie that got me back into the M:I franchise.
It's been some time since I've watched this one all the way through, but having just reread my original review of the film, I can tell you that, nearly a decade later, my opinions about Ghost Protocol are largely unchanged.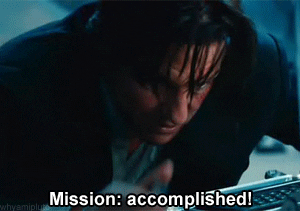 Year: 2011
Director: Brad Bird
First Watch or Re-Watch: Re-Watch
Amazon, Netflix, Hulu, or Other: Other: Personal Collection DVD
Spoilers: Yeah. Though, honestly, I'm not sure how much there is to really spoil.
While John Woo and Mission: Impossible II are technically responsible for turning an espionage thriller into an action fest franchise, Mission: Impossible – Ghost Protocol is the first film in the series that's actually a good action movie. There are things I'd change here, of course: our bad guy, Hendricks, is such an underdeveloped villain that he actually makes Philip Seymour Hoffman in Mission: Impossible III look faintly interesting by comparison. None of this is the late Michael Nyqvist's fault, BTW; he's given so little dialogue and screen time to work with that he never really had a chance of developing the character. I see a faint glimmer of Old School Bond Villain, maybe–certain line deliveries, the whole white suit–but it's barely more than a vague impression. I've given Marvel a lot of shit over the years for their lackluster villains, but I think Mission: Impossible might be the franchise to beat for utterly lame bad guys.
Also lame: the twist that Hendricks is posing as his own right-hand man because seriously. Why? The Kremlin blowing up remains something of a CGI eyesore in what is otherwise a fantastically shot film. And while Paula Patton is fine in the role, Agent Jane Carter is very much the One Girl on the Team. She's not terrible, but she does make me yearn for Ilsa Faust. That being said, I'd love to see all the Left Behind Ladies of the M:I Franchise make cameos in future films. I mean, I know that won't happen, but it'd be cool to watch, like, Paula Patton and Maggie Q heading off for some mission at the beginning of M:I – 7. Or for Thandie Newton to show up and steal something and otherwise be a badass who doesn't die.
Shifting gears to talk about what does work: well, quite a lot, actually. The action scenes in this movie are on point, especially everything that happens in Dubai. Watching Ethan step out of the billionth story window with nothing but his (soon-to-be malfunctioning) Grippy Gloves still makes me tense, which I think is impressive. I enjoy the fight scenes, too, particularly between a) Avenging Jane vs Lady Assassin, and b) Beat Up Ethan vs Beat Up Hendricks. More than anything, though, I really appreciate the easy humor that's prevalent throughout this whole film: Sidorov's face when he finds Ethan stranded outside on the hospital ledge. Ethan being taunted by the Malfunctioning Grippy Glove. Brandt's total anxiety about jumping into a computer array. Luther mocking Ethan for actually saying "mission accomplished" out loud. And, of course, almost every thing Benji says or does.
A boring villain is always disappointing, sure, but to me, the combination of standout action scenes and laugh-out-loud humor more than make up for any lame bad guy.
Finally, a few asides:
1. Yay! The flash-forward opening credits are back!
2. Holy shit, I totally forgot how Ghost Protocol just brushes past Benji getting prison guards murdered. Like, I know we don't technically see this one dude get killed, but . . . for real, dude gets killed.
3. Speaking of people who should be dead: Ethan goes legs first through a glass window, gets full on hit by a car, AND nosedives a car into, like, a 100-foot drop. Hendricks, too, should've died a good 30-minutes before he actually does; instead, he just walks off a car crash that would've broken his body into a billion pieces.
4. Now that I've seen Mission: Impossible – III, I'm even happier that Julia didn't get killed in between movies, because while she only had one awesome sauce scene in that film, I absolutely hate that goddamn "axe the woman while no one's looking" plot device. This will come up again in my eventual Fallout review, but I'm pleasantly surprised by how this franchise handles Julia and Ethan's relationship over the space of four movies.
5. Ghost Protocol is obviously a hilarious title, but a more accurate one would still be Mission: Impossible – TECH FAIL. Or maybe Mission: Impossible – Fuck! Even In the Future, Nothing Works. (It could be the near-future. You don't know.)
6. Up till now, it's been incredibly easy to rank the M:I movies . . . but here I have a decision to make between this film and the original Mission: Impossible. Both are pretty solid movies in their own right, but they're also going for wildly different tones, making it harder to pit them against one another, Ghost Protocol is definitely the movie I'm more likely to rewatch, but Mission: Impossible is almost certainly the more ambitious of the two. Both have their standout moments and amazing characters, just like both have their disappointing characters and obvious weaknesses.
I'm still not 100% about this, but for now, at least, I've made a decision.
The Current Ranking
1. Mission: Impossible – Ghost Protocol
2. Mission: Impossible
3. Mission: Impossible III
4. Mission: Impossible II