Solo: A Star Wars Story First Watch or Rewatch: First Watch
Amazon, Netflix, Hulu, or Other: Netflix
Spoilers: Yep. Heavily implied spoilers for Rogue One, too.
Grade: Vanilla
So, I finally watched Solo. It was okay, I guess.
On the plus side: Alden Ehreneich is perfectly respectable as Han. I adore Donald Glover as Lando. I am equally obsessed with Lando's fabulous wardrobe. And I love, just LOVE, Phoebe Waller-Bridge as L3-37. Enfys Nest is super intriguing, and Qi'ra turning out to be Darth Maul's disciple is . . . . interesting? (Especially since that motherfucker should be dead. Don't come at me with Clone Wars. Darth Maul got sliced in half and he is DEAD.) Like, I'm into it, but also this twist doesn't really go anywhere? If we're setting up for a new Qi'ra-centered prequel–or for Old Qi'ra to return as an important villain in Star Wars IX–I guess that's one thing, but as is, my reaction was more like, "Okay, cool, and . . .?"
Which, honestly, is a fair representation of how I feel about Solo as a whole. Like, why did we make this? To tell us how Han got his last name? Please. That was some unnecessary bullshit right there. To show us how Cynical Han used to be more trusting and idealistic?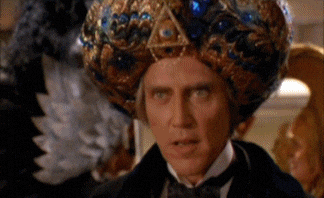 Who really needed that story? Especially since it's such an obvious story: I felt like I spent most the movie waiting for both Woody Harrelson and Emilia Clarke to double-cross Han. It wasn't a question of if; mostly, it was just a question of who first. That's not what I would call awesome narrative tension, which is one of my largest complaints about prequels in general. L3-37's death is pretty obvious from the get-go, too, because she–like every character in Rogue One–isn't around for the later films. Also, am I the only person who's upset that Han took the Millennium Falcon? Like, I know Lando cheated the card game and all, and, sure, later left them to die (I cheered, BTW), but still, whether it was romantic love or otherwise, Lando obviously cared a lot about L3-37. The last of her knowledge–her essence, so to speak–was put into that ship . . . and then he doesn't even end up with it? WHAT MONSTER IS RESPONSIBLE FOR THIS?
Also, I can't help but note that Lando grieved more for L3-37 than anyone did for Thandie Newton, and for Christ's sake, how the fuck do you cast Thandie Newton in your movie and do that little with her? I don't care how busy she was with Westworld; this is a HUGE waste of her talent, and I am feeling deeply salty about it. In fact, if this film were to be remade to my satisfaction? You kill off Woody, not Thandie: he's a bigger name, so his cameo death is actually more of a shock; more importantly, Val's antagonistic chemistry with Han would be a much more interesting dynamic to watch, especially as they reluctantly grow to depend upon and like one another. After that, you can go one of two ways: Val, like Beckett, could betray Han (which I suspect would be more surprising), or she could step up to join the Rebellion with Enfys Nest, while Han, burned by Qi'ra, turns away from all that. I actually think the latter could have a lot of emotional punch, and the only thing I'd regret losing is the scene where Han shoots Beckett. I did genuinely enjoy that moment.
And if you do go with the latter, there's  clearly only one course of action: an immediate sequel to this prequel, in which Val and Enfys go up against Qi'ra in an epic showdown. (Hopefully using this song because it's also pretty goddamn epic, if not a little . . . odd . . . when paired with the train heist scene.)
Stripes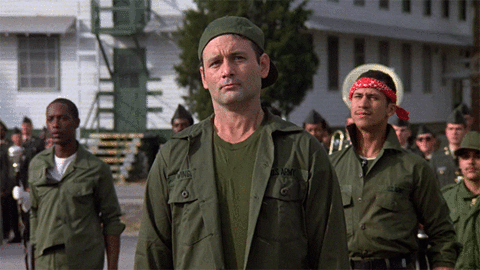 First Watch or Rewatch: First Watch
Amazon, Netflix, Hulu, or Other: Netflix
Spoilers: I mean, yeah, technically? It's a comedy from 1981, though, so . . .
Grade: Strawberry
Yes, this really is the first time I've ever watched Stripes. It's . . . also okay?
Look, here's my confession: Bill Murray's shtick doesn't always work for me. I mean, sometimes it does! But other times, not so much, and while I understand I should've spontaneously burst into flames just for daring to commit such blasphemy to the written word, like, dude's built a career out of playing snarky little assholes. And while I'm generally down for the "snark" part of that equation, the asshole part? Don't always love it. Which is a long-winded way of explaining that for every Murray line that makes me laugh in Stripes, there are two more that make me wanna punch him in the face. Freaking out the rich lady who was a snotty jerk to him, for example? Sure, no problem. Causing a huge backup on the bridge (plus at least one accident) just to get back at the rich lady, and, I don't know, The Man? Dude, fuck you. I was glad when John's GF left him, just like I was glad when Hulka punched him in the stomach.
Worse, John never actually grows or develops or learns anything. There's a part where he steps up, I guess, but it doesn't seem like he's changed in any meaningful way. In fact, we know he hasn't, because immediately after said step-up moment, he fucks off to Germany in a stolen Army SUV to have some weekend sex with his GF, inadvertently getting the rest of his unit captured when they go after him. John's character arc is less of an arc than a flat line, and the movie–while occasionally funny–seems pretty directionless as a whole.
That all being said, certain scenes did make me laugh. The whole dance/drill sequence at graduation was pretty great. I was giggling during the creaking bones and push-ups scene (I'm 33; it's relatable content), as well as when Russell (Harold Ramis) attacked Bill Murray for trying to desert. And I had a great time playing spot-the-actor. I mean, my God, this cast. I was particularly delighted to see a young John Larroquette playing against type, not to mention a cameo by Baby Danny Concannon. (I was excited about PJ Soles for a hot second, too, until she pretty much just transformed back into Lynda from Halloween, all giggly in love with John for God knows what reason.)
So, it's okay. It's just that, all in all, I would've been completely fine if John Winger had blown up during basic training and the movie had switched to focus on Sean Young, instead.
Love, Simon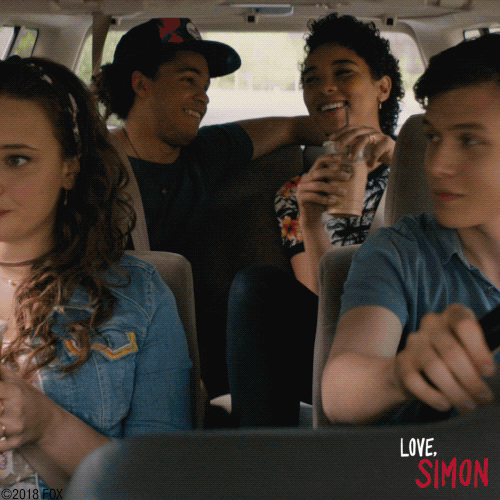 First Watch or Rewatch: First Watch
Amazon, Netflix, Hulu, or Other: Other (HBO)
Spoilers: Yup, for both book and movie
Grade: Chocolate
I actually read this book (or, rather, Simon vs. The Homo Sapiens Agenda) last year and had, per usual, every intention of seeing the movie in theaters as well. For once, I'm so grateful I failed to do that. Not because I didn't enjoy the movie; I absolutely did, but I was also not counting on the cringe factor being this high, like, JFC. I just spent two hours hiding behind my hands, taking off my headphones, muting the volume on my computer, lowering the screen of my laptop, and otherwise literally squirming in my seat. The sheer awkwardness, people. I'm fucking twitching over here.
Moving past that. Overall, I thought Love, Simon was a pretty great teen comedy: hilarious, cute, very often moving. I do have some disappointments: while I understood (and even liked) many of the adaptational changes, I'm not totally crazy that Leah secretly loves Simon now, rather than Nick. It feels a little . . . cliche? Unnecessary? I just didn't love it, although I will admit that Movie Leah, who is considerably less passive aggressive and jealous than Book Leah, was a welcome change. I'm also pretty bummed that Bram didn't get a bigger moment at the end of the movie, like, him joining Simon on the Ferris wheel is great and all, but their actual scene together feels pretty rushed. The story spends all this time on the mystery of Who is Blue, but once we find out it's Keiynan Lonsdale, we only get, like, fifteen seconds with him, and then the movie's over. I find it disappointing. (Especially because I like Lonsdale, damn it.)
Still, this movie is laugh out loud funny and has a spectacular cast. Nick Robinson is not at all who I pictured for Simon–honestly, I was thinking of Miles Heizer, who plays a smaller part in the film–but he does a pretty decent job with the role. Despite my frustrations with Leah's storyline, I like Katherine Langford quite a bit. I also really enjoyed the hell out of Alexandra Shipp: she has a lot of energy, a lot of presence, and I'm looking forward to seeing more from her outside the painfully dull X-Men movies. And as far as the adults go, well, Tony Hale is absolute perfect as the awkward vice principal, I would legit watch a whole spinoff about Natasha Rothwell as Ms. Albright, and Jennifer Garner and Josh Duhamel are great as Simon's parents. Garner, in particular, stands out here. Not gonna lie: I definitely cried at her "exhale" speech, like, Jesus, that shit got me.
Of course, this movie both is and isn't your typical high school romcom; proving once again that Hollywood moves at the pace of a dead turtle, Love, Simon is our first mainstream gay teen romance. It's a lot of hope and expectation to hang on a single film, and I suspect not everyone's gonna get what they wanted out of it. For my part, though, I really liked this one. And hopefully, we actually follow this up with more LGBTQIA films soon, especially if they focus on some of those letters that get a little less attention.