We're closing in now: only two films left to discuss in this Mission: Impossible Mega Re-Watch! (Well, until 2021, anyway, which is when M:I – 7 is currently scheduled to release.) First up is Rogue Nation, a movie notable for many fine qualities, but none more important than its introduction of Ilsa Faust.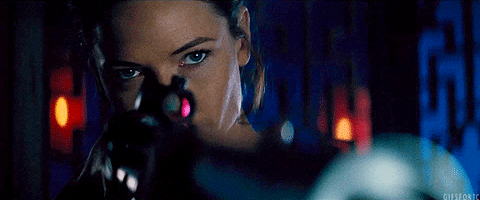 Year: 2015
Director: Christopher McQuarrie
First Watch or Re-Watch: Re-Watch
Amazon, Netflix, Hulu, or Other: Other: Personal Collection DVD
Spoilers: Not really
It's been roughly four years since I first saw this movie, and–much like with Ghost Protocol–my feelings about it are largely unchanged, except that I like it even more than I did on first blush. Which isn't to say that I don't have one or two minor grievances: Luther and Brandt tracking down Ethan by concentrating their search on Ilsa, who they know Ethan implicitly trusts because of the way he sketched her, continues to be bullshit, like, this is just ridiculously, ludicrously dumb. The fact that Ethan and Benji survive this one car accident is equally ludicrous, although admittedly, it's also pretty standard action movie fare. And it's true that Solomon Lane (Sean Harris) is essentially just a gussied up Moriarty, but I'm mostly okay with it because his clear agenda and mildly creepy line deliveries still make him easily one of the best villains this franchise has ever had. Obviously, that's not exactly a high bar to clear, but still, Lane works for me–at least in this particular movie.
Pretty much everything else I have to say is overwhelmingly positive: the action scenes–from the great fight sequences to the various heists and car chases–are all spectacular. I'm definitely a sucker for everything during the Sydney Opera House Mission. The humor continues to work well: Rogue Nation nails that comedy and team camaraderie from the very first scene and only builds on it throughout the film. I especially love the scene where Benji tells Ethan he won't be left behind. In general, I continue to adore Benji, considering he essentially plays the damsel in distress here, right down to being menaced by some unnecessary, up-close villain leering.
Still, it's really Ilsa Faust who makes this movie for me. She's just such a great, complex heroine: badass, funny, has her own agenda. It certainly doesn't hurt that she saves Ethan's ass no less than three time in this movie. And I love that while there's a certain amount of romantic/sexual tension between the two, Rogue Nation never wastes time getting them together or dropping the L bomb–not because I hate romance, but because you know it would've been rushed as hell and deeply unconvincing in this tightly plotted film. By delaying said romance until later installments, Rogue Nation actually provides a much better foundation for Ilsa and Ethan's love story.
As great as Ilsa is, though, the best, most ridiculous line in this whole movie still goes to Alec Baldwin, who calls Ethan Hunt "the living manifestation of destiny," a description I'm still very seriously considering putting on my business cards. People. It is sublime. There will never be a funnier, more perfect moment in this franchise than this.
Of course, considering that Ilsa repeatedly saves Ethan's life in Rogue Nation, perhaps Alec Baldwin is actually describing the wrong spy here.
The Current Ranking
1. Mission: Impossible – Rogue Nation
2. Mission: Impossible – Ghost Protocol
3. Mission: Impossible
4. Mission: Impossible III
5. Mission: Impossible II