Well, here we are, folks: the end of the Mission: Impossible line, at least, until 2021. Fallout is the sixth film in this franchise; it's also, as you may remember, the reason Mek and I decided to do this rewatch in the first place. Because while critics last year unanimously praised the film, even proclaiming it the best in the series, Mek and I were somewhat less enthused.
Now that I've recently rewatched the previous five films, it's time to give Fallout a second chance and see if the critics were right all along.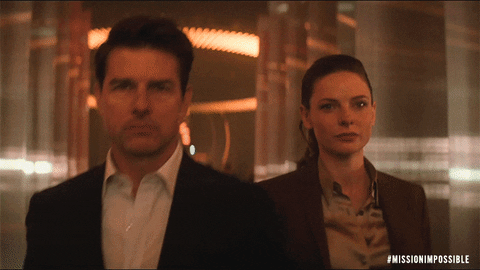 Year: 2018
Director: Christopher McQuarrie
First Watch or Re-Watch: Re-Watch
Amazon, Netflix, Hulu, or Other: Other: Personal Collection DVD
Spoilers: Yes, definitely
One of the unusual things about the M:I movies is that every single film has been directed by a different dude, at least, until this installment. Christopher McQuarrie, who saw considerable success with Rogue Nation, decided to come back for Fallout, and considering how phenomenally well Fallout did, it's no surprise that he was asked back for M:I – 7 and M:I – 8. Initially, I was excited about this, considering how much I loved Rogue Nation, and indeed, many of my favorite things about that film (amazing fight scenes, awesome car chases, Badass Ilsa Faust) reappeared here.
Unfortunately, other aspects of this film feel more like inferior echoes than cool trademarks, like, I'm pretty done with both "the CIA doesn't trust the IMF" and "hey, let's frame Tom Cruise again!" The plot's a bit thin here, and I sort of wish we hadn't brought Solomon Lane back so soon, either. Though as far as villains go, he's actually less of a problem for me than Henry Cavill, who I like in the role, except for how the role doesn't really work. Like, as a jerk CIA assassin, Cavill's actually pretty great; unfortunately, it's pretty obvious that he's going to be a secret bad guy, which is . . . fine, I guess, though it'd be nice if there were some other suspect in the running besides Angela Bassett. (Much like Laurence Fishburne in Mission: Impossible III, Bassett is far too obvious to actually be the traitor.) Still, Cavill is enjoyable as a frustrated second banana villain, too; the part where he gets in (Fake) Solomon's face, all, "Why do you have to make this so fucking complicated?" works for me on, like, a spiritual level. But I also don't for a second believe he's the same dude who wrote a fucking apocalyptic manifesto; like, I get it, people have layers; I'm not saying you can't break heads and write manifestos, but this guy ain't it.
Angela Bassett, sadly, is somewhat wasted in the role; she owns what little screen time she has, but is given virtually nothing to do, as she's mostly here to play the role of Bureaucratic Antagonist that Alec Baldwin played last movie. Baldwin, meanwhile, has rapidly transformed from Reluctant Jerkface Ally to Personal Cheerleader for the IMF, and it's a problem for me, one, because I absolutely don't buy it (seriously, they also did this same shit with Fishburne in Mission: Impossible III), and two, because the writers might as well have given Baldwin a shirt that said "DEAD MEAT" on it. And even if you weren't sure from the get-go, you probably figured it out when our heroes welcomed Baldwin to the team, like, seriously, folks. I remember sitting in theater, thinking, Ha-ha, okay, YOU'RE dead. And it can be hard to appreciate a heroic death when you see it coming at a million paces. Everything about Hunley in this movie felt artificial AF.
That all being said, I do enjoy Fallout more than I did on first viewing. It's honestly an extremely solid action film, and there's a whole lot about it to both enjoy and admire. The bathroom fight scene is easily one of my favorite fight scenes in the whole franchise. The car chase through Paris is incredibly well done; despite taking up a significant amount of screen time, the sequence is broken up into manageable chunks and otherwise edited so beautifully that I never found myself fidgeting or wondering how long this would go on for. Other action movies, take note: this is how you do a car chase.
I also absolutely adore the addition of Vanessa Kirby as the White Widow, AKA, Max's daughter. I was not expecting such a tie-in from the first film, and I think they nailed the casting here; Kirby is such a wonderful combination of posh, mercenary, hungry, and wild, and I will be sorely disappointed if she does not show up in future films. Benji and Ilsa, too, remain my absolute favorites, and I am all about scenes with these two working together, saving each other's lives, etc. Give me more platonic world saving, please! I am always here for it, and Fallout, disappointingly, doesn't focus on the team dynamics nearly as much as the past two films. I am, and forever will be, a sucker for a good team dynamic.
Finally, I am genuinely impressed with how Ethan and Julia's relationship wraps up here: Fallout officially closes the chapter on their romance without killing off Julia or turning her into some bitchy, shrill, bullshit version of herself. They still can't be together, but it's okay because they've both moved on. She's not bitter about how her life has turned out; on the contrary, she's in love with another man, doing the work that she wants to be doing, and is grateful that meeting Ethan allowed her the opportunity to find her happiness and purpose. It's genuinely so refreshing to see such a positive, healthy end to a fictional romance. It's rare that love interests are treated with this amount of consideration. Even if I had absolutely hated Fallout, I would respect the movie for this bit alone.
Which leaves us, at long last, with our Best to Worst of the M:I Movies:
The Final Ranking (as of 2019)
1. Mission: Impossible – Rogue Nation
2. Mission: Impossible – Ghost Protocol
3. Mission: Impossible – Fallout
4. Mission: Impossible
5. Mission: Impossible III
6. Mission: Impossible II
If you've been enjoying these reviews–or hell, if you just happened to read this one–please comment and let me know! It's always nice to have confirmation that I'm not just analyzing into the void. Plus, if you have suggestions for what movie series or body of work I should cover in my next Mega Re-Watch, I want to hear them! (Just don't say Marvel. Please, anything but Marvel. After I see Endgame this week, I suspect I'm going to need a serious Marvel break. NO ENDGAME SPOILERS, PLEASE.)