Yes, my friends, victims, and mortal enemies, it is that most wonderful time of the year again: October, the Month of Halloween. There are people that only celebrate Halloween on the actual day, of course, or the weekend before. Those people are fools. Pity them.
Mekaela and I have instituted a new game this year: HORROR BINGO. We've written down a variety of scary movies to choose from–nostalgic favorites, recent sequels and remakes, horror masterpieces that basically everyone but me has seen–and thrown them into a glass skull jar to be chosen one by one. I'm afraid to inform you all that, thus far, I'm nowhere near bingo. Still, my sheet is not entirely without potential. Keep your fingers crossed for drawing Us or Cabin in the Woods soon.
The Babadook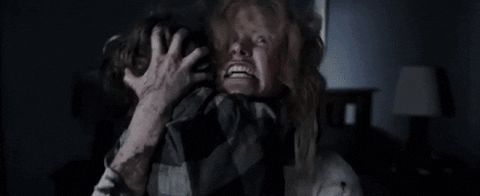 First Watch or Rewatch: First Watch
Amazon, Netflix, Hulu, or Other: Amazon
Spoilers: Yes
Grade: Chocolate
Yes, it's true: I really hadn't watched The Babadook until just last week. This is going to be something of a recurrent theme all month, I expect, so just prepare yourselves now. Because you have to understand: I love horror, I do. It's just that I love bad horror so much–it's like comfort food–that if I'm given the choice, I'm much more likely to say, "You know, it's been a long day. Why don't we save the critically acclaimed and inevitably depressing film for tomorrow and instead watch Naughty or Dead IV: The Final Kringle. Santa's come back from Hell, and this time he has six more names on his list!"
Man. I would watch the hell out of that movie.
The point is, I finally watched The Babadook, and it's pretty great. I don't know that I'd ever feel any particular need to rewatch it, exactly–even when I'm in the mood for serious scares, psychological horror has never actually been my favorite flavor of the genre–but I can definitely appreciate how well-crafted it is. Director Jennifer Kent does a phenomenal job here: building the tension inch by inch, then flipping the script halfway, so that we begin with a monster child and transition to a monster mother. I really love how this movie presents motherhood, too: it doesn't flinch back at all from showing how much parenthood well and truly sucks sometimes. Mothers especially, I think, are rarely allowed to be anything other than mothers in film and television; either they don't have any interests, passions, or concerns outside of their kids–my BAY-BEE, Claire from Lost still screams endlessly in my head–or they're simply never allowed to show any resentment towards their children. A mother who sometimes does not like her child, a mother who feels regret or doesn't believe her kid is the greatest gift she's ever been given, is a Bad Mother in most stories. The Babadook, however, rejects such a narrative. We're invited to sympathize with Amelia over and over. Even after she's been possessed, even after she kills the dog, Amelia is a victim here, not a villain.
The acting is also fantastic: Essie Davis really goes through this incredible transformation right before your eyes, and Noah Wiseman was what, like, six when he starred in this? That's bullshit; you're not supposed to be this talented at six. It's rude, goddamn it. And, of course, the Babadook himself is not just a queer icon; he's also creepy AF, and I'm a little obsessed with his top hat. Also, that book, like, damn. I've never particularly cared about owning first editions, but man, this is a first edition I'd actually be super excited to have.
What really makes The Babadook work for me, though, is just how well it nails the ending. I assumed we'd get something boring like this: Amelia kills small child, then gets arrested, then gets thrown into an outdated insane asylum, and then–just as we're wondering if she was really crazy all along–we get one last jump scare and murdered orderly and a big evil grin. Instead of that predictable nonsense, we get a resolution that's far more thoughtful and original. Amelia is successfully exorcised, but the Babadook cannot be banished entirely. Thus in our mostly-happy denouement, the Babadook lives in the basement, subsisting on the worms Amelia feeds him, still violent and terrifying and needing daily attention. And what I love about that, besides the fantastic blend of positive change and lingering consequence, is that this ending works whether you take the Babadook as a literal monster (as I am often wont to do) or simply as a manifestation of Amelia's grief (something that she can never fully let go of, something that must be both accepted and constantly fed). This ending ties the whole story together and makes everything that came before just that much more powerful.
It Follows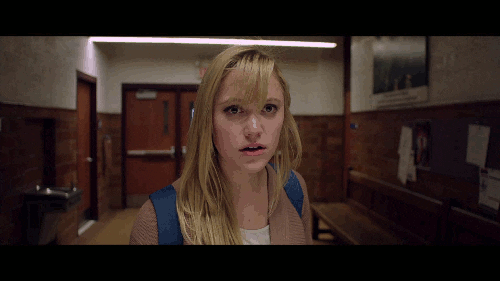 First Watch or Rewatch: First Watch
Amazon, Netflix, Hulu, or Other: Amazon
Spoilers: Yes
Grade: Vanilla
I'd actually hoped to see It Follows in theater way back in 2014 . . . and yet somehow here we are, five years later. I continue to fail this city.
I liked this one, though I feel like I might need to see it a few more times to decide exactly how much I like it. It's certainly creepy: the opening act, the various shots of the unnamed it walking in slow motion. Wonderful cinematography, and the music is awesome. I also quite liked the whole out-of-time feel to the story, how you can never quite pinpoint what decade it's set in. I don't think that would work for every movie, but I rather enjoy this film's vague retro feel. The Halloween influence is certainly present, but It Follows still comes across as its own thing, which is nice.
What I also liked: a) Jay's friends trying to help out, even when they don't fully believe her, b) the little-to-no drama between said friends, c) how their third-act electrocution plan completely and utterly fails, and d) the surprisingly non-judgmental tone of the film. Like, I was pretty worried about that last one, considering the basic premise of this movie can be summed up by the words "ghost STDs." Thankfully, I never really got the impression that It Follows was punishing Jay for the sin of having sex. That was a welcome relief.
However, that might simply be because this movie seems to have very little to say about sex at all, like, don't get me wrong: less sex is usually a bonus for me, but . . . IDK. You sorta expect some kind of relevant theme to emerge when your story has a sex-based haunting mechanism, don't you? If it's here, however, I confess that I missed it, and weirdly, that's a bit of a disappointment for me. Like, they have such a fantastically original premise, and yet it never quite feels like they bother saying anything with it. There's also a bit more male gaze here than I would've hoped for: tame compared to an 80's slasher, sure, but for real, did we really need that whole one exposed breast thing? Like, let's just say that I didn't need to check to know this was directed by a dude.
I'm also not entirely sure how I feel about the ending quite yet. It might grow on me, IDK. I really do like the last actual shot of Jay and Paul going down the street with a menacing figure walking some distance behind them. But I also feel like the ambiguity here–you know, what's their plan, do they even have one, what will happen to them now, etc.–doesn't totally work for me. It doesn't feel so much deliberately open-ended as it does "we're not sure how to solve this, so . . . let's just be vague and creepy." (Also, Paul himself has a sorta Nice Guy feel to him, and I think I was a little disappointed that nobody called him on it. I was way more invested in Jay's relationship with her sister than with this kid.) To be fair, though, ambiguous resolutions just often aren't my thing, so what doesn't work for me here might work really well for a lot of other people.
Jennifer's Body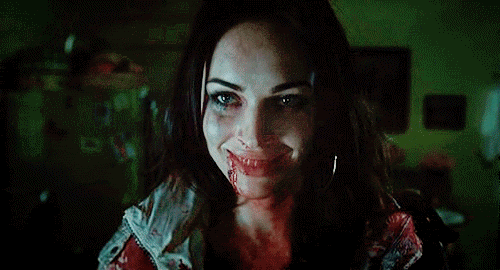 First Watch or Rewatch: First Watch
Amazon, Netflix, Hulu, or Other: Amazon
Spoilers: Yes
Grade: Strawberry
Yes, this is yet another movie I'd planned to see upon its initial release–although in this case, my enthusiasm waned due to the veritable mountain of poor reviews it received, going from a "must-see" to a "I'll get around to it, eventually." Because I'm a failure of a human being, "eventually" turned out to be "a decade." Fun fact: Adam Brody apparently hasn't aged in about ten years. Again, rude, right? Like, what an asshole.
There's a lot I enjoy about this: a fair bit of the humor ("lasagna with teeth"), a lady monster, unexpected cameos, J.K. Simmon's unexplained hook hand, Satanist indie rock musicians, etc. (Seriously, that whole scene where they sacrifice Jennifer? Man, I was dying.) I really like the ending, too, with Needy telekinetically busting out of the mental hospital to enact bloody revenge on Low Shoulder. All end credits should feature violent murders, like, it should just be a rule.
Still, I can't help but feel something's missing here. It's the friendship between Jennifer and Needy, I think; the whole story hangs on it, and I never quite buy it, mostly because it seems like the movie is trying to sell too many different dynamics in too short a time. Are they unlikely BFFs who will do anything for each other? Is their friendship toxic and manipulative? Is Needy secretly in love with Jennifer? Obviously, people don't fit in easy boxes and relationships of any kind can be complicated, but the dynamic here doesn't feel complicated to me; it feels short-changed and confused. The romantic stuff, for instance: a story about a girl who doesn't know if she platonically loves her best friend or is In Love with her best friend is a totally valid and interesting one to tell, but to me, it feels shallow here, underdeveloped. The Kiss (well-shot as it is) mostly just comes across as an excuse for some Hot Wicked Bisexual Trope Time, which, come on. Must we?
Meanwhile, when Needy accuses Jennifer of always being a terrible friend, well, sure, that rings true because Jennifer has proven herself to be kind of the worst, even before she was possessed by a literal demon. Unfortunately, that's both a) kind of dull–admittedly, a matter of opinion, but I've grown pretty bored of most toxic girl friendship stories–and b) really pushing the audience to embrace the dissolution of this friendship rather than mourn its loss. Which would be fine if this was a Friend Overcomes Emotional Abuse empowerment story, but that's not really the impression I get from this ending. Consider the scene where Needy rips Jennifer's BFF necklace off: the quick flashback to them as children and the way Jennifer, betrayed, goes still and empty and slowly falls back to the bed. It's a surprisingly lovely and powerful shot, and I am really into it, like, I've rewatched it at least three times now. And yet, I'm also not totally convinced that the movie has earned this scene. I want more buildup to that moment. I want to be super invested in these two as friends. I wanna feel that tragedy, but it's just not quite working for me.
Jennifer's Body has become a cult phenomenon, of course, and I agree that it's a lot better than people gave it credit for back in 2009. I definitely had a good time watching it, and I could easily watch it again. It's just that while the comedy is there for me, and the gore is there for me, The Feels, unfortunately, are a bit of an uneven letdown.