Ghost Story
First Watch or Rewatch: First Watch
Amazon, Netflix, Hulu, or Other: Amazon
Spoilers: Absolutely
Grade: Strawberry
So, I like parts of this. I can't really judge it as an adaptation because while I've technically read the novel, that was roughly 15-20 years ago, and I remember very little about it now. I knew a bunch of old dudes (AKA, the Chowder Society) liked to meet up and tell ghost stories. I knew spooky supernatural shit would happen. And I remembered that I was disappointed by the novel's resolution, though for the life of me, I can't recall what troubled me about it. But that's about it.
I enjoy the movie's setup: an elegant old school horror society, a secret coming back to haunt them, a second generation drawn into the mystery, etc. (Although I think it would've been way more awesome to see the wives get involved in the investigation, too.) I like the revelation that Eva was still alive when she went into the water–frankly, these geriatric assholes deserve to die–and I enjoy how the film's conclusion cuts between Ghost Eva menacing a helpless Don and Ricky finally revealing Eva's rotting corpse. It's also just neat to see these cinematic legends here, like, Fred Astaire in a horror movie! How cool is that?
Still, on the whole, Ghost Story isn't my favorite. A lot of that's due to writing and poor adaptational choices: the idea of ghost servants, for instance, is interesting on the surface, but Gregory and Fenny Bates have little actual purpose in this story. Fenny murdering Sears is an especially big letdown, and hey, whatever happened to this feral child, anyway? There are a number of logic leaps that annoy me, too, like when Don decides his fiancee isn't "real," despite the fact that all evidence at this point indicates a mentally ill woman with, like, a thyroid condition to explain her occasionally low body temperature. I mean, come on, Alma had a job! Other people saw her! I get that she literally ghosted him and all, but nothing that Don's experienced thus far should make him think "ghost" yet. I also have no idea why Eva is so desperate to marry either Don or David, like, at first I assumed she needed someone to physically take her across the Milburn threshhold, but that's clearly not the case, so, yeah, IDK. Also, what triggers the haunt to begin now? Don gives us some offhand bullshit about how decades of the Chowder Society's ghost stories has given Eva/Alma's spirit power or something, but man, they don't sell that at all.
And unfortunately, the writing isn't my only problem here. While most of the acting is fine (Alice Krige is enjoyable as Eva, and I like all the old men, especially John Houseman as The Asshole Friend), I find Craig Wasson as Don very hard to take seriously. Some of the scares are pretty laughable, and sure, 1981, but man, David's death scene is ridiculous. (Points, I guess, for the surprising full-frontal shot? Sadly, Alice Krige has to be naked about 78 more times, so let's not pretend this is equal opportunity nudity here.) The pacing is off. The score doesn't fit the film at all. It's just kind of a hot mess.
The film did provide some generation gap amusement, though. These fancy old fuckers are whining that men will soon only wear ties to wedding and funerals; meanwhile, Mekaela and I were completely baffled by Edward's reaction to his son's appearance. Dude basically says, "Don, you look like a hooligan!" And we're like " . . . uh, he's wearing a sweater?"
The Wailing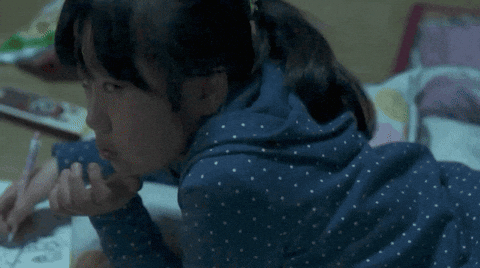 First Watch or Rewatch: First Watch
Amazon, Netflix, Hulu, or Other: Other – Shudder
Spoilers: YES
Grade: Chocolate
I didn't know a lot about The Wailing before watching it. I knew it was critically beloved. I knew there was a mystery element of some kind. And I knew it was long, like, not quite It: Chapter 2 long, but pretty close. Good news, though: I really enjoyed this one! It's lengthy, yes, but I was quickly engaged in the story, and while the pace is slow, it's also steady, never dragging unnecessarily or crashing to a halt at the halfway point. I enjoy the blend of mystery and horror; even the comedy works for me, which I find interesting because similar comedy didn't work for me at all in The Host. The acting here is great, too; Kwak Do-Won gives a strong, multi-layered performance as our protagonist, and I really enjoy Kim Hwan-Hee as his possessed daughter: she has some amazing facial expressions.
Until that final act, where both Old Japanese Dude and Mysterious Woman seem shady AF, I was pretty confident that Old Japanese Dude wasn't the bad guy because a) I was getting shades of "mob justice dooms us all" themes almost right away, and b) I had Mysterious Woman near-immediately pegged as a ghost, and I was all, Oh, no, she's totally leading these guys into killing the one dude trying to help. But then Mysterious Woman insists she's been protecting them, and I'm like, Well, shit. Now I don't know WHAT the fuck to think. This part of the film was spectacularly well done. Also, like Jon Snow, I clearly know fuck-all since I was so obviously wrong about literally everything.
I am still trying to decide how I feel about a few things. I find myself wanting to know more about how that trap works: how does Jong-Goo returning home ruin it, exactly? Is it comparable to breaking a line of salt? Much more importantly, what would've happened if he had waited? How would it have stopped Hyo-Jin from killing everyone? I haven't fully decided how I feel about the shaman yet, either; his secret villainy does seem a bit convenient to me, but to be fair, dude absolutely does come off as shifty throughout; he just seems more like a potential scam artist than, IDK, Devil's helper? Maybe that's the problem I'm having, the fact that I don't really know the shaman's relationship to the demon. It makes his villainous turn feel a bit out-of-nowhere, although I'm not certain that it actually is: an exorcist getting rich while working with his supposed enemy does, of course, make a certain grim capitalist sense.
It's difficult. Sometimes, we need more than one viewing to fully appreciate a story's layered complexity, not to mention that as long as we tell stories, we'll almost certainly argue about how much information needs to be revealed in order to make a story successful versus being lazy, a cheat, or weak. And, of course, we can't overlook the cultural component, either: as an American, I'm an outsider looking in here, and that obviously influences my perception of the film. One notable example: basically every character in this movie uses a slur to refer to the Old Japanese Dude, and I wouldn't be surprised if that was a factor into how quickly I latched onto the "mob justice" narrative. But it's also important for me to remember that America and Japan have a very different history than Korea and Japan. Also important: my knowledge of Korean mythology and folklore is extremely limited, which means that exposition I might consider necessary (like the nature of that trap, or the upper body/lower body symbolism of stolen items) is information that Korean audiences might not require at all. It's not that my ignorance makes me a bad person or anything, but expecting a foreign film to stop their story just to give global audiences Folklore 101 is probably an ethnocentric dick move.
I will say, however, that no matter how much I learn, I don't think I'll ever be satisfied by the police officer who, I guess, is too horrified to point out the pictures/stolen items he discovered while they're at the Old Japanese Dude's cabin. And then Jong-Goo doesn't even come back until the next day, and he's upset because the guy burned all the incriminating evidence? Of course he did, you worthless sonofabitch. I mean, I genuinely do feel bad for this guy, but also? Nope. All the nope.
The Purge: Anarchy
First Watch or Rewatch: First Watch
Amazon, Netflix, Hulu, or Other: Amazon
Spoilers: Yup
Grade: Vanilla
Believe it or not–and by now, you probably will–this is actually the first time I've seen any of the Purge films. What surprised me here is the genre itself: this has elements of horror, I suppose, but mostly, Anarchy just feels like an action movie, especially when we get to the Most Dangerous Game portion of the evening: the Sergeant kicks rich people ass, while our other survivors twiddle their thumbs for 15 minutes. I'll admit, it's not my favorite section of the movie: the Sergeant just isn't interesting enough to dominate this much screen time. He's so one-note, it's not even funny; I genuinely don't know why we waited the whole movie to confirm that, yep, he's out here to murder the man who killed his son. Surely everyone understood this within the first 15 minutes? Surely?
Despite the lack of horror, I think this universe is pretty fun. Outlandish, sure, but I've said it before: I'll take most wacky premises, so long as they're given upfront. And it's fun, contemplating what you'd do during the Purge: I can tell you what I sure as shit wouldn't do, though, and that's go to the grocery store the evening before, like, you assholes, you've had a year to plan for this. (The wife grew on me, and I liked that she stayed with the rebels. The whiny ass husband did not grow on me, and I clapped when he died.) But yeah, there's a lot in this universe to play with, and I really find myself wanting to know more about how things specifically work. Like, I know emergency services are out for the evening, but what about long-term/gravely ill patients who can't be discharged? Are they just left to die, or are there, like, secret underground hospitals somewhere? (I would 100% be up for a crossover between The Purge and Hotel Artemis, BTW.) Conventional horror movie wisdom insists the former, but personal experience and anecdotal evidence from real life natural disasters suggest otherwise. I kinda want to see sequels where specific communities (rather than individual families and/or random strangers) work together to survive the night. I'm also wildly interested in the story about the morning-after clean-up crew. You think I'm joking, but I'm dead serious: I would watch the shit out of that movie.
There are a shocking amount of people I recognize here, mostly in very small roles. I knew Justina Machado would be in this, and mourned her character's death accordingly. Michael K. Williams was a delightful surprise, as was John Beasley, Edwin Hodge, and Lakeith Stanfield. (I specifically liked Stanfield because his character was just a morally bankrupt kidnapper-for-hire. Like, why aren't there more thieves running around? Why is it only bloody murder and attempted rape here?)
A few final thoughts:
A. Carmen Ejogo and Zoë Soul were absolutely fine in this movie, but I immediately started daydreaming about a fanfic crossover where Penelope and Elena Alvarez from One Day at a Time replaced their characters. I'm now trying to come up with a semi-likable Unhappy Married Couple and a Mournful Badass who's more interesting than Sergeant.
B. I kinda enjoy that the Sergeant's mercy is what saves him in the end, but I hated Big Daddy's whole "we can't have heroes" speech, like, dudes, come on. Even for me, this is too on the nose.
C. I find it very difficult to hear "purge" as a verb and not think of vomiting, which means I had trouble taking it seriously whenever a character, ominously holding a gun, would say something like, "I'm here to purge," or whatever.