Well, I'd intended to post this a few days ago; however, due to the insane winds and the Kincade Fire up north, my sister and I had to evacuate over the weekend, along with nearly 200,000 other people in the county. I've gotta tell you: fire season is really doing its best to dampen my enthusiasm for what's otherwise the greatest time of the year.
I'm back home now, though, and as of writing this, the Kincade Fire is contained at 45%. (Earlier, I mistakenly told people it was 45% when it was really 30%, and then maybe an hour later, it actually jumped to 45%. I'm pretty sure this just means I'm psychic now.) Hopefully, things will only continue to improve; in the meantime, it's back to business as usual at My Geek Blasphemy, which is to say, more Horror Bingo!
Happy Halloween!
The Conjuring
First Watch or Rewatch: First Watch
Amazon, Netflix, Hulu, or Other: Netflix
Spoilers: Some, yes
Grade: Chocolate
I enjoyed this for the most part. It's a decently creepy film with a lot of good scare moments, especially considering there's very little bloodshed. Some bits that particularly stood out: many of the shots with the music box, the ghost perched on top of the wardrobe, the entire "hide and clap" game. I like that the haunting is spread out amongst the family: one girl has the invisible friend, one continuously sleepwalks into the wardrobe, etc. I also like there are multiple children: sure, these characters are based on real people, but families in horror movies usually consist of one, maybe two kids. Here we have five daughters, and that's just kind of neat. I was also extremely relieved that Roger didn't spend the entire movie insisting his family was imagining things. I'm very tired of the whole "woman is superstitious and scared/dude believes in facts and science" dynamic. In fact, the general lack of skepticism in this movie was a refreshing change of pace. And speaking of refreshing, hey, Drew made it out alive! This was also a delightful surprise.
There are things that don't work so well for me, though. While I like everyone in the Perron family (Lili Taylor is my MVP here), I don't always buy our actual exorcists. Patrick Wilson is often a hit-or-miss actor for me, but I'll admit, Vera Farmiga was a surprise because I've liked her in just about everything I've seen. In Farmiga's defense, though, some of that expository dialogue is pretty rough; for instance: Look, I've got to tell you, you have a lot of spirits in here, but this is the one I'm most worried about because it is so hateful. I genuinely don't know if anyone could've pulled that line. I also didn't love the whole "yeah, Salem witches were real witches who actually sacrificed their children to Satan" backstory because one, ick, and two, why? I'm not thrilled with the score, either: some of the "tense" music threw me out of the story, and the happy times music at the end was like something out of a Disney film. OTOH, I was kind of delighted–if utterly bemused–by the anachronistic appearance of Dead Man's Bones halfway through the film. I'm always up for some Dead Man's Bones.
I enjoyed The Conjuring enough to potentially check out the sequel, although I don't have much interest in any of the Annabelle movies. Still, I kinda adore the fact that a relatively small haunted house movie was the starting point for this whole shared universe of horror.
Insidious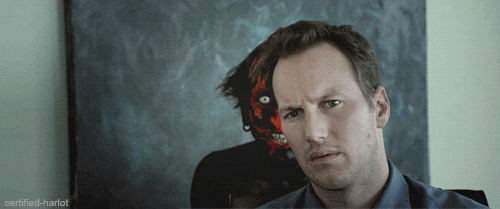 First Watch or Rewatch: First Watch
Amazon, Netflix, Hulu, or Other: Netflix
Spoilers: Absolutely
Grade: Strawberry
Huh. It appears we're following up James Wan and Patrick Wilson with more James Wan and Patrick Wilson. Unfortunately, I don't find Insidious nearly as successful as The Conjuring, and not just because it has that superstitious wife/skeptical husband dynamic that I was specifically hoping to avoid. I do like the basic story well enough. I also thought the first attempt to communicate with Dalton was pretty fun (holy shit, I love the medium's gas mask), and everything in The Further looks pretty cool–even if I do think a name like "The Further" is trying way too hard, like, it just doesn't feel natural. (Like when American Muggles became No-Majes, for example, and basically every American was all hard pass.) I also like that Patrick Wilson used to astral project as a child, though I think that particular reveal comes way too late, and I'm disappointed the movie doesn't follow-through on exploring his repressed childhood trauma.
Meanwhile, there's a lot that just doesn't work for me on any level. For one, I don't find this movie creepy at all. Basically none of the scares were scary: I laughed out loud at the opening credits when INSIDIOUS popped up on screen to the sounds of excessively dramatic violin, and sadly, things didn't improve much from there. (Darth Maul the Ghost was not a turn of events I was expecting.) I'm bummed that Rose Byrne gets nothing interesting to do in the second half of the film; I'm even more disappointed that Lin Shaye bites it, something that surprised me–even though it shouldn't have–because I knew she was in all the sequels. (In my defense, I didn't know some of those films were prequels.) How awesome is it, I thought, to actually have an actress play a heroic character who a) survives multiple horror films, and b) is above the age of 60? What other franchise has done that? Poltergeist, maybe? (I don't actually know; despite loving the original film, I never did see the sequels. Are they worth watching? Does Zelda Rubinstein make it through the whole trilogy?)
And while I don't mind that Josh gets possessed, exactly–dude's a weird combo of shifty, bland, and really annoying–I find the actual ending of the film fairly uninspired. Ultimately, this one's just not my favorite.
A Girl Walks Home Alone At Night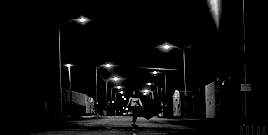 First Watch or Rewatch: First Watch
Amazon, Netflix, Hulu, or Other: Other – Shudder
Spoilers: Surprisingly, no
Grade: Vanilla
The weirdest thing about this moody Iranian vampire-western is that it was filmed in Taft. Taft is a tiny ass town in Middle of Nowhere, California; it also just happens to be the place where I saw Rogue One on Christmas with my dad a few years back. This is not relevant to the film, of course, but it blows my fucking mind.
A Girl Walks Home Alone At Night is interesting, and I haven't totally made up my mind about it yet. It's extremely well-crafted and something I'd recommend, but it's also unlikely to be a personal favorite. (Well. Maybe. I don't know. Some movies take time and space to sink in.) The overall pace is slow, which is fine, but I find myself itching to shave minutes off multiple scenes, like, it often takes four beats too long for my liking for anyone to actually use their words. It's all intentional, of course; this movie is definitely a mood piece, and good God, it's got aesthetic like whoa. The music, the filming, just the whole style of it . . . this movie has such voice, and that's pretty cool. It's also always awesome to see horror movies directed by women, and considering this was the first Iranian vampire film at all? Like, that's just neat.
I do wish I cared a little more about the relationship between Arash and the Girl. I do like the role reversal here–boy vamps can be so boring–and the Girl herself is pretty awesome. She's strange and eerie, particularly whenever she's mimicking and/or trailing after someone–and of course, I'm all about her striped shirt, chador, and skateboard. That is some cosplay gold. And yeah, Arash is fine, too, with his whole James Dean thing going on, and I get it–two lonely people in the night–but still, I just can't seem to make myself care about them together. They spend so little time with one another, like, it's really only a few scenes, and after, well, events . . . I'm just not sure I totally buy the ending. Which is frustrating because I actually love the ending: it's interesting and original, and you can see exactly what Arash is thinking and when he comes to his decision without him ever saying a word. It's such a cool conclusion, but that doesn't mean I buy it exactly, not from him, not quite yet.
I don't know, dudes: ask me again in six months. I'm still mulling over here.