Leprechaun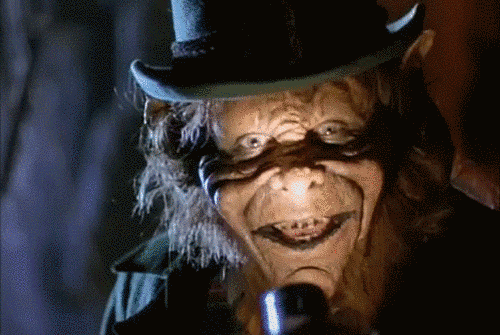 First Watch or Rewatch: Rewatch
Amazon, Netflix, Hulu, or Other: Other – Personal Collection DVD
Spoilers: Yeah, but come on
Grade: Strawberry
Horror Bingo was briefly put on hold last week during the great Sonoma County Evacuation, but that doesn't mean horror wasn't achieved! Mekaela, Lindsey, and I ended up nostalgia-watching Leprechaun, and boy, is it just as bad as I remember.
I mean, okay, some of the comedy is obviously intentional. Unfortunately, that doesn't necessarily mean that the intentional comedy is actually funny. Honestly, it's hard to know where to begin with this one. The terrible prologue. The ridiculous storyline. The overall poor acting. The "slow friend" as comedic device. The Leprechaun's makeup. The fact that our painting crew is apparently painting the house fire engine red and bright blue, like, what the fuck even is that? Tori's weird shorts, which even in the 90's were a choice. Also: the truly tragic fact that Warwick Davis does not succeed in murdering our heroes because they're all pretty awful; the only one I even halfway like is Alex, the precocious child, and honestly, that might just be because I remember the actor from Don't Tell Mom The Babysitter's Dead. I would happily have pushed Jennifer Aniston's character down a well, and her love interest, too. Oh, that whole "feminism" exchange is so, so painful.
Although credit where credit's due: death by pogo stick is always genuinely hilarious. More pogo stick deaths, please!
The Witch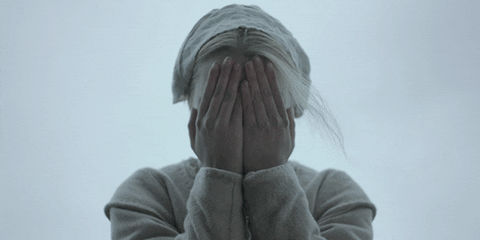 First Watch or Rewatch: First Watch
Amazon, Netflix, Hulu, or Other: Netflix
Spoilers: Definitely
Grade: Vanilla
Well, My Geek Blasphemy is about to earn its name today: The Witch is one of the biggest horror movies of the decade, and unfortunately, I didn't much like it.
I do like parts of it. It's very well-shot, of course. The scene with the ravens is, ah, effectively memorable. (Poor Kate Dickie. Between this and Game of Thrones, I can't imagine how many breastfeeding jokes she must get every day.) The performances by Anna Taylor-Joy, Ralph Ineson, Harvey Scrimshaw, and Kate Dickie are all very strong, and I kind of enjoy this movie's whole "if Shakespeare wrote Puritan-horror" vibe–although I did have to concede defeat about twenty minutes in and put on subtitles because between the accents and the colonial American vernacular, I realized I was only catching maybe one word out of ten. I also genuinely enjoy this story's pace. There aren't a lot of negative reviews for The Witch, but the few complaints I did find were mostly about the film being slow and dull. Those were definitely not problems I had with the movie.
So, what didn't I like? Honestly, I'm having trouble articulating that. Certain scenes are easy enough to point to: Caleb's whole religious ecstasy–heavy emphasis on the ecstasy–sorta icks me out, and, like, not the good kind of ick? You know, maybe, let's not with kids? But I have larger thematic problems, too. Like, I have never said this before, ever, but I'm pretty sure I would've enjoyed The Witch more if it was just a psychological horror film. If, say, Caleb came back from the woods all weird and dying, and we never knew exactly what happened to him out there, only that it sent the family into paranoid self-destruction . . . those were the moments I genuinely liked. That's where I think the horror is most successful. And to be fair, I don't hate all of the supernatural elements: Black Phillip was cool, also those ravens, and I did like the shot of the levitating witches–although they're naked because of course they are. (See also: the witch who seduces Caleb with her extremely prominent and wicked breasts.) Which, I get it: the witches here are presented like they would've been in the 1600's. Research, historical accuracy, blah blah, woof woof.
The problem is you're telling this historical New England folktale in 2019, when I'm well-aware of what happened to the actual women accused of witchcraft in this era, and while I think you can tell a story about evil Satanic witches from the 1600's, I'm not totally convinced you should. (I didn't love how The Conjuring handled this, either, BTW.) At the very least, I don't think this is the way to do it: surely, there must be a way to discuss/delve into/update these Puritanical fears without also embracing such awful misogynistic stereotypes. And I do think this movie embraces those stereotypes; since watching this film, I've come across at least three different articles praising the subversive feminism of The Witch, and if that was your takeaway, okay, I'm not trying to rip that from you. But personally, I came away with the exact opposite reaction, and ultimately, I think that's because this is a "driven to evil" story that I just don't buy.
There are ways Thomasin's turn to Satan could've worked for me. For instance, I might've bought it if her motivation had been wholly pragmatic, the desperation to survive in this awful, barren landscape on her own. I might've bought it if she'd gone mad with vengeance and grief, if she'd needed the Devil to find and punish the twins who she'd come to blame for all of this. And sure, you can argue those are subtextual motivating factors, but they're also pointedly not what Satan actually offers; instead, he pitches pretty dresses and the chance to live deliciously. (To be fair, wouldst thou like to live deliciously is a damn good line.) Because, you know. Thomasin mentioned missing stained glass windows that one time, and that's how you get women: through materialism.
Likewise, I've seen it argued that Thomasin is making a baller power move here, that she and all those other floating, orgiastic witches in the woods are finally embracing their sexuality. But to me, all they're really doing is validating the belief that without God, without men, women are both easily manipulated and spiritually vulnerable. They can be won over by shiny things, and they will grind up babies for beauty and power, and if they're not vigorously protected from their baser instincts, they will lose themselves to their instinctual sexual mania, becoming wanton creatures capable of luring innocent boys to their deaths. Seriously. There are lots of ways to symbolically depict "embracing your sexuality," but I can't help but feel that a girl stripping down for a goat and joining a bunch of other writhing naked women ritualistically chanting their devotion to some eternal dude is, well, a very dude fantasy to have.
Ultimately, The Witch condemns religious paranoia while also making the argument for its justification, and that just doesn't really sit right with me, thematically or morally.
The Cell
First Watch or Rewatch: Rewatch
Amazon, Netflix, Hulu, or Other: Other: Personal Collection DVD
Spoilers: Yup
Grade: Chocolate
The Cell has a lot of problems; I know this. Some actors were spectacularly miscast, like, Marianne Jean-Baptiste is a great scene stealer and Vincent D'Onofrio with his proto-Anton Chigurh haircut is dead-on, but Vince Vaughn as our FBI profiler dude? Honey, no. Jennifer Lopez wouldn't have been my top choice for our psychologist heroine, either, but honestly, she's not bad in the role; it's how they use her that's ridiculous, like, that scene where she's in a shirt and panties and so ludicrously, so obviously posed next to the refrigerator? Ugh. Come on, dudes. Also, I can't imagine this film's depiction of schizophrenia is any more accurate or less offensive than most horror movies. And I just can't get over this ending where Jennifer Lopez locks everyone out of the system, brings permanently comatose serial killer D'Onofrio into her mind, ends up mercy killing him–and then? Not only doesn't she get arrested, not only does she keep her job, she somehow gets permission to bring the comatose child into her brain after she just murdered someone during that procedure!
Regardless, I have a lot of nostalgia for this movie; it kind of blew my mind when I was 15, and while the special effects have aged predictably poorly after 20 years, I still love a lot of the cinematography, fashion, and design. This shot for instance–maybe begin at the 2.17 mark–is still absolutely gorgeous. (Watch this whole clip if you'd like a lesson/reminder on the aesthetics of early 2000's horror because this NSFW scene is strongly reminiscent of 2002's Thir13en Ghosts.) All the art history inspiration is really cool, too: the creepy women in the sand, the fucked up horse, all the H.R. Giger shit. I like that Anne Marie, our current victim, figures out how to survive long enough to be saved by the FBI. And I'm just a sucker for this basic premise, like, it's basically Inception meets Silence of the Lambs, and I am all about that. I'd have watched more standalone sequels in a heartbeat. Shit, I'd probably still watch those sequels, or maybe an updated remake, or, ooh, what about a whole TV show? (Okay, I think that's basically what Reverie was, but despite the awesome presence of Sarah Shahi, that show didn't even make it a full season. We can do better.) So, yeah, this one has serious flaws, but I still kinda treasure its surreal what-the-fuckery.