It's the end of an era, folks! Okay, fine, it's just the end of our first annual Horror Bingo–which, yes, should have been finished well over a month ago, but life! Holidays! Disney Plus! The point is, I got it done by Christmas, and that's just gonna have to be good enough.
More importantly . . .
That's right, I WON! Honestly, this was a lot of fun, and I'm already looking forward to Round 2 next year. Before I get into conclusions, though, we have three more movies to discuss: our final two Horror Bingo films and, of course, our reward movie: Jason X.
Suspiria (2018)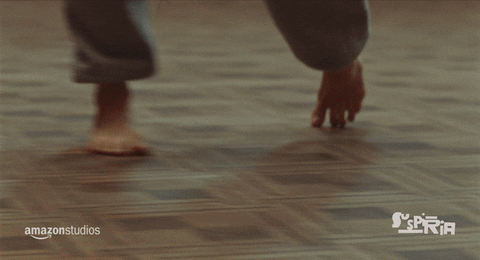 First Watch or Rewatch: First Watch
Amazon, Netflix, Hulu, or Other: Amazon
Spoilers: Absolutely
Grade: Strawberry
Well. That was a movie.
I was hopeful for this one. I do really enjoy the original film. (Gore! Maggots! Technicolor!) But also, I was kinda excited to see a different take on Ballet Witch Academy cause there are a lot of ways to go with that concept. (Not gonna lie, folks: if Ballet Witch Academy was a show on CW, I'd watch the hell out of it.) Add in Tilda Swinton and a score by Thom Yorke, and I was fucking sold. And credit where credit's due: I do really enjoy that score. Listening to it now, as a matter of fact, and let me tell you: "The Hooks" is a particularly disturbing song when you're listening to it by yourself at midnight. Also, the Susie/Olga dance scene is nothing short of horrific: grotesque, intense, and masterfully shot. There are certain plot developments I like, too, at least conceptually: the reveal that Susie is Mother Suspiriorum, for instance, is certainly intriguing. And that whole line about how the witches won't suffer any retaliation for their votes? HA! I didn't buy that bit of bullshit for one second, so the violent payoff at the end works well for me.
Overall, though, I just really didn't enjoy this movie. I didn't like the opening scene at all, like, Chloe Grace Moretz seems to be going for Crazy, Oh So Crazy, and it feels both atonal AF and, yeah, just kinda ick. At 2 1/2 hours, I think the film is far too long. I'm not saying you can't have long horror films, but I am saying they're hard to do well. (It: Chapter Two also failed at this.) We spend way more time on the psychiatrist than I think is warranted, and I don't love that he's played by Tilda Swinton; the performance is fine (I mean, it's Tilda Swinton), but I find the choice itself unnecessarily distracting. I like the idea of Susie's twist, but not the build or execution of it, and I don't think the film does a very good job developing her and Madam Blanc's relationship, either. Sure, they stare at each other a lot, and I suspect I'm supposed to get mad lesbian chemistry or maybe, IDK, incestuous mother/daughter vibes? Mostly, though, I feel like Suspiria relies way too heavily on its artsy mood and funky editing in an attempt to overcompensate for a lackluster script. I'm not particularly convinced the political backstory is working in the film's favor, either. There were a few moments of interesting horror here, but primarily, I found myself bored, frustrated, or both.
Us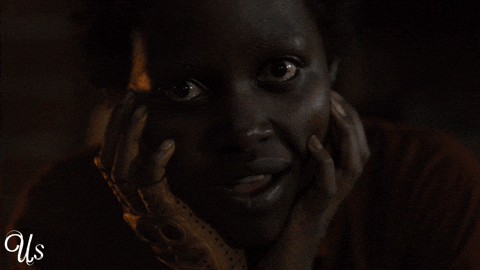 First Watch or Rewatch: First Watch
Amazon, Netflix, Hulu, or Other: Amazon
Spoilers: All of them. Watch the film first, please.
Grade: Chocolate
Oh, this is difficult. There's an awful lot I do like about this movie. The acting is great. Lupita Nyong'o is fantastic, Winston Duke is hilarious (he plays Such A Dad), and I really enjoyed Shahadi Wright Joseph quite a bit, too. I'd forgotten Elisabeth Moss was in this movie, and though it's a small role, my God, if she doesn't make the most out of it. There are so many wonderful scenes and moments here: the death of Pluto, basically everything that happens at the Tyler's house, Adelaide and Red's final fight/dance, etc. The soundtrack is phenomenal (I've now switched over to "Anthem," naturally), and I liked a lot of the humor. I'm a huge sucker for family dynamics in horror, and I was definitely invested in these characters as we watched the film.
But I have criticisms, too, and unfortunately, they're not minor ones. Like, when Red gives her monologue near the end of the movie about how the Tethered were kept underground as part of a government experiment and how she banded them together and such, it felt . . . messy. Interesting, certainly, but messy, like there's enough story and metaphor in these five minutes alone to make a whole other movie, but instead of really doing something with it, it's just sorta . . . thrown out there, slapdash as hell. I can't quite decide if we're given too much information here or not nearly enough, but either way, I think the writing is a bit weak in the third act. Still, I was willing to forgive it because, messy or not, Us is weird and fascinating, and I was having a pretty fun time watching it. And then we get Adelaide's Big Reveal, and I just . . .
Look. We were roughly five minutes into this movie before I thought, "Oh, shit, maybe this is an evil changeling story! Maybe Adelaide isn't traumatized; she's just not Adelaide." And you know, there is evidence to support that, particularly whenever Adelaide kills one of the Tethered. But the more Red talked, the more I realized I wouldn't buy that twist anymore. Part of that's dialogue: would she really have a whole speech about the humans Above, specifically calling them "your people," without ever mentioning they were once her people, that the sky was once her sky? Would she say "we're humans too, you know" to someone who, of course, does know? Would she use intentionally ambiguous (and slightly more awkward) phrasing like "how you could've taken me with you" instead of "you could've come with me" or "we could've both lived Above?"
But it's not just dialogue. It's also that the logic and mechanics of this place feel murky as hell: Little Adelaide starts behaving like a shadow while trapped Below, but . . . I don't really know how or why: she isn't mindless like the others, after all. So much here feels vague and inconsistent, and while horror doesn't always have to be logical or explained in full to be successful, that doesn't fly so well when you need to support a Big Twist. And it doesn't help that I just don't think this particular Big Twist adds much to the story, emotionally or thematically; mostly, it just strikes me as an unnecessary cheat, and considering Cheat Unreliable Narrators are one of my biggest storytelling pet peeves? It's a really unfortunate note to end this otherwise very enjoyable film on.
Jason X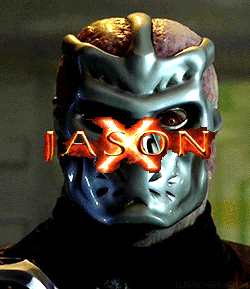 First Watch or Rewatch: Rewatch
Amazon, Netflix, Hulu, or Other: Other: Personal Collection DVD
Spoilers: Very much so
Grade: Vanilla
Oh, Jason X. This gloriously silly movie. This loving parody of its own franchise. You can come at me with your "Michael Myers is the best masked killer" until you're blue in the face, but has Michael Myers ever been cryogenically frozen for 400 years? Has he ever cut off a dude's arm purely by falling over? Was he resurrected and reconstructed into Uber Michael by futuristic nano ants? Yeah, I rest my case.
Jason X knows exactly what kind of movie it is. The puns are over the top, the kills are as violent as they are ridiculous, the fashion is hilarious (sometimes even intentionally!), and and everyone just seems like they're having a really good time. The whole movie is a string of meta in-jokes punctuated by absurd violence. (See: the gratuitous nudity holograms and the nod to everyone's favorite sleeping bag death from Friday the 13th, Part VII: The New Blood.) Hell, the whole plot structure is basically one giant homage to Aliens. Also, holy shit, David Cronenberg has a cameo in this! I don't think I even realized that the first time I watched this movie.
I will say it's a little disappointing that a) both black characters on the ship die, and b) they die sacrificing themselves for white people, which is certainly a shitty trope prevalent in horror. That being said, if you're gonna go out in a heroic blaze of glory, you've gotta do it like Peter Mensah, whose character impossibly zooms in from out of nowhere, tackles Jason in space, and steers their bodies towards Earth 2, where they continue to fight even as they burn up in the atmosphere. It is exceptional. It is a thing of beauty.
THE GREAT HORROR BINGO WRAP-UP:
Of the horror films I'd never seen before, my favorites were probably Invasion of the Body Snatchers (1978), The Babadook, It Follows, and The Wailing. Meanwhile, my least favorites were Suspiria (2018), Ghost Story, Insidious, and The Witch.
Of the horror films I have seen before, I think The Legend of Hell House remains my favorite, whereas my appreciation for Hostel has considerably dipped.
Movies I'm most disappointed we didn't get to on this go-around: Deep Red, Overlord, and Phantasm.
Movies I'll probably add to next year's Horror Bingo, if I don't watch them before then: Tigers Are Not Afraid, Happy Death Day, and Hausu.