Well. 2020 has been . . . a lot, and will surely keep on being a lot right till the bitter end. No doubt at least one bit of catastrophic or otherwise world-shaking news will break between my posting this review and you reading it. And yet . . . it's Halloween season. And I love Halloween season, and am determined to enjoy as much of it as I can.
Thus we begin our second annual HORROR BINGO.
#Alive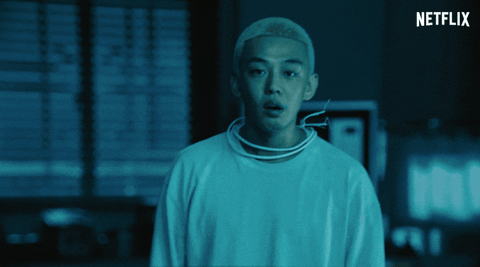 Year: 2020
Director: Jo Il-Hyeong
First Watch or Rewatch: First Watch
Amazon, Netflix, Hulu, or Other: Netflix
Spoilers: Not really, no
Grade: Vanilla
Okay, so, technically, this movie doesn't count for Horror Bingo; I actually watched it a few weeks ago and just haven't had the opportunity to write it up yet. But I'm throwing it in here anyway because I really enjoyed #Alive a whole lot. It's definitely a film that embodies 2020, Our Year of Quarantine, Misery, and Despair–except that it's actually much more optimistic than that, and I've long been excited by horror that is optimistic, uplifting, or otherwise hopeful. One cool thing about this type of horror is that it can lead to interesting trope or genre subversions; after all, a thing going right is sometimes more shocking than a thing going horribly wrong.
I will admit to being a bit tired of protagonists who are, like, IDK, gamer loser boys? But I genuinely enjoyed Yoo Ah-In in the role; he's pretty fantastic, which is great because we spend quite a bit of time with him alone in his apartment, trying to survive. The film takes its time here, really delving into Oh Joon-Woo's emotional journey, and I absolutely love that. I also adore Park Shin-Hye as Kim Yoo-Bin, Joon-Woo's badass neighbor. I became very invested in their survivor bond and enjoyed watching all the moments where they risked themselves to share food or otherwise help each other. In fact, I think my only real complaint about the film might be in the last act when a new character is introduced; I feel like the pacing is a bit off here, though I might feel differently with repeat viewings. I sometimes do.
Otherwise, yeah, this is a pretty fun Korean zombie film. Bonus points for some great music, fantastic booby traps, and also for being the rare film where social media is actually depicted in a positive light. This particular millennial appreciated that.
Freddy vs. Jason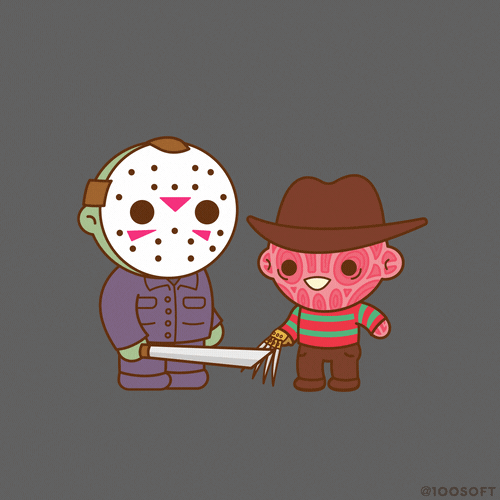 Year: 2003
Director: Ronny Yu
First Watch or Rewatch: Rewatch
Amazon, Netflix, Hulu, or Other: Amazon
Spoilers: Absolutely
Grade: Strawberry
NGL: This GIF is 116% better than this movie.
Last year, we rewatched Jason X, which is legit one of my favorites in the Friday the 13th franchise. This year, it was Freddy vs Jason's turn, so we decided to make it our Free Space in Horror Bingo. Alas, Freddy vs Jason is actually even worse than I remembered, and I wasn't exactly fond of it the first time around. The acting, the editing, the writing, Jesus, the writing. Of course, there are multiple cringeworthy lines, but the one that sticks out most is when our heroine decides– completely out of nowhere–to provide the worst exposition of all time with, "Freddy died by fire, Jason by water. How do we use that?" Oh God. I was dying. I was in serious fucking distress.
Also, let's be clear here: Freddy Krueger is useless in this movie. Jason Voorhees kills, like, 22 of 23 people. Freddy gets one dude, one. When Freddy somehow holds his own against Jason after Lori drags his ass to the waking world? Nope, not buying it. Jason would obliterate this dude. And while I'm not entirely unsympathetic to the difficulties in coming up with a coherent storyline for this kind of crossover, like, come on. If your movie is titled Freddy vs. Jason, then either I wanna see a much better murder competition between these two, or way more battles between our titular villains, like, give me some Mortal Kombat shit, I am begging you.
Honestly, I have a lot to say about this movie, and very little of it is positive. Things I do genuinely like: A) Trey's death scene (I cheered), B) Charlie's death scene (surprisingly sad), C) the part where Charlie insists he can't give Jason Voorhees mouth-to-mouth because he has asthma ("Kia, he has asthma!" LOL LOL LOL), and D) Katharine Isabelle, who is easily the MVP of the cast. (So it's a bummer her part is so small–and that the director tried to go back on her contract and make her do nude scenes, ugh.) I honestly forgot just how many people were in this movie: Monica Keena, Kelly Rowland, Jason Ritter, Chris Marquette, Lochlyn Munro, a Zach Ward cameo, etc. This is delightful.
Then again: A) not to harp on this shit script, but aspiring writers, please don't give your heroine two different back-to-back origin stories on why she doesn't date ("my cherished boyfriend mysteriously ghosted me" and "my tragic dead mom"), B) also feel free to leave out any homophobic jokes (allegedly an improv, still total bullshit), C) also leave out any dumb possession scenes (Freeburg), D) or shitty death scenes (Kia), E) or bullshit resurrections (Freddy waking up Jason, somehow–although to be fair, Jason's resurrections have never really made any sense). Finally, less laughable gratuitous nudity, if you please. Cause come on. Who buttons up their shirt just enough that one boob is sticking out all the time? Honestly.
Train to Busan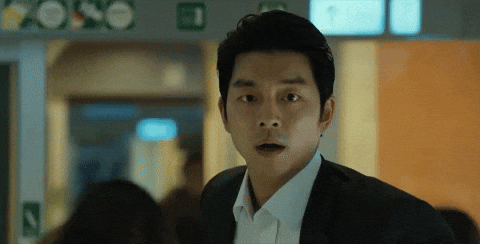 Year: 2016
Director: Yeon Sang-Ho
First Watch or Rewatch: Rewatch
Amazon, Netflix, Hulu, or Other: Other – Viki
Spoilers: Yep, all of them
Grade: Chocolate
I enjoyed Train to Busan the first time I watched it; I liked it even more on the second go. I wonder how the translation differs between Viki and Netflix. I'm afraid it's been far too long for me to compare.
My thoughts are largely the same here: while lousy redemptive fathers are even worse than loser gamer boys, Gong Yoo makes this shit work, like, this is the gold standard of daddy redemption arcs. The Feels in this movie are incredible. Obviously, Ma Dong-Seok is the best and thus his death hits very hard, but I feel invested in almost all the characters: the sisters, the baseball player, the pregnant wife, the train conductor, the small child who gives her father Judgment Eyes for two hours straight, etc. It remains impressive that I even feel a bit sorry for Selfish Asshole, especially since he's directly responsible for so many deaths. This is an emotional movie; I definitely cried more than once and felt pretty wrung out after watching it. (Though, to be fair, I also found out that Trump was COVID+ at the same time, which, like, I have zero sympathy for that man. Still, I remain anxious for how this will impact the election; besides, the news in general is just overwhelming lately. My reaction was basically ". . ." because I'm lacking even the emotional bandwidth for proper schadenfreude these days.)
I do still wish at least one of the women in this movie had an action scene where they, you know, did something. It bothers me less this go around, but it's still likely my biggest disappointment with the film. OTOH, Jong-Gil's decision to open the door played much better for me on a second viewing. And I still love so much else about this film: the pacing, the action scenes, the clever use of tunnels, etc. Also, on a positive note: Train to Busan was the first thing I saw Choi Woo-Shik in, who I rather adore. (He's such a puppy in this movie. The expression on his face when he enters the train car full of Zombified Teammates, oof. Poor puppy.)
I maintain that Small Child's singing at the end of the film is a terrible idea and should have gotten our two survivors dead (rather than be the instrument of their salvation), and damn the themes and symbolism. Still, it's not a serious complaint. It doesn't look like either character is in the sequel, either, which I'm actually grateful for, and not just because Peninsula is, by all accounts, nowhere near as good as its predecessor. It's just if a character makes it through a zombie apocalypse, I have zero interest in watching a sequel where they inevitable die. LONG LIVE SUNG-GYEONG AND SOO-AN, SURVIVORS OF THE ZOMBIE HELL TRAIN.