Becky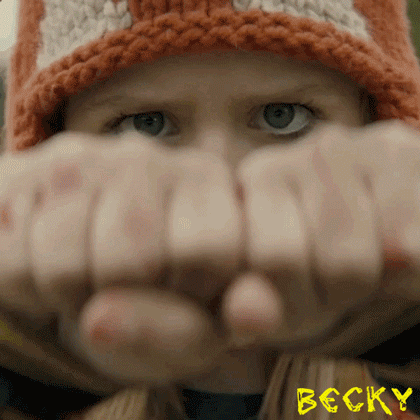 Year: 2020
Director: Jonathan Milott and Cary Murnion
First Watch or Rewatch: First Watch
Amazon, Netflix, Hulu, or Other: Amazon
Spoilers: Oh, barely
Grade: Chocolate
I enjoyed Becky; it's fun and it's gory, very gory. Lulu Wilson is excellent as our angry 13-year-old MC, who, ah, zealously defends her home against Neo-Nazi escaped convicts. Wilson, all of 15, already has an impressive horror resume (The Haunting of Hill House, Annabelle: Creation, Ouija: Origin of Evil, etc.); Kevin James, meanwhile, is not so well-known for horror, so seeing him here as the Big Bad is, uh, startling at first. That being said, I actually think James does a pretty decent job; his performance is more understated than I would've expected, and overall, it worked fine for me.
The whole cast is pretty solid, actually: I like Joel McHale  as Jeff (Becky's Dad), and I had fun playing spot-the-actor with Ryan McDonald (from Fringe) and Robert Maillet (Sherlock Holmes). I also really enjoyed Amanda Brugel as Kayla, Jeff's fiancée; in fact, my biggest problem with the movie is that it doesn't give Brugel enough to do. Like, I get it: in a movie called Becky, I expect our titular heroine to do the lion's share of the homicide. Still, this is also a movie with Nazi villains spouting gross bullshit about mixed races; it'd be nice to see the film's only Black female character get in on the violent action. There were several opportunities in Becky, all of which were missed.
Still, I had a good time watching this. As plenty of other people have noted, Becky's not here to fuck around; this is a horror movie for people who like creative violence, with weapons ranging from rulers to boat propellers; if that doesn't sound like your bag, this probably isn't the film for you. Personally, I found it delightful; it's clear that between Becky and You're Next, I have a serious weakness for the "Home Alone but VIOLENT" sub-genre of horror. I also like the moment when Becky switches from Surviving Mode to Killer Mode; I thought it worked well. She has a pretty great costume, too, like, a striped shirt? A fox hat? Blood? I could cosplay the shit out of this.
Also, apropos of nothing, but this Child of Divorced Parents absolutely felt the whole 'Wow, did YOU pick the wrong way to break the news about your GF.' Like, dude, come on. I recognize that Becky is kind of a pill, but also, get your shit together.
The Burning
Year: 1981
Director: Tony Maylam
First Watch or Rewatch: First Watch
Amazon, Netflix, Hulu, or Other: Other – Youtube
Spoilers: Yup
Grade: Strawberry
This one's got something of a rough start, and not just because I highly doubt the plausibility of anybody this severely burnt turning into such a spry serial killer. (Don't @ me with Freddy Krueger. Dude is dead; normal rules don't apply.) I also kinda can't stand some of the people you're apparently supposed to be rooting for, like, am I supposed to feel sorry for Nerdy Alfred instead of chanting for his death? Whoops. And the 'let's murder this random prostitute' is bullshit, too, like, this whole story is based on some East Coast urban legend about a dude who kills kids; leave the poor sex workers alone, please. (Also, fuck you, whoever wrote the Wikipedia summary: the sex worker didn't "lure" Cropsy anywhere; she's the actual victim, not some kind of evil sexy trap brainwashing the helpless serial killer. Goddamnit.)
Still, there's a lot I enjoy about The Burning. The whole raft massacre is pretty great, actually, like, sure, it's silly that Cropsy was apparently just chilling in that canoe all day, waiting to attack, but also, this is a genuinely awesome scene. There's a ton of tension as we slowly approach the canoe. I absolutely assumed we were getting a creepy body reveal, when BAM! Cropsy attacks instead! It's a delightful surprise, but also, dude takes out like five kids at once, which is exceedingly rare in a slasher.
Which is worth talking about, I think, because I saw several reviews for The Burning complaining about how formulaic it is, which, like, nah? Cause A) in 1981, the slasher formula was still being written, sorry, and B) while there are formulaic elements (all the unnecessary tit and ass shots, for example, and/or Wow, Teens Like Sex in the Woods), there are interesting subversions, too. For one, there's no Final Girl. Girls do survive, but The Burning is all about the Final Boy–though I suppose there are two nominees for the position. (Personally, I'm Team Todd, rather than Team Alfred, because his origin story is inextricably linked with the villain's; also, he's ultimately the one who kills Cropsy.) Also, while the score is undeniably 80's, it really doesn't sound anything like most 80's slashers. The climax takes place in this abandoned mine, which is just visually interesting. There are actually kids at this damn camp, for once. There's even a plus size girl who A) is never made fun of, B) pushes this one asshole into a lake, and C) LIVES. I mean, she also barely has lines, but fuck it, I will take the small victories I can get.
Other random notes: A) The Burning was the film debut of Holly Hunter, Fisher Stevens, and Jason Alexander; unfortunately, it was also the film that helped start Harvey Weinstein's career, which great, now I feel all dirty, B) Tom Savini did the makeup here, which was very apparent from the first death, C) That being said, the burn makeup is kind of laughable; see also: "Cropsy Vision," D) Some of the supporting players are surprising likable kids, instead of being horrible little assholes, and E)  while Eddy and Glazer are clearly the worst horrible little assholes, I maintain that both Alfred and Todd also suck. Alfred is just a creeper; Todd, meanwhile, is the Nice Guy who has big "okay, calm down, let's not be irrational here" energy whenever his girl Michelle is angry at someone. (Todd, naturally, gets to yell at whoever he wants.) Todd also has so little remorse for his childhood prank-gone-wrong that he just turns the whole thing into a campfire story. Dude's all, "Remember how I almost killed a guy once and ruined his life forever? How can I turn that into some spooky summer fun?" Clearly, Todd is kind of a sociopath, which I respect. Still, I wish the movie owned it a little more.
Deep Red
Year: 1975
Director: Dario Argento
First Watch or Rewatch: First Watch
Amazon, Netflix, Hulu, or Other: Other – Shudder
Spoilers: Yeah. Like, all of them.
Grade: Vanilla
There are many different flavors of WTF Horror; unlike Mandy, Deep Red is definitely more my speed. I have a lot of ideas for a remake, actually; for instance, it'd be great if I didn't spend half the film chanting death death death at our detective pianist hero. Marcus, you see, believes that women are inherently "weaker" and "gentler" than men, and boy is he a whiny little shit about it when Journalist Giana quickly proves him wrong. Giana drops out of the story for far too long, IMO; I really wish we saw them both conducting their own investigations into Psychic Helga's death. Probably could also use a few better leads; how Marcus gets to the author, for instance, is pretty weak sauce. And more suspects would be great, too, because while I always love getting the killer right, I can't exactly pretend I had to work for it, here.
Still, I had a lot of fun watching this. The whole premise is so my jam, and the score is just so delightfully weird; it shouldn't work at all, and yet I love it, spent the whole film bopping around to the jaunty music. (And am listening to it now, as a matter of fact.) And course I enjoyed most of the death scenes: Prof. Giordani's is probably my favorite, partially because that teeth shit is brutal, and partially because of that weird fucking doll, like, holy shit, it's so creepy and hilarious simultaneously; I love it. (Though I will say Carlo's death did little for me; that was a little too Final Destination for my tastes.)
Other things I really enjoyed: pretty much ALL the weird doll shit, the ultimately pragmatic motive behind the murders, Marta's hat, gloves, and leather jacket combo (Marta's also on the Dream Horror Cosplay list), the fact that Marta's actually visible after killing Psychic Helga, the giant abandoned house, the hilariously creepy mural–oh my God, I LOVE it, I NEED it, I want that shit on my walls immediately–and YES, there are stickers at Redbubble; excuse me, I have to go buy one RIGHT NOW.
Random notes: A) If you weren't sure this was a Dario Argento movie, look no further than Helga's death scene (hint: there's glass), B) I was 100% sure we were gonna get a transphobic twist that Carlo had once been Carla, so I'm extremely happy to be wrong here; also, Marcus is shockingly not an asshole to either Carlo or Carlo's transgender lover, which was a huge relief, C) that being said, Carlo's not exactly a winner himself (there's a whole rape joke; it's gross), and he's kind of a pathetic character with a miserable death, so I can't say the queer rep is, y'know, fantastic, D) I wish Marta's crazy was dialed back from an 11, especially considering her motive is ultimately practical, E) Colin Firth will absolutely play Marcus in my remake, and while the music will probably need to be toned down at least somewhat for modern audiences, I adore the idea of specific themes for our main characters; his will be something on the piano because, you know, detective pianist (while Giana will get the more jaunty 70's shit as an homage), and finally, F) here's the moral of the story: if you find an inexplicable baby doll hanging from a noose inside your presumably empty house, DON'T STAY INSIDE THE HOUSE. Hitchhike your ass to town, if you must; you are about to die BADLY.