Dream Home
Year: 2010
Director: Pang Ho-Cheung
First Watch or Rewatch: First Watch
Amazon, Netflix, Hulu, or Other: Amazon
Spoilers: Nah
Grade: Strawberry
This is definitely not one of my favorites. It fails for me on multiple levels: as a slasher, yes, but also as a social commentary. I'm a bit wary of criticizing the latter, as this film was made in Hong Kong and I, as an American, could easily be missing important context here. The thing is, the issues on the table (a devastating housing crisis, exorbitant health care costs, etc.) are also incredibly relevant in the US, and still . . . I didn't really feel like this film had anything to say.
Mostly, I found Dream Home boring. The violence is certainly gory, but each death scene goes on for at least 20 seconds too long, which results in less tension, not more. The pace is rather slow. I like idea of the flashbacks, but not the execution of them; they provided very little in the way of emotion, clarity, or even a rising sense of "holy shit, this lady has been wronged, and there will be BLOOD TO PAY." (Though, to be fair, my favorite scene in the film actually is a flashback: our heroine and her childhood friend talking on a tin can phone, hilariously using the word "asshole" in place of "over," as all children should.) As a protagonist, Sheung feels a little flat. Her brother is so incidental to the story that I'm not even sure why they bothered including him. Also, I feel bad for the prostitutes. Once again, can we please leave the poor sex workers alone?
Here's a whole thing: at the beginning of this film, we're told that Dream Home is based on a true story. This is always a suspicious statement, especially coming from a horror movie, so I looked it up afterwards and found an interview where the director was asked if this was true or not. His answer? "It's the truth that many people would like to buy a flat in Hong Kong. But the plot and killing scenes are fictitious."
This fucking guy.
Hausu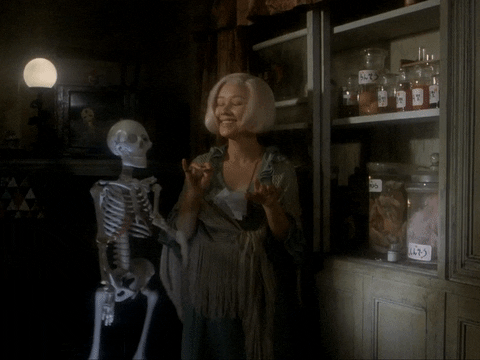 Year: 1977
Director: Obayashi Nobuhiko
First Watch or Rewatch: First Watch
Amazon, Netflix, Hulu, or Other: Amazon
Spoilers: Yup
Grade: Chocolate
Okay. I kind of loved this batshit movie. I know I said psychedelic horror wasn't my thing, but apparently, there are exceptions! (This list, for instance, includes Hausu and Suspiria, both of which I enjoyed. Of course, it also includes Mandy and Jacob's Ladder, the latter of which is especially on my Never Fucking Again list.)
Hausu was born to be a cult classic. It is intentionally absurd, and much of that absurdity works for me; I laughed at, oh, so very much. The wildly obvious painted backdrops. Ryoko, the ridiculously angelic, who seems to walk in slow motion and probably has her very own personal wind machine. Auntie, whenever she looks directly at the camera or dances with the skeleton or, really, does much of anything; Auntie is just fantastic. The piano that eats Melody. Mac's decapitated head biting Fantasy in the butt; yup, that's a thing that happened, folks. And of course, all of the girls names; I am absolutely obsessed with a group of friends with names like Gorgeous, Melody, Fantasy, Sweet, Prof, Mac, and Kung Fu. (Kung Fu is the absolute best, BTW, and I mourned deeply when she died, though even dying did not stop her dismembered legs from managing to kill Blanche, the evil cat, because KUNG FU IS THE BEST.)
But it's not just the surreal humor I enjoy; some of the actual horror works for me, too. I love the whole look of the house. Sweet's body in the grandfather clock? Awesome. In fact, despite how silly it sounds–how silly it is, really–I genuinely enjoyed the scene where the mattresses attack Sweet, too. Also, flooding a room in cat's blood, leaving two girls adrift on, what, a coffee table? It's so weird but also so visually interesting; there's so much to look at in this movie. Like Possessed Gorgeous in her wedding dress; oh, I love it; I love it so much. Let me tell you, folks: I am all about the obscure group cosplay here. And it really surprised me, too, how quickly Gorgeous gets taken out. She dies, for all intents and purposes, only 48 minutes into this movie.
There are some elements I don't love. Like, it's not that I need an explanation for why Mr. Togo turns into a bunch of bananas, exactly; mostly, I just don't want Mr. Togo in this movie at all. (That goes double for the Watermelon Farmer.) Mac frustrates me, too, of course, considering her one and only personality trait is how much she likes to eat food; it's an additional level of insult that "the fat friend" is maybe a size larger than everyone else. There are also a few random bits of nudity that are mostly just like, why?
But otherwise, yeah, I had a pretty great time watching this. Final notes: A) Auntie's fiancé who never came back from the war is a damn good looking man, B) Gorgeous's father is yet another dude who needs to seriously work on the whole "guess who's getting a stepmother" talk, C) Gorgeous apparently inherited her father's audacity when she basically wrote a letter that said "Auntie, I've met you exactly once in my life, so do you mind if I bring six of my friends over for a slumber party at your place?" and D) Apparently, the director's ten-year-old daughter came up with the ideas for many of this film's scares, which is why little girls should never be underestimated.
Prevenge
Year: 2016
Director: Alice Lowe
First Watch or Rewatch: First Watch
Amazon, Netflix, Hulu, or Other: Other – Shudder
Spoilers: Nope
Grade: Vanilla
This one's okay, but I didn't quite love it, and I'm still not entirely sure why. On the upside: it's always exciting to see a female horror director, and it's awesome that Lowe was eight months pregnant while shooting and starring in this film. Pregnant women are usually the victims in scary movies, likely to give birth to some eldritch horror that will inevitably kill their hosts upon delivery; it's as interesting as it is rare to see a pregnant woman as a serial killer. I laughed hard at several moments, particularly in one scene where Ruth and her unborn baby are conversing. Fetus strongly reminded me of the Red Queen from Resident Evil, so that was an additional layer of hilarity, and holy shit, Ruth's Halloween costume at the end of the film (seen above) is phenomenal. The lady horror cosplay energy is so strong this month!
Still. There's something uncomfortable about many of the film's scenes, especially in the first third of the movie. It's intentional, I think, an awkward sense of humor, but it also made me feel quite awkward, myself? Like, not in a good way. Also, I was a little bored, because these scenes dragged quite a bit; I think it took me a solid half hour to get invested in the movie proper. The midwife mostly works for me, but occasionally throws me out, too–not to mention, dear God, you never assume there's a partner involved; like, come on, lady, this is basic ass shit. And overall, I felt a bit distant from the story. Prevenge isn't a bad movie by any means–it's funny, and there's one startling moment, in particular, that I think is quite excellent–but I just never really connected to it, myself.
Fair warning: if you decide to try this one out and vomit scenes bother you, well. I feel compelled to mention that there is one specific moment that garnered simultaneous UGHS from Mek and me; it very well may have been the most horrified either of us have been all month.