All right. I have a sinus infection. I'm running on caffeine, antibiotics, Ibuprofen, and not nearly enough sleep, and we've got roughly three hours of Star Trek to discuss. Let's just dive into it, shall we?
DISCLAIMER
There will be SPOILERS for these three episodes and probably also the Star Trek franchise in general. You've been warned.
"A Piece of the Action"
Oh, God. Folks. Fellow humans. I can't with this episode. I was so bored.
"A Piece of the Action" is about Kirk, Spock, and Bones beaming down to 1920's Mobster World, and I know it's supposed to be funny, but good lord, it's like a ten-minute gag that's stretched, kicking and screaming, into a full episode. I'd watch it again, maybe, but only as a drinking game. The first and second rules are obvious: 1) drink whenever Kirk, Bones, or Spock get the drop on any of the gangsters, and 2) drink whenever any gangster gets the drop on Kirk, Bones, or Spock. I cannot emphasize enough how often this happens, and if that sounds somehow exciting or action-packed, let me assure you that it is not. This episode is like watching someone playing Hot Potato with a Tommy gun, only somehow boring. There is simply a limit to how many times one can get and lose the upper hand before any sense of tension or stakes are annihilated; this episode surpasses that limit by a wide and wild margin.
Another rule: drink whenever Kirk shows off all the noir slang he's picked up. You will be drinking non-stop for the last 10 minutes straight.
Here are a few things I did enjoy: the origin of fizzbin. How absurdly large The Book (AKA, Chicago Mobs of the Twenties) actually is. It's basically a giant Bible, like, it's gotta be the size of Kirk's whole torso at least. I also enjoy Kirk and Spock in their respective suits, and the irrefutable fact that, in the Prime timeline, Kirk absolutely cannot drive. (Obviously, he learned how to do this at a very young age in the Kelvin verse. These are the important canon divergences to analyze, people.)
Unfortunately, that's about all I really enjoyed here. The whole concept of this episode–an alien society so imitative that they rewrote their entire culture just to mimic one (ridiculously gigantic) book–is ludicrous, of course, but ludicrous can be entertaining. This, however, mostly struck me as tiresome and grating, particularly the slang, (which I found too cartoonish to be convincing) and the constant Tommy gun Hot Potato.
Chief Asshat: All the mob bosses, mostly for the crime of being annoying.
MVP: The kid who briefly teams up with Kirk and Spock, I guess.
Grade: Vanilla
Line of the Episode:
"But the odds of getting a Royal Fizzbin are astro–Spock, what are the odds in getting a Royal Fizzbin?"
"I've never computed them, Captain."
"Well, they're astronomical, believe me."
*Spock silently mouths astronomical and looks away, resigned*
"The Immunity Syndrome"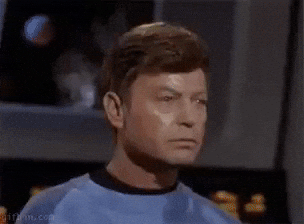 "The Immunity Syndrome" is unlikely to make it to my personal Top Ten, but it's not a bad episode. The stars disappear at some point, which is always creepy. There is a giant amoeba (and not a "giant glowy space fish with one eye," which was my immediate impression). Kirk has to decide whether to send Spock (Friend/Lover #1) or Bones (Friend/Lover #2) on what's almost certainly a suicide mission. (He picks Spock, and I desperately hope that there's fanfic about all of this.) And Spock essentially senses a great disturbance in the Force when 400 Vulcans die, because his touch telepathy will forever and always be dependent upon what the plot requires. (I now find myself wanting to see Spock in Star Trek 2009 psychically reeling from the collective death of basically everyone on Vulcan, which would admittedly be a lot on top of killing his mom. But since Winona Ryder played the only version of Amanda Grayson I've ever liked . . . yeah, let's save her and do this scene instead.)
There are things that don't totally work for me here. Spock's idea that the dead Vulcans could not have conceived of their doom because Vulcans, as a species, have never been conquered feels like incredibly sketch logic. (Also, it's a retcon, at least if Bones in "Conscience of the King" is to be believed–which, to be fair, I never really did.) I don't know if I entirely buy Bones actively campaigning to go on the suicide mission for the sake of Science, either. I can absolutely see him sacrificing his life to save others, but that's not quite how this is framed. Like, I bought Bones helpfully interrupting to say "I recommend survival" (without any suggestions as to how, natch), much more than Bones asking Spock, "Do you think that I intend to pass up the greatest living laboratory . . ." when the cost of going is near-certain death.  I also wish someone at least brought up the possibility of trying to save the giant amoeba, too.
I remain amused, also, about A) how quickly Bones resorts to just drugging everyone with stimulants–space cocaine definitely feels like a solid medical treatment–and B) how both Bones and a nurse personally come to the Bridge to administer, like, six adrenaline shots, when 2/3 of the ship have also been affected and are waiting on treatment, goddamnit. All this aside, "The Immunity Syndrome" is a totally decent episode, and much better than what came before . . . or what's coming next.
Chief Asshat: Actually, no one's really terrible here, but I'm giving this to Kirk anyway, for not slamming those breaks early.
MVP: Spock, maybe, for verbally bitchslapping human history.
Grade: Chocolate
Line of the Episode:
"Shut up, Spock, we're rescuing you!"
"Why, thank you, Captain McCoy."
"A Private Little War"
If you look very, very carefully, you might be able to find a good episode hiding somewhere in the depths of this one, but boy, it would be a long and arduous excavation. I do have some suggestions, of course. Buying better wigs is probably not the most important one, but holy Jesus, these wigs are awful–not to mention that the subtle symbolism of Good Blond Aliens vs. Evil Brunette Aliens leaves something to be desired.
A bigger problem is Nona. The Good Blond Aliens are led by Pacifist Tyree, who is Kirk's friend; Nona is his duplicitous brunette witch wife who drugs men with aphrodisiacs and heals them with plants, blood, and sexy writhing. I hate literally everything I just wrote. Nona potentially could be interesting, if you altered her ridiculous healing process and straight-up cut the gross non-con behavior. See, this planet used to be a very peaceful one, but a Klingon spy is giving the Evil Brunette Aliens superior weapons, and Nona wants Kirk to give the Good Blond Aliens the same weapons (or even better ones) to defend themselves with/wipe out their enemies.
This is a perfect setup for a morally ambiguous character who advocates for terrible things but for pretty understandable reasons, which is so much more interesting than Sexy Evil Chick who tries to sell out her husband's people and inevitably gets killed for it. A better episode, IMO, would still have Nona knock out Kirk and steal his phaser, but this time she'd die after successfully assassinating the Evil Brunette Leader. It would be a much more satisfying/badass death for her personally, but would still be tragic overall–because while Nona would die thinking she sacrificed her life to save Good Blond Aliens, the audience would see how her death actually served as a catalyst for Pacifist Tyree's transformation into Vengeful Tyree, thereby only extending the war.
You see how bad this episode is? I'm basically just pleading for this show to fridge women better. And I haven't even gotten into how this episode is also somehow a mangled Vietnam War allegory, or the whole side plot where Spock gets shot and must literally be slapped in the face, like, twenty times to properly heal. (Okay, this is hysterical, actually, but I can't help but feel that Plot A and Plot B have been horribly mismatched here.) Or how the Klingon spy is is basically just dropped from the story–and why was this guy getting involved, anyway? These people are unlikely to be a big asset to the Klingon empire. And yeah, that whole serpent of Eden metaphor, too. Ugh, guys, enough is enough. Please leave Eden alone, I am so tired of it.
Oh well. At least we got the introductions of M'Benga and this dude, I guess.
Chief Asshat: Kirk, who continues to be an asshole about Klingons, snaps at Uhura, Scotty, and Chekov, and justifies giving the Good Blond Aliens rifles with some pretty shaky logic. But M'Benga is also a candidate, as he's a bit of a condescending dick to Nurse Chapel when she asks for some pretty reasonable clarification.
MVP: Definitely the mugato.
Grade: Strawberry
Line of the Episode: "This man believes the same thing we believe in, that killing is stupid and useless." (A great quote from Bones, but I'd hardly call it a consistent TOS philosophy.)