There's a lot to discuss today. Big, glowing balls. Weird speeches. Leonard Nimoy smiling. Whiskey as a resistance strategy. Tonal inconsistencies. Logic problems. And unfortunately, Literal Space Nazis.
Let's twist this.
DISCLAIMER
There will be SPOILERS for these three episodes and probably also the Star Trek franchise in general. You've been warned.
"Return to Tomorrow"
Hey, this is one of the TOS episodes with Diana Muldaur in it! Hi, Young Pulaski!
I enjoyed watching this one, although I'm itching to tweak a few things, particularly the ending. Let's begin with Sargon, Thalassa, and Henoch, three super advanced beings made up of pure energy who've survived half a million years in these big glowing balls. They want to temporarily possess three people (specifically, Kirk, Spock, and Mulhall, our Pretty Woman of the Week) so they can build themselves android bodies and roam around freely. Sargon seems pretty shifty at first, but ultimately, everyone agrees to the plan, in part because of Kirk's, uh, impassioned speech, which TBH, would only have convinced me that he'd been brainwashed during the earlier Spirit Swap Demo, like, that monologue is so overacted it passes over "passionate" and skips straight to "alarming." (Also: the Spirit Swap Demo? Funny as hell.)
Quickly, it becomes clear that Sargon actually isn't a shifty motherfucker; unfortunately, Henoch, possessing Spock, absolutely is. Possessed Spock smiles a lot. He's a flirty, evil little shit, and it's delightful. These scenes absolutely make the whole episode for me. Henoch wants to keep Spock's body, of course, and temporarily sways Thalassa (Sargon's wife) to the Dark Side; however, she feels guilty after torturing Bones a little and decides possessing a living body is too great a temptation. Meanwhile, Sargon and Spock briefly seem to die, but they're both fine, as the former escapes into the Enterprise itself, while the latter escapes into Nurse Chapel's body.
Conceptually, this is totally awesome. In execution, definitely a letdown. Spock-as-Christine is disappointing because Majel Barrett never gets the opportunity to act as Spock, which is a huge missed opportunity. Meanwhile, it's not that I expected Sargon to permanently become the Enterprise (although that would have been, in a word, fascinating), but it could've been really interesting to see him and Thalassa living as other ships–or they could've gone with the robot plan, whatever, maybe worked to create androids that would've been able to experience sensory pleasure. Anything, really, would've been preferable to Let's Disperse Into Oblivion Together. It's the most obvious possible ending, emphasizing all the usual morals: it's wrong to live past your time, your humanity will be lost if you try, death is how it's meant to be, etc. I get why it's a popular SFF trope, immortality not actually being in the cards for any of us losers, but I still find it dull and predictable, particularly here where it feels like Sargon and Thalassa suddenly agreed to doom themselves just because Henoch is a big jerk.
Chief Asshat: Henoch. I mean, you can't just be brainwashing Christine; that's rude.
MVP: . . . but also Henoch, or really Leonard Nimoy, because he's a lot of fun here.
Grade: Chocolate
Line of the Episode: Oh, I can't choose. It's either this surprisingly good line in the otherwise terrible monologue: "Risk is our business. That's what this starship is all about." Or it's, ah: "Your captain has an excellent body, Dr. McCoy. I compliment you both on the condition in which you maintained it." I mean, what in the fanfiction hell?
"Patterns of Force"
Oh, boy. So, this is Nazis in space, literally, and it's just about as bad as that sounds. There are, admittedly, a few bright spots. Like, we get the (very brief) return of Spock's undercover beanie. There's some dude who kinda reminds me of a 1960's Tom Holland. At one point, Kirk and Spock are flogged, and their "blood" is pretty clearly just red and green paint. (Which I have to admit, I do so love the juxtaposition.) And at one point, Spock has to stand on Kirk's back, which ends up being amusingly difficult for Kirk. I now desperately want to read a 5+1 fanfic where Kirk and Spock have to boost the other up, er, platonically. (The +1, of course, is less platonic.)
Unfortunately, the rest of the episode is kind of a mess, and not just because Kirk pronounces Nazi like he's Brad Pitt in Inglourious Basterds. The reason we've found literal Nazis halfway across the galaxy is because, while observing the people of Ekos, revered historian John Gill became disturbed by how fragmented and divided the planet was. The only way to save everyone, he decided, was to bring in some fascism, but like, nice fascism, I guess. You know, they're the good Nazis.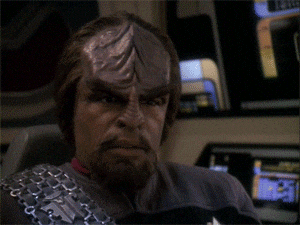 Unclear what that even means? Me, too. But TOS isn't gonna bother with specifics here. Instead, we discover that everything went swimmingly until this one Bad Guy decided to make the Nazi party evil again, drugging John Gill to, heh, the gills, and secretly taking over. With his dying breath, Gill confesses that he was wrong, that non-interference is the only way, but bitch, non-interference isn't even the problem here! You could have introduced any political philosophy to try and stabilize this shit, and you chose the Nazi party?! Sure, Spock agrees that Nazi Germany was the "most efficient state Earth ever knew" (uh, really? In ALL of human history?) and suggests that Gill must've assumed "such a state, run benignly, could accomplish its efficiency without sadism." But seriously, what the fuck does it even mean to be a Nazi without sadism? Cruelty is a feature, not a bug. Nazis didn't solve divisions between people; they widened them, preying on existing prejudices and fears to make a convenient scapegoat out of an entire ethnoreligious group, and then–and this is key–murdered about six million of those people. Not to mention that, so far as I can tell, the conditions which led to the Nazis's rise to power bears no resemblance to anything happening here, so this whole "plan" makes no sense on either a logical or ethical level.
It's also just very strange to watch Kirk and Spock go undercover as Nazis when William Shatner and Leonard Nimoy are, and were, both Jewish. Of course, I have no idea how they felt about this episode, and perhaps they didn't have a problem participating in it. Honestly, I hope that's the case. But even if it is? "Patterns of Force" is poorly written and just all around ill-conceived.
Chief Asshat: Holy shit, John Gill. WTF, my dude?
MVP: Um. Spock's beanie?
Grade: Strawberry
Line of the Episode: "To the logical mind, the outlook is somewhat gloomy."
"By Any Other Name"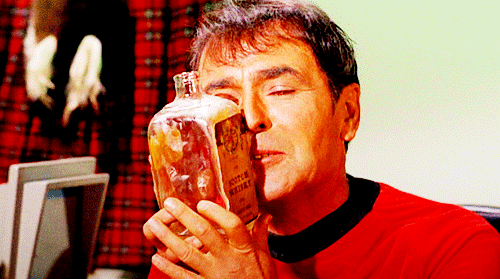 When I saw the title of this episode, I tried to prepare myself for some tragic nonsense between Kirk and The Pretty Woman of the Week, but we go a different way here. The Enterprise responds to a distress call; unfortunately, it's a trap, and the ship is easily (too fucking easily) captured by four Kelvans. The Kelvans are these super advanced aliens from the far-far-away Andromeda galaxy, and they need the Enterprise to get back home. (It'll take 300 years, which means only their descendants will actually make it.) In their original bodies, the Kelvans are gargantuan, with "a hundred limbs which resemble tentacles." (I can only assume this means they're secretly Old Ones.) But to survive in this galaxy, they've taken on human form, which means they've begun reacting like humans: enjoying physical sensations, feeling emotions, etc. Thus to retake the ship, our heroes have to exploit these weaknesses. Which means:
Bones keeps giving one guy Irritation Hypos.
Scotty eventually drinks one dude under the table (before quickly passing out himself).
Kirk (sigh) seduces the Alien Girl. (Who, BTW, is a dead ringer for Sansa Stark.)
Spock manipulates the Alien Leader's jealousy of Kirk and Alien Girl.
Scotty's scenes are probably the funniest, considering just how much alcohol he has to sacrifice to, er, complete the mission. (TNG will later pay homage to this scene in the episode "Relics.") Kirk's part is predictably the worst, especially because Alien Girl doesn't even seem all that seduced at first–it's pretty great, TBH–before having a sudden and inevitable change of heart. All in all, though, the episode ends on a relatively light note: the bad guys aren't killed or imprisoned; instead, they decide to stay in this galaxy, having fun in their new human forms, which is all well and good until you remember Yeoman Thompson.
See, the Kelvans like to turn people into porous rocks; they do this to literally everyone on board (except our four previously mentioned heroes). After a failed escape attempt, Yeoman Thompson and Lt. Shea are the first to be transformed. To discourage further resistance, Alien Leader crushes one of the rocks, and I admit, I was very surprised when we discover that it's Lt. Shea who survived, as I definitely assumed the writers would kill off the one Black man and save the one white woman. It's a good surprise, honestly, but it does rather feel like poor Thompson's murder is completely forgotten about in the second half of the show, when the tone noticeably shifts from "suspense" into "wacky hijinks." This is especially true of the ending, considering the Kelvans experience absolutely no consequences of any kind for their terrible actions.
You know what I'd like to see? A spinoff show where a bunch of unjustly murdered Starfleet officers come together to haunt their respective captains. It could be bloody. It could be animated. We could call it . . . Star Vengeance.
Chief Asshat: Probably the Alien Leader. He's the one who murders Yeoman Thompson, and also, jealousy is just not a good look on anyone.
MVP: Scotty, for his out-of-the-box thinking.
Grade: Vanilla
Line of the Episode:
Alien Dude (about the bottle of alcohol Scotty is holding): "What is it?"
Scotty (drunk off his ass): "It's, um . . . It's green."