I know I usually tackle this show three episodes at a time, but with only four episodes left in Season 2, I thought it'd be best to lump them all together.
This is important because it means I have to adjust my very scientific ice cream based rating system. I will now be introducing a fourth flavor: mint chocolate chip. And while I know that many of you will be incorrectly thinking yum, mint chocolate chip is, in fact, the worst flavor–yes, even worse than strawberry–because mint is the devil's food. There is no lower grade on this blog than mint chocolate chip.
"The Omega Glory"
Wow. Wow. I guess I know what's winning the mint. "The Omega Glory" may very well be the worst Star Trek episode I've ever seen, which is saying something. I mean, it's worse than the Nazi episode. The Nazi episode. It's almost impressive, how awful this is. The fact that touch telepath Spock mind controls a woman from across the room simply by Intense Staring is the very least of this episode's problems.
It doesn't start so bad. The Enterprise discovers that nearly the entire crew of the U.S.S. Exeter were infected with some weird disease which essentially dehydrated them so badly that their bodies collapsed into crystals. Like, yikes. Kirk, Spock, Bones, and Red Shirt, also now infected, beam down to this planet where they'll be safe so long as they don't leave. Captain Tracy, sole survivor of the Exeter, pretends to be a good guy for a whole three minutes before vaporizing Red Shirt and holding our heroes hostage. Turns out, the people on Omega IV all live for centuries or longer, and Tracy wants to figure out this Fountain of Youth shit so he can leave the planet and live forever.
Tracy is a weirdly cartoonish bad guy, especially considering how he's introduced as this legendary Starfleet captain. (It's almost funny, just how few fucks this dude gives about his entire dead crew.) Of course, Immortality Seeker is a classic villain trope, but it feels bizarrely random here, like they picked it because it was classic, not because it actually makes sense for this character or this story. Still, the aliens are the real problem here: the Yangs (portrayed by white actors) and the Kohms (portrayed by Asian actors). The Kohms are peaceful and "civilized," while the Yangs are the unreasonable "savages," something that's clearly presented as a surprise, like, isn't it shocking how the brown people are the civilized ones? It's definitely no accident that Sulu remains onboard for the majority of this racist ass episode.
It turns out that, somehow*, this planet mirrors Earth's history to a ludicrous degree. Like, the Big Twist is that the Yangs are actually this planet's equivalent of Yankees, complete with their own version of the U.S. Constitution, the Pledge of the Allegiance, and–I shit you not–a whole ass American flag. Meanwhile, the Kohms are communists, I guess, and unlike Earth (where a war was avoided), the Kohms defeated the Yangs way back when, pushing them out of civilization and taking over their lands. Which is why the Yangs dress, act, and speak the way they do–because they're also supposed to represent the Native Americans in this world. It's, whew. It's real bad.
Honestly, there's so much gross bullshit here that it's hard to even know where to begin. Like, how this episode fully embraces several racist Native American stereotypes, or how Cloud William (the Yangs' leader) speaks in what I guess is meant to be some kinda generic Native American accent? How the Kohms were secretly bad guys all along, kicking the freedom-loving Yangs out of their land, and how the poor white people were just trying to fight for their own home. How incredibly, ludicrously stupid these language parallels are, and how Spock refers to the Kohms as "Asiatics." Like, dear God. I can't even get into Kirk's hypocritical treatment of the Prime Directive here, which is also garbage. I just . . . wow, there really is nothing good to say about this episode. It is appalling. My eyes are weeping blood.
*There are apparently explanations in some tie-in novels, but in the episode itself? Nope.
Chief Asshat: Gene Roddenberry, who actually wrote this shit
MVP: Scotty and Chekov, for having the good sense to not be in this episode
Grade: Mint Chocolate Chip
Line of the Episode:
(about the Vulcan neck pinch)
"Pity you can't teach me that."
"I have tried, Captain."
"The Ultimate Computer"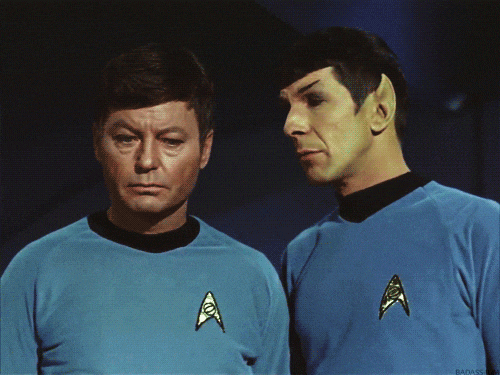 We've already had a ton of supercomputers on TOS, so I may have facepalmed when I saw the name of this episode. Surprisingly, though, I enjoyed "The Ultimate Computer." The Enterprise is ordered to install the M-5, a system so sophisticated that it only requires a skeleton crew, which very well may put Kirk out of a job. (And you know. Most everyone else on the Enterprise, but nobody really addresses them.) All the job anxiety stuff still feels pretty relevant now, TBH, and I love how the M-5 totally calls Kirk out for assigning himself and Bones to away missions when their presence is definitely not required. Not that this pattern will be changing anytime soon, alas.
For a while, things go great. Then the M-5, having difficulty distinguishing between a real threat and a false alarm, obliterates an empty freighter. That's enough for Kirk to call the whole thing off; unfortunately, as he insists on saying this out loud, it's no real surprise when the M-5 easily locks them out of control before killing a dude who gets in the way and then starts attacking Federation vessels for good measure. Bunches of people die. The M-5 is desperately trying to protect itself because its whole purpose is to keep people from dying in space; when Kirk points out the obvious logical inconsistency, the M-5 self-destructs–a logic bomb that works better than others, I think, because it's actually written as the M-5's decision, rather than an inability to compute some paradox it would totally be able to compute. Then Kirk saves the day by relying on human intuition, and everything ends happily . . . except for Dr. Richard Daystrum, that is, who created the M-5 and has a full breakdown.
Some things I enjoy: the M-5 was created with human engrams and is, for all intents and purposes, an AI, which is kind of neat. And Daystrum (who will be referenced in multiple other Trek shows), is played by William Marshall, AKA, Blacula. Marshall was a very, very tall man and had a rather nice voice, so I just like listening to him talk–usually to insult Kirk. He has a few moments here I enjoy: his whole "men no longer need die in space" monologue and when he's trying to reason with the M-5. Also, I think we see a space station for possibly the first time? Oh, and when Kirk is feeling low, Spock tells him, "A starship also runs on loyalty to one man, and nothing can replace it or him." Which is obviously Vulcan for, "Dude, I love you, and I'll follow you anywhere."
My only real problem here is that I'm not wild about how Daystrum's motivation goes from "saving people" to "no one thought I was relevant and cool anymore, so I made this (ultimately terrible) thing." It's not that the latter motivation can't work (or that Daystrum couldn't feel both simultaneously), but the bitter childhood prodigy angle felt a bit forced to me, a bit too late in the game for my liking. I'm much more interested in Daystrum as this tragic figure who simply tried his best to help people and failed. Still, overall, this is a pretty solid episode.
Chief Asshat: Oh, Commodore Wesley, no doubt. He needles Kirk by calling him "Captain Dunsel," essentially saying Kirk serves no useful purpose anymore, and then immediately assumes Kirk is responsible for the attack when it makes way more sense for it to be an M-5 malfunction.
MVP: William Marshall. Could listen to that man all day.
Grade: Chocolate
Line of the Episode:
"Please, Spock, do me a favor and don't say it's fascinating."
"No, but it is . . . interesting."
"Bread and Circuses"
"Bread and Circuses" makes a lot of Top 10 Worst TOS Episodes lists, and I get why: it's pretty dumb, and it's dumb in a lot of the same ways that "The Omega Glory" is. This is yet another world that's basically just alternate Earth, only here we have 1960's tech in a world where Rome never fell . . . which means we get gladiator fights on reality TV. Honestly, that part was great; I laughed out loud when they pulled back to reveal the Hollywood set. Unfortunately, it also means that we have to learn about Hodgkin's Bullshit Law of Parallel Planet Development to explain budget problems, ethnocentrism, a criminal lack of imagination how these people could possibly speak English, amongst other nonsense. I guess that's better than not explaining it at all?
Despite this, "Bread and Circuses" is considerably less offensive than "The Omega Glory" and far more fun to watch. For one, Kirk isn't the guy engaging in (seemingly unending) fisticuffs! Bones and Spock get that honor this time, facing off against a pair of gladiators, and it's delightful. Spock gets a new undercover beanie, too; this one is tan and, per usual, he loses it almost immediately. Let's see . . . I immediately and correctly predicted Evil Roman Dude would stab Last Minute Redemptive Bad Guy in the back, so yay, me. And there's a really interesting scene between Bones and Spock, where Bones tries to thank Spock for saving his life and ends up accusing him of being afraid to live. I don't know if the whole scene works for me, exactly–I don't think it has quite enough space to breathe–but it is, well, fascinating.
Of course, it's not all fun fight scenes and antagonistic heart-to-hearts. I can forgive the bad guy, I guess, who doesn't exactly have a firm grasp on the concept of "incentives." ("Beam your whole crew down so that most of them can die, or else I'll . . . kill only these two officers?") The Prime Directive stuff here, too, is pretty ridiculous, and I'm not sure why we're only clearly defining it now, anyway, at the very end of the second season.
But the worst bits are definitely these: A) it's heavily implied that Kirk sleeps with the pretty sex slave who, while apparently "willing," definitely cannot give actual consent, and B) our heroes save the day by . . . running away, leaving behind the last few survivors they actually came to rescue. They don't defeat the bad guy or end slavery or any of that good jazz, but it's okay, see, because it turns out that the rising rebellion of Sun worshippers are actually Son worshippers, which means we don't have to feel bad for abandoning the planet because Christianity is coming to save everyone.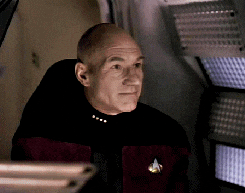 Chief Asshat: Kirk, no question
MVP: Scotty, who basically saves the day by interpreting Kirk's orders as guidelines
Grade: Strawberry
Line of the Episode: Ooh, difficult. There's Bones taking the time to yell at Spock, even as he's poorly defending himself in the gladiator fight. There's also Spock dryly agreeing with Kirk that the people shooting at them do, indeed, seem to mean it. But I think I have to go with Bones's somewhat relatable anti-Prime Directive wish:
"Once, just once, I'd like to be able to land someplace and say, 'Behold! I am the archangel Gabriel!"
"Assignment: Earth"
"Assignment: Earth" is the season finale of S2 and kind of an odd episode all around. For one thing, our heroes have intentionally time-traveled back to Earth 1968 for, I guess, historical research? Which is just not how time travel usually works in Trek. (It also remains unclear how they were gonna conduct said research, as Kirk and Spock make it seem like the initial plan was not to leave the ship, which seems . . . counterintuitive?) More importantly, however, our heroes are largely absent for half the episode and mostly just manage to fuck things up when they are around. (Spock insists they actually helped history play out as it was supposed to, but he's just trying to save face. Kirk absolutely almost gets everyone killed.) Instead, the action mostly focuses on this mysterious dude, Gary Seven, and his pet cat, Isis, who have come to stop a missile launch that will doom everyone. The setup is so strange that the whole episode almost feels like a backdoor pilot, except did they even have backdoor pilots in the late 1960's?
Apparently, yes. They did because that's exactly what "Assignment: Earth" is, a backdoor pilot for a show that nobody picked up. It's unfortunate, too, because although the pacing of this one is a bit off, I actually really enjoyed Gary Seven and Isis. Seven is sort of an understated character, but he has a dry sense of humor that appeals to me, and I had fun watching him deal with his delightfully snotty computer, the Beta 5, and communicate with his cat. (Isis has a human form too, of course, but we only briefly see it at the end of the episode.) All of Isis's cat attacks are hilarious. Also in one scene, Seven clambers up to the missile to sabotage it, while Isis helpfully hangs out on his back. It's fantastic. I'd have watched the holy hell out of this show.
Teri Garr is fun in this, too. She's playing Roberta, the secretary who accidentally gets wrapped up in all these secret agent/time travel shenanigans, and she feels like the rare female character in TOS who, by God, actually gets to be funny. The new characters all click here; it's mostly that the action, itself, isn't terribly interesting, particularly in the second half. Plus, yeah, the characters you actually showed up for are kinda twiddling their thumbs a lot. Still, I had a decent time watching this episode.
Chief Asshat: I mean. Kirk doubting Seven totally makes sense, but it also nearly starts World War III, so . . .
MVP: The Gary Seven, Isis, and Beta 5 trio.
Grade: Vanilla
Line of the Episode: "That's why some of my generation are kind of crazy and rebels, you know? We wonder if we're gonna be alive when we're thirty."