Gunpowder Milkshake
Year: 2021
Director: Navot Papushado
First Watch or Rewatch: First Watch
Amazon, Netflix, Hulu, or Other: Netflix
Spoilers: Nope
Grade: Strawberry
I've been looking forward to Gunpowder Milkshake for quite a long time now, and it's . . . okay. The cast is outstanding. Karen Gillan, Lena Headey, Angela Bassett, Michelle Yeoh, Carla Gugino, Paul Giamatti, and Ralph Ineson? Yeah, I am here for this cast. I'm especially here for Michelle Yeoh because oh my God, Michelle Yeoh in this movie, with that hair, and those clothes, and that chain. Like, could we just have thirty more minutes with Michelle Yeoh, please?
Actually, that might be the crux of my problem with Gunpowder Milkshake: it feels a bit spread thin, a bit rushed. Please believe me, I am ecstatic to see an action movie under two hours, but I also feel that we just barely skim the surface of this world and these characters, particularly their relationships to one another. I wanted more with these badass women; in fact, I wonder if the story might have benefited from being a two or three part series, where we get to spend a decent amount of time A) with the Aunts, who are awesome, B) seeing more of Scarlet's sorta-thrown-in-there backstory, and C) just establishing this world. Especially cause, like . . . okay, I often get extremely worked up when people complain that Work X is obviously derivative of Work Z just because they have a similar setting or something, and I was ALL prepared to insist how Gunpowder Milkshake was very much its own thing and not just a weak, gender flipped version of John Wick, which is still true, but . . . IDK, I can't deny that it did heavily remind me of John Wick. I just feel like if the story was a little less go-go-go, maybe we'd have the opportunity to see something that sets this story and world apart aside from its fucking phenomenal cast.
The stylized action scenes are fun (particularly the diner and everything that happens in the library), and of course, I love both the violence and just the general aesthetic. I mean, this movie has fashionable LIBRARIAN ASSASSINS. There are things to enjoy here, clearly. And they did successfully trick me into thinking that a certain character would bite it, and surprise, they didn't, so kudos on that. It's just that, overall, I felt a bit distant from the movie. I was hoping to really get into it more than I actually did. OTOH, if Netflix gave me a prequel series with the Aunts (played by the same actresses, not younger ones, thank you very much), I would be ALL onboard. Do you hear me, Netflix? I am actually asking for a prequel, ME.
Black Widow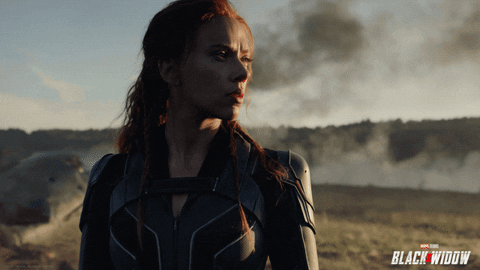 Year: 2021
Director: Cate Shortland
First Watch or Rewatch: First Watch
Amazon, Netflix, Hulu, or Other: Other – Disney Plus
Spoilers: Yes, for this and for Endgame
Grade: Vanilla
Speaking of prequels . . .
As with most of Marvel's properties lately, I watched this for Mek (we have a whole trade-off system), and I enjoyed it more than I expected, although I must admit, my expectations weren't particularly high. Still, this is a very fun cast: I adore Florence Pugh and Rachel Weisz, I'm very fond of David Harbour, and despite the fact that I usually cringe whenever Scarlett Johansson decides to talk about casting, I do actually like her as Black Widow. I don't think it would've hurt to cast, you know, at least one Russian actor in the bunch, but wandering accents aside, I enjoy most of the action, and most of the humor, and I really like the whole spy family dynamic, particularly between the sisters. This one isn't breaking the Marvel mold, but considering it's only the second female-led Marvel superhero movie? To hell with it. I'm just happy to see a lady superhero get her fun popcorn flick–or I would've been 5 years ago. But we'll come back to that.
There are some things I don't think work quite so well. I'm not sure the Taskmaster twist does much for me, like, not because of the genderbent thing (I didn't even know who Taskmaster was until I read the whining on Twitter), but because I thought her secret identity was pretty obvious, and also because it read, to me, like a way to soften Natasha's backstory, which I felt was unnecessary. Also, the bit about Natasha's birth mom, like, why? That definitely felt unnecessary. I didn't love the fat jokes about Alexei, either, although at least there weren't so many of them. (Fuck you forever, Endgame.) And sweet Jesus, how did Natasha even survive this movie? She should've died, like, four different times. (This one isn't really a serious complaint, but I did need to mock.)
Still, my real problem with Black Widow is that nothing, nothing, about this movie works better as a prequel, except that Florence Pugh might not have been cast if it had come out in 2017 instead of 2021. I just couldn't stop thinking it as we watched the movie: this story would've meant so much more to me if we'd seen it after Civil War, you know, when it actually takes place. This story would've meant so much more to me if we saw it before Natasha died. Seeing it now doesn't provide some kind of meaningful perspective. At best, it keeps me at a distance; at worst, it actively pisses me off.  I desperately wanted a Black Widow movie once. Now, I only watched it so Mek would check out the first season of Evil with me. Like, the film is fine, and I could watch it again, but goddamnit, I would've actually cared back in 2017.
The Long Kiss Goodnight
Year: 1996
Director: Renny Harlin
First Watch or Rewatch: First Watch
Amazon, Netflix, Hulu, or Other: Amazon
Spoilers: Yup
Grade: Chocolate
After watching Gunpowder Milkshake and Black Widow, it just felt like the right time to sit down and finally check out The Long Kiss Goodnight, which is, like, 90's over-the-top Christmas-action-noir-cheese. (Obviously, it was written by Shane Black.) And I had a good time with it: the script is chockfull of witty lines, the action scenes are fucking ridiculous, and the whole cast is great. Geena Davis and Samuel L. Jackson have just fantastic buddy amnesiac assassin/sleazy PI chemistry, and we've got some great players in the supporting cast. My favorites are probably Tom Amandes (who I first saw in Everwood and does solid work here as Aggressively Normal Husband), Melina Kanakaredes (who's in this movie for all of two minutes, but I liked her, and bonus, she doesn't die!) and most especially Brian Cox (whose line deliveries in this movie are the fucking best, but unfortunately does die, and a bit sooner than I was hoping.)
There are some jokes here I don't think have aged well, and while I don't necessarily mind a plot that has white bad guys framing their evil deeds on Islamic terrorists, I do think those stories should probably have at least one decent role for a Muslim character, like, a good guy who's not a terrorist and has actual lines and motivations and everything. When your entire representation in a movie is one frozen dead guy, like, that's not amazing. I also think that some of the action scenes are a bit drawn out, and I suspect I laughed at more moments than I was actually supposed to? But I like to laugh, so that was okay.
Nobody wears a fucking seatbelt even once in this movie, and basically everyone should be dead from all these insane car accidents, like, I know I just said that about Black Widow, but BW doesn't even hold a candle to this absurdity. How are any of these people still alive? HOW DID THAT BOMB NOT GO OFF WHEN THE TRUCK CRASHED, HOLY SHIT?! I haven't seen anything that egregiously ludicrous since Nicolas Cage ran around Alcatraz without exploding his little green toxin ball.
So 90's. So cheese. (So scrumptious.)