It's December, which means–well, a bunch of things, really, but today it means that I've come to talk about all the television I've been watching for the past three months. Here are the shows:
What If . . . ? (Episodes 1-5)
Star Trek: Lower Decks (Season 2, Episodes 4-10)
Brooklyn Nine-Nine (Season 8, Episodes 7-10)
Running Man/Classic Running Man (Random Episodes)
Black Spot (Season 2)
Last Week Tonight
Nailed It! (Season 6)
Squid Game
Slasher: Flesh and Blood
Yumi's Cells (Ep. 1- 7)
Evil (Season 2)
The Great British Bake-Off (Collection 9)
Nancy Drew (Season 3, Ep. 1 – 7)
Hawkeye (Ep. 1-3)
A quick reminder for how these work: superlatives may be bestowed upon any show I'm watching, no matter whether it's currently airing or not. As always, I will do my best to clearly mark all awards with appropriate spoiler warnings. I may discuss events from past seasons, however, without such a warning. Which is to say, I won't spoil any of Nancy Drew, Season 3, without a big heads up, but any Major Revelations from S1 or S2 are totally fair game.
Shall we begin?
FAVORITE NEW PLAYER
Sister Andrea – Evil
Okay, Sister Andrea must be protected at all costs. She's a funny, no-nonsense nun who becomes David's spiritual mentor at the church; she's also handy with a knife and entirely willing to cheat if she thinks that's the best way to serve God. Sister Andrea's scenes with Leland are nothing short of divine. And bonus, she's played by Andrea Martin, who also played Phyl in the original Black Christmas! Martin is an amazing addition to this already fantastic cast, and I can't wait to see more from her in Season 3.
Honorable Mentions: Kate Bishop (Hawkeye); Maya Lopez (Hawkeye);  Agent Park (Nancy Drew)
FAVORITE VILLAIN
Leland – Evil
I'm sorry, there's just no beating Michael Emerson. He is glorious in this show.
Honorable Mention: Front Man (Squid Game); The Tracksuit Mafia (Hawkeye)
CHIEF ASSHAT
TIE!
Seamus – Slasher: Flesh and Blood
Spencer – Slasher: Flesh and Blood
Florence – Slasher: Flesh and Blood
Yeah. Almost everybody in this show suuuuuucks.
Florence, admittedly, is actually pretty fun to watch, in a hilarious, WTF way. But she's also awful, and not just because of her absurdly terrible art; she's also very happy to tell her son how much she wishes he'd been kidnapped instead of his older brother. And then we've got Spencer (the family patriarch), who's a pretty horrifying parent himself. This dude's an elitist, homophobic asshole who emotionally fucked up all his children for life. (This includes both Florence and Seamus, BTW.) Spencer and Florence are both definitely tying for WORST PARENT here.
Seamus, meanwhile, is at least sorta-good with his adopted daughter, Aphra. (Well. That's complicated, actually, but he's trying to be good, and it is literally his only redeeming quality, so. He won't win this one.) However, he's pretty much The Worst in literally every other respect. And while I can't go into details without getting into spoilers, let me assure you that I wanted to punch this guy in the face with just about every single line delivery. Seamus is a whiny, petty, vindictive, snobby, backstabbing little dick, and of all the terrible characters in this show, I think I may have chanted for his death the hardest.
Honorable Mentions for Chief Asshat: John Flynn (What If . . .?); Bertrand (Black Spot); Rudy (Black Spot); Gerard (Black Spot); Jang Deok-Soo (Squid Game); Mira (Evil)
Honorable Mentions for Worst Parent: Seong Gi-hun (Squid Game); Seamus (Slasher: Flesh and Blood)
SUPPORTING CHARACTER WHO MOST DESERVES A SHOUTOUT
Ben – Evil
Ben the Magnificent is, well. Magnificent. He's the Team Atheist and Skeptic (well, one of the skeptics), as well as the Science and Tech Guy. He's super smart, very funny, and lovably grumpy. He also gets much more to do this season, and I loved that. I liked seeing the interplay between his current atheism, his Islamic upbringing, and the work he does now for the Catholic Church. I like that we learn a bit more about his family. (Which, speaking of, wins for BEST MEANINGFUL HALLUCINATION.) I like that we get serious material for some good old-fashioned emotional hurt/comfort. I also just really like seeing him interact with Kristen's daughters. Ben is the best sarcastic babysitter. I demand more of this. MORE OF BEN ALWAYS, PLEASE.
Honorable Mentions for Supporting Character: O'Keefe (Slasher: Flesh and Blood); Kang Sae-Byeok (Squid Game); Cho Sang-Woo (Squid Game); Hwang Jun-Ho (Squid Game); Ryan (Nancy Drew); Rosa (Brooklyn Nine-Nine)
Honorable Mentions for Favorite Meaningful Hallucination: Kristen having a vision of David having a vision of (spoiler redacted) (Evil); Kristen's hallucinations during (spoiler redacted's) exorcism (Evil)
FAVORITE SCENE STEALER – MAIN CAST
Dr. T'Ana – Star Trek: Lower Decks
My favorite Trek CMOs are usually cranky as shit, and Dr. T'Ana is no exception to this, but also she's a cat, and that makes her exceptionally glorious. (Yes, yes, a Caitian. She's a fucking bipedal cat, my dudes.)
Honorable Mention: Anxiety Cell (Yumi's Cells)
FAVORITE DYNAMIC DUO
Hawkeye + Kate Bishop – Hawkeye
I'll admit to having reservations about how this show is gonna handle Hawkeye's less-than-awesome homicidal vigilante past, but I'm still having a lot fun here, partly because I'm a sucker for a good Christmas action story, partly because I'm enjoying the serious Matt Fraction vibes, and partly because I think Jeremy Renner and Hailee Steinfeld are a lot of fun together on screen. You know, cranky mentor figure, plucky young archer girl, a whole bunch of bickering in between kicking bad guy ass. This is the good shit.
FAVORITE SIBLING RELATIONSHIP
George, Jessie, Ted, and Charlie – Nancy Drew
I always like it when main characters have siblings, especially when those siblings aren't, like, bratty demon kids that are brought in just for poorly written drama. There's occasionally conflict between George and her sisters, but honestly not that much, and I like that we get to see them try and support one another. Hard to go into details here without spoilers, but definitely Episodes 3×01 and 3×03 are ones to watch for some sweet sibling moments. Ted Fan, very especially, rules.
FAVORITE NON-CANON SHIP
Carson/Ryan – Nancy Drew
I know they aren't going there, I know. But come on: Nancy's two dads, who already live together and bicker about grocery shopping and chore wheels and various other cozy, domestic things? I want it. I can feel it in my bones.
(Carson, Ryan, and Nancy also win for FAVORITE PARENT/CHILD DYNAMIC, BTW. I adore them all. Fanfic is being written as we speak.)
Honorable Mentions for Favorite Parent/Child Dynamic: Kristen and her daughters (Evil)
LEAST FAVORITE SUBPLOT
The ongoing whatever triangle between Cora, Rudy, and Roman – Black Spot
Because honestly. Who the hell cares?
FAVORITE OPENING TITLES
The Terrifying Tales Pop-Up Book – Evil
I initially thought Black Spot had this one in the bag, but Evil's pop-up book swooped in and stole my heart. Every episode, this storybook is opened to reveal the chapter title (always something like "N is for Night Terrors" or "C is for Cannibal"), and then pages are turned and tabs are pulled, and the resulting images are creepy, grotesque, hilarious, or some perfect combination of all three. I want this pop-up book for my very own. I would buy it in a heartbeat.
Honorable Mention: Black Spot
FAVORITE SONG
TIE!
Half the Squid Game OST – Jung Jae Il and Park Min Ju – Squid Game
Fake Palindromes – Andrew Bird – Evil
Yes, it's cheating to pick, like, four songs from one show, but I'm conflicted and pressed for time, so here we go. After Squid Game was over, I almost immediately went to YouTube to look up this score. There are so many songs I like here. Some of my absolute favorites (at least at the moment, I flip-flop) are "Let's Go Out Tonight," "I Remember My Name," "The Rope Is Tied," and "Needles and Dalgona," but you'll find even more in the Honorable Mentions section because, seriously, this was such a good OST.
Still, I just have to give a shoutout to Evil for how they utilize Andrew Bird's "Fake Palindromes." First, I just like the song, but also, they use the whole thing here in this fantastically weird opening montage of Sheryl doing, well. I won't explicitly spoil it for you, but if you look up the lyrics for this one . . . it's a pretty literal song choice, right down to Christine Lahti occasionally mouthing the lyrics as part of her unheard dialogue. This scene is an awful lot of fun.
Honorable Mentions – "Murder Without Violence" – Park Min Ju (Squid Game); "Unfolded" – Jung Jae II (Squid Game); "Way Back Then" – Jung Jae Il (Squid Game); "Pink Soldiers" – 23 (Squid Game); "The Blue Danube" – Johann Strauss II (Squid Game); "Don't Be Afraid of the Dark" – The Sonics (Black Spot); "The Gambler" – Susie Wilkins and Adele Roberts (Black Spot); "Dance of the Sugar Plum Fairy" – Tchaikovsky (Evil); "Kumbaya, My Lord" – Guadalcanal Diary (Evil); "Mission District" – The Black Angels (Evil); "Cabinet Man" – Lemon Demon (Nancy Drew); Pretty much all the Christmas music (Hawkeye)
FAVORITE NEW SHOW
Squid Game
So, like most of the world, I thought Squid Game was pretty great. I feel like maybe it didn't emotionally devastate me quite as much as other people, possibly because my heart is cold and dead. But I still think it's an extremely well-made, moving, and entertaining show. All the acting is solid. I thought the set design and bright colors were fantastic, and of course, I've already discussed how much I enjoyed the OST. The death games premise is absolutely 100% my jam, and I really like how much time is spent showing us just how desperate these characters really are. It's not that "fuck capitalism" is an original theme in these kinds of stories; it's that these kinds of stories don't usually have the time to truly deep dive into their characters and the broken system they live in. Squid Game really goes there, though, and I thought that was exceptionally neat.
I'm not entirely convinced this show needs a second season, but I'll probably watch it anyway, especially as there is one Big Thing that I was hoping would be explored in more detail. I'll guess we'll see if that happens in, er. 1-3 years, maybe?
Honorable Mention: Hawkeye
MOST WELCOME RETURN
TIE!
Nailed It!
Nancy Drew
Because whether its regular people hilariously failing at ridiculously advanced cake decoration or a teenage detective investigating a bunch of supernatural bullshit with her friends, these shows just make me happy.
FAVORITE EPISODE
What If:  What If . . . The World Lost its Mightiest Heroes?
Star Trek: Lower Decks: wej Duj
Brooklyn Nine-Nine: The Last Day
Black Spot: Sanctuary
Running Man: Museum Comics Information Center
Last Week Tonight: Homelessness in the United States
Nailed It: Im-Paw-Sible Cakes
Squid Game: Gganbu
Slasher: Flesh and Blood: The Sins of the Father
Yumi's Cells: Episode 4
Evil: C is for Cop
The Great British Bake-Off: Bread Week
Nancy Drew: The Journey of the Dangerous Mind
Hawkeye: Never Meet Your Heroes
Honorable Mentions: What If . . . T'Challa Became a Star-Lord? (What If?); The Spy Humongous; I, Excretus; An Embarrassment of Dooplers (Star Trek: Lower Decks); Renewal; The Game of Boyles (Brooklyn Nine-Nine); How We Live Now, Part One (Black Spot); Seoul Arts Center; The Hard Way for Italian Gentlemen and Ladies: Characteristic Western Food Road; Webfoot Octopus Game; Choice of Destiny: Golden Ratio Race (Running Man); Union Busting, Spread of Misinformation Among Immigrant Diaspora Communities, Political Status of Taiwan (Last Week Tonight); History in the Baking (Nailed It!); The Man With the Umbrella; Stick to the Team; VIPS (Squid Game); Family Ties; Goldfinger (Slasher: Flesh and Blood); Episode 3 (Yumi's Cells); N is for Night Terrors; S is for Silence; F is for Fire, E is for Elevator, I is for IRS (Evil); The Testimony of the Executed Man (Nancy Drew); Hide and Seek, Echoes (Hawkeye)
Okay, everything else from here on in comes with spoilers for the current season. Prepare yourselves accordingly.
SPOILERS
SPOILERS
SPOILERS
SPOILERS
SPOILERS
And so we begin:
GRAND PRIZE FOR SURVIVAL
Protagonist Team at Tug of War – Squid Game
I recognize that this award should probably go to Seong Gi-Hun, considering he's the only player to survive the entire show, but instead I'm giving it to our whole team for surviving this Tug of War game because goddamn. Even knowing that they'd win (I mean, every main character is on this team), this scene was still tense as hell. Such good work.
Honorable Mention: Teddy Bear (Black Spot); Ben (Evil)
BEST SURPRISE
TIE!
Teddy Bear lives! – Black Spot
Kristen gets away with murder because of white privilege – Evil
Teddy Bear (AKA, Nounours) is the absolute best, but I had this really bad feeling he wasn't gonna survive the season–and that was before the dude fell into a ravine and got impaled by a goddamned tree branch. Fortunately, however, I was wrong. Teddy Bear lives! Teddy Bear lives! I don't know if we're ever gonna get a Season 3 of this show, but if we do, Teddy Bear must continue to survive.
Meanwhile, "C is for Cop" is one hell of an episode, not just because Kristen's cop buddy finds out that she murdered someone, but because the show is very clear on just why Kristen gets away with it. While both David and Ben are getting harassed and intimidated by the police for *checks notes* driving, Kristen (the one white woman on the team) hysterically confesses murder to a cop and is still immediately let go. Not only that, Mira coolly tells Kristen that they'll explain her freak-out 9-11 call by saying she saw a Black man out in the yard who they scared off. I mean, the casual delivery of this line, Jesus.
This development isn't a happy surprise (not like Teddy Bear surviving) but it is powerful as hell. Because you want Kristen to get away with this (we like Kristen, and LeRoux was a serial killer who threatened her kids, FFS), but none of that changes the fact that she's our lead heroine . . . and she just colluded with a racist cop to save her own ass. It's a pretty bold move that I don't think most shows would've had the guts to make, not like this.
FAVORITE BADASS MOMENT
Ji-Hyo almost makes it across the entire "glass" bridge by herself – Running Man
After Squid Game was such a huge success, Running Man made their own (considerably less lethal) bridge, and while the opposing team failed miserably at it, Song Ji-Hyo made it across almost the entire thing before she fell. (Much further than this clip actually shows.) Because Ji-Hyo is the BEST.
BEST DEATH
Mi-Nyeo and Deok-Soo – Squid Game
YES. You take that asshole out, Mi-Nyeo. Revenge at all costs!
Honorable Mentions: Seamus (Slasher: Flesh and Blood); Gerard (Black Spot)
WORST DEATH
Christy – Slasher: Flesh and Blood
I mean. There's just so much about this that doesn't work for me, and it's not even because Christy is one of the only likable people on this goddamn island. I mean, yeah, it's a little about that, but also . . . okay, let me try and explain this whole fuckery. Christy's adopted daughter, Aphra, has pica, which compels her to eat things that are not food, like dirt or wood chips. I never particularly loved how the show used this actual condition as evidence for Aphra's creepiness, but Slasher only doubles down here, because it turns out that Aphra is only pretending to be a child. She's actually a cannibalistic con artist who was looking to escape her home country, and though Christy has been seriously disturbed by her behavior for a long time, her husband, Seamus, doesn't believe Aphra's dangerous. (Aphra also appears to be in love with Seamus, just to make this all even fucking weirder.)
So. After Seamus is murdered, and after Christy discovers that Seamus was (not that) secretly gay and had only married her to appease his dad and keep his inheritance, she then tries her very best to keep Aphra safe from the murderer . . . only for Aphra to attack her and literally eat half her face off. Though, technically, that doesn't kill Christy because we haven't punished this poor woman enough yet. In the end, she begs someone to mercy shoot her in the head. Meanwhile, Aphra dies very shortly afterwards when she gets high on magic mushrooms and takes off with the serial killer, only for said killer to pretty much immediately murder her. Literally everything about Aphra wins for WORST WTF MOMENT.
I just . . .  I don't know if I can possibly express how much I hated, like, ALL of this. But wow, I did. It's so utterly miserable, yes, but it's also so poorly written and considered, too.
Honorable Mentions for Worst WTF Moment: Liv and Theo have cousin sex right after Theo decapitates his brother (Slasher: Flesh and Blood)
JIMMY, NOOOOOO!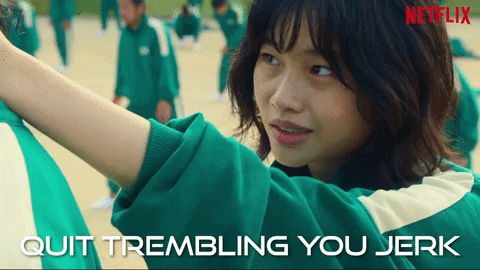 Sae-Byeok – Squid Game
Man. Sae-Byeok was awesome, and she basically died because of bad luck and a random piece of fucking glass. I mean, yes, Sang-Woo absolutely killed her, too; that is clearly undeniable. But she wouldn't have been so vulnerable (and, frankly, already dying) if that glass bridge could have exploded just a little less dramatically, like, way to be an asshole, glass bridge.
Honorable Mentions: Okoye (What if . . .?); Ali (Squid Game); Ji-Yeong (Squid Game); Jun-Ho (Squid Game); O'Keefe (Slasher: Flesh and Blood); Christy (Slasher: Flesh and Blood)
MOST DISGUSTING MOMENT
Vincent and Liv cut open Spencer's guts and literally squeeze shit out of his colon – Slasher: Flesh and Blood
I don't think of myself as being particularly squeamish (most of the Honorable Mentions, for instance, were gross in a completely delightful way), but LMAO, there are just some things I don't need to see! (Kudos to this show for bringing the gore, though. This is quite easily the goriest TV show I have ever seen.)
Honorable Mentions: Jayden's limbs are torn off (Slasher: Flesh and Blood); Spencer gets acid injected straight into his heart (Slasher: Flesh and Blood); Reycraft's head gets squished (Slasher: Flesh and Blood); Seamus's body, torn in half, is put up on display (Slasher: Flesh and Blood); Theo decapitates Vincent with a wire through the mouth (Slasher: Flesh and Blood); Kristen hallucinates her stomach bursting open during Leland's exorcism (Evil)
BEST WTF MOMENT
Leland cuts off his goat-demon therapist's head, smears blood all over his face, and later cooks and serves said therapist as goat curry – Evil
I mean, there are hairy goat legs and hooves literally sticking out of the kitchen pot. Christ, I love this fucked up show.
Honorable Mentions: Leland suddenly pops up and dances to "Funkytown" during David's vision (Evil); Kristen suddenly busts out the tiger masks, wolf masks, and ball gags (Evil); Lexus's tail (Evil); Florence decides to kill Dr. Trinh out of fucking nowhere (Slasher: Flesh and Blood); Birgit and Grace vs. Florence, a fight which culminates in Grace biting Florence's finger off (Slasher: Flesh and Blood); Florence's "Save Me" art installation (Slasher: Flesh and Blood)
BEST ROMANTIC PROPOSAL
Nick accepts George's proposal while also proposing himself – Nancy Drew
I'll admit, when George proposed to Nick last season, I was kinda like, "No! No, you've been together like a month! Please don't do this; I actually like you two!" But Nick's acceptance/proposal is very sweet, with all the decorations and hair pins and, er, "Cabinet Man" by Lemon Demon, which is not a song one might typically expect in a romantic scene, with lyrics like
"I'm happy for years and years
and only eating the occasional maintenance man
only driving a few kids to madness
maybe they were predisposed to madness, who knows?"
But also, yes, I adore it. Nick/George, you win FAVORITE CANON SHIP.
Honorable Mentions for Favorite Canon Ship: Yumi/Gu-Woong (Yumi's Cells); Peggy/Steve (What If … ?); Amy/Jake( Brooklyn 99), Ji-Hyo/Jong-Kook (Running Man)
Honorable Mentions for Best Romantic Proposal: Holt and Kevin's wedding renewal (Brooklyn 99)
YOU'RE KILLING ME, SMALLS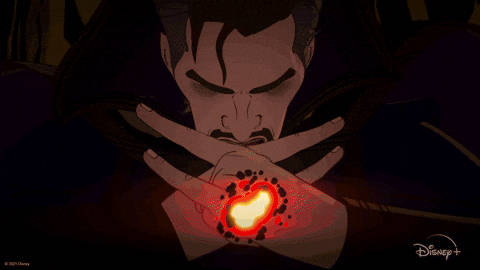 "What If … Doctor Strange Lost His Heart Instead of His Hands" – What If … ?
Okay, first off, God, that episode title. Who suggested that with a straight face? Because I suggested it while joking and then laughed my ass off when I realized I was right. Also, it's been a while since I watched this one, but let me see if I can remember everything I disliked about this episode, because, whew.
*takes deep breath*
I simply don't buy Christine's death as an Absolute in this universe, not when I know perfectly well that Doctor Strange became a superhero in another universe without her dying. Taking the Refrigerated Woman trope and making a fixed point out of it? Like, pass. The show gives me no satisfactory explanation for why Doctor Strange can't just save Christine, fuck up his hands, and became a superhero that way, you know, in one of his many, many Fix-It attempts. I also think it's utterly ludicrous that this Doctor Strange would've gone to Tibet after Christine's death, anyway, like I get Desperate Man of Western Science finds evidence of a seemingly miraculous cure for paraplegia and goes to Tibet to investigate, but you're telling me this skeptical motherfucker goes to Tibet seeking the mystical arts because his girlfriend died? What? No! Why? Did his psychiatrist also egregiously ignore HIPAA and show him the confidential medical files of a patient who miraculously resurrected or something?
It probably doesn't help that Doctor Strange and Christine never had one shred of romantic chemistry in the movie, and it's very hard to imagine her character being the sole reason our hero literally destroys his whole universe. And the entire episode ends up feeling pretty convoluted, anyway, although credit where credit's due: I'm kinda obsessed with Evil Doctor Strange's Disney-Villain-esque costume. It's pretty great.
WORST PLAN
Worst. Search Party. EVER – Black Spot
Listen. I'm not saying Laurène isn't in a tough spot. But when tracking down a serial killer/deer spine enthusiast/possible Celtic god, it's probably best not to search the creepy woods (AKA, the killer/god's home turf) with a bunch of untrustworthy villainous henchmen who all brought guns, despite the fact that you specifically told them not to. Especially when you split the guys up into pairs, easy to be picked off or to accidentally shoot one another when panicked. Especially when you don't have a particularly good idea where to search in the first place. Especially when the suspect you're trying to track down is such a creepy stealth motherfucker that he can break into multiple homes all across town in one night and leave each of them bloody deer spine gifts without anyone seeing or hearing him, like some kind of seriously fucked up Santa. Like, shocking not everyone made it back from the search party alive.
I've said it before, and I'll say it again: much as I like Laurène, I'm not convinced she's actually very good at her job.
Honorable Mentions: Kristen brings three of her daughters to play the elevator game (Evil)
CHARACTER WHO REALLY NEEDS TO JUST DIE ALREADY
Bertrand – Black Spot
Yup. This motherfucker wins AGAIN. I am severely disappointed he is still alive.
Honorable Mention: Andy (Evil)
FAVORITE SCENE STEALER – GUEST SPOT
TIE!
Korath – What If . . . ?
Fenna – Evil
I'm regularly disappointed in movies and television for how they waste Djimon Hounsou's talent, but I was so goddamn delighted by his guest appearance on What If . . . . ? Korath, once just a basic Chief Henchman type, is so funny and adorable here. He is Star Lord's No. 1 fan–at least when Star-Lord is T'Challa, that is–and I just wanted to hug him this whole episode. (Accordingly, Korath also wins for MOST IMPROVED CHARACTER and FAVORITE SIDEKICK). See how much better everything gets when you take Peter Quill out of the equation? Thanos becomes a good guy! Peace thrives in the universe! Djimon Hounsou actually gets fun things to do! Everyone wins!
Meanwhile, Fenna (Alexandra Socha) is a young nun at a primarily male monastery where everyone has taken a vow of silence, and Christ, I want her character to come back in Season 3 so badly. Unlikely? Probably, unless Fenna says fuck off to that sexist ass place. Still, her immediate friendship (or potential romantic chemistry, shippers, you do you) with Kristen was such an unexpected delight. Fenna is mischievous, clever, and funny, and I could watch these two silently getting drunk on church wine together all damn day. Fenna and Kristen were my FAVORITE LADYMANCE, hands down.
Honorable Mentions for Favorite Scene Stealer – Guest Spot: Cheddar (Brooklyn Nine); T'Challa (What If . . .?) Colonel Flynn (What If . . . ?); Nick Fury (What If . . .?); Black Widow (What If . . .?); The Salesman (Squid Game); Ji-Yeong (Squid Game); AGIMUS (Star Trek: Lower Decks); Armus (Star Trek: Lower Decks); T'Lyn (Star Trek: Lower Decks); Liyana Shakir (Evil); Miss Marie (Evil); Bishop Thomas Marx (Evil); Tomas (Hawkeye); Pizza Dog (Hawkeye)
Honorable Mentions for Favorite Sidekick: Howard Stark (What If . . . ?)
Honorable Mentions for Favorite Ladymance: Sae-Byeok & Ji-Yeong (Squid Game)
MOST HORRIFICALLY TRAGIC CHARACTER
Hwang Jun-Ho – Squid Game
This poor bastard. While basically everyone in this show wins for MOST NEEDS A HUG, Jun-Ho's life particularly sucks. He sneaks into this crazy dangerous shit all by himself, just trying to figure out what the hell happened to his big brother, only to get his ass shot off a cliff* BY his big brother, who's actually one of the upper-ups in this evil game. (I mean, sure, we called that shit pretty fast, but still. That sucks. Poor Jun-Ho.)
(Although it's more than possible Jun-Ho didn't actually die, considering we're getting a Season 2, and we never actually see his dead body–and we see everybody's dead body, which yes, is how I called the Il-Nam twist, too. First rule of television: if there's no body, there's always hope.)
Honorable Mentions: Gi-hun (Squid Game); Sae-Byeok (Squid Game); Christy (Slasher: Flesh and Blood)
Well, shit, I think that's it! Please let me know about your latest TV shows in the comments, and may we all meet again to discuss even more television in another three months.