Now that we've hit March,  it's time to discuss the last three months of television! Here are all the shows I've been watching.
Midnight Mass
Guardian
Hawkeye (Episodes 4-6)
Nancy Drew (Season 3, Episodes 5-13)
Running Man (Episodes 36-49 and Episodes 582-593)
The Expanse (Season 6)
The Witcher (Season 2)
The Silent Sea
Ted Lasso
Yellowjackets
Happiness
All of Us Are Dead
Beyond Evil
Star Trek (Season 3, Episodes 1-3)
Last Week Tonight (Season 9, Episodes 1-2)
A quick reminder for how these work: superlatives may be bestowed upon any show I'm watching, no matter whether said show is currently airing or not. As always, I will do my best to clearly mark all awards with appropriate spoiler warnings. I may discuss events from past seasons, however. Which is to say, I won't spoil The Witcher, Season 2, without a heads up, but any Major Revelations from S1 are totally fair game. (Though that's just an example, like. NGL: The Witcher didn't exactly get a lot of love here.)
Also, I apparently had a LOT to talk about because by the time I was finished writing this post up, it was already over 8,000 words, which some might consider, you know, excessive. Thus I decided to split my TV Superlatives in half, which is . . . well, still an excessive word count, honestly, but that's just how it goes at MGB. Part I is generally spoiler-free. The Big Spoiler Stuff will all be in Part II.
Let's get started, shall we?
FAVORITE TITLE CARDS/OPENING SEQUENCE
Yellowjackets
I adore these opening credits. The glitches, the glimpses of madness, the theme song which absolutely sounds like it could've been pulled straight from the 1990's, even though it wasn't. This opening sequence perfectly captures the tone of its show.
Honorable Mentions: The Silent Sea; Beyond Evil; Ted Lasso – "Carol of the Bells," Happiness – "Dwindling Water"
FAVORITE FIGHT SCENE
Cheong San vs. Gwi Nam in the library – All of Us Are Dead
All Of Us Are Dead had a lot of fun action scenes—the long single take in Episode 2, for instance, is particularly impressive—but I especially enjoyed this moment in Episode 5 where Cheong San leaps from stack to stack, scrambling to get away from Gwi Nam, before they eventually face off against one another with a horde of zombies clambering below. It's a tense scene with some brutal moments, and I was super into it.
Honorable Mentions: Yelena vs. Kate Bishop through several offices (Hawkeye); Geralt vs. Fire Mage's Henchman (The Witcher); Lee Dong Sik & Han Joo Won vs. Henchmen (Beyond Evil)
FAVORITE BATTLE SCENE
The Rocinante vs. The Pella – The Expanse
Man. This space battle in "Force Projection" was INTENSE. No details because no spoilers but yeah. Definitely intense.
Honorable Mentions: Bobbie, Amos, and The Roci vs. Bad Guys with the rail gun (The Expanse)
FAVORITE FASHION
Oh Yeon Ok's green dress and bloody hands – Happiness
Yeon Ok's whole wardrobe is elegant and conservative and fits her character to a T. She has multiple great looks in this show, which is why it's very annoying I can't seem to find a decent head-to-toe shot anywhere online. Still, I'm especially fond of Yeon Ok at her most disheveled: a green dress with cap sleeves that's brilliantly paired with bloody red hands and hair in serious disarray. This is the kind of random cosplay that nobody would get but that I'd absolutely love to see.
Honorable Mentions: Avasarala's outfit when she meets Drummer (The Expanse); Roy Kent's T-shirt, boxers, and fried egg socks (Ted Lasso); Isaac's Secret Santa look (Ted Lasso); Beard's star and striped pants (Ted Lasso); Simone's dress in 1×04 (Yellowjackets); Misty's reunion outfit (Yellowjackets); Ji Hyo's white suit dress (Running Man); Fringella's gray gown with ornate collar and new hair (The Witcher); All of Joo Won's jackets (Beyond Evil)
BEST HAIR
Trent Crimm, The Independent – Ted Lasso
I mean. OBVIOUSLY.
Honorable Mentions: Misty (Yellowjackets); Han Joo Won (Beyond Evil)
WORST HAIR
Zhu Jiu's terrible purple wig – Guardian
It's just. It's SUCH a bad wig. This guy was an important character in this show, but I still had to look up his name because he just automatically became Purple Wig in my head. This is not a good look for the poor man.
Honorable Mentions: Yoon Gwi Nam (All of Us Are Dead); Jung Min Jae (All of Us Are Dead); Jo Go Gil (Beyond Evil); Kim Dong Hyun (Happiness)
FAVORITE MUSICAL NUMBER
Rogers: The Musical – Hawkeye
Now, THIS is the kind of content I want from all mid-credits scenes in the future, please and thank you.
FAVORITE CASTING
Pretty much all the teenagers – Yellowjackets
Yellowjackets primarily takes place in two time periods, 1996 and 2021, and the casting department did an excellent job finding young actresses that looked like or could otherwise evoke their older counterparts. Like, I'm honestly surprised that Sophie Nélisse and Melanie Lynskey aren't actually related. Plus, the whole cast is just really great. Special shoutout to Sophie Thatcher as Young Nat, who really commands the screen any time she's on it. (Also, Christina Ricci for Adult Misti. I'm just really enjoying the hell out of her in this.)
FAVORITE SONG
TIE!
"She's Like a Rainbow" – The Rolling Stones – Ted Lasso
"Chaos" – Joe Layne – Happiness
"The Night" – Choi Baek Ho – Beyond Evil
Ted Lasso loves romantic comedies, and no episode makes that more apparent than "Rainbow." We've got a locker room discussion of romcom philosophy and various romantic leads. We've got a When Harry Met Sally homage that made me crack up. We've got Ted hilariously attempting to recruit Roy with a bunch of famous romcom lines.  And goddamn, if this show doesn't use "She's Like a Rainbow" to absolute perfection here. It's Higgins and Mrs. Higgins's song, for one, but the true Moment of Glory is at the end the episode when—well, shit, I can't actually say in the Non-Spoiler section, but please believe me when I tell you it's fantastic.
Meanwhile, I won't lie: I'm mostly picking "Chaos" from Happiness because it kept getting stuck in my head, especially when I was at work. Considering Happiness is a zombie show, that meant I had this amazing tense action music playing in my brain whenever I was walking around deserted hospital hallways at three in the morning, which was obviously a lot of fun for me, personally. I really enjoyed most of the instrumentals in this OST, but I think this song was my absolute favorite.
Finally, speaking of fabulous OST's, we have Beyond Evil. And while I love most of the music here (just LOOK at the Honorable Mentions below) Choi Baek Ho's "The Night" just nails this show's neo-noir tone and melancholy vibes. I've listened to this song, like, a BUNCH. I'm pretty obsessed with it, which is only fitting, as I'm currently obsessed with basically everything to do with Beyond Evil right now.
Honorable Mentions: "And The Grass Won't Pay No Mind" – Neil Diamond (Midnight Mass); "Holy Holy" – Neil Diamond (Midnight Mass); "Hail the Day That Sees Him Rise" – The Newton Brothers (Midnight Mass); "Snow Wonders" – MYUU (Hawkeye); "Christmas in Hollis" – Run DMC (Hawkeye); "I'm So Lonesome I Could Cry" – Granville (The Expanse); "Never Gonna Give You Up" – Rick Astley (Ted Lasso); " Witness (1 Hope)" – Roots Manuva (Ted Lasso); "Easy Lover" – Phil Collins and Philip Bailey (Ted Lasso); "Frozen" – Hannah Waddingham (Ted Lasso); "Karma Police" – Radiohead (Ted Lasso); "Beware of Darkness" – George Harrison (Ted Lasso); "Whoreson Prison Blues" – Joey Batey (The Witcher);  "We Won't Be Falling" – Xueran Chen (Guardian); "Disorderly Heart Melodies" – Xueran Chen (Guardian);  "Shen Wei" – Luo Gun (Guardian); "Mother Mother" – Tracy Bonham (Yellowjackets); "No Return" – Craig Wedren & Anna Waronker (Yellowjackets); "Firestarter" – The Prodigy (Yellowjackets): "Miss World" – Hole (Yellowjackets); "Down by the Water – PJ Harvey (Yellowjackets); "Glory Box" – Portishead (Yellowjackets); "Ready to Go" – Republica (Yellowjackets); "Overture" – Phantom of the Opera (Yellowjackets); "Kiss from the Rose" – Cast (Yellowjackets); "Only Time" – Enya (Yellowjackets); "Nothing's Ever What It Seems" – Unknown (Nancy Drew); "HIGHER" – Joe Layne (Happiness); "EUREKA!!" – Joe Layne (Happiness); "Eruption" – Joe Layne (Happiness); "Portrait" – Joe Layne (Happiness); "Unhappiness" – Lim Mi Hyun (Happiness); "Unknown" – Lim Mi Hyun (Happiness); "Who Is The Monster" – Ha Guen Young, Ye Sol Kim (Beyond Evil); "Beyond Evil Opening Titles" – Ha Guen Young, Ye Sol Kim (Beyond Evil); "2000 Manyang" – Ha Guen Young, Cho Eun Jung (Beyond Evil); "Dong Sik Knows" – Ha Guen Young, Cho Eun Jung, Ye Sol Kim (Beyond Evil); "My Name is Lee Dong Sik" – Ha Guen Young, Very Berry (Beyond Evil); "10 Fingers Memory" – Ha Guen Young, Cho Eun Jung (Beyond Evil); "I Killed Her" – Ha Guen Young, Cho Eun Jung  (Beyond Evil); "Dull Sadness" – Ha Guen Young, Ye Sol Kim (Beyond Evil); "Lost Family" – Ha Guen Young, Cho Eun Jung  (Beyond Evil)
MOST ADORABLE
Dani – Ted Lasso
There's a sign at work that says BREATH IS LIFE, and because Ted Lasso has utterly ruined me, I think FÚTBOL IS LIFE literally every time I see it. Because Dani Rojas is an adorable puppy of a man, and he is not to be hurt in any way. PROTECT DANI.
Honorable Mentions: Se Bin (All of Us Are Dead); Park Seo Yeon (Happiness); Phoebe (Ted Lasso); Keeley (Ted Lasso); Ted (Ted Lasso); Oh Ji Hoon (Beyond Evil)
MOST IMPROVED CHARACTER
Fringella – The Witcher
If I'm being honest, the second season of The Witcher really didn't do much for me. However, I did enjoy getting to spend time with Fringella, who definitely got much more to do this season and specifically had one EXTREMELY badass moment that was very satisfying to watch. I won't go into details here but like, seriously. Don't fuck with Fringella.
FAVORITE SCENE STEALER – MAIN CAST
Mae – Ted Lasso
Mae's great. Whether she's giving Ted Lasso a visual demonstration of what "wanker" means or telling the pub regulars to piss off and stop harassing psychiatrists for free dream interpretation, I'm always happy to see her serving up both a pint and some down-to-earth advice. God bless you, Mae.
Honorable Mentions: Lee Ji Soo (Happiness); Paul (Ted Lasso)
FAVORITE SIDEKICK
Kate Bishop – Hawkeye
Kate is a dream sidekick. Yeah, sometimes her plans aren't the best, but she's funny, can shoot the shit out of an arrow, and also brings pizza and holiday cheer to superheroes who desperately need it. I particularly adored the montage where Kate and Clint drink, decorate for Christmas, drink some more, and talk about everything from trick arrows to Natasha Romanoff. I've been up and down on Marvel a lot in recent years, but Kate Bishop is a joy, and I'm looking forward to seeing more of her.
Honorable Mentions: Coach Beard (Ted Lasso); Da Qing (Guardian)
SUPPORTING CHARACTER WHO MOST DESERVES A SHOUTOUT
TIE!
Drummer – The Expanse
Van – Yellowjackets
Song Jae Ik – All of Us Are Dead
Not every awesome character easily fits categorization, hence this award. Let's begin with Drummer, who is, like. A GOD. In a cast jam-packed full of amazing actors, Cara Gee still manages to shine. I've loved Drummer since she first popped up in Season 2 and have consequently been terrified of her dying ever since. Obviously, I can't speak further to that here, but I can say I really enjoyed her storyline this season, and that she remains the ultimate badass. Live shamed. Die empty. Drummer, MARRY ME.
In Yellowjackets, Van is another character I've been rooting for all season. For one, she just has awful luck, like sure, everybody has bad luck on this show, but Van REALLY goes through some shit. Van's also played by Liv Hewson, who I first saw in Santa Clarita Diet, and their work here is impeccable: funny, understated, and always consistent. Again, I can't say too much without getting into spoilers, but let's just say I'm eagerly hoping for much more of Van in Season 2.
Finally, I gotta give a shoutout to Song Jae Ik, a policeman and relatively minor role in All Of Us Are Dead, but goddamn if I didn't find myself drawn to him nonetheless. He's very funny, particularly because he just keeps getting paired with the absolute worst people, something he himself ends up commenting on. I was especially amused to realize I've watched this actor in multiple shows before and never realized it. Like, I'd loved his guest appearance on Tale of the Nine-Tailed and, FFS, had JUST finished watching Happiness and STILL somehow didn't recognize him. Lee Kyu Hyung, I'm watching out for you now.
Honorable Mentions: Park Mi Jin (All Of Us Are Dead); Oh Yeon Ok (Happiness); Han Tae Seok (Happiness); Amos (The Expanse); Avasarala (The Expanse); Bobbie (The Expanse); Yelena (Hawkeye); Roy Kent (Ted Lasso); Keeley (Ted Lasso); Dr. Sharon Fieldstone (Ted Lasso); Trent Crimm (Ted Lasso); Annie (Midnight Mass); Sheriff Hassan (Midnight Mass); Chu Shu Zhi (Guardian); Zhang Shi (Guardian); Dr. Hong Ga Young (The Silent Sea); Coach Scott (Yellowjackets); Yoo Jae Yi (Beyond Evil); Agent Park (Nancy Drew)
FAVORITE BROMANCE
Ted Lasso & Coach Beard – Ted Lasso
Oh, these two. Coach Beard is the laconic wisdom to Ted's loquacious charm. He's Ted's right hand man, his platonic soulmate, and I just love how perfectly underplayed Brendan Hunt is in this role. I'd call him the straight man, but I'm just not sure that straight men—in any definition of the term—generally agree to just "goof around" and pretend they don't know one another should they meet each other in dreams, at least not without a serious eyebrow raise or long-suffering sigh. But that unlikely moment is our first introduction to these characters, and I love that. I love watching these two quietly check in on each other. I love their easy back-and-forth. I love the rare moments when there's actually tension between them. This right here? This is the good stuff.
Honorable Mentions: Lee Cheong San & Lee Su Hyeok (All Of Us Are Dead); Guo Cheng & Chu Shu Zi (Guardian); Zhao Yulan & Da Qing (Guardian)
FAVORITE LADYMANCE
Rebecca & Keeley – Ted Lasso
Oh, wow. In the first couple episodes, I never gave any particular thought to these two interacting, but their friendship was one of many delightful surprises in the first season. I specifically love Keeley's consistent appreciation for Rebecca's hot body and also her willingness to insult babies to make her friend feel better. These two are so damn cute and absolute BFF goals.
Honorable Mentions: Shauna & Taissa (Yellowjackets); Jang Ha Ri & Park Mi Jin (All Of Us Are Dead)
BEST PLATONIC RELATIONSHIP
Ted & Rebecca – Ted Lasso
A list of words for you: biscuits, darts, forgiveness, funerals, panic, Christmas. If you haven't seen the show, I refuse to elaborate. Also, goddamn it. Watch the show.
Rebecca and Ted's relationship starts off antagonistic (well, a one-sided antagonism, anyway), but the way these two end up supporting one another even when they are at odds is just brilliant. I get why people ship them, and if the show ends up making that ship canon, I'll be fine with it. But I must admit, I do prefer these two platonic. They come to mean so much to each other, and that's just really lovely to see in a non-romantic context.
Honorable Mentions: Rebecca & Roy (Ted Lasso); Dong Sik & Ji Hwa (Beyond Evil); Dong Sik & Jae Yi (Beyond Evil)
FAVORITE CANON SHIP
TIE!
Zhao Yunlan/Shen Wei – Guardian
Roy/Keeley – Ted Lasso
Sae Bom/Yi Hyun – Happiness
Zhao Yunlan and Shen Wei are technically not canon (at least, not in the TV show), but I'm counting them here for basically the same reasons I counted Lan Zhan/Wei Ying in The Untamed. And these two pretty much made the whole show for me. Apparently, I'm just a sucker for a good old fashioned ship between a Laughing, Reckless Hero and a Quiet, Wary Hero. Favorite moments include pretty much any time Shen Wei takes care of Zhao Yunlan, not to mention any time he throws an (admittedly deserved) judgmental snit whenever Zhao Yunlan refuses to take care of himself. Bai Yu and Zhu Yi Long have fantastic chemistry, and I powered through 40 episodes FAST.
Meanwhile, Roy and Keeley are absolutely adorable and have probably one of the best written romances I've ever seen on TV. They're cute and funny and sexy and supportive, and any problems in their relationship never feel concocted for extra drama. Favorite moments or scenes include The Press Room Interviews with Keeley Jones, Independent Woman, Roy talking about Keeley's photo shoot, Roy giving Keeley pictures of their first date, Roy giving Keeley space, and also just pretty much everything about Sexy Christmas.
Finally, Sae Bom and Yi Hyun have, well. Let's call it a friends to marriage-for-benefits to lovers romance, and I enjoyed the hell out of it. These two are less "opposites attract" than they are "let's just take turns losing our shit/being an unstoppable badass," and I love that for them. I like every moment when these two rescue each other, whether it's from zombies or their terrible, terrible neighbors. I like their quiet conversations and their very one of a kind origin story. The scene where these two finally kiss? It definitely wins FAVORITE KISS because I have rewatched it, like, a LOT. Happiness is obviously meant to be a one season show, but TBH, I would totally watch a Season 2 for these two alone.
Honorable Mentions: Nancy/Agent Park (Nancy Drew); Shauna/Jeff (Yellowjackets)
FAVORITE NON-CANON SHIP
Ted Lasso/Trent Crimm – Ted Lasso
When I finished watching the first season of Ted Lasso, I figured I wouldn't really ship Ted with anyone. I understood why people did (specifically with Rebecca or Coach Beard) but those ships didn't do much for me personally, and I was fine with that. But then I began checking out Ted/Trent fanfic after finishing Season 2, and damn, I  really want this to be canon now. I doubt it ever will be, and honestly, I'm okay with that. But I can make a decent case for why this pairing would be epic, and—in the almost words of Trent Crimm, The Independent—I can't help but root for them.
FAVORITE DYNAMIC DUO
TIE!
Ted & Roy – Ted Lasso
Kate & Yelena – Hawkeye
Lee Dong Sik & Han Joo Won – Beyond Evil
Ah, the award for 'two characters who aren't quite friends and aren't quite lovers but goddamn they are SOMETHING together on screen.' As you can see, we have many successful pairings here. We'll begin with Ted Lasso because there's just something so special about every scene between Ted (constantly upbeat, even when's he being a hilarious little shit) and Roy (constantly grumpy, even when he's going to bat for someone). "Rainbow" is an especially good episode for this (also, "All Apologies"), and boy, I have rewatched their scenes together a bunch.
Meanwhile, Hailee Steinfeld and Florence Pugh are fucking magic together on Hawkeye. I feel like it's perhaps a touch too early to call their relationship a friendship, exactly, considering they only just met and are kinda-enemies most of the time, but also, I could absolutely watch these two all damn day, fighting one another, eating mac-n-cheese, talking combat techniques or NYC tourist destinations, etc. Kate and Yelena are both vibrant, hilarious characters, and their chemistry just shines.
Finally, Dong Sik and Joo Won, like, hot damn. I considered putting these two in Favorite Bromance, except Joo Won probably accuses Dong Sik of murder a few dozen too many times for that. I considered Favorite Non-Canon Ship, except that—for me—it's not so important that these two kiss or fuck, so long as they continue to grab each other by the collar and secretly worry about one another and just, like, hold REALLY intense eye contact at all times. These two are fucking electric together on screen. They have consumed my goddamn soul.
Honorable Mentions: Hawkeye & Kate (Hawkeye); Amos & Bobbie (The Expanse); Roy & Jamie (Ted Lasso); Natalie & Misty (Yellowjackets)
FAVORITE PARENT (OR LIKE A PARENT) & CHILD DYNAMIC
Roy and Phoebe – Ted Lasso
Roy is an awesome uncle, and I really enjoy his relationship with his niece, Phoebe. Favorite moments include pretty much every scene in "Carol of the Bells" (which contains a fantastic homage/sendup of Love, Actually), and also that time when Roy yells, "FUCK!" as he has an epiphany while reading A Wrinkle in Time to Phoebe. (Which also wins FAVORITE PROFANITY, BTW. Roy Kent yelling FUCK anytime the emotional IQ light bulb goes off is pitch perfect characterization.)
Honorable Mentions for Favorite Profanity: Roy's first pundit speech (Ted Lasso); Rebecca's reaction when the profile piece backfires (Ted Lasso); Rebecca's reaction to the first biscuit (Ted Lasso); Drummer upset with Naomi (The Expanse); Avasarala calling Holden a fucking optimist (The Expanse); Avasarala belatedly realizing what shit Holden's up to (The Expanse); Anytime Geralt quietly mutters "fuck" (The Witcher)
MOST WELCOME RETURN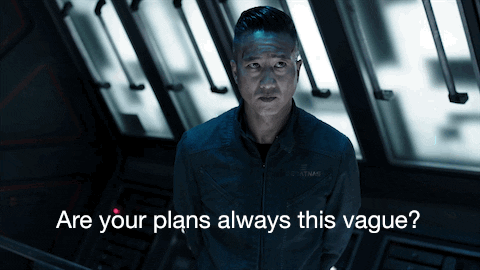 The Expanse
And consequently, MOST PAINFUL CANCELLATION, although it's honestly not too painful. The show got six seasons and a pretty solid conclusion, which is more than plenty of other TV shows get. Still. I fell in love with The Expanse from Day 1, and the show only kept getting better and better from there. The ensemble cast of characters are fantastic. The writing and acting are top notch. This is one of my absolute favorite science fiction shows of all time, and I will dearly miss it.
FAVORITE NEW SHOW
TIE!
Ted Lasso
Happiness
Beyond Evil
So, this has been an exceptionally good three months of TV for me. I narrowed it down to 3 shows, and you're fucking lucky I managed that.
First up, Ted Lasso. Which can't be a surprise, considering how much it dominated the Favorite Characters and Relationships portion of these superlatives. If I'm here for your characters, then I'm here for your show, no matter what other problems it might have. But the truth is, Ted Lasso really doesn't have a lot of problems. The acting is fucking brilliant, and the writing is so sharp and funny that I just can't help but love it. Ted Lasso is optimistic but never cheap, which is quite difficult to do, and it does a great job of tackling some pretty difficult topics, particularly in Season 2. Plus, the callbacks on this show, my God. Look, I'm a writer; I'm legally obligated to nerd out about a good callback. The "Easy Lover" one alone had me bowing down, we're not worthy style.
Meanwhile, Happiness is one of two different Korean zombie dramas I watched this winter, and while I enjoyed both shows, this one is absolute top tier for me. Happiness has apparently been called a comfort zombie show, and TBH, I think that's a pretty solid description. It's not a comedy by any means, and there are plenty of tense, sad, and otherwise dramatic moments. In general, though, Happiness does feel more uplifting than most stories in this genre. The focus is generally less on cliffhangers, extreme gore, or nihilism; instead, it's much more interested in compassion, found family as home, and also Capitalism is the Real Monster Here. And while I know I've already said this, Sae Bom and Yi Hyun really are just such fantastic MCs, and I desperately adore their ship. I do think the finale is a bit rushed and there are some changes I would've made, but said finale also has some of my very favorite moments in the show, and the actual last scene is quite lovely, so, yeah. I adored this one.
Finally, I just finished binge-watching Beyond Evil like a week ago and, as previously mentioned, it has currently taken over my life. Easily the darkest of the three shows here, Beyond Evil is a Korean crime thriller/modern noir with sharp writing, fantastic structure (it's even better on the second watch), and two lead actors who just play off each other beautifully. Shin Ha Kyun and Yeo Jin Goo are so goddamn good, it's absurd. I know there's no need for a Season 2. I know we aren't getting a Season 2. But holy shit, do I want a Season 2 because I'm absolutely obsessed with Dong Sik and Joo Won's just crazy intense relationship. Let them solve another case together. Let them shove each other into walls. Let them pretend they hate one another, even as they run into danger or force the other to eat. I need more of these moments, damn it, and I'm rapidly running out of fanfic to read.
Honorable Mention: Midnight Mass; Guardian; Yellowjackets; All Of Us Are Dead
FAVORITE EPISODE
Midnight Mass: Book VI: Acts of the Apostles
Guardian: Episode 14
Hawkeye: So This is Christmas?
Nancy Drew: The Burning of the Sorrows
Running Man: National Museum of Korea
The Expanse: Why We Fight
The Witcher: Turn Your Back
The Silent Sea: Cause of Death
Ted Lasso: Rainbow
Yellowjackets: Pilot
Happiness: Backup Power
All Of Us Are Dead: Episode 10
Beyond Evil: Letting Go
Last Week Tonight: Critical Race Theory
Honorable Mentions: Book I: Genesis; Book V: Gospel (Midnight Mass); Episodes 8; 12; 13; 15; 20; 24; 33 (Guardian); Ronin (Hawkeye); Seoul Medical Center; Seoul Folk Flea Market; SBS Tanhyeon-dong Production Center; Cheil Worldwide Building – Part 2 (Running Man); The Azure Dragon, Force Projection, Babylon's Ashes (The Expanse); What Is Lost (The Witcher); Balhae Lunar Research Station; Three Storages; Secret Storage (The Silent Sea); Ted Crimm: The Independent; For the Children;  Tan Lines; Make Rebecca Great Again; All Apologies; The Hope That Kills You; Do the Right-est Thing; Carol of the Bells; The Signal; Headspace; Man City; No Weddings and a Funeral (Ted Lasso); F Sharp, No Compass, The Dollhouse (Yellowjackets); The Spread, The Outsiders, The Intruder, Dwindling Water, Kim Se Hoon Disappears (Happiness); Episodes 2; 4; 6; 8; 11 (All Of Us Are Dead); It Appears; Be Deceived; Float; Sink; Tighten; Ask; Answer; Catch (Beyond Evil); Sex Work (Last Week Tonight)
Whew, that's a lot, and there's still more to go! Part II will be up sometime later this week!