Recently, I went to New York for the very first time. I had an awful lot of fun, and in between the more expected tourist attractions (Central Park, various museums, going to a live TV show taping—we got to see Last Week Tonight!!!), Mekaela and I watched the original Friday the 13th on this rooftop terrace in Midtown. This was the first movie I've seen on a big screen in actual years, and I had a very yummy (and very overpriced) margarita in hand, so obviously, I had a pretty good time. Considering we've been slowly making our way through this franchise for like a decade now, finding this showing felt pretty serendipitous, especially since the next film on our To Watch list was the original Friday the 13th.
This being something of a special occasion, I decided to write up a slightly longer review for the movie that started it all.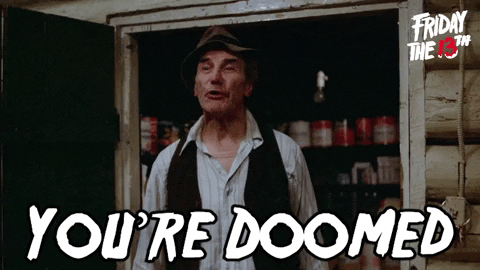 Year: 1980
Director: Sean S. Cunningham
First Watch or Rewatch: Rewatch
Amazon, Netflix, Hulu, or Other: Other – Rooftop Cinema Club!
Spoilers: Absolutely
Grade: Vanilla
1. It's been a  pretty long time since I watched Friday the 13th all the way through, and though it's obviously not as campy and self-referential as later installments in the franchise, there's actually a bit more humor than I'd remembered, which was a nice surprise. Overall, I was delighted to find that the movie holds up better than I expected. Friday the 13th knows exactly what it's about. Some of the death scenes are quite fun. (Kevin Bacon's, in particular, still absolutely gets me.) I adore the score, the silly title card, the ki ki ki, ma ma ma. And Betsy Palmer as Pamela Voorhees is both fun and charmingly over-the-top. Did you know I dressed up as Mrs. Voorhees for Halloween last year? Now you do! (Obviously, I had to wear my Friday the 13th mask to match.)
Friday the 13th is not, admittedly, a particularly innovative slasher—no one involved has been particularly shy about how much it deliberately rips off other movies, notably Halloween, Carrie, and Psycho—but it is an iconic horror film that hugely influenced the slasher genre, and I still very much enjoyed watching it. Particularly since the weather decided to lend a helping hand and provide something of a 4D cinematic experience.
2. If you've seen this movie, you may remember that most of the camp counselors are murdered during a big rainstorm. Well. About the time it started raining on screen, it also started raining in New York—just some light sprinkling, really, with a bit of wind, but the timing of it was hilarious. I'd actually spent half the day convinced the showing was gonna be cancelled, considering the weather forecast for that night, and when thunder rumbled in my headphones, I had to doublecheck to make sure it wasn't also happening in real life, too. Honestly, it was kinda the best.
3. Unfortunately, much as I enjoy Friday the 13th, I still find Alice (Adrienne King) a boring and mostly useless Final Girl, which is a funny sorta thing to say about someone who full-on decapitates a serial killer, I know. And like, credit where credit's due: when Alice finally commits, she commits. Still. Up until that moment, Alice is pretty meh, and—though I hate to say it—the fact that she bests Pamela Voorhees so many times is a little bit embarrassing for Mrs. V.
Like. I say this with love. I am always here to celebrate the awesome ladies of horror, and for the most part, Mrs. Voorhees does a phenomenal job murdering people. Her kill count in this film is 9, which is very respectable, particularly for a middle-aged woman in a cable knit sweater. She uses knives, axes, and arrows in her work, hauls corpses through windows, and even takes the time to impale dead bodies to doors for maximum terror. And until Alice, Mrs. V has no trouble murdering anyone; only Annie provides even the smallest challenge, and really, that's just an extra minute Mrs. Voorhees spends casually strolling through the woods before finding Annie and slitting her throat.
Alas, for unknown reasons (i.e., the Final Girl has to live, boo, hiss), Mrs. Voorhees decides that Alice is the one counselor she's going to fuck with, rather than immediately murdering. I mean. Some of that is amazing, obviously. Calmly introducing herself, then later hamming it up, all "what monster could've done this," HA. I'm all about that. But then Mrs. V just slaps Alice around a bunch rather than stab her in the face, and obviously, that's just silly. Worse, Alice easily manages to knock Mrs. Voorhees down like, what, four different times or something before finally decapitating her? Our killer deserved a better Final Girl, that's all I'm saying.
4. Here's a hypothetical scenario for you: you're half-naked in some cabin in the middle of the woods. Maybe you've been playing strip Monopoly with your friends, or maybe you just had sex with Kevin Bacon; whatever your reasons, you're now in a bra (or shirt) and panties, and have to leave the cabin in the middle of a rainstorm. Before leaving, do you put on A) shoes, B) pants, or C) a short little rain slicker that maybe hits mid-thigh? If you answered D) gosh, I think I'd put on all of them, congratulations on being a reasonable person, unlike Marcie and Brenda, who both opt for the rain slicker and nothing else, like, what the actual fuck, ladies? It is pouring. There is thunder. You are in the middle of the woods. Maybe I could understand forgoing the pants (not really), but what do these bitches have against shoes?
5. Speaking of strip Monopoly (sort of), one of the first things we watched after coming back home was Psych, specifically, "Tuesday the 17th," the Friday the 13th homage episode.
It's probably my favorite episode of Psych, but I'd forgotten just how many parallels there are between it and this movie: Erwen, like Crazy Ralph, shouting the line, "You're all doomed!" The introduction of Shirtless Billy chopping up wood vs. the introduction of Shirtless Steve chopping up wood. The breaking glass title card, naturally. The character Jason Cunningham named after Jason Voorhees and director Sean S. Cunningham. And of course our counselors playing a friendly game of strip cribbage. (I've never played cribbage, but strip Monopoly, at least, has to be an improvement on regular Monopoly, if only because it won't take fucking DAYS for someone to finally win the game.)
6. Finally, you can't talk about Friday the 13th without discussing the ending.
. . . I mean, truthfully, I think it's silly as hell. I like the shot and all, but I'm also rarely a fan of the One Last Scare trope, and while Sue having a nightmare works well in Carrie—because it's less about the villain still being alive/setting up a sequel than it is about Sue still being traumatized, still being caught in that endless horror—Alice's nightmare of an undead boy she never met and has no reason to actually believe in feels, well. Yeah. Damn silly.  (Unless Alice secretly always has psychic visions when she sleeps, which certainly seems unlikely, but would definitely make her more interesting.) That whole "he's still out there" line would work so much better if this movie had ever bothered to make Undead Child Jason an actual possible threat.
Still. As much as I love our Jason Voorhees—and I do so love him—I would totally pay good money to watch a reboot/sequel where Undead Drowned Child Jason (rather than Inexplicable Grown Ass Man Jason*) comes back to creatively murder camp counselors. It would never happen of course, partially because the franchise seems to be stuck in eternal lockdown due to lawsuits/rights shit and partially because most fans would absolutely lose their shit, but I think it could be a lot of fun. It would, at the very least, make for one hell of an anime AU.
*Don't give me that whole "Jason survived and has just been living in the woods for 20 years by himself for no reason" BS backstory; that is the dumbest shit ever. Look, one of my favorite things about this franchise is the weirdly slow evolution of its iconic killer—I think it's fascinating, I think there's a paper in it—but come on now. We must all simply accept that Jason's transformation into adulthood makes absolutely NO logical sense, and no amount of retconning will make it any less ridiculous. Considering this franchise eventually (and gloriously) goes to space, I think we can all handle that.
CONCLUSIONS:
The genesis of one of my favorite horror movie franchises of all time! Pamela Voorhees deserves better, but I still enjoy this one.
MVP:
Betsy Palmer, no doubt.
MORAL:
Don't work anywhere that the locals call 'Camp Blood.' Very obviously, things will go badly for you.