It's that time again! Over summer, I watched a fair bit of television, definitely more than I managed during spring. Here's a list of everything I've been watching, including the few shows I heartlessly abandoned for other things:
Obi-Wan Kenobi
Another
Floor is Lava (Season 2)
Last Week Tonight (Season 9, Episodes 13- 22)
Running Man (Episodes 63-75 and 606-618)
Star Trek: Strange New Worlds
Stranger Things (Season 4, Volumes 1 and 2)
Evil (Season 3)
Why Didn't They Ask Evans?
Tomodachi Game
The Great Shaman Ga Doo Shim
Inspector Koo
Harley Quinn (Season 3, Episodes 1-7)
The Sandman
Soundtrack #1
Adamas (Episodes 1-10)
KinnPorsche (abandoned)
Baking Impossible (abandoned)
Resident Evil (abandoned)
A quick reminder for how these work: superlatives may be bestowed upon any show I'm watching, no matter whether said show is currently airing or not. This summer, I'm splitting my superlatives in half, so Part I is generally spoiler free; however, I may discuss events from past seasons. For example, I won't spoil Season 4 of Stranger Things, but any major revelations from Seasons 1, 2, or 3 are totally fair game. Also, I allow ties. Get used to ties because there are gonna be a LOT of them.
Let's begin, shall we?
BEST MUSICAL NUMBER
Joker's Opening Number at The Villy Awards – Harley Quinn
Holy shit, I died at that Jason Todd reference. (Pun mildly intended.)
FAVORITE SONG
TIE!
"Master of Puppets" – Metallica (Stranger Things)
"SURF" – INNI (Inspector Koo)
"IIIP (Radio Edit)" – Khoda (Inspector Koo)
First, please note that there are SPOILERS if you click on the "Master of Puppets" link. Also, it's probably sacrilege to watch Stranger Things and NOT pick Kate Bush's "Running Up That Hill," I know. And I did like it, but if I'm being honest, I actually enjoyed "Master of Puppets" even more. It's a bit goofy, a bit on-the-nose, and a pretty fun moment for Eddie—the same way that "The NeverEnding Story" was a hilarious moment for Dustin. (I'm aware that's a controversial statement. I don't care. That shit was hilarious.) "Master of Puppets" is also just a good song that works really well for our "Oh, Shit, Multiple Characters Are In Serious Danger" montage. I heartily approve.
Meanwhile, I fell in love with the entire Inspector Koo OST, so I limited myself to choosing only two songs. "Surf" by INNI is absolutely fantastic. It's has this whole . . . IDK, slowly going mad vibe, both moody and whimsical, and is a perfect song choice for our cheerful serial killer, K, particularly when she really starts losing her shit. And "IIIP" is a lot of fun, too. This is more action/suspense/figuring shit out music, and they use it multiple times to great effect in Inspector Koo. (And now I use it on my latest exercise playlist, along with "Collapse," which I came very close to picking.)
Honorable Mentions: "Kyoumu Densen" – ALI PROJECT (Another); "Track 1" – Kow Otani (Another); "Track 6" – Kow Otani (Another); "Running Up That Hill" – Kate Bush (Stranger Things); "Separate Ways" – Journey (Stranger Things); "Psycho Killer" – Talking Heads (Stranger Things); "Collapse (Radio Edit)" – Zond-8 (Inspector Koo); "Yeah (Round and Round)" – TRRP (Inspector Koo); "Liars (I feel alive)" – TRRP (Inspector Koo); "Coming After" – TRRP (Inspector Koo); "Chi-Chi's Theme" – TRRP (Inspector Koo); "Limbo" – TRRP (Inspector Koo); "Surf of Darkness" – INNI (Inspector Koo); "K" – Choe Jeong In (Inspector Koo); "Act 1" – Park Jung Eun (Inspector Koo); "Medusa" – Yoon Chae Young (Inspector Koo); Steel Rain (Radio Edit) – LEC (Inspector Koo); "Watch Me" – SURL (Inspector Koo); "Mission District" – The Black Angels (Evil); "Happy Together" – The Turtles (Evil); "Pisco" – Isoleé (Evil); "The Count" – Audiomachine (Evil); "Born, Never Asked" – Laurie Anderson (Evil); "Alouette" – Unknown Singer/Version (Evil)
MOST FABULOUS FASHION
TIE!
Jae Suk's giant grasshopper hat – Running Man
Harley, Poison Ivy, and Bane's Villy Award looks – Harley Quinn
Yong Sook's beach look – Inspector Koo
In an early episode of Running Man, Jae Suk betrayed guest actor Choi Min Soo; not the type to take that sort of thing lightly, Min Soo vowed revenge. This is how we get The Grasshopper Hunt, which is Min Soo hunting Jae Suk down while Jae Suk tries to rescue his fellow cast mates—all while wearing this silly oversized punishment grasshopper hat, which is obviously just amazing. (Jae Suk's nickname is grasshopper. I honestly don't remember why.)
Meanwhile, the glamorous looks at the Villy Awards in Harley Quinn were absolutely iconic. Harley in a red-and-black deep-V dress with Veronica Lake hair. Poison Ivy in a purple dress with multiple cutouts. Bane in his usual ensemble but with a fancy top hat and bow tie. I mean, damn. This would be the most amazing cosplay to see.
Finally, if I can only pick one of the many, many fun looks in Inspector Koo . . . you know, I'm going with Yong Sook, our badass crime boss, briefly kicking back at the beach with our favorite assassin, K, while dressed in an extremely fashionable beige suit and borrowed red cat-eye sunglasses. Unfortunately, I can't find a good picture online to link to, but trust me: Yong Sook somehow looks simultaneously hilarious and badass.
Honorable Mentions: Frankie in Bobby's clothes (Why Didn't They Ask Evans?); Shi Qing disguised in cosplay with white-blue wig (Reset); Tankhun's extremely colorful suits (KinnPorsche); Tankhun's glasses and silver jacket (KinnPorsche); Uhura as Queen Nev (Star Trek: Strange New Worlds); La'an as Princess Thalia (Star Trek: Strange New Worlds); Una's leather jacket (Star Trek: Strange New Worlds); Princess Leia's white costume with holster (Obi-Wan Kenobi); Hyo Shim's entire wardrobe (The Great Shaman Ga Doo Shim); Doo Shim and Woo Soo's white tracksuits with stitched-in talismans (The Great Shaman Ga Doo Shim); Kyung Yi's jackets and colorful pants (Inspector Koo); Je Hee's necktie (Inspector Koo); Post Dumpster Santa (Inspector Koo); Santa in a fancy nice suit with rich boy hair (Inspector Koo); Yi Kyung's creepy doll eyes painted on her eyelids (Inspector Koo)
BEST HAIR
TIE!
Captain Pike's pompadour – Star Trek: Strange New Worlds
Poison Ivy's humid hair – Harley Quinn
Okay, look. I don't know if it's truly a pompadour or a quiff—which sounds like what you'd call a fuckup on the Quidditch field but is apparently an actual word—or what, but I do know that it's magnificent. Pike's hair reaches new and glorious heights every week, and I am here for it.
Meanwhile, Poison Ivy should probably just move to the swamp because the humidity does amazing things to her hair, like, it just gets bigger and better each time we see her until we finally hit "the Dolly Parton." And like . .  look, I don't think I've had a crush on an animated character since I was a kid, but damn. This is a good look.
Honorable Mentions: Ortegas's awesome hair (Star Trek: Strange New Worlds); Spock's long and surprisingly decent wizard hair (Star Trek: Strange New Worlds): Gyeong Su's gangster hair (Inspector Koo); Yong Sook's gorgeous silver hair (Inspector Koo); Leia's final hairstyle (Obi-Wan Kenobi); Cindy Ngar's lovely purple hair (Baking Impossible); All of Hyo Shim's great hairstyles (The Great Shaman Ga Doo Shim); Rose's rainbow dreads (The Sandman); Death's gorgeous hair (The Sandman)
WORST FATPHOBIC BULLSHIT
The multiple fat jokes about Hopper's weight/weight loss – Stranger Things
Because—like all fat jokes—these "funny lines" were predictable, tired, and extremely depressing.
Honorable Mentions: Despair appears to be the only fat Endless, naturally (The Sandman)
FAVORITE SCENE STEALER – MAIN CAST
TIE!
Mr. Angel – Why Didn't They Ask Evans?
Lu Di – Reset
My reasons for choosing Mr. Angel are pretty simple: every time he popped up to grimly, ominously stare at someone, I absolutely cracked up. I legit loved this guy. I mean, his whole vibe:  black suit, bowler hat, extremely dour expression. No one's in for a good time when Mr. Angel comes around. (I mean, obviously. His name is Mr. Angel.)
Lu Di, meanwhile, is basically the polar opposite of Mr. Angel. He's an adorable and enthusiastic nerd who just wants to get his overprotective parents off his back so he can take care of some cute cats. He's also around to offer our heroes some helpful knowledge about time loops, and honestly, I kinda wish Lu Di had a bigger role in the show. Cause he's cute and, frankly, I like him a lot more than I like Xiao He Yun.
Honorable Mentions: The woman with a purse full of medicine (Reset); Maria Mizuse (Tomodachi Game); Gyeol Han & Ma Ri (Soundtrack #1); Yoon Jin (Adamas)
FAVORITE NEW PLAYER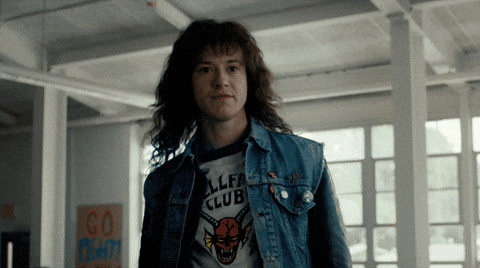 Eddie – Stranger Things
If I'm being honest, I didn't fall in love with Eddie quite as hard as other people did, maybe because I wasn't a kind-hearted, metalhead, drug dealer/dungeon master in high school, and he didn't push any personal nostalgia buttons for me. Still, I do like Eddie quite a bit. His moments with Chrissy were great, as well as his sweet relationship with Dustin. I'm also happily reading a few fun Eddie/Steve AO3 WIPs right now. Joseph Quinn puts a ton of energy into the role, and he's a very fun addition to a wonderfully talented (if very overstuffed) cast.
Honorable Mentions: Reva (Obi-Wan Kenobi); La'an (Star Trek: Strange New Worlds); Erica Ortegas (Star Trek: Strange New Worlds)
FAVORITE SUPPORTING CHARACTER
TIE!
Sister Andrea – Evil
Max – Stranger Things
Zhang Cheng – Reset
In Season 2, Andrea Martin guest starred as Sister Andrea, a delightfully blunt nun who became David's, like, psychic vision mentor. In Season 3, Andrea Martin was promoted to series regular, and somehow she became even more precious. We get to see more of her psychic visions, watch her square off with Leland, and also spend some quality time on her relationship with David. (One particularly nice scene is when Sister Andrea apologizes for dismissing David's concerns, acknowledging her own ignorance in regards to systemic racism.) Andrea Martin is a joy to watch, and I love all her scenes. My only hope is that she and Aasif Mandvi have some time together next season because thus far, they've had very little interaction.
Meanwhile, Max is unquestionably the MVP of Stranger Things, Season 4. Personally, I don't give even the slightest shit about Billy, but Max understandably does, and I really like how they handle her grief and her guilt in this storyline. Sadie Sink does excellent work here, and while this show has clearly had trouble balancing its gigantic cast, they also made the right call by giving her more material to sink her teeth into. Plus, obviously, THE SCENE. (Warning: that clip has SPOILERS if you're not fully caught up.)
Finally, there's just something about Zhang Cheng (Liu Yi Jun) in Reset that I enjoyed. Reset is a Chinese SF show where two passengers, trapped in a time loop, have to try and save everyone from their bus that's going to explode. Zhang Cheng is one of the lead cops, and admittedly (as with any cop show), there's definitely some not-so-subtle police propaganda here. Still, Liu Yi Jun just exudes this quiet, thoughtful energy that I enjoyed. The actor has some lovely, quiet reactions, like when the heroine describes the situation and asks if Zhang Cheng believes her. He doesn't, for obvious reasons, but rather than being a dick about it, he just silently shakes his head and continues to take her statement. This guy is intelligent, diligent, and always takes the situation seriously, which I really enjoyed.
Honorable Mentions: Tala (Obi-Wan); Steve (Stranger Things); Robin (Stranger Things); Dmitri (Stranger Things); Karima (Evil); Uhura (Star Trek: Strange New Worlds); Una (Star Trek: Strange New Worlds); Ortegas (Star Trek: Strange New Worlds); Hyo Shim (The Great Shaman Ga Doo Shim); Tae Sung (Adamas); Na Jee Hee (Inspector Koo); Lucienne (Sandman)
MOST ADORABLE
TIE!
Baby Leia – Obi-Wan Kenobi
Santa – Inspector Koo
I mean. Look at her. Baby Leia is tiny and fierce. She's a brave, curious, sarcastic little thing, and I can easily see her growing up to be the Leia Organa we all know and love. I don't particularly want or need another season of Obi-Wan Kenobi—like, I feel that story tied up pretty well—but if Baby Leia Organa got another of her own side adventures . . . yeah, I'd probably sign up for that.
But also. Look at him. Santa is deeply loyal, extremely tidy (normally, anyway), voluntarily mute, and cute as hell. He's also mysterious as hell, but that doesn't stop him from being the sweetest sidekick that a depressed, chaotic hot mess of a detective could ask for. Which is why he also wins for FAVORITE SIDEKICK. We all need a Santa in our lives.
Honorable Mentions for Most Adorable: Backseat Kid (Reset)
Honorable Mentions for Favorite Sidekick: Gyeong Su (Inspector Koo); Ahn Geon Wook (Inspector Koo); Knocker (Why Didn't They Ask Evans?); Matthew (The Sandman); Dong Rim (Adamas)
CHARACTERS WHO MOST DESERVE A BETTER SHOW
Robyn and Steve – Stranger Things
I do not want a Stranger Things spinoff—frankly, I was disappointed that Season 4 wasn't the final season, as I had originally assumed—but I will admit, if Robyn and Steve were the stars, I'd probably watch it anyway. Hell, I'd probably watch a show that was just about them working in a video store, or going on a road trip, or finding each other dates. They are The Best and thus also win FAVORITE PLATONIC FRIENDSHIP.
Honorable Mentions for Characters Who Most Deserve a Better Show: Dustin (Stranger Things); Max (Stranger Things)
Honorable Mentions for Favorite Platonic Friendship: Gyeong Su & Je Hee (Inspector Koo); Kyung Yi & Santa (Inspector Koo); Yi Kyung & Geon Wook (Inspector Koo); Kristen & Ben (Evil); David & Sister Andrea (Evil)
FAVORITE SIBLING RELATIONSHIP
Ben & Karima – Evil
Karima gets a little more screen time this season, which is excellent news because her every scene is perfect, and I really like watching Aasif Mandvi and Sohina Sidhu play off one another. Whether it's Ben getting Karima out of danger, Karima getting Ben out of his "I can't explain miracles" funk, or Ben and Karima working on explaining various miracles together, I'm absolutely here for it. More Shakir Siblings in Season 4, please!
Honorable Mention: Death & Dream (Sandman)
FAVORITE CANON SHIP
Harley/Ivy – Harley Quinn
They're here, they're queer, they're established—and according to the Word of God, they're never breaking up. Harley and Ivy are relationship goals, which I will prove to the court by presenting Evidence A, Evidence B, and Evidence C—and that's all just from one episode! Kaley Cuoco and Lake Bell do great work on this show, and I absolutely adore this ship.
Honorable Mentions: Bobby/Frankie (Why Didn't They Ask Evans?); Ahn Keon Wook/Dae Ho (Inspector Koo); Spock/T'Pring (Star Trek: Strange New Worlds), Sun Woo/Eun Soo (Soundtrack #1)
LEAST FAVORITE SHIP
The Jonathan/Nancy/Steve triangle – Stranger Things
Because I desperately don't care. Just resolve this already.
(I mean, okay. I do think that Nancy/Steve is a slightly more interesting ship than Nancy/Jonathan. But I also think Nancy is easily at her best when she's not romantically linked with anyone. Jonathan's best scenes are with his family, and Steve's best scenes are with his friends, so if Season 5 just decided to pretend this triangle never existed, I would forgive the show every flaw it ever had. Because that definitely won't happen, please, please, just resolve this triangle once and for all, I am begging you.)
(Don't resolve it by killing Steve. There will be MURDERS.)
FAVORITE LADYMANCE and FAVORITE NON CANON SHIP
Kyung Yi+/Je Hee – Inspector Koo
So, okay. Sometimes, I want a couple to be purely platonic. Sometimes, I vastly prefer them as a ship. But a lot of times, honestly, I don't really care if our heroes get together or not. All I want is for them to be together in some way that's meaningful to them. (There are probably a lot of reasons for this. Sometimes, I miss obvious UST. I'm not always the best at picking up queer coding. And I'm pretty heavily invested in epic platonic relationships between any and all genders. But often, really, it just doesn't matter to me because I'm genuinely happy with the characters as friends, lovers, or both.)
This is definitely how I felt about Kyung Yi and Je Hee, who I initially read (and enjoyed) as old friends with a loving but complicated and mysteriously strained relationship. But then there were a few moments (like Je Hee tenderly brushing Kyung Yi's hair away from her face) that I was like . . . oh, WAIT. I never specifically shipped them, but I also would've been totally happy to see them get together. I just really enjoyed all their scenes, like when Je Hee literally carries Kyung Yi out of her horrifying apartment, or when Kyung Yi freaks out (multiple times) when Je Hee is in danger. I was super invested in these two finally working out their shit; I just didn't care if there was zero kissing or ALL the kissing.
Honorable Mentions for Favorite Ladymance: Max & Eleven (Stranger Things); Harley Quinn & Batgirl (Harley Quinn)
BEST MISCELLANEOUS PAIRING
TIE!
Obi-Wan & Baby Leia – Obi-Wan Kenobi
Kyung Yi and Yi Kyung – Inspector Koo
Previously known as Best Dynamic Duo, this award is for any pairing that is absolutely excellent but also doesn't fit into any easy categorization. Obi-Wan and Baby Leia, for instance. They could work for "Favorite Like a Parent/Child Dynamic," but truthfully, I don't see that as their relationship. They're more like, IDK. "Favorite Reluctant Bodyguard and Cute Rescuee," maybe. (Which could probably be its own superlative, actually, but . . . next time.) Either way, the dynamic between this severely depressed ex-Jedi and this tiny spunky princess? Easily what got me into a show that, frankly, I had not been all that interested in watching.
Meanwhile, I seriously adored every interaction/face off between Kyung Yi (genius hot mess of a detective—heavy emphasis on the mess) and Yi Kyung (aka, K—the cutest serial killer in the world). I don't think I can call them friends, exactly (although I did spend most of the show wishing they would become friends), and I don't quite love them as a ship. Still, these two women are both incredibly smart and incredibly weird, and all their scenes together are magic. I 😍😍😍 them.
Honorable Mention: Kristen & Sister Andrea (Evil); Ben & Kristen's Daughters (Evil); Woo Shin & Tae Sung (Adamas)
YOU'RE KILLING ME, SMALLS
TIE!
The amount of times the word "bakineer" is used – Baking Impossible
Porsche's absurd number of terrible decisions – KinnPorsche
Look, Baking Impossible is a fun little baking competition, and they make some pretty neat stuff, but the sheer number of times that one host says "bakineer" (a portmanteau of "baker" and "engineer," a term this guy is very proud of) is enough to make you wanna tear your hair out. It happens so often. I honestly think we might have finished this show if this dude didn't drop that term, like, 10 times an episode.
Meanwhile, Porsche is understandably unhappy with his new bodyguard-for-the-mob job, but Jesus Christ, he's lucky he isn't dead by the end of Episode 2. He makes every bad decision possible—minor spoilers, I suppose—including trying to trick his mob prince into drinking wasabi, setting off a fire alarm by smoking in the kitchen, peeing in the fancy fish pond (it kills a few of these precious koi that belong to a different mob prince), and finally getting wasted while on protection detail and nearly getting getting his mob prince killed. Like, Porsche, baby. Do you not have a will to live?
Honorable Mentions: Mike's utter obliviousness to Will's feelings (Stranger Things); Jonathan STILL not talking honestly to Nancy (Stranger Things); Everyone acting like a girl would get off the bus in the middle of a bridge IN THE MIDDLE OF THE ROAD simply because she'd missed her stop (Reset); Kurt turns to . . . unlikely inspiration in his newfound desperation to write a book (Evil)
MOST WELCOME RETURN
TIE!
Harley Quinn
Floor is Lava
Harley Quinn, of course, is the superior show here. I love every bit of it: the Harley/Ivy relationship, the hilariously dark humor, the great cosplay potential, all the amazing DC references, etc. With HBO Max cutting animated shows left and right, I was getting pretty worried for this one; thankfully, however,  Season 4 has just been renewed! (And seriously, thank God, cause this is easily one of my favorite DC adaptations of all time.)
Meanwhile, Floor is Lava is an absolutely ridiculous game show, yes, but it was also a bright spot for me in 2020 when "absolutely ridiculous" was just what I needed. After all this time, I really didn't expect the show to come back for a second season, so I was utterly delighted when it did. I will always be here for people running through silly obstacle courses; I will also always be here for people hamming it up and mourning their fallen comrades who were sadly eaten by lava.
Honorable Mentions: Evil
FAVORITE NEW SHOW
TIE!
Why Didn't They Ask Evans?
Inspector Koo
Star Trek: Strange New Worlds
I've never read Why Didn't They Ask Evans?, but I found Hugh Laurie's 3-part adaptation absolutely charming. Nothing makes me quite so happy as a murder mystery with excellent banter and a standout cast, and this cast definitely stands out: from the cameos (Emma Thompson, Jim Broadbent) to the supporting actors (Daniel Ings, Maeve Dermody, Conleth Hill, Alistair Petrie, Jonathan Jules, Hugh Laurie himself) to the leads (Will Poulter, Lucy Boynton). There won't be any sequels, of course, but I could honestly watch Bobby and Frankie solve crime all day; I certainly would be thrilled if Hugh Laurie decided to adapt more Agatha Christie novels in the future.
Meanwhile, I had an absolute blast watching Inspector Koo. It's messy and funny and quirky and dark with a fantastic score, stellar cast, and wonderfully playful visuals: from K's dark shadow hallucinations, to how Kyung Yi visualizes the murders after finding the playbooks, to that time where everything suddenly switches to a video game sequence. (I loved this bit.) The ladies are the power players in this show with roles that women often don't get: the criminal underworld boss, for example, or the obsessed gamer genius detective. The dudes, meanwhile, are mostly loyal sidekicks or minor villains, which I enjoyed. The finale deliberately leaves a lot unsolved, and there is one subplot where that bothers me, but I'd still say that Inspector Koo is extremely fun and one of the most interesting Kdramas I've ever watched.
Finally, Star Trek is having something of a moment on Paramount right now. There are so many shows that I can't even keep up with them. Lower Decks is my actual favorite, TBH, but Strange New Worlds is right up there. It's optimistic and imaginative and an awful lot of fun, embracing surprising sub-genres (fairy tale, crack, space horror) and excellent tropes (I am always here for the body-swap). The cast is amazing, of course: I continue to really enjoy Anson Mount, Rebecca Romijn, and Ethan Peck, as well as Trek newcomers like Christina Chong, Celia Rose Gooding, and Babs Olusanmokun. Overall, this show had an extremely strong first season, and I'm really looking forward to seeing what they do with Season 2.
Honorable Mentions: Another; Obi-Wan Kenobi; Adamas
FAVORITE EPISODE
Obi-Wan Kenobi: Part III
Honorable Mentions: Part II, Part IV, Part VI
Another: Bone Work
Honorable Mentions: Build Limbs, Sphere Joint, Glass Eye
Floor is Lava: Ballers, Ballerinas, and Black Belts
Last Week Tonight: School Shootings
Honorable Mention: Internet Monopolies, Monkeypox
Running Man: 1st Superpowers Episode
Honorable Mentions: Solve The Legend of Nine Dragons, Part II, Grasshopper Hunt, Spy Team at KT Building, Masters of Investment: Go to New York, Part II, War of Coins – Grim Reapers, One After Another Running Man
Star Trek: Strange New Worlds: The Elysian Kingdom
Honorable Mentions: Spock Amok, Ghosts of Illyria, Memento Mori, The Serene Squall
Stranger Things: Dear Billy
Honorable Mentions: The Nina Project, The Massacre at Hawkins Lab
Evil: The Demon of Money
Honorable Mentions: The Angel of Warning, The Demon of Death, The Demon of the Road, The Demon of The End
Reset: Episode 8
Honorable Mentions: Episodes 2, 6, 10, 12
Why Didn't They Ask Evans? – Episode 2
Honorable Mentions: Episodes 1, 3
Tomodachi Game – Yuichi-Kun, You're Pretty Dumb, Aren't You?
Honorable Mentions: Huh? Is Yuichi Suspicious of His Friends?, There's No Way I'd Believe That, I Really Can't Be Friends With a "Murderer"
The Great Shaman Ga Doo Shim – Episode 10
Honorable Mentions: Episodes 3, 4, 6, 7
Inspector Koo: Episode 9
Honorable Mentions: Episodes 1, 2, 3, 5, 6, 10
Harley Quinn: Joker: The Killing Vote
Honorable Mentions: There's No Ivy In Team, The 83rd Annual Villy Awards, It's a Swamp Thing
The Sandman: The Sound of Her Wings
Honorable Mentions: Dream a Little Dream of Me, A Hope in Hell, 24/7
Adamas: Episode 8
Honorable Mentions: Episodes 4, 5, 7, 9, 10
Soundtrack #1: Episode 1
Honorable Mentions: Episode 4
That's all for today. I'll return with TV Superlatives, Part II: The Big Spoilers Edition probably later this week.