Holy shit, only six episodes to go! SIX EPISODES LEFT, PEOPLE.
"Requiem for Methuselah"
Okay. For real. What the fuck is this?
A fatal epidemic is raging on the Enterprise, so our Holy OT3 beam down to this zero-pop planet to find the cure—only to run into Flint, an all-powerful old bastard who eventually invites them home to meet his super smart adopted daughter, Rayna. Flint is shifty as hell: he has unknown da Vinci paintings and Brahms' compositions that seem to be the real deal, but were made way too recently. Also, he's clearly jealous of Kirk and Rayna while simultaneously pushing them together. Turns out, Flint actually is da Vinci and Brahms (I was afraid of this), as well as Methuselah, Merlin, Solomon, Alexander the Great, Lazarus of Bethany, and probably a bunch of other people, too. Rayna, meanwhile, is a robot. Flint has been trying to create himself the perfect woman and has been using Kirk to "wake up" Rayna's emotions, since she's pretty non-responsive to Flint's kisses. (Frankly, she doesn't seem that into Kirk, either, and who can blame her? Even for TOS, their love story is absurdly paced here.) 
Flint briefly miniaturizes the Enterprise and plans to kill our OT3, but that angers Rayna, who discovers her true nature and has a lovely moment of self-empowerment, realizing she makes her own choices and no one can tell her what to do. Unfortunately, trying to A) adjust to these newfound emotions, and B) choose between two men she loves equally is too much for Rayna's poor female robot brain, and she dies. (Or, as Spock puts it: "The joys of love made her human, and the agonies of love destroyed her." FFS.) Flint lets them go, I guess, and everyone on the Enterprise is cured, although Kirk is too busy moping about the 90th love of his life to give a shit. He falls asleep, wishing he could forget, and Spock (after a brief discussion with Bones, who also wishes Jim could forget—but nevertheless takes the time to needle Spock about his inability to love because that's Bones for you) unilaterally decides to mind meld with a sleeping Kirk and steal his memories of Rayna away. Holy unethical bullshit, Batman! 
There's just . . . I really don't have anything positive to say here except that it's kinda cool to see James Daly as Flint, I guess, because he's Tim and Tyne Daly's father. (Also, his outfit is hilarious, as all TOS outfits are.) Otherwise . . . yeah. I've never been very into historical retcon tropes like Beethoven Was an Alien Spy, and this one is particularly ridiculous, cause like, come on, Flint is ALL these guys? This is absurd. Did humanity even accomplish anything, or was it all just this one motherfucker? Then we've got the love story, which . . . look, insta-love is nothing new for Trek, but this is especially egregious. Kirk's acting like he's been in love with Rayna for the better part of a decade; it's actually been less than four hours, which we know because anything more than that, and everyone on the Enterprise would be dead. That's the kind of plot clock that should give this episode some tension, but totally doesn't because Kirk is too busy giving laughable speeches about love to remember his people are dying. (It would also help if we saw any of our regulars sick. Hell, even a handful of extras in Sickbay would do.) Then we've got Rayna's death, which is infuriating: it's more of TOS's logic bomb nonsense, but with the added insult of equating romantic love with humanity, which, gah. And then Spock just up and psychically assaults his BFF? Like with good intentions, sure, but still—in the wise words of Jake Peralta—cool motive, still murder.
Chief Asshat: All of them.
MVP: Louise Sorel, who plays Rayna. Rayna deserves fix-it fanfic immediately.
Grade: Pistachio
Line of the Episode: "I am close to experiencing an unaccustomed emotion."
"The Way to Eden"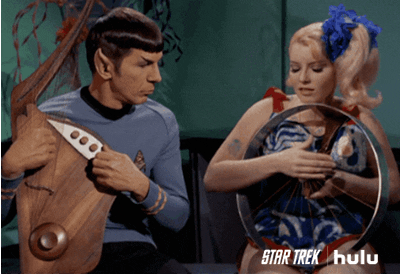 Christ, it's all downhill from here, isn't it? 
On the upside, I've seen GIFs from this episode for years now and am delighted to finally have an explanation for the unlikely jam session seen above. Also, I've learned that an early rejected draft of this episode introduced Bones's daughter, Joanna, a character I've only ever come across in Alternate Original Series fanfic, so that's kind of neat. On the other hand, whew, The Enterprise vs. A Cult of Space Hippies is painful, and it's painful for a lot of reasons. Uhura's absence doesn't even make the Top 5, but it's still weird as hell to see some white blonde lady at her station. 
Our heroes chase down a stolen shuttle. It's about to enter Romulan space and, more urgently, explode, but luckily the thieves are beamed aboard before that can happen. The thieves—henceforth known as the SHC or Space Hippie Cult—are a group of young people who reject technology and authority and otherwise want to live free. They also wear sorta-futuristic hippie clothing, use a bunch of future slang that I don't buy, and sing about fucking everything. Under the direction of their leader, Dr. Sevrin, the SHC are searching for Eden; unfortunately, Sevrin is a carrier for some disease that came about from creating artificial atmospheres? Like, you can see why the guy's bitter about technology, but he's also 100% willing to risk infecting/killing anyone he comes across, and if he did successfully settle on a planet without the proper vaccinations/medicines, he could easily spread a whole ass plague. So, fuck this guy.
Usually, Kirk is the one to wax poetic about living the simple life, so you'd think he'd be the most sympathetic with the SHC; instead, it's Spock because he . . . apparently relates to their feeling of alienation? Oh, that feels like a stretch. Maybe if the hippies were actually thoughtful, well-rounded characters and not easily-led, cheerfully obnoxious idiots. At any rate, the SHC quickly manages to take over the ship, partially because Chekov used to date one of them, Irina, and accidentally tells her how—whoops—but mostly because it's absurdly easy to take over the Enterprise whenever the plot calls for it. FFS, their whole plan to free Sevrin from isolation?

A) Put on a little concert
B) Blast the music ship-wide
C) Wait for the security guard to sway around, distracted by the groovy song, before knocking him out.

That's it. That's the whole plan, and  it's even stupider because it works. (On the upside, it's nice to see someone besides Kirk have the Romance of the Week—even if Chekov is a whiny jerk the whole time.) At any rate, the SHC once again heads through Romulan space on their way to Eden, but don't worry; this will come to absolutely nothing. Instead, our hippies steal a shuttle and land on a planet that appears to be paradise— only all the plant life is full of acid, and not the fun kind. One hippie, Adam, dies from a bite of poisonous fruit; truly, this is a subtle episode. Kirk and co. save the rest of the SHC except for Sevrin, who'd rather die than return—or possibly has just convinced himself that he's meant to survive. (Sevrin is diagnosed as insane, but mostly, dude just seems like an asshole willing to delude himself and others because he can't afford to back out now.) Sevrin bites into a fruit and dies. Bye, terrible man!

Chekov and Irina fondly say goodbye, which is a nice moment except how it makes very little sense. Chekov's been a sullen shit this whole episode, but after Irina's leader tried to murder him and everyone else, he likes her again? Two of Irina's friends are dead, Eden was a massive bust, and she's heading off to face presumably criminal charges, but she's feeling warm and flirty? God, who wrote this?
Chief Asshat: Sevrin, although I also wanted to throw things at Chekov.
MVP: Oh, definitely Nurse Chapel. She's in this episode for about five seconds, but the way she says "you're next" to one of the space hippies like she is absolutely 100% done with their shit? It's a thing of beauty.
Grade: Pistachio
Line of the Episode: 
"Be incorrect, occasionally."
"And you be correct."
"Occasionally."
"The Cloud Minders"
Okay! Okay, this is better. Perfect, no, but it's not crushing my goddamn soul, at least.
A botanical plague threatens to wipe out all vegetation on this planet, endangering the lives of everyone there. The Enterprise goes to a different planet to pick up some zenite, the only cure; unfortunately,  the landing party is attacked by a group of Troglytes who live and work in the mines. They're rebelling against the rich people who live in Stratos, a city in the clouds where art is the chief occupation and violence has (supposedly) been eliminated. High Advisor Plasus and his daughter Droxine believe the Troglytes must remain in the mines, providing a vital function for society, as they're much too inferior and ignorant and violent to live in the clouds. Bones then discovers the Troglytes are considerably more violent and less intelligent, but it's because the zenite they're mining emits a hazardous gas in its raw form. Kirk tries to warn everyone and trade the zenite for a bunch of filter masks, but nobody believes him. Finally, Kirk manages to convince Vanna (the Troglyte leader) when he and Plasus try to kill one another under the influence of the gas. Our heroes get the zenite, Vanna vows her people will now make real political change, and Droxine (apparently) sees the error of her ways and goes off to live amongst the miners for a while.
I primarily associate cloud cities with The Empire Strike Back, so it's kind of neat (and slightly hilarious) to see one here that predates the film by roughly a decade. Trek costumes are always delightful, of course, and this episode is no exception. There are some decent lines here, and examining a dystopian society feels much more on brand for Star Trek, rather than, say, "annoying young hippies . . . but in space!" I'm not terribly convinced the hazardous gas is necessary, or at least I think the story would be much stronger if we learned that Plasus had known about it all along and done nothing to help. But it doesn't bother me so much because it seems pretty clear that Plasus would continue to do nothing if his hand wasn't being forced.
My biggest criticism is Droxine's redemption. (Well, that, and how Spock apparently just up and tells her about pon farr, because I guess that's not a secret anymore?) While Plasus is almost hilariously sneery, Droxine strikes me as much more terrifying because she's all delicate and ethereal and "innocent." While arguing with Vanna, Droxine isn't sneering as she says horrible things like, "Your eyes are not accustomed to light, as your minds are not accustomed to logic." She's saying them in a girlish and reasonable tone, like of course the Troglytes don't need or deserve sunlight; of course they can't think like civilized people do. That's just how it is and, more importantly, how it should remain—which is way more disturbing, as it's very much how racism in the real world can sound. And it's interesting, too, because when Spock has a (pretty random) voiceover, wondering if Droxine could "retain such purity and sweetness" while being aware of the miners' misery, we soon get our answer: Droxine already does know, and she's totally fine with it—which is to say, she's a shitty, hateful person. But since she's very pretty, I guess, she gets a totally unearned change of heart at the end of the episode, presumably because she has a crush on Spock, and he disapproves of illogical things like 'prejudice' and 'gross inequality.' It's disappointing, to say the least.
Chief Asshat: I supposedly Plasus wins because he does torture Vanna. Wait, no, Droxine is there for that, too, and actually argues that Troglytes don't understand anything but violence, so. Yeah, they're both the worst.
MVP: I actually do like Jeff Corey, the actor who plays Plasus. His line delivery when he argues in favor of torture's effectiveness is great. Still, I might go with Vanna (Charlene Polite) here. She does betray Kirk, but it's not like she has much reason to trust him. She's also the reason Kirk survives his kinda terrible 'I'll poison us all to make them believe me' plan. And I like that she genuinely cares about her people. (According to IMDb, Fred Williamson—who I know best as Frost from From Dusk Till Dawn—is one of her fellow Troglytes, which I thought was pretty neat.)
Grade: Vanilla
Line of the Episode: 
"What would Troglytes do here?"
"Live. In the sunlight and warmth as everyone should."