Escape Room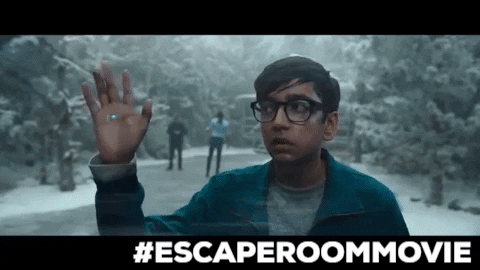 First Watch or Rewatch: First Watch
Amazon, Netflix, Hulu, or Other: Other: Personal Collection DVD
Spoilers: Not really
Grade: Chocolate
I think my love of a) actual escape rooms and b) movies where strangers are trapped together and trying to figure out what's going on, how they're connected, how to get out alive, etc. is well documented by this point. So it's no surprise Mek and I were on the verge of renting Escape Room when I actually received it as a gift. (Fun fact: Amazon hid the package so well that I didn't find it until almost a week later, and only then because the sender–Infamous Tom–mentioned it offhand.)
Much as I'm drawn to these sorts of movies, they're usually much more miss than hit, which is why I'm pleased to say that, overall, Escape Room is a hit for me. None of the actors are phoning it in, and I was especially excited to see both Deborah Ann Woll and Tyler Labine. The movie has quite a lot of energy: it's fun, a bit ridiculous, hits all my claustrophobia boxes, etc. I like a lot of the dialogue, too, like, even the Asshole (there's always at least one) is pretty enjoyable. I spent the majority of the movie rooting for almost everybody to survive, which makes for a welcome change. I have said it before and will keep saying it until I die: horror and mystery are almost always more interesting when likable–or at least funnier–characters are involved. Investment is higher, so tension and stakes are higher, too.
The conclusion, unfortunately, is easily the weakest part of this movie, which doesn't come as a surprise; these kinds of movies almost always fall down at the finish line. Escape Room does a minor variation on a very common ending, and it's . . . fine . . . but I'd really like to see something new here. Still, I had a pretty great time watching this one, and I'd recommend it to anyone who enjoys these kinds of cheesy fun thrillers.
The Man From U.N.C.L.E.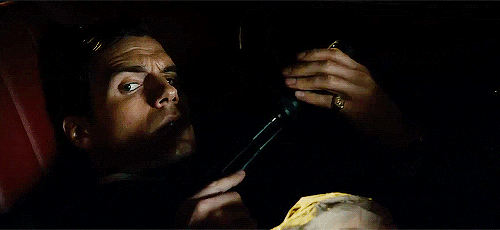 First Watch or Rewatch: Rewatch, sorta
Amazon, Netflix, Hulu, or Other: Amazon
Spoilers: Not really
Grade: Vanilla
I had zero interest in this movie when it came out. I'd never watched the original TV show, and the only thing I'd seen Henry Cavill in was Immortals, which I was very unimpressed by. Also, the reviews I'd seen were wildly underwhelming. So, I was surprised when I caught most of this on TV and found it unexpectedly charming–though, admittedly, I'd been on working on various things at the time and was only half paying attention.
Curious to see if I'd like the movie while actually paying proper attention to it, Mek and I rented The Man From U.N.C.L.E., and for the most part, I thought it was pretty fun. The story's sorta whatever, like, I kinda checked out on the actual mission details pretty early on. But I thought both Cavill and Armie Hammer were kinda delightful and had great chemistry with one another. Hammer is weirdly endearing as this super strong Russian spy with fashion Opinions and an extremely short fuse; meanwhile, Cavill is playing the smooth-talking, ladies man, James Bond type at, like, 140%, and it's hilarious. The whole movie is basically a parody played straight, which I enjoy, and I can't help but wonder if the film's poor reception had anything to do with critics taking it more seriously than was actually intended.
I do have some disappointments with the film: one or two lines didn't land for me, like, I could go the rest of my life without someone's mental health being blamed even in part on a mom who slept around. Jared Harris is wasted in this movie, and for some reason, I never truly warmed up to Gaby (Alicia Vikander), like, she was fine, but I really wanted to enjoy her character as much as the boys, and I just didn't. OTOH, Elizabeth Debicki is all villainous and fun, and Hugh Grant is enjoyably British and snarky. That lucky bastard; he's one of the very few actors in this movie who actually got to use his natural accent–which reminds me. Do . . . do British people think Americans pronounce the word "Nazi" as "NAT-zee?" Admittedly, my homeland is made up of about 87 billion different accents, but the only time I've heard that particularly pronunciation was when I watched Brad Pitt in Inglourious Bastards. Both Harris and Cavill did this, though, and it was very strange.
Overall, I enjoyed The Man From U.N.C.L.E., probably enough that I would've watched the sequel that Ritchie set up and never got, and certainly enough that I checked out Archive to see if there were any Solo/Illya fics. (There are! A fair few of them, in fact!) It's a decent B movie, if you enjoy spy action-comedies, stylish Guy Ritchie movies, and/or attractive, antagonistic men forced to work with one another under perilous conditions. I mean, really. Who doesn't like that?
As Above, So Below
First Watch or Rewatch: First Watch
Amazon, Netflix, Hulu, or Other: Netflix
Spoilers: Very much so
Grade: Strawberry
So, this is basically Tomb Raider: The Horror Movie, or maybe Lara Croft: Get Me The Fuck Outta Dante's Inferno. The first 2/3, I think, are pretty well-done: decent setup, claustrophobic as fuck–though, admittedly, I'm particularly susceptible to that kind of thing, like, no, thank you, I don't do caves; that shit is for people who wanna die. There's one scene in particular where Benji (Edwin Hodge) gets stuck and understandably freaks out, and man. That shit got me.
Unfortunately, I'm not quite as satisfied with the third act, and maybe that's because I can be a literal, meat-and-potatoes kind of girl when it comes to storytelling, or maybe it's just because, not having actually read Dante's Inferno, I missed some of the more significant symbolism. Still, for my money, stories about atonement work a lot better when you actually spend some time on the sins your characters are atoning for. Which isn't to say I needed the movie to stop so each person could have a five-minute monologue about their tragic backstory. It is, however, to say that when your characters start getting picked off by their own personal ghosts of Christmas past whilst traversing through literal Hell, I would like to know at least a little about those ghosts, or else what's the point?
Like, Papillon works okay: we know he's a kinda shady dude and he's got the ominous burn scar on his hand, so maybe we don't need to know the exact details of how he was involved with Dead Dude in Burning Car. But I shouldn't have to go to IMDb trivia to get a vague theory about why Ominous Lady (with a baby, apparently, though I must have missed that) pushed Nice Enough Benji to his sudden doom. And Souxie's death doesn't work for me at all, considering she's just abruptly murdered by Papillion's dead friend. Like, wouldn't such a death make much more sense for him? Moreover, the scene where Scarlett, George, and Zed confess their sins before taking their very literal leap of faith feels hurried and lacks emotional resonance–particularly on Zed's part–because one, the whole third act feels a bit rushed, honestly, and two, the only confession that's given any actual space is Scarlett's. I feel all of this would play a lot better if each character was given an opportunity to confess their wrongdoing, and it's only those who can't admit it (like Papillon) who are brutally murdered as punishment.
Props to Zed for making it, though. I really didn't think that guy had a–oh, goddamn it, yes, a literal chance in Hell. Happy for George, too, just cause I like him. (Though I still think the whole "shit, I grabbed the wrong Philosopher's Stone" bit is more than a little silly. For me, at least, it doesn't add much to the actual story.)