Well. There are many fascinating things in this trio of episodes. Tribbles. Serial killers. Talking alien brains that orchestrate death matches. Prepare yourselves, my friends, for the road ahead is paved with hilarity, absurdity, misogyny, violence, unexpected historical references, and fantastic hair.
DISCLAIMER
There will be SPOILERS for these three episodes and probably also the Star Trek franchise in general. You've been warned.
"Wolf in the Fold"
Oh, wow. That was, yes. That was surely an episode.
At first, I assumed we were in for our standard 'Starfleet officer is framed for murder' story, but oh no, my friends. Oh no. Things take a turn for the WTF when it's revealed that it's not Scotty who's murdering women but Jack the Ripper. JACK THE FUCKING RIPPER. Redjac is a non-corporeal alien entity who kills women because they're more easily terrified than men. (According to Spock, that is, who you'll remember is absolutely perfect 80% of the time and sucks so hard the other 20%.) Obviously, I was unprepared for this turn of events. Mek mentioned JtR early in the episode (cause murder, fog, etc.), but it was supposed to be a joke. Reader. It was not a joke. Kirk actually says things like "but everything we've uncovered points to Jack the Ripper," which is just categorically untrue, BTW. It has literally been less than 20 seconds since JtR even became a possible suspect. Redjac is also played by John Fiedler, who notably voiced Piglet from Winnie the Pooh. Which means that "Evil Piglet is Jack the Ripper!" is now a real thing that I have said.
That's obviously the most ludicrous thing that happens in the episode, but never fear: absurdity abounds in many forms today! Like how Scotty is only on this planet at all because Bones prescribed him a rehabilitative trip to the local belly dancer tavern, which is supposed to cure him of his "total resentment toward women," an affliction he's been suffering from ever since some woman caused an explosion that knocked Scotty into a bulkhead?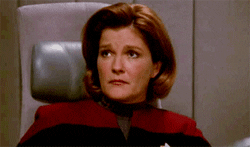 I . . . I can't. I just can't.
There's also the "psycho-tricorder" (a device I'm relatively sure is never used again), Spock's random ass theory of the "hypnotic screen," the fact that Kirk seems way more concerned about making sure Scotty gets cleared of all charges than he is about any of the dead women (including one of his own officers, for Christ's sake), and the fact that Kirk ultimately defeats Jack the Ripper by getting everyone on board high.
I can't stress enough that this is all a real episode, a real episode that really aired.
It's terrible. I wanna watch it twice.
Chief Asshat: I'm gonna have to go with all of them? Yeah, all of them.
MVP: Whoever's responsible for Sybo's hair and wardrobe because it's incredibly rare for me to see women's fashion on TOS and think, Hell yeah, I'd wear that.
Grade: Vanilla
Line of the Episode:
"I . . . I don't remember."
"Really, sir, that is hardly helpful."
"The Trouble With Tribbles"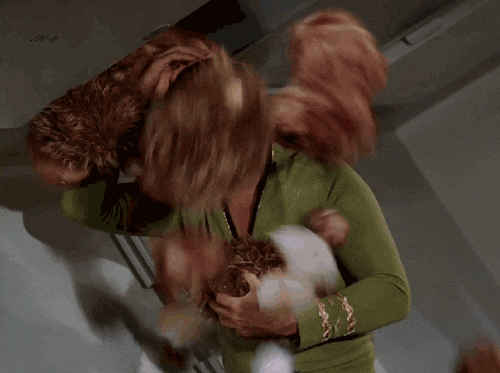 HOLY SHIT WE'VE REACHED THE TRIBBLE EPISODE!
I've never actually seen this episode in full before. I have seen the above GIF plenty of times–which is actually more morbid than you'd expect, considering how many of those cute cascading Tribbles are already dead–plus "Trials and Tribble-ations" a billion years ago.  But this is the first time I'm seeing the OG version, and folks, it's delightful. There's a reason this one's a classic: the script is hilarious, and the actors land every damn line. (Well. Okay, I found Chekov's "everything was invented in Russia" shtick a little forced today, but everything else.)
Some of my many favorite moments:  Scotty being able to endure any insult except an insult to the ship, Spock fooling absolutely nobody when he insists that he is immune to the charms of the tribble, Uhura archly reminding Kirk how often she gets short leave, Kirk putting his foot down due to the tragic loss of his chicken sandwich and coffee, and nobody wanting to take responsibility for beaming all the tribbles over to the Klingon's engine room. (Which is hilarious, but also, holy shit, this is an act of WAR. Like, they basically just sentenced Cyrano Jones to 17 years of fuzzy labor for this kind of irresponsible shit.)
Short of quoting half the episode, I'm not sure how much I have to say. I do, of course, deeply relate to Scotty trying to pass up shore leave in order to stay inside and read, but I wish he'd also said something like, "Yeah I've had trouble relaxing on shore leave ever since that unfortunate time I was framed for multiple murders by Alien Jack the Ripper." And the Klingons, once again, do not particularly act like the Klingons I'm familiar with, though I was kinda amused to see Klingon Trelane, or rather, the actor who played Trelane in "The Squire of Gothos" showing up in this episode as Koloth.
Chief Asshat: Oh, Baris, just for being a whiny little shit.
MVP: Kirk and Scotty. They both made me laugh a lot.
Grade: Chocolate
Line of the Episode: Oh, this is hard. "Extremely little, ensign" is a fantastic burn by Spock. I always enjoy some Bones and Spock banter, and of course, "You gave them to the Klingons?" is just fantastic. Still . . .
"My chicken sandwich and coffee . . . this is my chicken sandwich and coffee . . ."
"Fascinating."
"I want these things off the ship. I don't care if takes every man we've got. I want them off the ship."
It's all about Kirk's delivery. It's so incredulous/plaintive. It makes me think fondly of Janeway, who we all know would've burned every tribble alive if they got between her and her coffee.
"The Gamesters of Triskelion"
. . . can I have Jack the Ripper back?
Seriously. "Wolf in the Fold" is terrible, but like, drinking game terrible. It's delightfully bad. There is no such delight to be found in "The Gamesters of Triskelion." The script physically hurts me. There are discussions of freedom, slavery, love, and beauty, and every single line is the worst line. The fight scenes are terrible, too, which of course is totally normal, but as this is a classic "you must fight to the death for our amusement" episode, it'd be cool if I could at least say nice things about the death battles. Alas, there is very little to praise here. Like, okay, I did laugh when Galt says he's been sent to welcome our heroes, and we immediately cut to Kirk being forcefully cuffed to the wall. That was funny. Also funny: the fashion. Kirk's battle harness, for instance. Also, I wanna get a bald cap and cosplay Galt. His collar is so sparkly!
Otherwise, yeah. We get a weird amount of closeups and poorly acted monologues delivered to the sky. We get a lot of pointless filler scenes where Bones and Scotty argue with Spock, which is especially galling because it's so goddamn obvious that Spock is correct. (There is, admittedly, a funny moment where Spock totally trolls these two as he leans in, all hush-hush, and brings up mutiny–but it's too little, too late.) We get Kirk seducing an alien woman for the 87th time. (I initially thought of her as Sexy Oompa Loompa, which isn't entirely fair, considering her green hair is fantastic, and her skin isn't nearly orange enough. Mek mentioned that Lady Gaga could rock this look, which is absolutely correct–and yes, Google tells me the similarities have definitely been noted before.)
Alien Lady Gaga wants to leave on the Enterprise and learn about the stars, but isn't allowed to despite her newfound freedom because, IDK, it's more important that she stays here, being taught by the evolved, colorful brains who enslaved her in the first place? Bullshit, sir. You take this woman away from this terrible place. Also, Kirk wins everybody's freedom far too easily, like, what the hell happened to the whole "to the death" part of the rules? And did I mention the scene where Lars the Thrall tries to sexually assault Uhura offscreen? Yeah, no, what the fuck was THAT shit, writers? Absofuckinglutely not.
In conclusion:
Chief Asshat: Lars, obviously, but Kirk kinda sucks here, too
MVP: Uhura, who's had an immensely shitty day and deserves better
Grade: Strawberry
Line of the Episode:
"Your–your terms are unfair!"
"On the contrary, they're extremely fair, since your alternative is death."