The Call
First Watch or Rewatch: First Watch
Amazon, Netflix, Hulu, or Other: Crap, I don't even remember. Amazon, maybe?
Spoilers: Yes
Grade: Strawberry
So, I actually watched this with my folks shortly before I went on vacation, and initially, I was surprised by how much I was actually enjoying it. Like, some silly things, sure, but for the first, say, 2/3 of the film, I found it to be a surprisingly claustrophobic little thriller starring two female leads I was rooting for. Both Halle Berry and Abigail Breslin give strong performances here; I specifically like watching Berry balance her character's ultra-competence with her semi-recent trauma. And the relationship between these two characters is interesting: Casey (Breslin) is fighting to survive and sees Jordan (Berry) as her only lifeline, while Jordan quickly gets over-invested, determined not to lose another caller. It's actually a pretty interesting dynamic.
Unfortunately, things rapidly fall apart in the last, maybe, 15 or 20 minutes of the movie. For starters, we get a lot more of the serial killer's backstory, which besides trying way too hard to be creepy–he's scalping blondes that remind him of his dead sister (COD: cancer), who he had skeevy and presumably unrequited Lannister love for–it's just not really what this movie's about, like I don't give a shit about Bobo the Serial Killer* and his bullshit psychology. Then, after she loses contact with Casey, Jordan takes it upon herself to go looking for her, which–while predictable–is both incredibly unrealistic and just kinda dumb. In its defense, I will say that if Jordan had been a dude, I suspect a lot less people would've complained about the realism because audiences have been trained to expect Heroic Male Action, no matter if it makes sense or not. Also, there is, admittedly, something pretty empowering about watching our two heroines repeatedly save one another and kick the shit out of Bobo the Serial Killer.
Still, when Jordan's boss (Roma Maffia) tells her that her part in this unfolding drama is over, like, there's actually something really compelling about that. How exciting would it have been if Jordan did just have to go home, and Casey, using something that Jordan taught her, kills her abductor and rescues herself? There could even be an awesome Powell-McClane meet-up moment at the end. I'd be really into that. But we don't go that way, and worse, after our Empowering Beatdown of Bobo, The Call goes for a completely dumb and "edgy" twist where, instead of calling the cops, the ladies decide to tie up our bad guy and leave him to starve to death, which, like, look, I'm all about dark turns and vengeance stories, but the twist comes out of left field. It's totally unsupported, and I just don't buy it from either character at this point. It's a hugely disappointing ending for a movie that, up till that last act, really wasn't so bad at all.
*I couldn't be bothered to look up the character's name, but the actor, Michael Eklund, plays Bobo in Wynonna Earp, so Bobo the Serial Killer he became. It is, of course, another excellent band name.
Event Horizon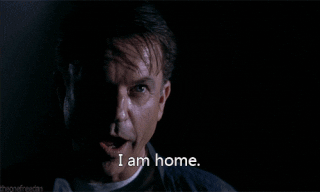 First Watch or Rewatch: Rewatch
Amazon, Netflix, Hulu, or Other: Amazon
Spoilers: Yes
Grade: Vanilla
I watched this for the first time about nine years ago with my friend Denise, and until just now, I'd totally forgotten that I'd reviewed it before. (God, it's so painful to read early reviews, both for writing skill and for shit I just wouldn't say now. I still have high school journals I fear looking at.) Many of my general impressions are the same: fun, cheesy, gory SF in space. I like the movie, despite (or possibly because of) its flaws, like shitty mid-90's CGI, occasional poor acting, excessive slow motion, etc. Though I do still wish we got more time with all our characters being properly tormented by their hell visions. Also, more time with Starck, who I like better this go-around but has very little to do, possibly because they cut some whole romantic arc between her and Miller.
I think my biggest takeaway this time is that Sam Neill's character just doesn't really work for me. Everybody starts hallucinating terrible shit, yeah, but no one starts turning evil or even really seems to change, personality-wise, because of it; no one, that is, except Dr. Weir (Neill). Which is weird because while he's clearly an annoying, arrogant motherfucker, nothing he actually experiences really lends itself to this type of character arc. Like, the whole sad backstory of how his wife killed herself because he worked too much, or something? Yeah, it's terrible, but at least I'd get it if Dr. Weir thought his dead wife was in the Hell Dimension and he was determined to find her, even if it killed everyone else. I'd get that. But instead, Weir quickly descends into villainous madness, you know, Because. And the whole backstory mostly seems to be an excuse for irrelevant creepy imagery and the opportunity to see Dead Wife's boobs, which, uh, yay?
I have a surprising amount of nostalgia for this movie, considering that I didn't see it until roughly fifteen years after its initial release, but I honestly wouldn't mind seeing a remake now, maybe one that differentiated itself with not just better effects but a different tone: a little less cheese, a little more atmosphere.
Ready or Not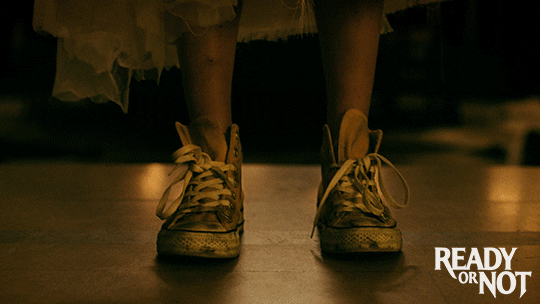 First Watch or Rewatch: First Watch
Amazon, Netflix, Hulu, or Other: Other: actual goddamn movie theater
Spoilers: Not this time (unless you look at the tags)
Grade: Chocolate
I enjoyed the hell out of this. As I already mentioned on my various social media accounts, Ready or Not is the most recent example of what's swiftly becoming one of my favorite sub-genres of horror: "Welcome to the Family. Here There Be Bloodshed." (There's probably a more succinct, less pirate-y name for said sub-genre, but this is what I've got right now.) There are some definite You're Next vibes here, of course–much with the Feels and dysfunctional family dynamics couched between all the comedy and gore–but there are differences, too, and not just plot ones. The jokes in You're Next are less overt, I think; the horror played more straight. Meanwhile, Ready or Not is campier, but it's smart, purposeful camp–not to mention, it's just a really fun spin on that whole "The Most Dangerous Game" type of horror story.
I do have quibbles, of course, but they are very few and relatively minor and I can't really discuss them without spoilers. Suffice it to say, they don't take away from what I love about the film: great dialogue, delightful characters, and an utterly brilliant ensemble cast. Kristian Brunn and Melanie Scrofano (from Orphan Black and Wynonna Earp, respectively) are hilarious, as is Nicky Guadagni as Aunt Helene. I would cosplay her in a goddamn heartbeat; she is–as I'm sure many people have already pointed out–one Big Ass Mood. Henry Czerny was just born to play the rich asshole patriarch of this family, while Andie MacDowell is a lot of fun as his considerably more practical and competent wife. Adam Brody fucking excels at tragicomedy, like, I definitely wanna see more of this from him. And Samara Weaving just shines as Grace, who is funny and real and a terrific Final Girl. Weaving's performance really stands out here, which–considering just how good this cast is–is all the more impressive.
I keep seeing reviews that stress how this movie isn't anything new or original, even though it's fun, and like . . . maybe, I guess? And if it's not your thing, then it's not your thing, and that's totally okay. But while it's always exciting when a film truly breaks the mold, not every movie has to be the next Get Out, you know? Besides, making a movie like this and making it well are two very different things. Tone is difficult. Balancing violence, Feels, and laughter is hard work. You really have to thread that needle, and, IMO, Ready or Not does a pretty great job with it.