Valentine's Day has come and gone, so you know what that means: HORROR MOVIES.
Dead Body
First Watch or Rewatch: First Watch
Amazon, Netflix, Hulu, or Other: Other: Shudder
Spoilers: Yes, but only in the last two paragraphs.
Grade: Chocolate
To my surprise and delight, this low-budget indie is a pretty decent little slasher film. (And directed by a woman! Yay, more women in horror!) The premise, of course, is absolutely my jam: a bunch of high school graduates (and one older boyfriend) play Dead Body, where one person is secretly assigned the role of the murderer and "kills" someone, and everyone else has to figure out who did it–only then people actually start dying. This is a Golden Age of Detective fiction staple and absolutely the kind of morbid shit I would definitely play, so of course, Mek and I had to try this movie out. Where it shines best is dialogue, characterization, and surprisingly intentional humor: Dominic's mostly relatable bitchiness about his uninvited guests ("I need to go set up the loft I wasn't planning on using") or Dwayne immediately going for hacksaws, hooks, and nail guns after finding the dead bodies. I also genuinely like how protective Marcus is of his weird brother. (Or friend? I was never actually clear on this.) And there are one or two big surprises here: one didn't do much for me, but the other I LOVED.
The thing that wasn't a surprise, unfortunately, is the identity of the killer. Which, hey, correctly solving a whodunnit can provide a glorious sense of satisfaction, or even vindication. Here, however, Mek and I were pretty sure about the killer maybe 25 minutes into the film and were all but proven right about 25 minutes later–which is still a solid 15 before the Big Reveal. Some of the setup is actually pretty clever, but there are a few missteps, which I'll discuss in the next two paragraphs. Other disappointments: the opening scene doesn't do much for me–we should probably cut the last 30 seconds at least–and the two foreign exchange students are barely even in this movie, which is especially annoying because they're the only POC in the whole cast.
SPOILER territory: I initially assumed Marcus was the killer because he's the Nice Guy Love Interest and I figured he'd brought Rumor along as an obvious patsy. However, suspicions were quickly transferred to Dominic, partially because finding him so suddenly dead was shocking enough to be suspicious, partially because of the Harvard motive (which I thought was nicely handled), and partially because I've seen enough movies/read enough Agatha Christie to know you can't trust dead bodies. Even if I hadn't, Kenji playing dead is pretty obvious foreshadow. I think that bit could probably be cut, along with the whole it was YOU line from the opening scene, and that moment when the camera lingers a beat too long on the hammer. (Because that's how Mek and I went from, like, 90% sure that Dominic was the killer to 190%: he kills Rumor with the hammer obviously left behind.) If we really want Dominic to be a shock, we probably need another viable suspect and/or a costume change; alternatively, it might work to do the Big Reveal with Rumor's death, so the audience finds out well before our surviving heroes. That way, we'd get to watch Dominic's surprise/delight when his intended victims start killing each other out of paranoia. I'm kinda warming up to that idea, actually.
Finally, the two big surprises are the last-minute resurrections of Sarah and Marcus. Sarah is really interesting: for one, her survival is pretty shocking because she seems like such a Dead Meat character. (Shocking survival, as it turns out, became quite the theme of the evening.) For another, Sarah pulls a nail out of her own face to kill the bad guy. I thought the scene where Ilsa pulls nails out of Sarah's face was pretty great, but this is just badass. Unfortunately, Marcus's miraculous resurrection kinda feels like it's just taking away from Sarah's. I felt bad for the dude when he died, but once dead? Yeah, stay dead, my dude.
Overlord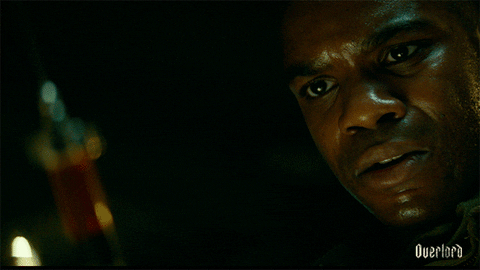 First Watch or Rewatch: First Watch
Amazon, Netflix, Hulu, or Other: Amazon
Spoilers: Yeah, sorry
Grade: Vanilla
I'm always excited by the idea of genre-blending, especially when mystery or horror come into the mix, but Overlord feels uneven to me. It's strongest, I think, in the first act, when the movie is pure action/war drama. (Did anyone watch this movie without seeing the trailer full of spoilers? Cause damn, no one's getting Nazi Zombie Shit from the first 20 minutes of this movie.) The plane scene is dramatic AF and the ominous clues in the woods that "something is amiss" are decent. I like most of the cast. Jovan Adepo gives an especially strong performance as our kind-hearted protagonist Boyce. I know Adepo primarily from a two-episode stint in Watchmen, and I definitely want to see more of him.
But we start hitting problems in Act II when our heroes make it to the French village. Part of that's pacing: it takes way too long to for anyone to find all the horrific experiments. This movie is only 1 hour and 48 minutes, but boy, I'd have bet money it was a lot longer. And then, part of it's content: I'm not sure Wafner (Pilou Asbæk, AKA, Euron Greyjoy) is doing much for me as a Big Bad, and I definitely found the coerced sexual assault shit completely unnecessary. (Boyce interrupts Wafner before he rapes Chloe, but this is still a yuck subplot and incredibly lazy writing.) The aunt, too, is much more foreshadow than actual character: she barely has screen time, much less dialogue.
Still, the worst problems, I think, begin after Boyce discovers all the Nazi Zombie Shit. The discovery scene itself is great: it's weird, creepy, maybe a bit silly (I'm specifically thinking of the decapitated head pleading in French), but overall, just a lot of fun. And Boyce has spectacular reactions to the body horror/general impossibility; his freakout is super relatable, TBH. This is the moment the whole film has been building toward–which is why I'm just baffled by the decision to completely cut the tension by stopping for a 15-minute time-out, like, Overlord goes right back to straight-up war movie again, all unethical interrogations and "is it right to beat up a Nazi" and "do we even recognize ourselves anymore?" These are all perfectly fine themes that should not be dwelled on here, five minutes after this shit. And while we do kinda get back on track with the death/zombie resurrection of Chase (Iain De Caestecker), the film never fully recovers; instead, the whole third act loses its creepy body horror vibe and just becomes a really bad Resident Evil movie. It's so bland and cartoonishly over-the-top that there's just no tension at all. I was honestly bored, and that's about the last reaction you want from your audience here.
Finally, some additional notes:
A. Secret histories, admittedly, are not always my bag, but I'm not sure that tying this story  to D-Day really does much for me.
B. I can't decide if De Caestecker's American accent is bad or if I'm just very aware it's not his natural, lovely Scottish. I am fond of the actor, though. When Chase gets shot (inevitably, I mean, maybe don't send the kid with the camera to secure the Big Bad Nazi Dude, FFS), I was all, "A-ha! This is why you cast De Caestecker, for the emotional death scene!"
C. Overlord's "Holy Shit, This Guy Actually Lived!" is Jacob (Dominic Applewhite) and, to a lesser extent, Tibet (John Magaro). Tibet is the semi-redemptive asshole, whereas Jacob is Boyce's buddy from the plane, the one who Boyce repeatedly promises, "I'll be right behind you!" Obviously, I marked Jacob as First to Die. It is lovely to be wrong sometimes.
D. Alas, Private Dawson (Jacob Anderson) does not fare so well. Mekaela and I had just enough time to say, "Wait, is that Grey Worm?" before he blew the hell up. Sorry, buddy.
The Void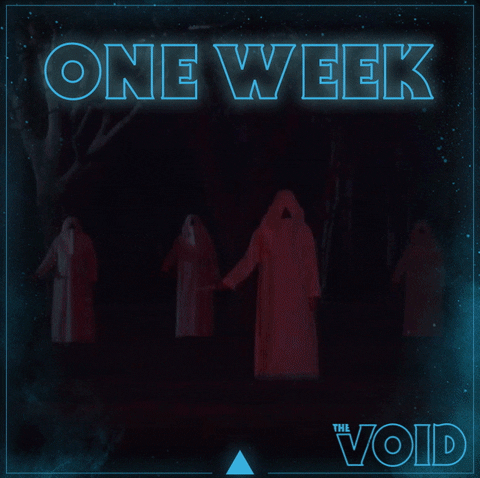 First Watch or Rewatch: First Watch
Amazon, Netflix, Hulu, or Other: Other: Shudder
Spoilers: Yeah, sorry again
Grade: Strawberry
This one starts out so strong, but kind of spirals into an incoherent mess. Mileage is definitely gonna vary on that, depending on your A) tolerance for how much a story refuses to explain, and B) nostalgia for 80's cosmic horror. I tend to be skeptical of the former and like the latter more in theory than execution. For example, The Void reminded Mekaela of Hellraiser, a movie I enjoyed for its aesthetics and not much else. (I'm tagging this whole review a blasphemy just for that sentence.) Meanwhile, The Void reminded me of Prince of Darkness, which I reviewed in great detail last year and, ultimately, didn't love. Which is all to say I may not have been the target audience here.
Except . . . damn it, I still feel like I really could've enjoyed this movie. For starters, there's an awful lot I do like about The Void. The initial setup and "WTF is going on here" mystery is a lot of fun. The look of the film is pretty great. I enjoy the whole cast. The reveal that our kindly old doctor isn't just Dead Meat Walking but the actual Big Bad is awesome, especially since it comes after he does predictably "die." Likewise, the reversal that our blatantly evil murderers from the beginning are actually good guys (well . . . good-sh) is pretty cool, too, although I do feel like their backstory gets a little lost in the chaos. The ending with the Sheriff and Allison is interesting, if sorta huh, and I'm fucked shocked that our ultimate survivors are the unnamed mute guy and Ellen Wong–people. I have finally found a Western horror film where an Asian woman lives. Holy shit.
Unfortunately, one of the main reasons Prince of Darkness came to mind wasn't the portal sacrifice similarities or the supernatural pregnancy BS–more on that in a bit–it was the ominous cultists converging on the hospital. We know absolutely nothing about this cult, like, who the hell these dudes are, why they don't bother coming inside, where they peaced out to at the end, etc. (Seriously, did the ascend or something? The fuck?) Apparently, this is one of the many things intentionally left open for the viewer to decide, but this viewer has decided: we learn nothing about these guys because the creators don't care about these guys; they just needed something to trap the heroes in the hospital, and that's it. In Prince of Darkness, the cultists are actually possessed homeless people, but they serve the exact same plot function, and IMO, that's lazy as shit writing.
And therein lies my main problem with The Void; rarely does the script feel purposefully ambiguous and thought-provoking; mostly, it feels lazy, chaotic, and confused. The hallucinations in the not-exactly-there basement feel muddled. Most of what happens in the whole third act feels pretty muddled. And I'm especially disappointed by Allison, who starts out as a potentially interesting character and ends up just becoming a vessel, a body, a plot device rather than an actual person. Allison exists to A) draw our heroes into the Basement of Doom, B) add to our MC's ongoing man pain, and C) give us some old-fashioned pregnancy horror, I guess? (She lost a baby prior to the story, so Big Bad impregnates her with monster juice, and she gets to die of symbolism. And getting chopped up by her tearful hubby, of course. Cool.) This is all especially tedious because we already have Maggie for the pregnancy horror, but I guess one eldritch nightmare birth where the mom/vessel violently dies wasn't enough? Basically, this whole bit sucks.
Finally, additional notes:
A. I did actually enjoy the twist that Maggie was also a bad guy. I probably should've caught that, but I just assumed she'd have a gross demon baby, which, hey, that part was dead on. Poor Sarah got mighty ugly in her second life, didn't she?
B. Much like with Grey Worm in Overlord, I had just enough time to be excited about Iris Rouse (Stephanie Belding) from Shadowhunters popping up before she got killed off. (Then transformed into an eldritch horror and then killed off again.) Sorry, buddy.
C. As always, doing clerical/errand work in a hospital hardly makes me a medical expert. And this story is admittedly set in some rural town in the . . . 80's? 90's? Still, I had a ball laughing at the medical inaccuracies in this movie. The aborted C-section wasn't actually as bad as I thought (when you're primarily familiar with a low transverse incision, a classical cut looks weird AF, like, Jesus, why are you all the way up there), although I highly suspect that whatever pain relief Kim used wouldn't cut it for fucking surgery. But I straight up cackled when Allison walked to the med room, which appears to just be a basic supply closet where they keep narcotics unlocked on the shelf. Also, seriously, there's only one patient here. Why the fuck are we keeping the supplies this far away? For that matter, why hasn't the one and only patient in this hospital been transferred literally anywhere else? Like, I get the idea that this place is still supposed to be open for emergency services or something, but uh, dude's clearly just an inpatient now. Ship that motherfucker out. And how in Christ's name is anyone still working out of this hospital? Again, I get the idea–emergency services for locals while everyone else has moved off to hospitals that weren't recently half burned down–but also, bullshit. The nearest hospital is only 20 minutes away, which of course is shitty, but shocking? In a rural county? HA. Hell, that's the distance between the high school I went to and its closest hospital. Besides, the state of this place? No one should be working here. This especially kills me dead because the hospital I work at now has been temporarily shut down twice in the past few years just for smoke damage, much less a fire that actually destroyed part of the fucking building. These people have not heard of JCAHO, that's all I'm saying.
D. Finally, more fun casting: our Big Bad is played by Kenneth Welsh, who I know from one episode of The Expanse but also from Twin Peaks, where he played Windom Earle. I had no idea that was the same guy! Meanwhile, Art Hindle, who was in both the original Black Christmas and the 70's remake of Invasion of the Body Snatchers, has a small role here, too. Horror cameo casting is just the best.