Happy Inauguration Day! Hopefully happy, anyway; I'll be honest, I'm having trouble feeling the sheer relief a lot of people have been expressing on social media for the past 24 hours. Maybe I'll manage it on Thursday, if nothing terrible happens. In the meantime, consider this an official Distraction Post.
While reviewing Die Hard a few weeks ago, I mentioned that Mek and I had been having fun recasting the film with actors who could reasonably have been hired in 1988. Reasonably, in this case, meaning people who were actively acting around that time; I didn't, like, look up people's film schedules to make sure they were free or anything. Remember folks, this is all for fun and games and blasphemy; I didn't sweat the nitty gritty, and I encourage you all to do likewise.
Recasting any movie–but especially something as iconic as Die Hard–will always be difficult because no two actors are gonna give the same performance. This John McClane, inevitably, will not be Bruce Willis's John McClane. The Hans Gruber we all love and cherish simply can't be replicated by any other actor, no matter how talented. This is a sad truth that we live with forever now: there was, and only ever will be, one Alan Rickman.
Still. I had a great deal of fun coming up with this Alternate Die Hard cast, and I hope you also have a good time, thinking things like "huh" and "hmm" and "sweet Christ, WHY?" This will be a pretty straight recast today: no gender-bending or the like, but if you are interested in a hypothetical genderbent cast, feel free to look here. (If you're not interested in the rambling essay part, scroll down quite a ways.)
Prepare yourselves, friends. The blasphemy is about to begin.
DIE HARD: THE ALTERNATE 80'S CAST
John McClane – Kurt Russell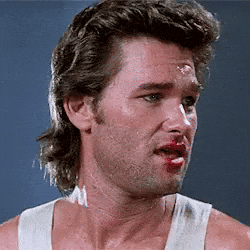 Now I know what a TV dinner feels like.
Here's the thing: originally, I wanted to cast someone who–just like Bruce Willis–was an unconventional choice, someone wasn't already an action star. Unfortunately, we just couldn't come up with anyone we liked, not until we thought of Kurt Russell, who, of course, was smack in the middle of the (first) Big Action Phase of his career, with films like The Thing, Escape From New York, Big Trouble in Little China, and Tango & Cash. (Kurt Russell's career fascinates me. It's a beautiful, unholy mix of SFF action, regular action, violent westerns, the occasional romantic comedy, and some wholesome Disney shit.)
But Kurt Russell's heroes aren't all carbon copies of each other: Jack Burton is definitely not Snake Plissken, and MacReady is not Wyatt Earp. Russell goes deliberately over-the-top sometimes–which, TBH, I goddamn adore–but he can also pull it back, and I can genuinely hear him landing a fair bit of the dialogue. Plus. Let's concentrate on what really matters, folks: you know he can wear the hell out of that white tank top. (Lipstick, too, clearly . . . but alas, that doesn't canonically feature.)
Hans Gruber – Rutger Hauer
That's a very nice suit, Mr. Takagi. It would be a shame to ruin it.
Again, there is no duplicating Alan Rickman. It simply can't be done. But I've always been very fond of Rutger Hauer, too, and his Hans Gruber could've been interesting to see. I do suspect it would've been a touch more, shall we say, overtly menacing than Rickman's performance? Like, Hauer was known for playing creepy and charismatic villains for a reason; he was damn good at them.
But I've seen some nice subtle bits of humor, too: this scene from Ladyhawke, for example, where he is–for once–the good guy. That expression on Hauer's face when he says "No?" Oh, it always kills me dead. He could've gone for a German accent, I suppose, (apparently, he played several German characters over the course of his career), but . . . IDK, part of me just wants this Hans to have been an exceptional Dutch thief instead.
Holly Gennaro McClane – Mary Elizabeth Mastrantonio
That's okay, I have my eye on his private bathroom.
TBH, this is kinda just typecasting. In the late 80's/early 90's, Mary Elizabeth Mastrantonio definitely played this type of love interest, you know, professional and independent and not afraid to call the lead hero–who may or may not have been her ex–on their bullshit. Lindsey Brigham in The Abyss. Maid Marian in Robin Hood: Prince of Thieves. But I've always liked Mastrantonio, and I think she could've been a great Holly. I can easily see her stepping up to be the hostage's spokesperson after Takagi dies. Plus, I mean, come on. Those curls. I'm not saying I'm making all my casting choices based on hair and fashion, but I'm not not saying it, either.
Sergeant Al Powell – Frankie Faison
No, but it's gonna need a paint job and a shitload of screen doors.
Like Reginald VelJohnson–like a lot of the people in the original cast, honestly–Frankie Faison wasn't a big name in 1988, at least not compared to some of the other actors you'll find on this list. But he has a very nice voice and a lot of screen presence, always making the most of even the smallest roles: Barney, for instance, in The Silence of the Lambs. (Shit, does this make Kurt Russell his Clarice? I like it.) Dude's in that movie for all of twelve seconds, but he always stands out in my memory. And of all the actors we came up with, Faison is the one I can hear the best when it comes to Powell's dialogue. I absolutely love VelJohnson's line deliveries, but I think Frankie Faison could've done a very nice job with them, too.
Karl – Patrick Swayze
I don't want neutral. I want dead.
No, but listen. Listen. Is this a ridiculous casting? Yes. Is it the most ridiculous casting you've ever seen? Possibly, but you have to respect the legs. People. It is important. Alexander Godunov was a dancer, and by God, our Karl will be one, too. If he does not deliver the most beautiful jump kicks, is he really Karl at all? I rest my case.
Theo – LeVar Burton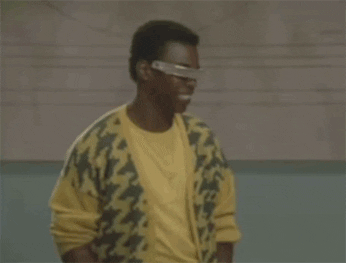 Oh my God, the quarterback is toast!
Ah, the reason we did this recast in the first place. During our annual Christmas viewing of Die Hard, I found myself randomly wondering what it might've been like to see LeVar Burton as Theo. It amused me, of course, to think of a beloved children's host (as well as beloved Geordi LaForge) as a bad guy–albeit, the funny bad guy that doesn't kill anybody and, very thankfully, survives–but I really do think it could've worked. At the very, very least, I can absolutely see LeVar Burton rocking that sweater and glasses combo. (I'll admit to finding the collective online thirst for attractive dudes in old man sweaters kind of baffling, but I'm always willing to be convinced!)
Takagi – George Takei
Ellis, I want you to meet John McClane. Holly's husband. Holly's policeman.
Let's keep with the Star Trek theme for the moment, shall we?
According to IMDb Trivia (which, you know, might be accurate?), John McTiernan wanted to hire George Takei for the role of Takagi, and George Takei wanted the role of Takagi, too, but there was some kind of paperwork mishap due to Takei's agent, and the part went to James Shigeta instead. I can't entirely regret this because I've always loved Shigeta in the role, but it also could've been really neat to see George Takei here as well. Not just because I'm a Sulu stan, but yeah, a little cause I'm a Sulu stan.
Ellis – Bill Paxton
Hey babe, I negotiate million dollar deals for breakfast. I think I can handle this Eurotrash.
I'll admit, Ellis stumped me for quite a while . . . until Mekaela came up with the idea of Bill Paxton, and I was immediately sold. Ellis is kinda scummy, kinda sleazy, thinks he's the shit (spoilers: he is not the shit), and overall, has a certain 'cocaine will be my date to this Christmas party' energy. In other words, think of Ellis as Bill Paxton's audition for True Lies, and I think you might see it, too.
Bill Paxton was the best. Ugh, this casting is reminding me just how many amazing actors we've lost.
Argyle – Wesley Snipes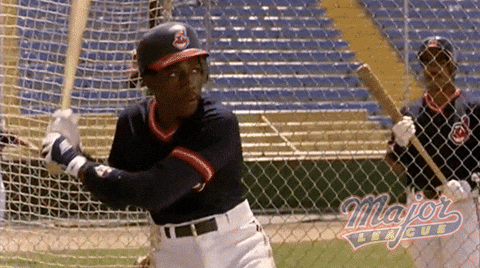 This IS Christmas music.
Argyle, surprisingly, was another tough character to cast. For a while, I was considering a young Will Smith, but he was still a few years out from his first acting role in 1988, and we decided to keep looking. Eventually, we came up with Wesley Snipes (in his pre-Blade days), and I kinda like the idea: he has just a ton of comedic energy in films like Major League, and I can absolutely see him laughing his ass off at the poor life choices of John McClane. As well he should. Love the dude, but McClane definitely deserves it.
Dwayne T. Robinson – John Larroquette
We're gonna need some more FBI guys, I guess.
I've always thought that Dwayne T. Robinson requires a very specific type of humor. Initially, he's just that one jerk cop played pretty straight, until the bigger jerk cops (the FBI) come into the picture, and then DTR gets to be . . . well, if not an ally, exactly, then at least funnier, a bit more likable. The comedic moments are small, though; they shouldn't be overplayed, and I feel like John Larroquette–who can easily play either sharp and incisive or just hilariously incompetent–could make that balance work.
Thornberg – James Spader
Did you get that?
James Spader is 13 years younger than William Atherton, but Thornberg's age is considerably less important to me than the punchability of his face, and in the 80's and early 90's, James Spader was extremely well-versed in the art of playing jerks with punchable faces. I can absolutely see him playing the guy who threatened a woman with deportation and endangered Holly's life, all for a good story. Plus, let's keep with the theme: look at that fantastic 80's hair. Obviously, Die Hard could only be improved with all that amazing blond fluff.
Special Agent Johnson – Michael Ironside
This is Agent Johnson. No, the other one.
Yes. Yes. Michael Ironside as Special Agent Johnson (AKA, Big Johnson), and you know why? Because it's perfect, that's why. Come on. Come. On.
Agent Johnson – Eriq La Salle
I was in junior high, dickhead.
I've rewatched some ER clips recently, and it's made me wanna see Eriq La Salle in more things–things that are not Jacob's Ladder, ugh, that movie. Agent Johnson (AKA Little Johnson) would've been a minor role, admittedly, but Die Hard was a few years prior to ER, so that doesn't bother me–and happily, he's about the right age, since Eriq La Salle would've been in junior high about the time the Vietnam War ended. Also, I can really hear him delivering some of these lines: the one above, of course, but also "when we commandeer your men, we'll try and let you know." LOVE IT.
And finally . . .
Uli – Dennis Dun
*double take at the candy display*
Did I really need to cast Uli? No. Was I gonna cast Uli anyway? Absolutely.
Uli's age definitely isn't important, but I still kinda wanted him to be under 60, which took out 80's heavyweights Victor Wong and James Hong. (Well, technically, I think James Hong was 59, but still.) But we did get to thinking about Big Trouble in Little China, which got us to Dennis Dun (and Dun's glorious eyebrow raise).
Of course, now I want at least one more scene between Uli and John, so we can properly appreciate the reunion between Dun and Russell before our hero unceremoniously kills our wonderful thief who, damn it, just wanted a Crunch Bar. Poor Uli.
Well, that's all for now! If you have time and were blown away by my legendary casting prowess, or have your own suggestions for an 80's alternate remake, or would like to express your outrage at the fiendish horror I just put your through, please feel free to comment below!