Well. I've definitely been ignoring my blog lately. This is partly because of travel and partly because of writing, more specifically, because I started work on this fanfic that, Jesus Christ, has exploded into a novella-length monstrosity and has taken over my entire life. Which means I'm well past due for my Spring TV Superlatives, among other things. Unfortunately, I'm still trying to catch up on a bunch of shit and also, really didn't watch as much TV as normal, so today we'll be doing Modified TV Superlatives. (Don't worry. I'll still manage to make this post at least 1000 words longer than it needs to be.)
Here's a list of everything I've been watching (and in some cases, abandoning) over the past three months.
The Guest
Running Man (Episodes 50-62 and 594-605)
Last Week Tonight (Season 9, Episodes 3-13)
Our Flag Means Death
The Crowned Clown
Tomorrow (abandoned, may return to)
Vincenzo (abandoned, may return to)
Moon Knight (abandoned for good)
A Black Lady Sketch Show (Season 3)
Star Trek: Strange New Worlds (abandoned, will return to)
Star Trek TOS (Season 3, Episodes 4-12)
Nobody Knows
Don't Call It Mystery
Today, we'll briefly discuss most of these shows. (Not all. I'll probably ignore the ones I gave up on.) You'll be safe on spoilers unless you venture into the clearly marked Spoiler Section, where you will definitely see me rant about certain character deaths because gah. STILL so annoyed about it.
But that's for later. For now, let's begin with . . .
The Guest
Creepiest Moment; Most Horrifically Tragic Character; Longest Previously On; Grand Prize for Survival (TIE); Worst Plan (TIE)
A priest, a cop, and a psychic taxi driver walk into a ghost-infested bar . . .
I'd been meaning to check out this Korean supernatural horror-drama for a while now, and overall, I had a pretty good time watching it. (I wish I could find a decent trailer to link to, but it's proving difficult. This FMV captures the tone and visuals pretty well, though, and I don't think there are any big spoilers?) I do wish Kang Gil Young (Jung Eun Chae, AKA, the cop) got a little more to do in the Big Finale. And I probably wouldn't recommend this one if you're looking for something, you know, upbeat and lighthearted? Like, The Guest is all exorcisms and ghostly possessions and childhood trauma. (A few of my favorite things!) Not to mention, seriously, Most Horrifically Tragic Character can definitely apply to more than one person. I do think one character wins the tragedy competition, but it is, admittedly, debatable.
Still, if you're in the mood for something a little creepy and a lot angsty with a bit of mystery and some fun side characters (Detective Go Bong Song is precious to me), you might enjoy this one.
(Also. I am not kidding about those Longest Previously Ons. Holy shit. I just clicked on a random episode to time this segment, and it was literally two minutes long.)
Our Flag Means Death
Favorite Canon Ship; Favorite Kiss; Favorite Individual Song (TIE); Favorite New Show (TIE)
Now if you do need something a little lighter and adorable, and you're also a fan of queer pirates and shenanigans (and who isn't), Our Flag Means Death might be more your thing. I generally enjoyed the first few episodes well enough (generally, because awkward comedy can be rough for me), but I was definitely sold in "Discomfort in a Married State" when Blackbeard and Stede meet for the first time. Taika Waititi is awesome in this, I adore his cute chemistry with Rhys Darby, and I am just so here for the actually canon Blackbeard/Stede ship. These two have so many cute moments—the wardrobe swap, the foot touch (spoilers in this clip, but also, God bless any movie or show that uses Fleetwood Mac's "The Chain"), THE KISS. This show has a pretty great support cast, too; I'm particularly fond of Jim, Oluwande, and Lucius.
Thank God HBO Max finally renewed OFMD for Season 2, cause otherwise, there was gonna be a riot. (Seriously, dudes. No need to wait for Pride next time. Don't torment us like this; it's cruel.)
Running Man
 Best Dance Scene; Favorite Betrayal; Best Product Placement; Favorite Scene Stealer
Just assume that I'm always watching this show. We literally have it on twice a week: Thursday is Classic Running Man Day and Sunday is Current Running Man Day. It is my silly time, and I need it, damn it.
Things this show is pretty much always good for: hilariously blatant product placement (in one episode, even the producer starts laughing and tells Jae Suk and Jong Kook to stop overdoing it), silly dances (So Min and Ji Hyo's birthday dances for Jong Kook are fun, but Sexy Security Guard obviously wins ALL the awards—he needs to come back immediately), and betrayals (the face Jong Kook makes in one episode when Jae Suk betrays him, holy shit, I was dying). Ah, this show makes me so happy.
The Crowned Clown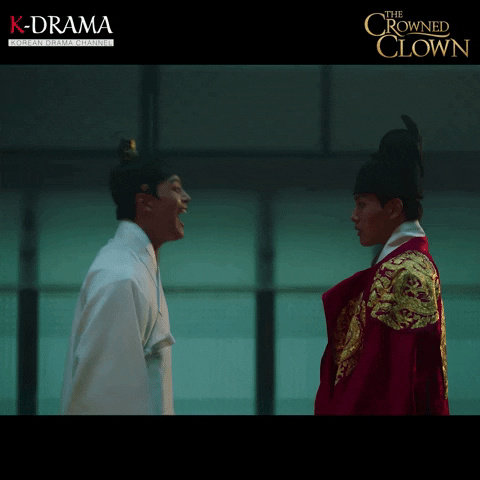 Favorite Sidekick; Favorite REVEEEEENGE; Favorite Holy Shit Moment; Most Unexpected Tears; Best Death; Worst Death; Favorite New Show (TIE); Favorite Individual Song (TIE); Worst Plan (TIE)
Oh, man. This show. This show. With a few notable exceptions, I'm not generally drawn to doppelgänger and identity swap stories, but I got super invested in this one: the characters, their relationships, the badass moments, the plot twists, the absolutely lovely score (my favorite song might be "The Way of Truth," but it's a very hard call, like, "Before Fall Down" is pretty amazing too, not to mention, uh, every other song). And the fantastic acting, my God, especially by Yeo Jin Goo and Kim Sang Kyung. NGL: I mostly checked this show out to see Yeo Jin Goo play batshit crazy—and whew, he does it well—but watching him flip back and forth between Yi Heon, Ha Seon, and Ha Seon pretending to be Yi Heon is especially a treat. And Kim Sang Kyung is wonderful here, too, particularly as we watch Lee Gyu's dynamic with both Yi Heon and Ha Seon shift over time. There's this one scene, especially, that just . . . oh, oh, my heart.
Really, though, this whole supporting cast is excellent. I enjoy Lee Se Young as So Woon (restrained, dignified, very different from her delightful role in A Korean Odyssey) and Jang Gwang as Eunuch Jo (I would die for this old man; his relationship with Ha Seon is so sweet). There are our villains: Jang Young Nam as the Dowager Queen (man, I love this actress, the notes she hits when she's enraged) and Kwon Hae Hyo as Shin Chi Soo (this fucking guy, I swear to God). And I can't forget about Yoon Jong Seok as Officer Jang, either (quiet badass, and cool to see in a more substantial role after a small part in The Guest). Truly, there is so much good about this show, so much to recommend . . .
. . . but by God, I hate the last 15 minutes so much . . .
Meet me in the Spoiler Section, The Crowned Clown, because boy . . .  we've gotta talk.
A Black Lady Sketch Show
Most Welcome Return; Favorite Opening Credits
Man, I wish this show had longer seasons. Six episodes is not enough! I was super happy to see A Black Lady Sketch Show come back, mostly because this show is a delight, but also because I'm always excited to hear the new theme song and see the new opening credits. (They change every season.) These opening credits, in particular, are great because they vary a little bit with each episode. Like how Skye Townsend is playing "the rich jilted bride" in Episode 1, but by Episode 6 has become "the rich jilted bride who just committed murder but has no regrets because she killed for righteous reasons including exposing her now dead fiancé as the man who accidentally ran over Robin's leg at her inaugural parade in the Maldives." I mean, that's perfection. No notes.
Moon Knight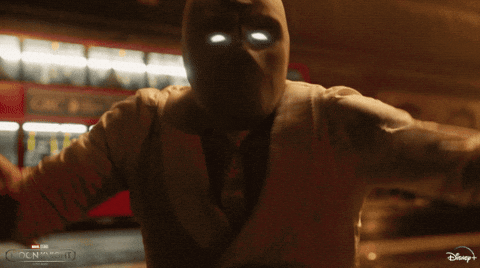 Most Unintentionally Hilarious Moment
. . . so, despite the fact that this show is only six episodes total, we gave up on it just two episodes in. Much as I like Oscar Isaac, Moon Knight just didn't do much for me at all. I'm only bringing it up now because holy shit, that time when Ethan Hawke speaks "Mandarin," like . . . let me tell you, I 100% do not speak Mandarin, watching a couple of C-dramas does not make me an expert on literally anything related to Mandarin, and even I was like, " . . . are you shitting me?" If you'd given me three guesses on what language Ethan Hawke was speaking in that clip, Mandarin would not have been any of them. FFS, Marvel. Hire some people for this shit, Jesus.
Star Trek: The Original Series
Best WTF Moment, Worst WTF Moment, Most Historically Relevant Moment, Character Who Most Deserves a Better Show; Worst Plan (TIE)
I know I've taken a hiatus—again—but I really am going to finish watching TOS sometime this year. In the meantime, "Plato's Stepchildren" is extremely notable, not only for broadcasting the very first interracial kiss between a Black/white couple, but also for containing the Best and Worst WTF Moments, all in one episode. (The best, obviously, is the GIF above—good for every occasion—while the worst is when Michael Dunn rides on Kirk's back like he's a pony. Seriously. WTAF.)
Meanwhile, I just so desperately wish the supporting cast in TOS got, like, subplots and actual shit to do. I know this was the 1960's, and it was legitimately a big deal to even have, like, a Black woman or a Japanese character onboard. I'm not arguing that, just, I want so much more from Uhura and Sulu. I want more of everyone, really, that isn't in our Holy OT3, but Uhura and Sulu especially. You two deserve more than this!
Nobody Knows
Favorite Bromance; Most Improved Character; Favorite Like-a-Parent & Child Dynamic; Favorite Kicked Puppy Face; Favorite Plot Twist; Grand Prize for Survival (TIE); Favorite Individual Song (TIE)
I randomly stumbled across this show while browsing Pinterest, of all things, and decided to check it out, partially because I'm a sucker for a good mystery, and partially because of the support cast: I'd just enjoyed watching Jang Young Nam and Kwon Hae Hyo in The Crowned Clown, and had also recently seen Ahn Ji Ho and Yoon Chan Young in All Of Us Are Dead.
I do think the first half of this show is stronger than the second (where I feel like the mystery gives way to a slightly weaker cat and mouse thriller), but I still really enjoyed watching this one. There are some clever plot twists, a fantastic score (unfortunately, most of my favorite instrumentals—including "Grandfather Clock" and "The Long Sleep"—aren't available on Youtube, but "The Secret Not Revealed" definitely got stuck in my head a lot),  and excellent acting all around. I really like Kim Seo Hyung as Cha Young Jin, our kickass female lead detective; she's no-nonsense, clever, and goddamn, that woman gets me whenever she cries. I really like her relationship with Eun Ho. Actually, I really like all the kids quite a bit. Naturally, I enjoyed all the cast I was already familiar with—it was almost funny, how bad I felt for Kwon Hae Hyo after hating his character so much in The Crowned Clown. I also really liked Ryu Deok Hwan as Lee Sun Woo and Park Hoon as Baek Sang Ho. Sun Woo is such a delightful scamp, but also constantly looks like he's on the verge of tears, like, you just want someone to hug this guy. Meanwhile, Sang Ho is, well,  one crazy motherfucker. (I actually have seen Park Hoon before in Descendants of the Sun, but I remember so little about that show; it only exists in my brain as a vague montage of Song Joong Ki, tears, and an improbable number of emergencies.)
Don't Call It Mystery
Favorite Non-Canon Ship; Favorite Hair; Worst Hair; Worst Plan (TIE)
This quirky Japanese detective show was Mek's pick, and for the most part, I had a lot of fun watching it. I like Totono as our lead Sherlock. He's a college student with just the most amazing hair, a serious appreciation for food, and a deep reluctance to solve mysteries for the police department, even though they keep coming to him and interrupting his dinner. Poor Totono. He so rarely gets to eat his curry.
Don't Call It Mystery has a pretty lighthearted tone, overall, but there are some surprisingly serious and affecting moments, and I definitely found myself invested in the (presumably non-canon) ship of Totono/Garo. (Although my God, Garo needs to fix his hair, STAT.) I'd be happy to be wrong, BTW, about the non-canon thing. It is possible; I've never read the manga. Mostly, I'm just hoping we aren't actually going forward with a Totono/Furomitsu ship. In fact, if we could just kill off this one-sided thing Furomitsu seems to have for Totono, that would be great, too. In general, I would like Furomitsu to get an upgrade in Season 2 (assuming there is one), because even her subplot in the bonus episode doesn't quite work as well as I'd like. (She gets a friend, who is fantastic; I 100% approve of New Lady Cop and their dynamic in general. But Furomitsu's plans leave something to be desired, and the Lesson she supposedly learns, well. Without spoilers, let's just say that I remain unconvinced that she actually demonstrated learning anything, no matter what the other characters insist.)
Finally, before spoilers . . .
Legends of Tomorrow
Most Painful Cancellation
You may have noticed that Legends of Tomorrow wasn't on my Shows I've Been Recently Watching list, and that's because I fell behind on Season 7 and haven't yet caught up. I'll admit, I wasn't feeling the beginning of this season quite as much as seasons previous, and thus it fell by the wayside when I got busy. Still, I was absolutely planning to catch up because Legends is charming and ridiculous and laugh-out-loud funny, and unlike pretty much every other CW superhero show I dropped, I really wanted to see this one through.
Only then in May I found out that the show had been cancelled, which sucks for all sorts of reasons but especially because I'm pretty sure it ends on some kind of (now forever unresolved) cliffhanger, and I'm trying to decide if I even want to bother finishing it, if we're only gonna end on some terrible, unhappy note. CW, you absolute bastards. I saw that awful, AWFUL Gotham Knights trailer. You're cancelling my beloved Legends for shit like THAT? Unacceptable.
And now, let us continue into the . . .
SPOILER SECTION
SPOILER SECTION
SPOILER SECTION
SPOILER SECTION
I wanna wrap this up, so I'm only gonna talk about a couple of the shows that I mentioned before. First, let's discuss . . .
Nobody Knows
Favorite Plot Twist; Grand Prize for Survival; Favorite Bromance; Most Improved Character
So, Eun Ho is a fifteen-year-old kid who ends up in a coma after mysteriously falling from the roof of a ten-story hotel. Of course, that's far too high a fall for anyone to reasonably survive in real life, but Plot Contrivance is a powerful god, Eun Ho was definitely on the roof at some point, and salvation is a Big Damn Theme in this show, so sure, it was possible that Eun Ho had actually fallen from the roof . . . and yet, I wondered. Was Sun Woo's disbelief that Eun Ho survived not just honest shock but also foreshadow? Was Sang Ho pushing that "miracle" narrative a touch too hard? Eun Ho falls, certainly, but was it possible that he actually fell from somewhere else?
It turns out, yes on all counts! Eun Ho, being chased by Sang Ho's people, finds himself trapped on the roof and uses the emergency ladder to try and escape—but he only gets roughly halfway down before one of the bad guys gets hold of the rope and starts hauling him back up. Desperate, knowing that being captured will mean certain death, Eun Ho does the only thing he can think of—he jumps, trying to escape. Which means his survival is still pretty miraculous, considering that fall,  but not quite so damn impossible. It's really a clever and nicely executed twist.
Also, I just need to mention that I became so damn invested in the unlikely friendship between Eun Ho and Dong Myung, Dong Myung and Min Sung, and just all three of these kids together. I adore sullen but sweet Dong Myung, sweet but frustrated Eun Ho, and, er, sweet-post-redemption Min Sung. This kid definitely improves over time. Another character who improves over time is the one total jerk cop on the team who apparently just . . . realizes he's being a total jerk? And then, like, stops? It's kind of neat, actually; I really ended up enjoying the dynamic of Young Jin's team, especially once she starts actually being honest with them.
The Crowned Clown
Most Unexpected Tears, Best Death, Worst Death; Worst Plan
Before I get into extended ranting, let's discuss the excellent death scene in this show. Actually, there are multiple good death scenes here—Lee Gyu is another very strong contender, sob—but nothing surprised me as much or hit quite as hard as Yi Heon. It's a surprise partially because Yi Heon is a Big Deal Character, one of the two roles being expertly played by Yeo Jin Goo, a primary villain and a king gone mad. Upon starting this show, I certainly didn't expect him to only make it halfway through before getting murdered—a surprise, but absolutely the right call.
But it's not just the timing that's a surprise. I was genuinely shocked by how heartbreaking this scene was. If you haven't watched The Crowned Clown, let me tell you: Yi Heon is the actual Worst. I'm not saying he doesn't have some cause, like, the kid has definitely had it rough: his dad never loved him, people tried to assassinate him, and advisors he should've been able to trust deliberately hooked him on opium and slowly drove him crazy. OTOH, dude becomes so monstrously paranoid that he orders the murder of his own adorable baby brother, like, seriously, this kid can't be more than, IDK, 8? Yi Heon abuses his servants, orders his wife's execution, and sometimes violently loses his shit and kills people. (Admittedly, not great people. Still, this man should not have access to a sword.) Trust me, we were rooting for Yi Heon to die during this show.
And yet when it actually happened . . . I mean, I wept. This scene is so heavy that Mek and I actually took a small break from the show. Yi Heon is so achingly vulnerable, so childlike, in this episode. The drugs have ravaged his body and mind to the point that he can barely hold a sword or feed himself; at one point, he barely seems to understand where he is. And then he's betrayed ( justifiably so) by the only person that he trusts: Lee Gyu, his one loyal advisor since childhood, the man Yi Heon wishes was his own father. (You know, just to really dig that knife in.) The acting between Yeo Jin Goo and Kim Sang Kyung in this episode, just, gah. It's heartbreaking, but it's so GOOD.
Less great, unfortunately, is the death of Officer Jang and, generally, the whole ending of The Crowned Clown.
Okay, so. Here's how this goes: in the last, say, 15 minutes of the show (give or take, I didn't go back and count), when we seem to be at our relatively happy ending, Ha Seon has decided to abdicate the crown and go off to live in the countryside. For God knows what reason, he leaves the palace by himself, only Officer Jang knows that's dumb, so he secretly sneaks out to protect him. Of course, Ha Seon is immediately set upon by a handful of enemies who stab him, and Officer Jang dies trying to protect his dumb ass. (It's supposed to be worthwhile because we flashback to the moment when Officer Jang says that he wants to serve Ha Seon and die a glorious death while defending him, which, like. Technically? But writers, this is not a glorious death, especially considering he dies presumably thinking that he failed.) We then fast forward two years later and reunite Ha Seon (who survived, possibly—we'll get there) and So Woon, who's been waiting for him all this time. And . . . that's it. That's where the show ends.
And I'm like, okay, NO. Folks. Lovelies. I know I've ranted about many character deaths on this blog, but I haven't been this unhappy about a lousy death scene in a long, long time. This is such a bullshit way to kill off an important supporting player. Unlike the other heartbreaking deaths on this show, Officer Jang goes out in such a shitty throwaway moment. The whole scene takes maybe less than a minute and feels incredibly tacked on for one last moment of cheap and unnecessary drama. The only consequence of this last minute attack is that it takes Ha Seon and So Woon a little longer to reunite. That's it. That's the whole reason Officer Jang gets killed. It's so infuriating, especially because A) Ha Seon's decision to leave alone is just unthinkably stupid, and B) the people who kill Officer Jang aren't even cool villains! They're just some nameless henchmen of the dead Queen Dowager, and FFS, there aren't even that many of them! Officer Jang has definitely survived worse odds before, but now he bites it fifteen minutes before the credits roll? Nope. Fuck that. Don't buy it at all.
It's also worth pointing out that The Crowned Clown has a somewhat ambiguous ending because it's been interpreted in one of two ways: either Ha Seon and So Woon reunite after Ha Seon nearly dies, OR Ha Seon also dies with Officer Jang, and his reunion with So Woon is actually in the afterlife. In which case . . . holy shit, that is not better. Not only is it a horrifically tragic and unnecessary twist to pull during the last few moments of a show, it also means that Officer Jang died for nothing. Seriously, NO.
I don't regret watching The Crowned Clown, like, it legitimately became one of my favorite K-dramas, and I would still recommend it to people (with, admittedly, a pretty big caveat), but the way it ended . . . holy shit. Like, this honestly goes on my Worst TV Endings Of All Time list. Probably not as high on that list as other shows, say, Game of Thrones or Battlestar Galactica, but . . . yeah. It's definitely on there.
Well, guess that's it for now. Feel free to agree with me or argue with me or talk about the shows you've been watching in the comments, and I'll be back with more superlatives in two or three months!