Happy New Year, everyone! I'm loathe to even express hope for 2021 at this point, so let's just belatedly talk about the Christmas movies I watched last week instead.

Anna and the Apocalypse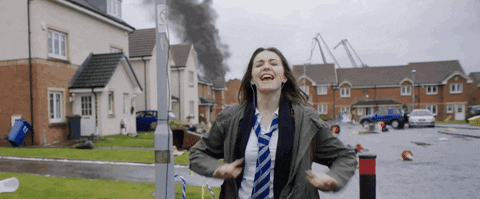 Year: 2017
Director: John McPhail
First Watch or Rewatch: First Watch
Amazon, Netflix, Hulu, or Other: Amazon
Spoilers: Some, but I don't think any Big Ones
Grade: Vanilla
Ah, the traditional zombie musical holiday movie. I enjoyed Anna and the Apocalypse, although it's a bit darker than I expected it to be. Ridiculous of me to assume otherwise, I know–horror comedies obviously tend to skew dark, not to mention Clear Foreshadow song "Hollywood Ending"–but I suppose I was thrown by all the dancing and cheer and cast full of generally likable characters? Musical comedies and horror comedies generally have different rules about who and how many people you can murder, and I found myself expecting a story that adhered more to the former than the latter. As such, some of the character deaths here definitely took me by surprise.
My absolute favorite character, though, is Assistant Headmaster Savage, who starts out this movie as a curmudgeonly antagonist–as all vice principals must–before transforming into a glorious mad villain–as all vice principals must. I've read a few reviews now that feel this turn is forced or unnecessary, and TBH, they aren't wrong. But I also don't care because Savage is so utterly delightful that I don't give a damn what he's doing, so long as he keeps talking. Every line is somehow drier and more disgruntled than the last until this dude's sitting in the dark, ominously explaining that he's eating his Christmas dinner, and I'm near in tears. Savage, BTW, is played by Paul Kaye, who also played Thoros of Myr in Game of Thrones, and now I'd really like to see a slideshow comparing every GoT actor with their absolute LEAST GoT-like roles.
Anna and the Apocalypse is also one of those movies where the horror might take you by surprise if you just stumbled across it on TV without knowing anything about the story. The first, IDK, 15-20 minutes play as a standard cute high school musical, and then we get "Turning My Life Around," which changes everything. This scene is epic, delightfully having fun at the vast suspension of disbelief one inherently needs to enjoy musicals. Other favorite songs include "Soldier at War," "Nothing's Gonna Stop Me Now," and "It's That Time of Year."
Silent Night, Deadly Night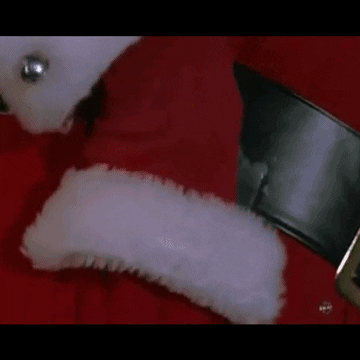 Year: 1984
Director: Charles E. Sellier Jr.
First Watch or Rewatch: Rewatch
Amazon, Netflix, Hulu, or Other: Other – Personal Collection DVD
Spoilers: Yup
Grade: Strawberry
Despite owning this movie, I haven't seen it in years and was a bit worried Mekaela wouldn't like it and/or the film wouldn't hold up, especially since some movies–especially ridiculous ones–are best experienced in a big group of people. These concerns proved groundless: Mek was hilariously indignant on Billy's behalf, rooting for his inevitable killing spree to begin, and–despite the dreaded grade of Strawberry–I still find Silent Night, Deadly Night pretty solidly entertaining. There are things I'd change, certainly: the attempted sexual assault in the prologue, for instance, or the sheer number of tits on display. (The most egregious moment is when Scream Queen Linnea Quigley pulls on a pair of Daisy Dukes to go outside, but doesn't bother putting on a bra or shirt? What?) Also, while I love that a kindly old priest gets killed after being mistaken for Evil Santa . . . IDK, maybe don't make him deaf?
A list of standout moments: any time Billy says "NAUGHTY!" or "PUNISH!" (I'm definitely going to start yelling that at my cats now.) The ending, which sets up for the sequel that I still haven't seen. (2021 Goals!) That fucking amazing moment when Billy gifts his bloody knife to a little girl. (Wait, this movie has five sequels and none of them are about this kid? JFC, hire me; I will write the shit out of an Evil Girl Santa movie!) Little Billy punching Santa Claus is pretty great, too, and that this toy store sells, like, actual bows and arrows, I guess? I mean, yeah, why not? Some of the death scenes are  fantastic, like, Bully Decapitated on a Sled is just *chef's kiss,* and the dude who dies when he gets thrown through a window? YES. Partially because he's impaled on just a ludicrously large piece of glass, but mostly because holy shit, someone in a movie finally dies from going through a window pane! I'm also in love with the blatant changes in film quality that sometimes happen mid-scene. It's the absolute best.
The gigantic controversy that emerged when this movie came out is still shockingly absurd. I feel sorry for anyone whose career might've suffered just because people lost their minds and decided Silent Night, Deadly Night was an attack on Christmas, like, this wasn't even the first Killer Santa movie, goddamn it. I remain vexed on this film's behalf, and never mind that the movie is a year older than I am and no one cares anymore. This is nonsense. People should still be ashamed of themselves.
Die Hard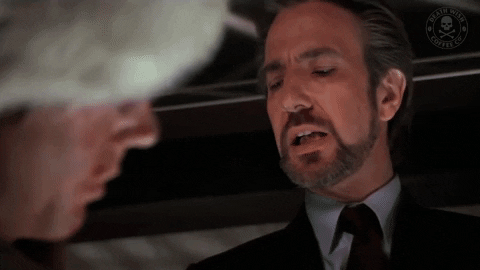 Year: 1988
Director: John McTiernan
First Watch or Rewatch: Rewatch
Amazon, Netflix, Hulu, or Other: Other – HBO Max
Spoilers: Obviously
Grade: Chocolate
Well, I mean. Die Hard is always gonna win for me: I grew up on this one, and the nostalgia factor is just too strong. It's been my favorite Christmas movie since childhood, and honestly works even better for me as an adult–except that, like most cop movies, it's kinda 2+ hours of police propaganda. (We need more mavericks like McClane! It's only pesky rules that stop hardworking cops getting the job done! Thank God Al Powell learned the Will to Kill again after shooting an innocent kid!) Still. Messaging aside, I do love this one. There are just so many little moments I enjoy: all the humming and singing ("Ode to Joy" has honest to God become a Christmas song in my brain), Al Leong's improvised candy bit (it is low key my favorite joke in the whole movie), Karl and Theo's bet (which I somehow didn't notice for years), etc.
The dialogue, too, seems effortlessly funny. All the Big Lines, of course, but also the little asides. The way Alan Rickman says, "I must have missed 60 Minutes." The obvious amusement in Reginald VelJohnson's voice when he asks, "Hey, Roy, how you feeling?" How Tony's actions–wait, his name is TONY–somewhat belie his words when he assures, "I promise I won't hurt you," or the way James Shigeta quietly reminds Ellis, "Holly's husband. Holly's policeman." TBH, I just adore Shigeta in this movie and always get a bit bummed when Takagi dies. Hans, too, of course, because let's be honest: we all want to see the AU version where Hans wins, right? Or at least some deleted scenes with Exasperated Hans listening to John and Powell talk? Basically, I want more of Alan Rickman at every given opportunity. Damn, I still miss him.
Obviously, there's really not much I can say about Die Hard that hasn't already been said a billion times over. But I'm here, so: A) I have a lot of Feels/Ideas about characters who build a relationship (of any kind) before actually meeting, so of course, I think it's awesome that John does this with his closest ally Powell (only one scene together) and Big Bad Hans (only two). B) I like that John is mostly a regular guy who gets caught in a bad situation, rather than the Super Cop he'll become in subsequent sequels. (He's  also a bit of a sociopath–evidence HO HO HO–and probably would've gotten everyone killed with that C4, but we'll ignore this for now.) C) A bad guy actually does die from being thrown through glass; however, this moment is somewhat negated when John swings straight through a glass window himself and is basically fine. And D) I love that Kristoff survives because I don't care what anyone else says; he lives, and it is the BEST.
Finally, I'm mildly obsessed with recasting movies, just for the challenge of it. Lately, Mek and I have taken to recasting movies and TV shows with Korean actors–I always end up casting Choi Won-Young as somebody–and, of course, we've already did a genderbent cast for Die Hard a couple years ago. (Scroll down quite a ways.) I mention all this because while watching Die Hard for the 574th time, I was  struck by a strange if charming idea: what if LeVar Burton had been cast as Theo? Not because I dislike Clarence Gilyard Jr. in this, but . . . I don't know, I'm just very amused by the idea of everyone's favorite children's show host/mild-mannered Chief Engineer playing a bad guy (albeit, a comic relief bad guy). He could absolutely do it, and I think it would've been fun to see. Which naturally led Mek and I to a new game: recast actors who could somewhat reasonably have played these roles in 1987. We haven't settled on a full cast yet, but I can tell you that some of the nominees for Karl have seriously cracked me up.