Somewhat recently, The Dark ran a successful Kickstarter campaign that not only secured funding for two more years, but also raised their pay rates from .03 to .06 cents a word, making them a pro-paying magazine. This is awesome news because The Dark is a fantastic magazine publishing awesome work you should definitely check out, but I'm mostly bringing it up now because I–with a lack of cool crafty skills or, honestly, much else to offer–once again volunteered a movie review or pop culture essay as one of the possible Kickstarter rewards. Alas, there really is only one person out there who has both the interest and the means to purchase these reviews.
And that person, once again, is Tom.
Tom, the fiend, spent a good twenty minutes gleefully telling me about all the movies he almost made me watch. Honestly, I was kinda hoping he'd land on Cannonball Run II, mostly because I've never seen the first one and I thought that could be pretty funny. Finally, however, he told it to me straight: of all the horrible films he could've chosen, Tom actually picked a movie he thought I would like and was shocked I hadn't seen yet: Blade Runner 2049.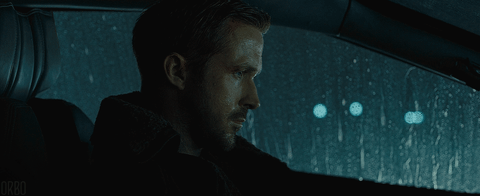 And I was grateful for that . . . until I saw the run time was 2 hours and 44 minutes long.