Jumpin' Jack Flash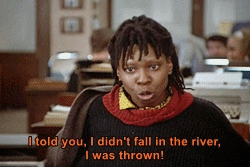 First Watch or Rewatch: Rewatch
Amazon, Netflix, Hulu, or Other: Other – Personal Collection DVD
Spoilers: Nah, unless you really don't wanna know who plays Jack
Grade: Chocolate
I haven't watched Jumpin' Jack Flash in years, but I grew up on this movie–I grew up on a whole bunch of Whoopi Goldberg films, actually; she was probably my favorite actress as a kid–and I'm stoked to see this one holds up really well. Not everything holds up, like, there are one or two jokes best left in the 80's and, of course, Marty (Stephen Collins) is super likable until you remember that the actor playing him admitted to sexually abusing minors in 2014.
The movie, though, is pretty great, and I adore Terry (Goldberg), our foul-mouthed, hopeless romantic, total nerd of a protagonist. (If you're going to argue with me about the nerd thing, you're wrong: she's a computer geek, talks to herself, dresses kind of goofy, has toys all over desk, etc. NERDS UNITE FTW.) And Whoopi Goldberg is great in the role: she's sharp, funny, and somehow manages to make all the many scenes of reading Jack's messages out loud actually seem natural. The genre blend of romantic-spy-comedy works really well for me, and I just love a lot of little things about this movie: all the dialogue, the Rolling Stones appreciation, the set design of Terry's apartment–I need that giant toothbrush–etc. I like a lot of the supporting players, too: I particularly get a kick out of Peter Michael Goetz as Mr. Page, not to mention that this was the first movie I knew either Garry Marshall or Carol Kane from. (Kane's line delivery of she's unwrapping the STROLLER is often, and poorly, imitated in this house.)
Plus, Jumpin' Jack Flash has gotta be Hollywood's very first internet romance, right? Like, this movie was made in 1986. It's so ahead of its time! (Although I will admit that, as a child, I was very disappointed with how Jack looked when he finally showed up. Apologies to Jonathan Pryce, but deeply shallow 7-or-so-year-old Carlie was like, "That guy? That guy is Jack?" It was like watching the Beast transform into his inferior human self with his inferior human voice all over again. At least Jack's voice didn't completely change.)
The Skeleton Twins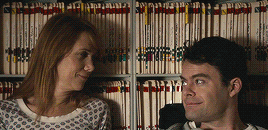 First Watch or Rewatch: First Watch
Amazon, Netflix, Hulu, or Other: Amazon
Spoilers: Nope
Grade: Vanilla
I've been wanting to try out more of Bill Hader stuff's since watching It, Chapter 2, so naturally I had to a) binge the first season of Barry last week, and b) check out The Skeleton Twins, a dysfunctional family comedy-drama about estranged siblings. I have kind of a soft spot for both sibling stories and dysfunctional family shit, though I'm often not enthused about how said stories turn out, the former because it so often boils down to "opposite siblings are opposite" and the latter because they're so often focused on unhappy marriages, like, I could easily go ten years without another boring marital affair subplot.
The Skeleton Twins definitely does have some marital affair shit going on, but for the most part, I liked this movie. I'll admit, I can't help but feel that there's something missing from it, but I'm hard-pressed to say what, exactly, just that there's a certain amount of predictability to all the emotional beats of the story, so I always felt like I knew exactly where it was going. Still, the acting is great all-around: both Bill Hader and Kristen Wiig give strong performances, and Luke Wilson is just spectacularly well cast. There are also several scenes I really enjoyed (this lip-syncing one is obviously a highlight), and I did become very invested in Milo and Maggie's relationship, like, I'm really rooting for them to work it out and save each other. And sure, while the siblings initially come across as "the responsible one vs. the irresponsible one," it's pretty obvious from the get-go that this isn't really the case, and I liked that.
John Wick: Chapter 3 – Parabellum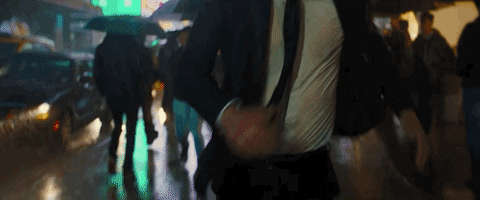 First Watch or Rewatch: First Watch
Amazon, Netflix, Hulu, or Other: Amazon
Spoilers: Only mildly
Grade: Strawberry
This is okay, but it's definitely my last favorite of the John Wick series thus far. On the plus side, all the fight scenes are a lot of fun, obviously–John kills people in creative new ways, like with books or horses! And I like some of our recent additions to the cast: Asia Kate Dillon has got such a cool aesthetic here, and besides which, I'm forever a sucker for the administrative side of the assassin business. (See also my absolute obsession with the tattooed switchboard operators. Jesus Christ, I love them so much. I want a TV show with them so badly.) I also enjoy Mark Dacascos as our slightly psychopathic assassin, mostly because he so often plays a very solemn or dignified character–Double Dragon very much excepted–where here it's more like "I'm a fan!" and "we could've been pals if only I didn't have to kill you!" I could do without the whole "we're the same, you and I" stuff, but otherwise, I liked him.
Still, I think Parabellum has some structural issues. Not much about Casablanca works for me, I'm afraid: Halle Berry's whole section feels like an awkwardly inserted backdoor pilot, which I'd probably be more willing to forgive if I liked her better in the role. Unfortunately, I never really bought Sophia's whole angry, tough girl thing, anymore than I did in X2 when Storm very suddenly became super angry and super American. And to be clear, I was 140% into all of her fight scenes, like, Berry does a great job with them, and her dogs are obviously the goddamn best, but the scenes with actual dialogue? Yeah, I didn't love them. Jerome Flynn and Saïd Taghmaoui also felt unnecessary, especially and unfortunately Taghmaoui, who I've enjoyed in various small roles over the years, but this one is just . . . meh. Not poorly acted or anything; I just didn't care about this whole "man who sits above the table" thing. And all John's wandering through the desert like Jesus just felt . . . silly, and surprisingly, not the good kind of silly.
And it must be said that while I emphatically do not come these movies looking for realism, like . . . come on, there is a limit to how many times a dude can be thrown through a wall of glass without bleeding out before I'm like really? REALLY? I quickly lost count, but I wanna say John got kicked or thrown through, like, 13 different panes of glass in about fifteen minutes, and dude, that boy be dead. That boy is an ex-parrot. And I don't care if he's the Baba Yaga or not; if this motherfucker doesn't have Wolverine's healing abilities, he's stick-a-fork-in-me done. It's not just all the glass, either, although admittedly, that's probably the most in-your-face absurdity; during this movie, John also gets a) hit by two cars, one right after the other, b) stabbed in the shoulder (where the blade nicks the artery, but a quick five-minute stitch-up with no blood transfusions, and he's fine), and finally c) shot off a fucking roof–and like, I'm not talking some one-level grocery here. This is a four story building, and this motherfucker bounces off a metal fire escape on the way down. John Wick is basically just a broken meat sack of goo at this point, or should be.
Generally, I enjoy how this movie sets up for the next, but man, if John Wick, Chapter 4 doesn't reveal his secret origin story as a metahuman or literal creature of the night, well, my friends, we've shot past light speed straight into ludicrous speed.