Much Ado About Nothing
Year: 1993
Director: Kenneth Branagh
First Watch or Rewatch: Rewatch
Amazon, Netflix, Hulu, or Other: Amazon
Spoilers: Bitches, please, this story is literally over 400 years old
Grade: Chocolate
I grew up on this movie, like, Much Ado is some formative shit, and I absolutely love it to pieces, despite some of the, ah, questionable acting. It's not just Keanu Reeves, either, although I can't say this is his finest hour. (Too bad, too; I'd really love to hear someone nail that whole "I cannot hide what I am" speech.) Robert Sean Leonard is also . . . not great, like admittedly, Claudio is the actual worst? Still, dude's pretty hard to take seriously. And Michael Keaton, just, what? WHY? Branagh, why didn't you stop this?
However, I love Emma Thompson as Beatrice; oh, she's so good, and her scenes with Kenneth Branagh are magic. I also kinda adore Denzel Washington here, who I rarely see in comedies and just seems to be having a delightful time . . . and yes, he does rock those leather pants quite nicely, thank you. (I highly approve of Shakespearian men in leather pants, and have since I saw a production of Romeo & Juliet where Mercutio, dancing around without a shirt, was even more enjoyable than usual.) I'm fond of Richard Briers as Leonato, too, whose hilariously nonchalant delivery makes "she does indeed, my daughter says so" my favorite line in the whole movie. (This entire scene is pretty great, honestly, and is actually where I think RSL does his best work. The comedic overacting is perfect. It's the dramatic bits I don't quite buy.)
Gosh, there's so much to discuss with Much Ado. Like butts. If there was an award for The Most Ass Shots in A Shakespearian Adaptation, it would go to this movie, hands down. (Pleasantly, we get equal opportunity ass shots. It's not just the ladies for once!) I'd also like to mention that while the cast is overall very white, I do love that Denzel and Keanu are brothers, and no one awkwardly inserts some forced exposition about it; they're just enemy-bros and that's that. I like many actors in the supporting cast, too. I'm always here for Brian Blessed and his absurdly deep voice, and I'm never gonna say no to Imelda Staunton, either–although Margaret's a much more interesting character in the play, which is a hill that I will die on. And hell, how did I go all these years without realizing that Emma Thompson's mom plays Ursula. It's so obvious once you know.
Finally, a few things: A) Let's be real here: that friar is sketchy as hell. B) Leonato seems like a pretty good dude, that is, until he's all "I shall not suffer a slut to live." Seriously. Fuck this guy. C) Claudio can't even be bothered to sing his own goddamned lament. He straight up has that one random singer dude lament for him, ugh, Claudio is THE WORST. And D) In the end, everyone happily dances around except Don Pedro, presumably because he's the only single dude left? Bullshit. Bullshit to that whole idea idea, but also, bullshit to anyone picking Robert Sean Leonard and Kenneth Branagh over Denzel Washington. (I have to admit, much as I ship Beatrice/Benedick–and I very much do–there's a part of me that's always wondered what a Beatrice/Don Pedro ship might've been like. I'd read that rare pair fanfic.)
Hell Fest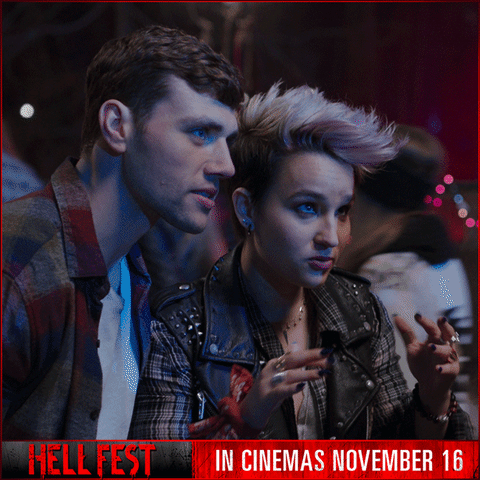 Year: 2018
Director: Gregory Plotkin
First Watch or Rewatch: First Watch
Amazon, Netflix, Hulu, or Other: Netflix
Spoilers: Yep, sorry
Grade: Strawberry
This was our Bloody Hearts pick of 2021, and despite the film's dismal reviews, I think it's a pretty decent slasher. Admittedly, it doesn't have the best start. The acting in the opening scene is, yeah, not stellar. Also, the Killer's habit of humming "Pop Goes the Weasel" gets real old real quick. But the main cast is pretty likable. I am, of course, primarily here for Bex Taylor Klaus–and the Tony Todd cameo, obviously–but all the actors have good chemistry with one another, and there's a lot of easy banter back and forth, which I very much enjoyed. Also, Mek and I definitely wanna go to this amusement park. Sans the murderer, preferably, but otherwise, this place looks pretty great. Well. Okay. While I'd absolutely love to go on an actual haunted house ride (especially if it "broke down" halfway through, YES), I'd sadly have to skip this one, as I won't do haunted houses where people get to touch me. I don't even want most people I know to touch me. I am, and forever will be, this GIF.

It's great that the love interest dies first. Partially because it's surprising, partially because that mallet to the face hurts me, and partially cause this guy makes absolutely terrible choices, and I feel little pity for him. (Come on. Who goes back to steal a stuffed toy just cause you can't win one? I promise you, dude, your girl doesn't give two shits whether you're good at carnival games or not, and your fragile sense of masculinity is an impressively stupid reason to risk being arrested.) I love, too, that both our final girl, Natalie, and her BFF Brooke make it out alive. Brooke's survival is especially awesome, as she's both the MC's BFF and the only Black actor in the main cast. These are extremely bad odds in a slasher; I've got Brandy surviving I Still Know What You Did Last Summer in 1998, and . . . that's about it. I only wish that Taylor also survived because I adore Bex Taylor Klaus so much, and they're awfully fun in this film. Still. Such is life.
Final, random thoughts: I kinda like that Natalie doesn't have some stereotypical 'dead mom or other trauma' backstory to explain why she's been distant; life's just a Lot and people get busy, and that's fine. I really like the ending, too, how we don't get the usual last minute scare where our killer pops up in Spain or something; instead, he just goes home, adds to his serial killer trophy collection, and interacts with his cute little daughter, all of which is, TBH, much creepier. (Though, as an aside, I'm not sure exactly how Natalie is planning to get to Spain if scholarship money is currently a problem.) I'm not sure, admittedly, why Natalie and Brooke are just chilling outside one of the haunted houses at the end of the movie, presumably still bleeding, while the killer is on the loose, like, maybe we should get them to a hospital under police escort ASAP cause, you know, there are limits to the usefulness of shock blankets. Otherwise, though, yeah, I found this one pretty enjoyable.
Space Sweepers
Year: 2021
Director: Jo Sung-hee
First Watch or Rewatch: First Watch
Amazon, Netflix, Hulu, or Other: Netflix
Spoilers: Only mildly
Grade: Vanilla
Space Sweepers is a lot of fun. I think, maybe, it could've been a bit shorter? And I feel like we might be stretching what can realistically be expected of nanotech, but also, I care not at all because seriously, FUN. I love the whole Victory crew, I love how wildly dysfunctional they all are, and I genuinely like how long it takes our protagonist, Tae-ho (Song Joong-ki) to fully get onboard with doing the right thing–but for reasons you get, not just, y'know, Asshole Reasons. I'm obsessed with Captain Jang's whole aesthetic, I mean, damn. She's great. Kot-nim is adorable. Tiger Park is kinda adorable, too, and of course, I adore Bubs, because I am always here for both A) sarcastic, money-hoarding robots and B) gender identity and expression in robots. Bubs is awesome.
Our villain is played by Richard Armitage, which is hilarious because I never recognize this guy, ever; my brain just refuses to lock in on his face. Mek will be like, "Hey, is that Richard Armitage?" and I'll be like "WHAAAAT?" as if we haven't had this exact same conversation twice before. I enjoyed the whole supporting cast, too, and the effort to really make this story feel international. Just in general, there are a ton of small moments that I loved: the makeup scene, Tae-ho and Tiger Park getting into a water fight, the fact that our heroes are just so hilariously bad at being criminals, etc.
I don't think there are any plans to make a Space Sweepers sequel or spinoff or anything, and TBH, we don't really need one. The movie stands fine on its own. Buuuuuut . . . you know. If someone were to do that, I'm just saying. I'd definitely watch another movie or television show in this verse.