The Witch: Part I – The Subversion
Year: 2018
Director: Park Hoon Jung
First Watch or Rewatch: First Watch
Amazon, Netflix, Hulu, or Other: Netflix
Spoilers: Surprisingly, no
Grade: Chocolate
Oh, I really enjoyed this Korean SF/F action-horror movie. I confess to not totally getting the title (something lost in translation, perhaps), but the movie itself is a pretty good time. Kim Da Mi is excellent here as Goo Ja Yun, an amnesiac who ran away ten years ago from one of those evil government facilities that likes to experiment on children. (A very specific sub-genre I'm apparently a sucker for, considering Dark Angel, Stranger Things, The Pretender, etc.) I also like Go Min Shi, who plays Ja Yun's excitable best friend, and Choi Woo Shik, who plays, well, Chaotic Evil. I very much enjoyed the latter's work in Train to Busan and Parasite, but it wasn't until I saw this movie that I realized, oh, he's not just talented; he's hot. Lots of people try for smirky evil hot but only manage smirky obnoxious. Choi Woo Shik is not one of those people.
The Witch: Subversion – Part I has a slow, steady build with an explosive third act, and I'm looking forward to seeing a sequel. (I believe a trilogy is planned?) There are other things to talk about; unfortunately, they all include spoilers, and I'd prefer not to get into those now. But the movie is an awful lot of fun, and I'd highly recommend it to anyone who also enjoys a) this very specific sub-genre, and b) violence. Because there is most certainly violence. Obviously, I approve of this.
Death Bell
Year: 2008
Director: Chang
First Watch or Rewatch: First Watch
Amazon, Netflix, Hulu, or Other: Other – Youtube
Spoilers: Some. Mind the tags, in particular
Grade: Strawberry
This is apparently a hugely popular horror film in South Korea and was fun enough to watch, but ultimately, I'm pretty meh on the actual execution. I'm all about the basic setup, of course: a group of kids (and teachers) are trapped at a high school and forced to successfully solve a series of test questions, or else their classmates will be violently murdered. I like the idea of the bad guys here and their respective motives. I'd genuinely like to see this film remade by a different director with a better script.
But as is, I have several problems, like, almost none of the death traps work for me, not just because they're such obvious Saw knock-offs, but because they're way too elaborate and ridiculous to fit the actual scenario. (Some people are quick to accuse a horror movie of being a Saw knock-off just because its exceptionally violent and/or includes death traps, but these ones really do lack originality.) There is both a human and supernatural angle to this story; unfortunately, the supernatural stuff mostly feels mishandled. The last minute twist seems particularly cheap because it doesn't feel supported by the actor's performance at all–though it does, I suppose, at least make another character's whole storyline less random in retrospect. (Still not terribly fond of it, TBH.)
Additionally, two quick notes: one, I'm all about horror movies acknowledging that girls have periods–seriously, I am all for it–but this mostly felt like an excuse for a weird upper thigh shot, so, eh? And two, any sympathy I might have had for one character completely goes out the window the second she realizes that everyone around her has mysteriously passed out and decides that this is a great time to put on her headphones, alone, in the middle of a school where multiple people have been murdered. I. You. What. WHY?!?!?!
Guns Akimbo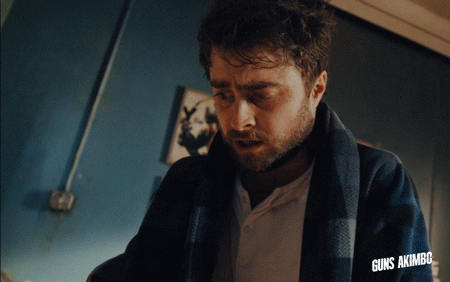 Year: 2020
Director: Jason Lei Howden
First Watch or Rewatch: First Watch
Amazon, Netflix, Hulu, or Other: Amazon
Spoilers: Not really
Grade: Vanilla
There's a lot to like here, especially if you're into over-the-top, gonzo action flicks like me, but there are also things that don't quite land. For one, I'm not sure I'm totally buying our Big Bad; Ned Dennehy is okay in the role, but I feel like other actors could've done more with it. Neal McDonough, for instance, was made for this kind of villain. Also might've enjoyed Clancy Brown, who Mek suggested for some punk Highlander vibes. More importantly, though, Guns Akimbo has this weird tendency to throw in a moral now and then that just doesn't work. Like when Miles (Daniel Radcliffe) wonders how long it's been since he went outside without staring at his phone, and I'm like, bitch, that's some weak tea satire; are you actually mistaking that for an original perspective, and anyway, who the hell is thinking "gosh, I wish I'd stopped to smell the roses" when they're stumbling around after waking up with gun hands? I feel, too, that there's a small but annoying thread of "anti PC culture" running throughout the film, an impression that only seems validated after remembering the controversy around director Jason Lei Howden. Yikes.
All that being said, I could watch Daniel Radcliffe and Samara Weaving in this all day. They're both great here: Radcliffe has some absolutely phenomenal reactions–I am so down for all his absolutely bizarre post-HP projects–whereas Weaving is just as iconic here as she was in Ready or Not. She's pretty fantastic in this, IMO. Not every bit of humor lands right (Rhys Darby's character, sadly, feels like a series of punch down jokes, much as my Voltron geek girl heart hates to admit it), but a lot of the dialogue is genuinely hilarious; for example, I about died when Miles tried to cut off this cop's tragic backstory. I like Nova (Natasha Liu Bordizzo), too; she doesn't get much to do, unfortunately, but I did find her interesting. Also, Nerf Guy!
If you like the concept of Guns Akimbo, there's a decent chance you'll like the movie: there are some really fun fight scenes, amusing bits of meta humor, one or two solid surprise moments, and just a very enjoyable soundtrack. I'm actually glad I watched it; I just really wish I could tweak it some, too. And yeah, it'd also be nice if the writer/director didn't entirely suck as a person.