Doctor Sleep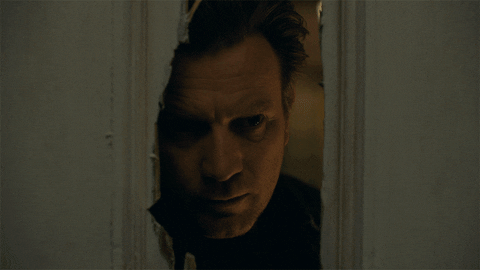 Year: 2019
Director: Mike Flanagan
First Watch or Rewatch: First Watch
Amazon, Netflix, Hulu, or Other: Amazon
Spoilers: Some
Grade: Vanilla
Let's get this out of the way for anyone who doesn't already know: I'm not a huge fan of The Shining. (Honestly, I'm not a huge fan of Kubrick's work in general: I tend to like the cinematography and not much else.) Many adaptational changes annoyed me, especially as I saw the film soon after reading the novel. Admittedly, that was all roughly 15-20 years ago now, so I might feel differently if I were to ever try it again. Point is, unlike many horror fans, I didn't come into this weird hybrid of a sequel with much in the way of expectations, high or low. It was pretty easy to judge Doctor Sleep as its own thing. And fortunately for me, I enjoyed the hell out of it.
Unlike The Shining, which is straight-up horror, Doctor Sleep has more of a dark fantasy vibe. Like, there are creepy moments, absolutely (I fucking loved it when Abra turned the tables on Rose), but the overall flavor of scare is different, kinda like the transition between the quiet, claustrophobic horror of Alien to the action-fueled horror of Aliens. It seems like a natural progression, but I can also see how fans of the original might have been disappointed. What's really impressive, though, is how much I enjoyed this film, despite its two-and-a-half-hour runtime. Horror movies, especially, have to work hard to earn that length without losing tension or momentum, and Doctor Sleep does a pretty good job with that: there are problems in the third act–which we'll get to shortly–but overall, the slow, steady pace of the film works well for me.
The cast is great, especially Kyliegh Curran (who's absolutely fantastic as Abra) and Rebecca Ferguson (who makes for a pretty iconic villain, one who I'd like to cosplay immediately.) Ewan McGregor does solid work as grown-up/fucked up Danny Torrance, and I like pretty much the entire supporting cast: Carl Lumbly is a stellar choice as Dick Hallorann, Cliff Curtis is instantly likable as Billy, and Zahn McClarnon is an excellent right-hand man/second banana bad guy. All of McClarnon and Ferguson's interactions are pretty great; in fact, the whole villainous family dynamic is awesome and makes these guys much more compelling as antagonists.
Unfortunately, that third act is where things start to falter, which is frustrating because most of the problems here could easily be solved by just not returning to the Overlook. Physically, that is; half the Final Battle takes place in Danny's head, anyway, so why not just make the entire thing one big mental showdown? We could still get all those iconic references and flashbacks without Danny and Abra literally driving to Colorado for no goddamn reason. (There is a reason: Danny is convinced that they can't beat Rose on their own, but that's sorta nonsense because at this point, their batting average against her is pretty goddamn phenomenal.) This would also eliminate the awkward sense of Abra just chilling alone in the car for ten minutes, while Danny has an emotional catharsis inside the hotel with his dad. Like, I genuinely enjoy that scene, but also . . . maybe don't leave the kid alone outside when a monster is literally hunting you down?
Random Notes:
1. Actually, maybe we could scale back just a bit on those iconic references? Cause I do want them, but also, it feels like Mike Flanagan is vomiting The Shining at you for the last 20 minutes? Like, hey, here are the twins, here is the blood, here is the bartender, the axe, the door, the boiler room, etc., etc., etc. Give me these moments, but not one for every goddam minute, please. Space them out or whittle them down.
2. Snakebite Andi might be the most Stephen King name I've ever heard in my whole fucking life. I really liked Emily Alyn Lind in the role, though, since I forgot to mention her before. Also, MR. HOMN!
3. I wish Rose the Hat's hat was, like, more important? Especially after the grocery store scene, I kind of expected something else. Still, I'm never gonna complain too hard about fashionable millinery. I will complain about Danny hitting rock bottom, however, because I definitely interpreted that scene as "baby starved to death after Danny left him alone with his dead mom," which . . . yeah, didn't sit well with me. Apparently, though, there are multiple different interpretations of what actually happened to Mom and Baby? Still. If you're trying for a redemptive story, IDK, I think everyone should be real clear on exactly what your MC is being redeemed for. Especially if it's dark ass shit like that.
4. Now that I've read the differences between book and movie, holy shit, I'm kinda glad I never read this. The 9/11 subplot? The "we're related" nonsense? What the actual fuck?
5. I'm just gonna say it: "steam" is a little hard to take seriously.
6. Finally, there is a RWBY poster in Abra's room. I haven't watched that show in years, but still, I found this small detail surprising and delightful.
Underwater
Year: 2020
Director: William Eubank
First Watch or Rewatch: First Watch
Amazon, Netflix, Hulu, or Other: Amazon
Spoilers: VERY MUCH SO
Grade: Strawberry
This was fun enough, but it also could've been better. Some scenes are successfully creepy and tense: whenever our characters are crawling through Way Too Tiny Shit, for example, or when poor Mamoudou Athie fucking implodes. (I was disappointed by this; I really thought he was going to last longer.) Most of the cast is pretty great, although I'd probably recast and rewrite Paul (TJ Miller). Still, I'm here for Kristen Stewart's whole aesthetic, am happy that Smith survived, was amused by last minute Cthulhu, and really enjoyed that Jessica Henwick was our surprise Final Girl. Holy shit, that's two Western horror movies now with Eastern-Asian women who live. 2020, this is actually something I like about you.
So, that's the good. As far as the bad, well. The voiceover shit completely fails, like, I honestly have no idea what it's even doing in this movie? The beginning is especially weird because the first few minutes have this strange, in medias res quality to them that makes the whole scene kinda feel like a dream. It doesn't fit at all; in fact, I seriously wondered if they were trying to set up some kind of unreliable narrator here. But the rest of the movie is a pretty straightforward action-horror movie (with just a bit of a Lovecraftian twist).
Not all the action scenes work for me, either, because some of them are so muddy it's impossible to tell what's happening to whom. Like, I get it: Underwater is underwater. Chaos, poor visibility, all that. Still, when a monster drags two characters away, I wanna be able to tell who they are. I might've been more inclined to forgive this if these scenes were strictly from Norah's POV, as she sadly loses her glasses early in the film and presumably can't see for shit; unfortunately, that's not really how they play. Which is a bummer, actually: if I ever lost my glasses in any kind of horror movie scenario, like, it would very much impact my day and/or likelihood of survival. It might've been kind of neat, seeing Norah actually dealing with this during the film.
Also, the character work needs, well, work. Norah (Stewart) and Smith (John Gallagher Jr.) both lost someone–the same someone–prior to the events of this movie, but for some reason, they barely have any interactions throughout to build their dynamic and/or lay in the groundwork for this reveal. More space, too, could've been given to the Captain and Norah's relationship, or to Smith and Emily's. Instead, we spend too much time with TJ Miller, who's supposed to be the funny, weird guy, and generally lands harder on the latter than the former. (Although I will admit to laughing when he fake-volunteers Emily (Henwick) to investigate something, all, "This is your moment." That shit was funny.)
Random Notes:
1. I love that Emily saves Norah, and Norah saves Emily, and they both save Smith together. Also, kinda love that Norah punches Emily in the face. Not because she deserves it, but because it's a good "who will sacrifice themselves for the other" moment.
2. I'm considerably less impressed by how the women have to get way more naked than the dudes. Except TJ Miller, of course, but this is purposefully meant to be comedic, rather than sexy, presumably because he's fatter than anyone else in the cast. #RAGE
3. The hands-down funniest thing about this movie: Paul carries around this stuffed bunny, right, like, he cradles it, strokes it, makes sure it's okay as he's going through dangerous, water-logged parts of the station, etc. He is 100% acting like it's a real bunny, and I was seriously wondering if we were gonna get some kinda high-pressure nervous syndrome/space dementia subplot shit going on, especially because of all the Alice in Wonderland references. But apparently, there actually was a real bunny while filming, until the director got a stuffed one instead because of safety concerns. Only for whatever reason, he never bothered telling Miller that the stuffed rabbit wasn't a stand-in. So, dude acted like the rabbit was real because he thought it would be post-production. I can't begin to tell you how much this all delights me.
Tigers Are Not Afraid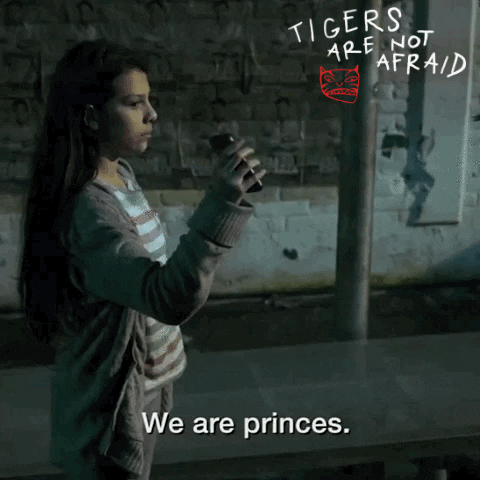 Year: 2017
Director: Issa López
First Watch or Rewatch: First Watch
Amazon, Netflix, Hulu, or Other: Other – Shudder
Spoilers: Mild
Grade: Chocolate
I've been meaning to watch this Mexican dark fantasy film for a while now, and I'm so glad I finally did, because it's pretty fantastic. Admittedly, I probably could've picked a better week for it, like, if you need an escapist upper, uh, this isn't it. (I literally held my breath when two of the kids walked up to a police car, and was utterly relieved when the cops just took off without killing them.) The violence here isn't particularly gratuitous; in fact, it's not a very gory film at all. But children do die, and die violently, on screen. Best to know that going in.
All of the kids are fantastic, especially Estrella (Paola Lara) and Shine (Juan Ramón López). I'm amazed that none of them had any prior acting experience because they're all so good in this movie. One of the things that works best about Tigers Are Not Afraid: the quiet, funny moments when the kids are just hanging out: play-acting some American Idol shit in an abandoned building, telling ghost stories about this dude who eats kids with his pepperoni, etc. And while I can be hit or miss on stories that walk the line between "literal magic" and "is it, though?" I think the ambiguity serves this dark fairy tale well. Which probably isn't so surprising, as it's definitely a Monkey's Paw kind of story.
I honestly don't have many criticisms with this one. There are a few moments with this stuffed tiger that I found sorta hard to take seriously, but . . . yeah, that might kind of be it. While I'd hoped for a few specific things that didn't end up happening, the actual ending itself fits the story well and isn't wholly, needlessly bleak. And since I am, for once, trying not to spoil too much here, let me leave you with a vague list of some other things I really enjoyed:
The trails of blood
The goodbye scene
Morro is adorbs
The chalk
When the bodies are found
Also, the movie was both written and directed by a woman. YES!!!! I'm always excited to see more horror crafted by women!