"Plato's Stepchildren"
Oh shit, it's this episode.
So, "Plato's Stepchildren" is best known as the first time an interracial couple (or specifically, a white/Black couple) kissed on US television. Obviously, I've been waiting to see this episode, although it turns out I've been waiting to see "Plato's Stepchildren" for different, less historic reasons, too. You see, I've often come across GIFs like this—
—and of course—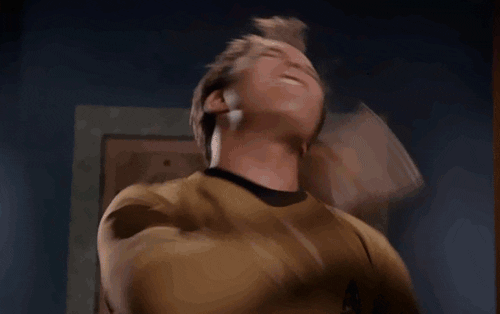 —and wondered, Okay, what the hell is happening here? When am I gonna get to this what-the-fuckery? Well, folks. We're here, and let me tell you, "Plato's Stepchildren" is 99.5% what-the-fuckery.
Basically, it goes like this: the holy OT3 beam down to some planet in response to a distress call. They find the Platonians, a telekinetic and functionally immortal alien species who are, uh, followers of Plato, I guess? Sure, I'll go with it. Their leader, Parmen, has been gravely injured from a small wound, as these people have never had to deal with sepsis before. Bones cures him, so yay! Unfortunately, these people are also total assholes, and they want Bones to stay behind forever in case of any other medical emergencies. Bones refuses, and thus we get roughly 40 minutes of Parmen trying to make Bones change his mind by humiliating Kirk and Spock, psychically forcing them to do all sorts of weird shit: sing, dance, hurt themselves, put on little plays, etc. The absolute most bizarre shit is when Parmen makes Alexander (their servant, a dwarf without any telekinetic abilities) jump on Kirk's back as he crawls around, making whinny noises. Yes. This is a thing that ACTUALLY HAPPENED.
The kiss comes about because Parmen uses his mind powers to A) beam Uhura and Nurse Chapel down to the planet, and B) force Kirk to kiss Uhura and Spock to kiss Christine. So, it's, uh. Not at all consensual from anyone involved, which is kind of a bummer for such a historic television moment. Although it's still pretty awesome that William Shatner and Nichelle Nichols deliberately fucked up any of the non-smooch versions, so the studio had to use the kiss take. On a character level, though, Spock kissing Nurse Chapel is much more interesting because she's had this crush on him for so long now, and she never imagined (or wanted) their first kiss being anything like this. Poor Nurse Chapel. I wish the episode bothered to check in with her again afterwards, but unsurprisingly, they do not. (Apparently, in the original script, Spock was supposed to kiss Uhura, but then William Shatner intervened. I find the tiny glimpses of Spock/Uhura in TOS fascinating, so I find this a little disappointing, too.)
Anyway, our OT3 discovers that the Platonians get their superpowers from their food supply. Bones quickly synthesizes similar chemicals, and Kirk overpowers Parmen. And . . . yeah, that's about the whole episode. And, like, there are a few things I enjoy besides the historical significance of that kiss. Uhura has a very pretty dress. Spock pisses off an alien by guessing her age at 35. (I definitely felt this moment, having once angered a coworker by guessing her age correctly.) I enjoy Spock suffering from emotions that are psychically inflicted upon him, mostly because I'm a monster. And I really like Michael Dunn, who plays Alexander. The character is much more nuanced than I would've expected from TOS, has a whole emotional arc and everything, and Dunn plays the part well. But that Kirk-as-horse scene is pretty fucking painful, and also the writers apparently couldn't resist throwing in one "little" joke by the end at Michael Dunn's expense, which, UGH.
Mostly, though, the episode is just . . . plotless and weird. I can kinda see how it might've worked on paper, like, maybe they were conceiving it as a fun, cracky episode à la "I, Mudd." In execution, unfortunately, it's mostly just uncomfortable and strange.
Chief Asshat: Parmen, obviously
MVP: Definitely Alexander. I'm so happy he  lived!
Grade: Rocky Road
Line of the Episode: 
"The release of emotions, Mr. Spock, is what keeps us healthy. Emotionally healthy, that is."
"That may be, Doctor. However, I have noted that the healthy release of emotion is frequently very unhealthy for those closest to you."
"Wink of an Eye"
The Enterprise responds to a distress call; once again, it's a trap. I feel like that's been happening a lot lately? Anyway, our bad guys this time are the Scalosians. Years ago, due to a series of devastating environmental catastrophes and tons of radiation, the Scalosians somehow became accelerated in time, like, they're basically just stuck in the Speed Force nonstop. They move so fast that they're invisible to the human eye, and the only evidence of their presence is an occasional high-pitched, insect-like noise. The Scalosians (presumably, just the men) also became sterile, so now they abduct people into the Speed Force and use their captives as breeding stock to propagate their species. Only human bodies aren't meant to live at accelerated speeds, so even the smallest bit of cellular damage will eventually rapidly age and kill those captives. This happens to the Red Shirt that helps sabotage the Enterprise.
Deela (Kathie Browne) is the Queen of the Scalosians, and she is easily the best part of this episode. She wants Kirk to be her baby daddy, so she doses his coffee with Speed Force accelerants—I was wondering why we had a yeoman for the first time in ages—and then proceeds to spend half the episode sexy flirting with him. And while I find Kirk a boring choice for this storyline, I will say that "Wink of an Eye" is one of the rare episodes where his flirting doesn't creep me out, probably because both characters are clearly using one another to get what they want. While Deela genuinely likes Kirk (because he's stubborn and feisty and "pretty"), she also never falls head over heels for him, either, as is typical on TOS.  She never stops seeing Kirk as a means to an end, and I enjoy that. Deela is a calm and confident villain: cool, amused, and utterly unapologetic for what she considers necessary to save her people. It's refreshing to see, honestly. Also, I think she's got some serious Natalie Dormer vibes. Obviously a plus.
On the downside: Deela's Jealous Scalosian Dude is very dull, I sorta wish Kirk had fallen under Deela's spell (they imply it's an inevitable side effect, hence Red Shirt's brief betrayal), some of the timing seems a bit off (Scotty gets stuck in the same spot for like 80 years?), and the ending is . . . not great? See, Bones figures out how to accelerate Spock's speed so he can go rescue Kirk. Spock also has the cure (admittedly, experimental) to get everyone back to normal speed. He has every opportunity to tell the Scalosians this, too; instead, Spock says nothing as they beam our bad guys back to their planet where they'll inevitably go extinct. Only then do Spock and Kirk take the cure, and like, yeah, these people are the villains, and Red Shirt deserves justice and all that, but . . . wow, our heroes don't even try to help. Spock and Kirk are just like, "Well, too bad these people are doomed to isolated annihilation, I guess," and fuck off to the nearest star system with their miracle cure in hand. It's fucking weird.
Chief Asshat: I mean, I'm giving it to Kirk and Spock because of that ending. But admittedly, Rael the Jealous Lover is a bit of a pill, too.
MVP: Obviously Deela
Grade: Vanilla
Line of the Episode: Hm, difficult. Kirk has a pretty great line when he says, "I can think of nothing I'd rather do than stay with you . . . except stay alive," which is an excellent example of correct priorities. Deela, too, has a number of quotes I enjoy, from introducing herself as "Deela, the enemy" to coolly telling Rael, "Allow me the dignity of liking the man I select." Still, this one might be my actual favorite:
"Why?"
"Because I like you. Didn't you guess? Or are you so accustomed to being kissed by invisible women?"
"The Empath"
On today's adventure, our Holy OT3 beams down to some science colony that's been observing a sun about to go supernova. The scientists are missing, though; all our heroes find is a truly comical level of dust before they quickly get abducted themselves, taken somewhere deep underground where they find a mysterious mute woman who they decide to name Gem. Gem is our titular empath, and she's . . . not great. She makes a lot of weepy faces and melodramatic body gestures and is pretty much impossible to take seriously. It's also hard to know how much Gem actually understands. She doesn't make much effort to communicate, and it's insinuated at one point that she might not understand human speech at all, but if she doesn't even know why she's here . . . well, we'll get there.
Soon, a couple of alien doctors appear. They're doing a series of experiments, most of which involve torturing our heroes. Kirk, who gets tortured first, is told he can decide who will go next: Bones or Spock. Bones takes the choice out of his hands when he sneak-sedates Kirk, then quickly does the same thing to Spock and volunteers himself for almost guaranteed death. And indeed, Bones is in rough shape after his torture. His only chance of survival is Gem, who, as an empath, can also heal people, I guess? It does hurt her, though, and it's unclear if such a serious healing could potentially kill her. But it turns out that's the whole point of this experiment: to see if Gem will willingly risk her own life to save another.
See, the doctors have the power to save only one planet in this dying solar system. They're considering saving Gem's world, but only if she proves that her people are worthy of being rescued. Gem heals Bones, a little, but is too frightened to finish the job. She does go back, though, only this time Bones stops her, not willing to be saved if it means she might die. Spock argues that her offer should be enough to call the experiment a success, and Kirk accuses the doctors of being all intellect, no heart. (UGH). Eventually, the doctors agree—or at least, they agree to heal Bones. Gem and her planet's fate are left a bit more ambiguous. One of the doctors scoops up the unconscious woman in his arms, and they all disappear.
And like, okay. Number one: can you imagine our entire planet depending on one asshole proving he's a selfless person? What if the aliens abducted Elon Musk? Donald Trump? Your shitty coworker who clearly learned nothing at sexual harassment training? How are we possibly judging an entire species on a sample size of one? And for that matter, what happens if Gem does fail her worthiness test? Are we giving similar tests to other people in this system?  Remember, we've been presumably testing Gem for at least 3 months, considering that's when the first scientists were taken. Could we maybe use this time more productively, like, IDK, figuring out a way to save more people? (Not to mention, the aliens insist that the scientists only died because of their own fears and imperfections, which, uh. Is that supposed to imply that these dudes weren't as noble and self-sacrificing as our heroes, and thus Gem couldn't learn from them? Cause one way or another, I'm pretty sure the scientists actually died from, you know. Torture.)
ALSO. Does Gem even understand that her people are depending on her willingness to become a martyr? Because we've been pretty unclear about how much language she comprehends in this episode. And whether or not she does understand, are we really condemning Gem as a shitty person just because she's afraid to sacrifice her life to save three dudes she's known for approximately 15 minutes? PLUS, are we really supposed to be okay with the fact that Gem's been abducted and emotionally tortured for months just because these docs have ultimately good intentions? She doesn't even go free at the end of the episode, at least not that we can verify! EVERYTHING ABOUT THIS WHOLE EXPERIMENT VEXES ME SO MUCH.
On the plus side, "The Empath" is basically someone's H/C fanfic becoming canon, which I personally think is pretty great. Also, Bones gets to say, "I'm a doctor, not a coal miner," and at one point, William Shatner has to move like he's in slow motion, and that shit is hysterical. It so, so bad. So. Not a total loss, I guess?
Chief Asshat: Obviously, the alien doctors. They SUCK.
MVP: Bones. He's a sneaky, heroic motherfucker.
Grade: Rocky Road
Line of the Episode: 
"Why did you let him do it?"
"I was convinced in the same way you were, Captain: by the good doctor's hypo."