A Tale of Two Sisters
Year: 2003
Director: Kim Ji Woon
First Watch or Rewatch: First Watch
Amazon, Netflix, Hulu, or Other: Other – Shudder
Spoilers: Very much so
Grade: Vanilla
I know. I'm probably the last horror fan alive who hasn't seen A Tale of Two Sisters–but no longer! I wasn't entirely sure what to expect here (I'm only vaguely familiar with the folktale that inspired it), but I enjoyed this one–though do I suspect I might like it better on a second viewing, to better appreciate all the clues carefully being laid out. Still, I caught enough this time around to figure out the major plot twists. How Soo-yeon isn't real, considering that her father never looks at her. How Eun-joo also isn't real, considering she can see Soo-yeon. Not to mention, Moo-hyeon is weirdly cold and awkward with his supposed wife; also, it's just incredibly rare for two characters to simultaneously suffer from "am I going mad" unreliable narrator syndrome, so the whole split personality angle was really the only explanation that made sense.
I definitely didn't guess the truth about that wardrobe, though. Obviously, something terrible had happened, but I had no clue on the actual details. Poor Soo-yeon! Poor Soo-mi! The real Eun-joo is obviously The Worst, but also Moo-hyeon? Holy shit, what an asshole. For one, like, he kept the wardrobe; he even tells Soo-mi not to talk about it, all, "Yes, I decided to keep this giant piece of furniture which housed your mother's dead body and also crushed your sister to death, but stop bringing it up, like, don't be weird about it." Also, once it's clear that your daughter is still very unwell and needs inpatient psychiatric care, you absolutely cannot keep leaving her alone like this, WTF. And just this dude's whole attitude, too, like, I'm sure he's exhausted and grieving and all that, but Moo-hyeon talks to Soo-mi like she's just having tantrums; he might as well say, "Stop being crazy; I'm tired of your dissociative identity disorder." Like–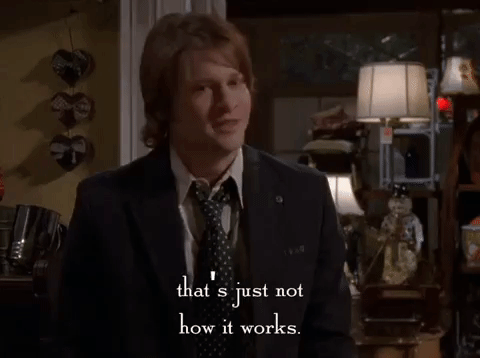 I do think that while A Tale of Two Sisters is well constructed, I might've found it more mind-blowing if I'd watched the film back when it premiered in 2003. That was almost 20 years ago (she says, sobbing), and I've seen variations on this twist a lot now. Still, nothing really comes off as cheat to me. The only thing that does feel off is the dinner scene where Eun-joo's sister-in-law has a coughing fit that abruptly becomes a very violent seizure. I know why it happens, like, for Writer Reasons, but I wasn't totally clear about the in-story reasons. Does she have a medical condition? Is this some kind of emotional trauma response? Did the ghosts poison her soup? It doesn't seem like she sees the ghost until she's already seizing, but I will fully admit to ignorance here.
After watching A Tale of Two Sisters, our next film was John Carpenter's The Thing, which I'm not going to review because I've already done so twice now. (Most recently here.) I'm mostly mentioning it because with The Thing, we have a winner for Horror Bingo, and it's not Mekaela or me, but my good buddy, Marisa! Congrats, Marisa!!!
Mekaela and I have a gentlewomen's agreement to keep playing until one of us gets a Bingo, though. And thus, we continue with . . .
Black Christmas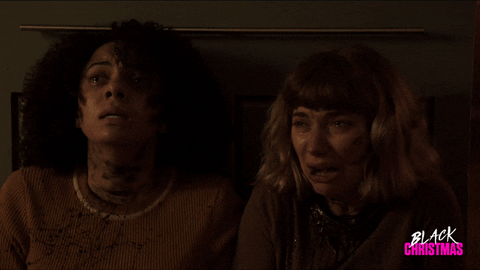 Year: 2019
Director: Sophia Takal
First Watch or Rewatch: First Watch
Amazon, Netflix, Hulu, or Other: Other – HBO
Spoilers: Yes, but mostly just in the third paragraph
Grade: Strawberry
This is . . . okay. It's certainly better than the 2006 remake, anyway, although the bar on that is so low it's near sunk into the ground. The thing about this Black Christmas is that it very much wants to be a Feminist Movie, and while I think it does have successful moments, the overall story is kinda sloppy and relies so heavily on a superficial idea of Girl Power™ that it often comes across as pandering rather than empowering.
Things I do enjoy: most of the characters, especially some of the minor roles. I was particularly fond of Fran, Jesse, and Kris. (Though awesome as Kris is, she does have a few moments where I'm like, ah, no–and the film doesn't address it as fully as I'd like.) Some of the humor is great. I bust up at this line: "If you make me late for the train, I swear I'm never feeding you again. Ask my childhood hamster. He's super dead." Also, I really enjoyed the whole sexy Christmas number; it's a hilarious "fuck you" song, yes, but also A) a great moment for Riley's character arc, and B) just an awesome scene where the girls stick up for each other. There are some nice nods and reversals to the original film, too. And hey, there's a DivaCup in this movie! Always nice when menstruation is something that's actually acknowledged in Hollywood.
Still, a lot of the dialogue feels obvious and cheesy. It's a problem throughout the film, but gets especially painful in the third act. I just . . . I don't buy it, is the thing. (And the part where the white girl has to explain to her Black friend why the police aren't trustworthy, like, yikes? Maybe not?) The script reads like someone had a long list of feminist catchphrases to get through in a very short amount of time. The plot, too, doesn't quite work for me, partially because Riley jumps to "we're obviously dealing with evil frat boy magic" way too fast for my liking, but also because for a story that heavily criticizes misogyny, it kinda lets men off the hook. Brainwashing pledges into mindless killers is a lot less horrific than young men actively choosing to kill outspoken women. Landon, too, mostly feels like he's here to prove Not All Men, though I like Caleb Eberhardt's performance; the character himself just feels distracting. Credit where credit's due, though: I very much enjoyed Cary Elwes, as he always seems to be having so much fun, whether he's playing a Ridiculously Smarmy Jackass (this, Stranger Things, etc.) or a Ridiculously Suave Motherfucker (The Princess Bride, Psych, etc.)
This Black Christmas works best, I think, as something meant to  introduce young girls to horror, like, part of a 101 starter pack: something that's modern and broadly relatable and none  too gory or frightening; the PG-13 rating helps with that, though IMO, the downside to obscured shots and fade-to-black kills is that it doesn't allow the Girls Who Won't Survive any time to fight back, which I think is unfortunate. Still, if the target demographic is, IDK, 11-15-year-olds interested in giving slashers a go? I honestly think that would raise my estimation of the movie as a whole. (Though I'd still do at least one more editing pass. Probably two. This could've been better, damn it.)
Black Christmas
Year: 1974
Director: Bob Clark
First Watch or Rewatch: Rewatch
Amazon, Netflix, Hulu, or Other: Other – Personal Collection DVD
Spoilers: Yep
Grade: Chocolate
So, yeah. This is one of my absolute favorite horror movies, one I've already analyzed in considerable detail in this Genderbent Wednesday essay. I don't know that I have many new thoughts on it now: I still think Jess is a very important and relevant Final Girl, though I'll admit I don't always buy Olivia Hussey's line deliveries. Still, I love that she's a goal-oriented protagonist who's made a decision to have an abortion, never seems particularly upset about it, and refuses to change her plans to appease her worthless ass of a boyfriend. It's also worth noting that the women are largely supportive of each other in this film, too, and there's nary an exploitative tit shot in sight. Barb has a few lines I'd definitely like to cut, but overall? I'll go to my grave arguing that Black Christmas is a feminist horror film, especially for 1970-fucking-4.
It's also easily creepier than either of its remakes, like, Black Christmas has atmosphere, damn it. Those phone calls are deeply concerning, and Dead Claire in her rocking chair is iconic as hell. There are things I'd like to change, of course: at one point, the girls mention they haven't locked the doors or windows, and I'm like WHAT? No, nope, that is absolutely ridiculous this late into the movie. Also, while I love so much about the film's ending (Jess killing Peter, never learning the real killer's identity, the last phone call ringing us into the credits, etc.), it remains completely unacceptable to me that the cops leave an unconscious Jess alone in a House of Dead Bodies with only one officer to guard her, like, I get it, she's sedated and they think the threat is over. I do not care; this is nonsense. I need much better justifications than the ones the script provides.
Still, this is always gonna be a favorite. Peter is the absolute worst, and I enjoy rooting for his impending demise. Phyl is cool, and I mourn her offscreen death. Barb is interesting, and I could probably write a whole essay on her character alone. (Did you know that Barb is A) not a nerd, and B) asthmatic? Did you even realize that was something that could happen in Hollywood?) I enjoy John Saxon as Lt. Ken Fuller and Marian Waldman as Mrs. Mac. Laughing Detective is one of my favorite bit parts of all time. I love that there's such a strong case against Peter, that it 100% makes sense for both Fuller and Jess to assume he's the murderer. Black Christmas is just an incredibly well-constructed horror film that is disturbing, entertaining, and still surprisingly relevant almost 50 years after its release. Bob Clark might be best known for his other holiday movie, A Christmas Story, but Black Christmas remains my favorite of his work.