A Wrinkle In Time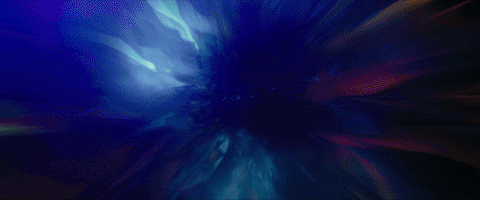 First Watch or Rewatch: First Watch
Amazon, Netflix, Hulu, or Other: Netflix
Spoilers: Yes
Grade: Vanilla
I absolutely fell in love with A Wrinkle in Time when I was eleven, but it's not a particularly easy story to adapt. Like, it's a SFF children's book from the early 1960's that's heavy on the Christianity, complicated mathematics, weird aliens, and Love; it's peculiar, is what I'm getting at, and when it comes to kids movies, I feel like Hollywood is often afraid of any real peculiarity. The 2003 TV film adaptation is particularly generic, just utterly lifeless. Ava DuVernay's 2018 film is, thankfully, a billion times better than that, but I do think it has some issues. Pacing, for one (Charles Wallace's possession goes far too fast for my liking), but more importantly, I find the movie both visually and tonally disjointed, almost like two different adaptations being sewn together. Neither is bad, exactly, but together, I don't think they work nearly as well as they could.
For instance, at several points, A Wrinkle in Time does look and sound like what I'd expect from a more generic fantasy film aimed at kids. Some of the dialogue is very on the nose, particularly in regards to love–although considering the source material, that's not exactly surprising. (This is very much a Power of Love story.) Some of the CGI isn't great, particularly when Mrs. Whatsit turns into a giant flying leaf-thing, and that whole filler flying sequence with the kids? I don't know, it feels very . . . expected? Obligatory? I wasn't crazy about the scene where Meg and Calvin run from the tornado-earthquake thing, either, although I do love that Meg's the one who figures out how to survive. Also, Mrs. Which's makeup and especially eyebrows strike me as comical, but, like, not in a good way? (Admittedly, that could just be personal taste, and happily, I have nothing but positive things to say about Mrs. Who's hair and costumes. They are delightful.)
The thing is, I was okay with most of that because this is a kids movie, and it's supposed to appeal to them, not my cranky ass old self–but then there are these gorgeous scenes that feel much more sophisticated, like when Meg uses Mrs. Who's glasses to find her way to the invisible staircase or when Meg finally successfully tessers home. It's not that these scenes are inappropriate for a kids movie, far from it. But they definitely feel like they belong in a different one: there are these incredibly compelling moments, both visually and narratively, but they feel extremely disconnected when compared to scenes like Kids Whee Around Whilst Atop Lousy CGI Creature.
I do think many of the modern updates and source material deviations work quite well. Updating Mrs. Who's Big Book of Quotations to include Hamilton is a particularly inspired choice. (And pretty cool for me, personally, as I'd literally just seen the play for the very first time that night.) I miss Aunt Beast, of course, but I completely understand the exclusion of Sandy and Dennys. It's also pretty great that the Murrays are a multiracial family, and that Meg–brilliant and angry and caring and insecure–is a very fully realized protagonist whose ethnicity is always a part of her characterization but never the only defining factor. I love watching her progress from someone who doesn't like herself to someone who can acknowledge her strengths and flaws, who can stand up and say she's worthy of love. My personal favorite microcosm of this is watching Meg finally accept a compliment about her hair. It's a wonderfully empowering moment, and if I think that as an adult white woman, I can't imagine how much it might mean to a young black girl.
Storm Reid is excellent in the role: the scene where she first reunites with Chris Pine–also excellent–is particularly well done. I enjoy Oprah Winfrey, Mindy Kaling, and Reese Witherspoon, too, although 11-Year-Old Carlie is a bit disappointed with how Mrs. Whatsit's attitude towards Meg has become so disapproving that it borders on adversarial, like, no, she's nice; she's a self-sacrificing, exploded star! (This is exactly the sort of thing I mean about Hollywood eliminating weirdness.) Thematically, though, the switch-up definitely works for this particular adaptation, even if it gets a bit repetitive for my tastes.
All in all, I like A Wrinkle in Time and suspect I would've loved it as a kid, which is obviously the most important thing. I just can't shake the feeling that overall, it's a B movie which easily, easily could have been an A.
Kong: Skull Island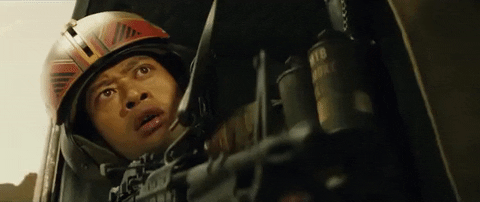 First Watch or Rewatch: First Watch
Amazon, Netflix, Hulu, or Other: Amazon
Spoilers: Definitely
Grade: Strawberry
So, this was okay. I might've liked it more if I had some nostalgia to pull from, but I didn't grow up watching any of the King Kong movies. As is, I think this one has a great cast and a strong start but a much weaker second half.
What delighted me about Skull Island is that, initially, it almost felt like a heist movie. You know, it had that whole "let's get the crew together" segment where we're introduced to all our main players–and a surprising number of them really felt like characters who could easily serve as protagonists. Like, Corey Hawkins is not just the lead scientist but also our introduction to the main story. Tom Hiddleston is the smooth, ex-military tracker extraordinaire. (And, you know. Tom Hiddleston.) Brie Larson is, well, the Girl (she's a photojournalist and spunky!), while Toby Kebbel is easily the most well-drawn of the good guy soldiers, the only one who doesn't feel like a red shirt waiting to happen. It's fun because it really gives you a sense of "oh shit, who's gonna make it out of this alive," which doesn't always happen with action movies.
And some of the action itself is pretty great. The scene where King Kong just starts killing the shit out of the helicopters left and right is crazy fun. There's a lot of amusing dialogue, mostly from those soldiers I mentioned, and even the blatant implausibility of this island is kinda delightful. Like, an absolutely ludicrous storm-shield? Sure, why not?
But Skull Island heavily starts falling apart for me as soon as John C. Reilly comes into the picture. Which bums me out because I like Reilly in plenty of things, but the choice here to play this traumatized WWII pilot who's been stuck on this island for almost 30 years as "hilariously loopy" is, IMO, a pretty poor one. Another poor choice is killing the Japanese pilot offscreen so that only the white dude gets to speak Japanese and wield a katana. Like, come on, dudes. It doesn't help that the indigenous, non-white people who live on this island don't talk, like, at all; instead, it's Reilly's character who provides all the exposition, which a) not great, and b) is way too lengthy. All the time we spend on this guy is time I'd rather be spending on the other less frustrating characters.
Because that's my other big problem here: after such a promising start, most of the cast is stuck with almost nothing to do. Killing off Toby Kebbel so early could work–like, shit, I expected him to make it to the third act, at least–but then Corey Hawkins completely fades away into the background, leaving us with only Hiddleston and Larson as our protagonists, and they are Nilla Wafer bland, like, the script just gives them nothing. Meanwhile, Samuel L. Jackson's turn to the Ahab Dark Side is . . . fine, I guess, but what could've been a good-if-expected arc ends up so damn cheesy, particularly considering the many, many slow-mo shots of his Vengeance Eyes.
A few more random notes:
A. Seriously, the slow-mo in this movie is ridiculous. I outright laughed when I definitely wasn't supposed to.
B. A lot of this music is my jam, but man, this is a soundtrack that really, really wants you to remember this movie is set in the 1970's. Honestly, I think the only surprise here is that Edwin Starr's "War" doesn't pop up.
C. Brie Larson's character may be a walking Nilla Wafer with a camera, but boy, does she have some of the best reaction faces while King Kong is murdering all the helicopters. Side note: you can always tell if a helicopter will explode upon crashing based on which cast members are sitting inside it.
D. Finally, one positive thing I will say about Skull Island is that a few characters live who I definitely thought were toast. Three of the soldiers (the young guy, the funny guy, and Pillboi from The Good Place) all make it, as well as Corey Hawkins and the Asian biologist/only other woman on the expedition. (It's a pretty minor win, though, considering how little she actually does in this movie.) Shea Whigham, sadly, does not, because I don't think he's ever survived anything I've seen him in. (His death is especially sad here, since he goes for a self-sacrifice moment that 100% fails to work.) And Marc Evan Jackson–also from The Good Place–was clearly doomed for death the moment he expressed his shock that famous photojournalist Mason Weaver was, gasp, a woman–but even he managed to surprise me by just how ludicrously dumb his death was, like, rather than go with Tom Hiddleston's group trying to get off the island, he instead goes with the soldiers who are planning to directly confront King Kong. Like, what? What? WHAT?
Spider-Man: Into the Spider-Verse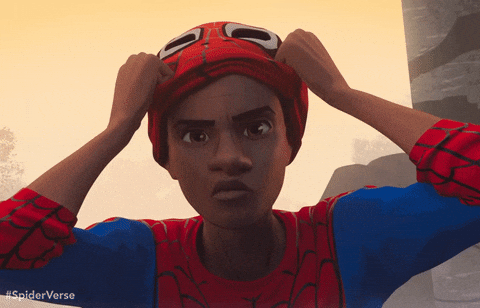 First Watch or Rewatch: First Watch
Amazon, Netflix, Hulu, or Other: Netflix
Spoilers: Only mild ones
Grade: Chocolate
Yes, I have finally watched Into the Spider-Verse, and loved it, thank God. I did not want to be the asshole writing about what a letdown it was. ItSV is funny and clever and moving without ever being cloying. It was pretty awesome to finally get a Spider-Man movie not starring Peter Parker, and of course, we got several Spider-Man iterations here: Gwen Stacey is fun, and Peter B. Parker and Spider-Man Noir just crack me up. (Spider-Ham is amusing, too, in a cracktastic, "wow, you really went there" sort of way.) But Miles Morales, especially, just makes for a great lead, not to mention it's pretty cool to hear him speak Spanish while just going about his day. With the exception of Xhosa in Black Panther, I feel like it's rare to hear superheroes on the big screen speak anything other than English. Fictional alien languages, sure, but the second most commonly spoken language in this country? Not so much.
My only real problem with this movie is the barrage of tubby jokes at Peter B. Parker's expense. I don't know that it bothers me as much as Fat Thor in Endgame, but I'm honestly not sure why: the basic joke, after all (a hero gains a bunch of weight after his life goes to shit, and everyone cracks wise about it for the next two hours), is pretty much the same. Is it because this is a cartoon, a medium where I've just become numb to the rampant fat phobia? Is it because I didn't see this in theater with a bunch of strangers chuckling around me while I tried to melt into my chair? Or am I simply giving Into the Spider-Verse a little more leeway because I just like the film more? One way or another, though, I was disappointed with this aspect of the film.
Other than that, I really loved this movie. The animation, of course, is just outstanding, imaginative and innovative and so, so colorful. And there were all these little moments I really enjoyed, like the scene where Miles gets ready to jump off a high-rise, then abruptly runs downstairs and finds a much shorter building to practice from? That shit cracked me up. I thought the scene where Miles's Dad talks to him through his bedroom door was well-done, too, not to mention all the various "get up" moments. And, of course, the whole soundtrack, up to and very much including "Spidey-Bells (A Hero's Lament)."
It is my favorite. Chris Pine is kinda my favorite. I have listened to this song, like, A LOT.