Robin Hood (1973)
First Watch or Rewatch: First Watch
Amazon, Netflix, Hulu, or Other: Other – Disney Plus
Spoilers: Not really. Besides, come on. It's Robin Hood.
Grade: Strawberry
I grew up on two Robin Hoods: Prince of Thieves and Men in Tights. Disney's Robin Hood, though? Not so much. But now that we have Disney Plus, Mek and I decided a viewing was in order, if for no other reason than to investigate the root cause of everyone's sexual attraction to foxes. (I have to admit, I predictably remain mystified on that front.)
As far as the movie itself goes, it's . . . there? I can't really say I enjoyed it, but I was certainly bemused by it. Sir Hiss is my favorite character, or maybe I just felt the most sorry for him. (The name, of course, is amazing; it would work nearly as well for a cat. Clearly, I need more cats: Sir Hiss and Ser Pounce would obviously go well together.) I find Sir Hiss particularly interesting because a) he doesn't seem to have an equivalent character in any other Robin Hood story I'm familiar with, b) he wears fashionable hats, and c) after explaining how he hypnotized King Richard into leaving for the Crusades, Sir Hiss's hypnosis powers never come back! Writers, seriously. Did no one teach you about Chekhov's Hypnotic Powers? (Dedicated MGB readers: yes, I've made this joke before and fully intend to make it again. In fact, Chekhov is gonna be a whole damn tag now.)
I was also fond of Lady Kluck because to my very great surprise, she kind of kicks ass. Sadly, once she's done kicking the shit out of Prince John's guards, she mostly drops out of the movie. (As does Maid Marian, oddly enough.) Prince John himself is . . . ah . . . well, it's certainly an interpretation. The constant thumb-sucking weirded me out, and generally, I found him more aggravating than funny, although he does actually have two of the best lines in the whole movie: "release the royal fingers!" and "I sentence you to sudden, instant, and even immediate death." Alas, the rest of the film? Meh.
The Sword and the Stone (1963)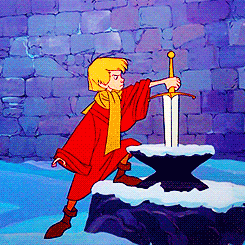 First Watch or Rewatch: First Watch
Amazon, Netflix, Hulu, or Other: Other – Disney Plus
Spoilers: I mean, I guess? There isn't really that much to spoil.
Grade: Vanilla
Continuing the Nostalgia Train–well, Mekaela's Nostalgia Train, anyway, because she apparently watched a lot of old Disney movies before I was born or while I was doing other important things, like napping–we have The Sword in the Stone. I'm not sure how I would've felt about it as a child, but as an adult, well. It's kind of a hot mess. Like, there are a few genuinely funny moments, sure. Honestly, I think I enjoyed this one more than Robin Hood, despite the fact that Robin Hood at least has something resembling a plot. This movie . . . yeah. There's no plot to be had: it's just Arthur turning into various animals and being chased around by other animals. That's it. That's the movie.
Of course, these scenes are supposed to be lessons. And that could actually be pretty cool, except a) Arthur never really learns anything (except that knowledge is power, I guess), and b) he never uses what little he does learn during the course of this movie. Like, I thought maybe he'd figure out how to trick Sir Ector and Ser Kay into taking him to London? But nope, Arthur's just a last minute replacement because Sir Kay's squire got sick. Then I thought, okay, Arthur must do something semi-crafty to find our titular sword, like, maybe he's forbidden from trying to lift it? Instead, Arthur just stumbles across said sword when he forgets Sir Kay's blade and needs a hasty replacement weapon. In short, Arthur proves he deserves to be the King of England by being the worst fucking squire of all time.
It's also hilarious that three different actors voice Arthur, and at least one of those voices is really bad. OTOH, I generally liked Merlin and Archimedes well enough. Merlin is a delightfully irresponsible and terrible teacher, and I can't lie: I kinda wanna cosplay Bermuda Merlin now. So, the film isn't wholly without merit; it just has serious narrative problems, and also, how the fuck could they just leave Girl Squirrel crying like that? This is some bullshit. Justice for Girl Squirrel!
Spider-Man: Far From Home First Watch or Rewatch: First Watch
Amazon, Netflix, Hulu, or Other: Amazon
Spoilers: Not really
Grade: Chocolate
Moving on from Classic Disney to Present Disney (We Own Everything, Including Your Souls), we have the latest Spider-Man film. I didn't see Far From Home in theater, partly because Mek didn't want to, partly because I've really been feeling the Marvel burnout this year. Still, I did enjoy this one. I continue to really like Tom Holland as Spider-Man, and not just because he hurts so pretty; that kid's been great since Civil War, and obviously won my heart forever with "Umbrella." Which, yeah, you've already seen 76 times, but I just linked the video, so now you have to watch it for the 77th time. Those are the rules.
This is a decent follow-up to Endgame, a solid balance of humor and action and Feels. I'm happy that the film spent at least a little time addressing the consequences of the Blip, though I can't in good conscience say that "blip" with a straight face. We're not . . . we're not really going to keep calling it that, are we? (We should never, ever stop saying "the Peter Tingle," though, because that shit's hilarious.) I'll admit, what I want more than anything is a character drama and/or missing person detective story that takes place in a post-Endgame world, but obviously, that's something I'll never get.
The supporting cast is also great: Jake Gyllenhaal appears to be having a blast in this movie, I absolutely adore Zendaya as MJ, and Martin Starr and J.B. Smoove are pretty great as the class chaperones. Other than that, I'm honestly not sure how much else I have to say. If comparing to other Spider-Man movies . . . I think I liked Homecoming more, and I know I liked Into the Spider-Verse more. But I also didn't have any major problems with it, either. If comparing to everything else in the MCU . . . fuck that shit, there's been like 700 of these movies, and I have things to do. In general, I'd say it's somewhere upper-middle for me? Not one of the more ambitious or groundbreaking of the Marvel films (yes, I would qualify some as such), but also fairly charming, entertaining throughout, and overall pretty solid.