Drácula
Year: 1931
Director: George Melford
First Watch or Rewatch: First Watch
Amazon, Netflix, Hulu, or Other: Other – Personal Collection DVD
Spoilers: Yep
Grade: Vanilla
In 1931, Dracula (the English language film starring Bela Lugosi) was shot during the day, while Drácula (the Spanish language film starring Carlos Villarías) was shot during the night. Earlier this year, I'd wanted to watch Drácula to compare and contrast; alas, I wasn't able to find the film streaming anywhere online. Fortunately, I have an incredibly sweet friend, Rob, who bought me a special edition DVD copy of both films because he is the absolute best. Thank you, Rob!
In regards to which film is better . . . honestly, I like both for different reasons. On one hand, I think Pablo Álvarez Rubio makes for a fantastic Renfield. I didn't have any particular problem with Dwight Frye, but Rubio is the superior choice as the bug-eating lackey, and delightfully, this film gives him a little more screen time to work with. (At least I'm pretty sure it does, but admittedly, I have watched like four different adaptations of this novel now, and they are starting to bleed together a bit.) I like this version of Mina (named Eva here) a little better, too, specifically when she's all dark and vampire-influenced. And this version actually bothers to give Lucía's story an ending, unlike poor Lucy in Dracula, who is pretty much just forgotten about between scenes. There are some particularly nice shots in this film, too, specifically the last one where Eva and Juan Harker ascend the staircase, leaving Van Helsing below with Renfield's body–although to be fair, I like some shots in the English language version, too, like when the vampire brides back away from Dracula and Renfield's unconscious body.
OTOH, I'm afraid I can't take Carlos Villarías as Dracula seriously at all, like, he'll have an okay moment or two, and then he'll smile, and I'll just start cracking up. Dude's just so damn goofy. Bela Lugosi is very stagey, but somehow that feels more stylized, theatrical. This is different. This just feels absurdly cartoonish. And I prefer Van Helsing in the English language version, too, probably because this one seems shocked by things that just aren't very shocking. Like, he'll present some hypothesis (for example, Dracula is a vampire, and therefore must not have a reflection), and then seem flabbergasted when he immediately proves himself correct. He also has a hilarious reaction when Dracula threatens to kill him; likely, he's supposed to seem scared, but it comes across more like, "Whaaaat? You'd . . . you'd really kill me?"
Watching both of these movies is absolutely fun, but my perfect film would be some unholy combination of the two, with Bela Lugosi and Pablo Álvarez Rubio and, most especially, the Philip Glass score from the 1990's.
Bram Stoker's Dracula (1992)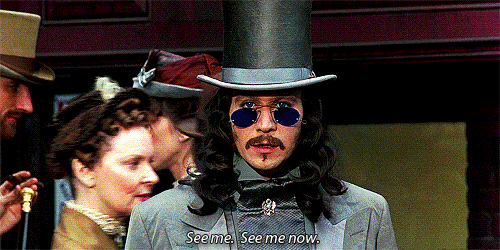 Year: 1992
Director: Francis Ford Coppola
First Watch or Rewatch: Re-Watch
Amazon, Netflix, Hulu, or Other: Amazon, I think? TBH, it's been a few weeks.
Spoilers: Yep
Grade: Strawberry
Look, there are some amazing things about this movie. The opening music, for instance? Fantastic. And the fashion? Oh my god, the FASHION in this film. Dracula's costumes alone, like, we've got the grey suit and top hat pictured above, his memorable Transylvania look, the red armor he wore as a human (which is basically just what J-Lo wore in The Cell,) etc. Then, of course, we have Mina's lovely green dress and hat, as well as Lucy's hilariously anachronistic red dress. And then, of course, Dead Lucy, which is the absolute cream of the crop. God, I'd love to cosplay the hell out of this someday.
So, yeah. I'd watch the hell out of this movie as a series of well-made fanvids; unfortunately, as a whole ass film, I have . . . problems. The entire prologue, for instance: like, the BS reincarnation love story I don't care about (I was so baffled by this addition the first time I watched this movie), or how Anthony Hopkins is playing this ancient priest dude for no apparent reason. The fact that someone apparently fetched Mina's perfectly undamaged corpse out of the river just to throw her ass on the floor, even taking the time to grab her suicide note and artfully tuck it into her hand. (Oh, apologies, there was physical damage: a single trail of blood from the corner of her mouth. Holy shit, that just makes it even funnier.) And Gary Oldman's rage freakout, like, don't get me wrong, I know the guy is a good actor, but also, dude sometimes makes some ridiculously over-the-top choices that I just cannot take seriously. I was giggling like mad throughout this whole prologue, which I really don't think was Coppola's intent here.
If the whole movie was like that, I could happily enjoy Dracula as a so-bad-it's-great film. But those kinds of movies are generally best appreciated when they're under two hours; this film is 2 hours and 35 minutes, and unfortunately, its dreadfulness isn't always the sheer delight that is this gloriously terrible train ride into Hell scene. Which is to say, some of the bad stuff just drags, particularly in the second half of the film, where I slowly became consumed by boredom. And honestly, there's a lot of bad to go around: Dracula as a wolf-troll-thing raping Lucy? Nope. All the orgasmic vampire shit and the plethora of relentless boob shots? Thanks, pass. I'd love to know whose idea it was to make Dr. Seward a morphine addict for, like, a scene. Also, why, in a movie with such fantastic costumes, does Keanu's gray hair look like someone just threw flour over his head? And while I'm genuinely delighted by the current Resurgence of Keanu Reeves–he seems like a nice dude, and I enjoy a lot of his movies–like, this is easily his worst performance, and I'm including Much Ado About Nothing in that. (A film I have a huge soft spot for, honestly, but there is more than one woeful miscasting in that movie.) It's not just that Reeves's accent is terrible, though it is; it's more that he's so damn stilted here. Winona Ryder's accent isn't winning awards, either, but at least there's some flow to her dialogue.
Finally, a few random things:
A) Everyone's kind of an asshole in this movie, including Jonathan, who doesn't like Mina staying with her BFF cause Lucy is rich, and what if Mina wants a rich boy now? Jonathan, you're a tool. Van Helsing, though, is probably my favorite asshole because of hilariously casual lines like this: "Yeah, she was in terrible pain; we cut off her head. She's dead now."
B) The Texan suitor, played by Billy Campbell, is shockingly the least objectionable character, which is presumably why he dies.
C) Wow, I forgot there are so many other people in this movie! Cary Elwes! Richard E. Grant! Tom Waits as Renfield, what?
Renfield's hair, at least, is properly fantastic.
Dracula 2000
Year: 2000
Director: Patrick Lussier
First Watch or Rewatch: Re-Watch
Amazon, Netflix, Hulu, or Other: Amazon
Spoilers: Definitely
Grade: Chocolate
Okay, sure, this isn't a great movie, but unlike Bram Stoker's Dracula, it never really pretended to be, either. Dracula 2000 is so incredibly of its time, and I have all kinds of silly nostalgia for it. Ton of people in the cast, too: Jonny Lee Miller (the hero), Justine Waddell (the heroine), Christopher Plummer (the dead meat vampire-hunter mentor), Vitamin C (the dead meat BFF and vampire bride #1), Jennifer Esposito, (the brief fake-out love interest and vampire bride #2), Jeri Ryan (the random hot reporter and vampire bride #3), Sean Patrick Thomas (a thief), Danny Masterson (a thief who gets a leech to the eyeball), Lochlyn Munro (a thief and also the First to Die), Omar Epps (the Thief Boss who very suavely wears glasses), Shane West (the cameraman who dies very, very quickly), Nathan Fillion (a young priest who shockingly doesn't die), and, of course, Gerard Butler (the Big Bad, AKA, Judas "Dracula" Iscariot).
Miller and Plummer probably do the strongest work here, but I enjoy pretty much everyone except maybe Jennifer Esposito, who I never quite buy–although to be fair to the actress, she does get some of the worst dialogue. Like the "all I wanna do is suck" pun or the "how does one become a lover" exchange, ugh. There's some bad dialogue to go around, though: JLM's "never ever FUCK with an antiques dealer" is beyond awful, like, as a blooper line? It's hysterical. I'd have laughed my ass off had I seen this in the blooper reel. As an actual line in the movie? NO, GOD, WHY WOULD YOU DO THIS, NO.
OTOH, I do genuinely enjoy a lot of the humor, even the very on-the-nose stuff. I'll admit to laughing at the "sorry, sport, I'm an atheist/God loves you anyway" exchange; also, Masterson's hilariously petulant "I said I was sorry." The sheer outrage in Miller's delivery when he says "undead–UNDEAD!" cracks me up every time. I'm also very amused by Dracula calling the Bible "propaganda" as Simon tries to defend himself with it. And when Dracula perfectly describes Mary's Mom's interior decorating style as "Catholic," yeah, I laughed pretty hard at that.
And while Dracula's secret origins as Judas are kinda unbelievably silly, I suspect someone could actually make this work in a miniseries or TV-show, something with a serious, historical bent and plenty of room to focus on the themes of evil, forgiveness, and redemption in a universe where choice and action are presumably predestined. Dracula 2000 was obviously never gonna be that story, as it's a campy ass horror film, and its reliance on Dracula's origins as a twist means it only has about 15 minutes to even remotely address the philosophical and theological ramifications of this identity reveal, while also wrapping up the entire main plot. So, yeah, that was kinda doomed to silly failure. But credit where credit's due: this is the first and only time I've ever seen a vampire die by hanging.
Finally, a couple last thoughts:
A) I owned a fair amount of horror and SF movie soundtracks in the late 90's and early 2000's, and you better believe that Dracula 2000 was one of them. (See also The Faculty, Scream, Queen of the Damned, and The Matrix.) I still listen to songs from it, too, especially System of a Down's cover of "Metro."
B) Remember in The Last Jedi, how Rey and Kylo spend a lot of time psychically gazing at each other from separate locations? Well, Dracula and Mary Heller-Van Helsing did it first, only with Godhead (and Marilyn Manson) playing in the background, so, obviously, they kinda win.
Shit. Now I just wanna see TLJ with the Dracula 2000 soundtrack. SOMEONE MAKE THIS HAPPEN.